You probably know about about some of the more common things you can rent out for profit – your car (Uber or Lyft), your house (airbnb) and of course your time (TaskRabbit).
But did you know that there is a whole peer-to-peer economy that is earning people a full-time living by renting out other things like bikes or their wifi?
How many times have you needed something like a ladder or a projector screen for just one project?
And how many items are collecting dust in your garage because while you may use them sometimes, they are not every day items?
Did you know you can make money renting out your stuff online?
In this post we will show you the most profitable things to rent out for a profit.
One of the best ways to create a true passive income is to rent out your things that you already own to people who need them.
It's a win-win situation – you get paid, they get to use something for a fraction of the price that it would cost to buy new.
This post contains affiliate links. Please read my Disclosure for more information.
MORE GREAT WAYS TO MAKE MONEY FROM HOME
Renting out your stuff for a profit makes sense in some many ways.
This was the brilliant idea behind Fat Llama.
An online site launched in the UK back in 2016, Fat Llama goes a step beyond
Since its launch, hundreds of people have made money renting out their bikes, slow cookers and baby gear, some even creating second streams of revenue.
Make Money Renting Out Your Stuff Online
You know all that junk in your garage that you use once a year, if that? That saw that you needed for one project or your DJ decks from 2015?
Online site Fat Llama allows you to get paid over and over again for renting out your stuff to other people.
The average renter makes $50 a week with Fat Llama while power renters are making up to $8000 a month with their popular items.
Since its launch, hundreds of people have made money renting out their bikes, slow cookers and baby gear, some even creating second streams of revenue.
Like all new trends, the principle of the sharing economy took a little bit of getting used to, as trust in online platforms has grown.
However, since consumers have got their heads around the concept, it seems that the sky's the limit, with items from the intimate to the outlandish readily becoming available to rent.
The unique and fun part of Fat Llama is that, where other online peer-to-peer rental platforms like Airbnb stick to accommodation, Fat Llama opens the door to (almost) any item that your neighbors might possibly want to use for an afternoon.
So, though the main 'sellers' on Fat Llama are often professional equipment like drones and DJ equipment, it also leaves room for the weird and the wonderful to be offered up for rent too.
35 Easy Things To Rent Out For A Profit
There are many things that can be rented out for a profit. Some of the most profitable things to rent out include: houses, apartments, office space, and storage units. By renting out these items, you can earn a significant amount of money each month.
If you're looking to make some extra cash by renting out items you own, you're in luck. There are many things you can rent out for a profit. From party supplies to tools to furniture, there's something for everyone. Here are the most profitable things to rent out for a profit.
In today's economy, it can be difficult to make a profit. However, there are still some items that can be rented out for a profit. Some of the most profitable things to rent out include: event space, storage space, and vehicles. With the right clientele, these items can generate a healthy profit.
You can rent out almost anything for cash. The top things to rent out for a profit include:
Cameras
If you are a photographer and want to make some extra income, renting out your camera is a great idea. Many people need a video camera for a special event or they want to try out a fancy camera before making a big purchase. Just make sure to have good insurance coverage in place for this one.
Electronics
Do you have a video game console, an Ipad or another electrical appliance that you don't use every day? Why not rent it out for a short period of time to someone who needs it?
Drones
There are lots of ways to make money with a drone but renting your drone out may be the most profitable venture. Potential customers might be people who are getting married and want drone photos of their big day or small businesses looking for aerial shots on a budget.
Photography equipment
I've already covered cameras but you can make a lot of money renting out specialized lenses and other camera equipment such as tripods. Think of things like backdrops and lighting sets too.
The good news with these items is that they fetch a lot of money and avoid you having to let go of your precious camera for a long time.
DJ Equipment
All kinds of audio equipment make great rental items but in particular, DJ decks and headsets bring in the most money.
Musical Instruments
Want to make money without much effort? If you own a musical instrument, you can rent it out for a profit. Lots of parents look for rental instruments for their children as they don't want to commit to a purchase if their child will quit after a month or two. This can be a great way to make some extra money for you!
RVs and Motorhomes
Recreational vehicles that you only use a few times a year are one of the most profitable rental business ideas. It is also a great way to recoup the cost of your RV so that you can enjoy it without paying a dime!
Text Books
We all know how expensive college text books are. If you own some that are current, consider renting them out to students for a month at a time. You will likely make more money than selling them outright.
Baby Gear
Most baby gear is barely used for more than a month so it is in great condition. You can sell your baby stuff but renting it out will mean bigger profits in the long run. Swings, bouncers and toys are all in high demand. Another great rental are strollers for people who are on vacation in your area.
Power Tools
Equipment rental is at an all time high as many people just don't have the space to store lots of tools they only use once. If you own good quality drills, saws and other power tools, consider renting them out for a profit.
Formal Wear
Fancy Ballgowns, suits and dresses for special events can make you a lot of rental income if you have the extra space to store them. Even wedding dresses are becoming popular in the rental industry.
Storage Space
Do you have extra room in your house or garage? Why not rent it out for someone who needs a space to store their stuff? Storage facilities can get pricey so if you can offer your unused space to store belongings for cheaper, you can start your own business.
Your Car
Make money with your car! Peer to peer car rental is big business! You can list your car on an online platform such as Turo and make money whenever you are not using your vehicle. Turo covers all the insurance and other legalese so no worries about someone wrecking your car!
Rent Out Your Wifi
Download a WIFI sharing app like Cloudtrax and make money by allowing others to "piggyback" off your home internet.
Wifi hotspots are really popular in todays sharing economy. Millions are looking for WIFI hotspots that they can access when travelling or working away from home.
This is a great way to make extra money if you have more wi-fi or bandwidth that you need and want to make some passive income easily.
Wifi hotspot businesses are are an awesome way to make money if you are tech savvy.
How Wifi Sharing Works
Customers will connect to your WiFi network via Cloudtrax and when they open a webpage they will be redirected to your personal page.
Here you can put some information about the service, instructions, TOS or even advertising.
Customers can choose can select the amount of access time they require which you can set at anything from 1 hour to one year.
Get started with Wifi Sharing
To set up your network, you'll need the following:
One or more CloudTrax-compatible wireless devices.
An Internet connection with at least one Ethernet port available on your modem or router, and one Ethernet cable.
A computer with a browser pointed to www.cloudtrax.com, or an iOS or Android device running the CloudTrax app.
You will also need a free PayPal account in order to receive payments.
Once you have opened your Cloudtrax account, follow the instructions in their Start up guide
This account will be your login for all networks you create, and allow you to manage all subordinate user accounts.
A Bicycle
Do you have a bike sitting idle in the garage? A lot of people want to go on a bike ride but they don't have a bike or don't have the room to store it.
Your Friendship
Rent Your Friendship out
I've written a few times about how you can Get Paid To Be An Online Friend or even Get Paid To Chat Online but what about making making just for being a companion to someone for a day or a night (purely platonically).
Out of all the things you can rent out for profit, this is the weirdest one!
I just had to include this one!
Rentafriend
is a website that lets you do exactly what it says – rent a friend for a special event.
There are currently over 600,000 "friends" on the site and it is growing every day.
The website aims to help solitary users hire a (purely platonic) companion for a variety of reasons.
The Rent A Friend website gives the following reasons their site it growing in popularity:
People who travel to a new city can hire a local to show them around town.
A common request is that a Member may have an invitation for a work party, wedding or other social event and don't want to attend it by themselves.
Someone might want to see a movie or go out to a restaurant but don't have anyone to go with.
Many Friends on RentAFriend.com have unique talents and skills.
People who travel often for business that are looking to find local Friends to go out to dinner with, go to the bar with, or watch a sports game with.
People who have an extra ticket to a sporting event or concert and don't want to go alone.
Someone may want a workout partner for the gym.
How safe is Rent A Friend?
Rentafriend is comparable to online dating sites.
Potential friends don't need to complete a background checks so make sure to follow regular online safety tips such as meeting in a public place and letting someone know where you are going.
How much can you make on Rent A Friend?
Most of the Friends on RentAFriend.com start at just $10 an hour.
How to get started on Rent A Friend
Sign up on this page – Be A friend
Fill out the application form and your will receive a response in a couple of hours
It is completely free to join Rent A Friend and you can set your own pricing. You keep 100% of your earnings (renters pay a membership fee to the site).
Gardening equipment
Lawn mower and landscaping tools are all popular on the rental market. You can even rent out space in your own garden if you have the room! Let someone who lives in an apartment grow their veggies in your yard and make money on your land.
Parking Space
Your spare parking spot can fetch you big bucks!
This can be one of the best ways to make a great rental fee, especially if you live in a downtown core in one of the big cities.
Even if you live in a smaller town, you might be surprised at how much money you can earn on football game days when out of town visitors are desperate for somewhere to park their car.
Video Games
You can make good money by renting out your video games online. Make sure to take a deposit or use one of the online rental companies.
Your Home
You don't need a rental property to make money in real estate. If you are going away on vacation, why not see if you can make some money with vacation rentals as an Airbnb host.
Construction Equipment
If you are a business owner who has a lot of construction equipment, why not rent it out to other companies during the off season? The best part is that you will be able to make money even when your crew isn't working.
Bounce Houses
If you are looking for a profitable business model to start from home, this is one of the best rental business ideas.
One of my friends just rented out a bounce house for $500 for a day. If you were to purchase a bounce house for $3000 and provide rental services for birthday parties, corporate events and more, you could easily be turning a profit within a month.
You'll probably need a truck to transport the bounce house and manpower to set it up too.
Swimming Pool
Swimply is a new app that allows private pool owners to rent out their pool by the hour. Just list your pool with photos on the rental platform and let others enjoy it for their special occasions and pool parties.
Camping Supplies
Do you have camping gear in good condition that is just collecting dust? Rent it out for money and make some cash for doing nothing!
Sports Equipment
Similar to musical instruments, many people want to try a sport without investing a lot of money into gear. If you have hockey, climbing or other sporting stuff that you no longer use, why not make some money?
Home Appliances
You know that bread maker that you never use? Wouldn't renting it out for some money be a good idea? Rental sites are a great place to list your margarita maker, your stand mixer and other expensive appliances that you hardly ever use.
Office Space
Do you have some extra space that you could rent out as a conference room for a small business who is having a big meeting? Or maybe you have room to set up a co-working space? This type of business is really in demand now that more people are working from home.
All you need is some office furniture and wifi for everyone to use.
Outdoor Gear
Large hiking rucksacks, crampons and other gear needed for outdoor activities are something that most people only need once a year. Rent it out and start your own side hustle.
Pickup Truck
There are so many ways to make money with a pickup truck but one of the best is to rent it out for people who need to transport large items or to haul things from one site to another.
A Boat
Who doesn't love going out on a boat? If you own a sail boat or fishing boat, you can fetch more than $1000 a week in the peak season in my area. Even accounting for the service fee from the rental company, you can turn a huge profit.
Advertising Space
If you live in a prominent part of town or you own a car, you can rent your white space out to brands and advertising agencies! Carvertise is one of the biggest companies that will wrap your car in branding and pay you for it!
Fishing Gear
Gather all your fishing gear, set your own price and start making money on it when you are not out on the dock!
Water Sports Equipment
Jetskis, paddle boards and other gear for water sports can all be rented out to enthusiasts. Of course, this will work best if you live near a body of water.
Animal Boarding Space
Do you have a room for a horse or space in your home to open a doggy daycare? Boarding animals for their owners whether on a long term or short-term basis is a great way to make extra money.
A Spare Room
Make money with your space room! You don't even need to rent out your entire home – many people rent out their space room on a week by week or even nightly basis.
10 Crazy Items People Are Renting Out For A Profit
While the above list has the easiest things to rent out for a profit, below you will find some of the weirder stuff that is in demand on Fat Llama.
Cute, right? Comes complete with adjustable height setting to cater for birds of all sizes (no giggles please) for a very reasonable $7 per day.
So despite any gloomy tidings you hear on the news, at least we can all sleep soundly, knowing that humankind has done its part for the chicks.
Save money on your next kid's birthday party by renting out a bouncy house for the backyard! From $100 a day.
Now you can bring the spa to your garden and indulge in the ultimate relaxing weekend (or best ever after-party). This tub comes with floating dispenser, floating light, inflatable gear rests and drinks holders for $100 a day ($500 for the week).
Don't worry this photo booth will not inform you whether you really are the fairest of them all. In fact, this mirror is a fun twist on your standard photo booth experience: Its touch screen, interactive and takes full length photos, which allows you to sign and add emojis to your photos.($270 per day).
Complete with a big space for your coffee beans / cups / cold drinks and many many more. From business plan to party piece this is a 'beverage bicycle' with great potential. ($270 per day).
Don't buy a $200 machine with good intentions and then never use it. Rent one out for $10 a day before you commit.
This is a listing with endless potential, from pulling out the stops at your local football game to full on fancy dress or even just to trail your mates for a laugh – whatever floats your boat! $17 per day.
Presumably the sight of this party piece is designed to compel even the most 'off-beat' (and I don't mean alternative) of us onto the dance floor. $225 per day.
Ever considered doing some burger flippin' with rollers in your hair? No? Well, consider it, because this retro fast food four-wheeler is a great addition to any retro-themed event for a reasonable $280 per day.
One of the joys of a great summer party is the complete unpredictability of the weather (in opposite worlds). But these cheery lights will ensure a warm ambiance even if the outdoors resembles the Baltic more than Barbados. (150 ft long for $70 per day).
How Safe Is Renting My Stuff Online?
Everything on the site is insured to 100% of its value up to $30,000. This is included in the cut that Fat Lama takes from the price of a rental.
How To Get Started With Fat Lama
Head over to Fatllama.com and create your account. After your ID has been verified, you will be good to go! Check out the FAQ page for help on pricing your items.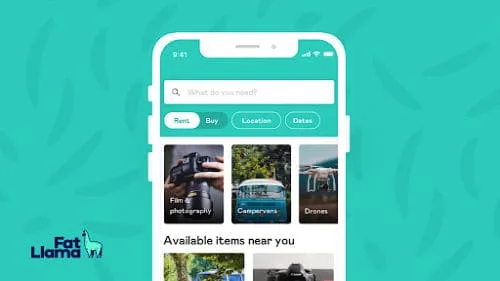 How Fat Llama Works
Head over to Fatlama.com and create your account. After your ID has been verified, you will be good to go! Check out the FAQ page for help on pricing your items.
Everything on the site is insured to 100% of its value up to $30,000.
This is included in the cut that Fat Lama takes from the price of a rental so you don't have to worry about your item being damaged or stolen.
How To Get Started With Fat Lama
Head over to Fatlama.com and create your account. After your ID has been verified, you will be good to go! Check out the FAQ page for help on pricing your items.
More Ways To Make Money From Home
How To Declutter And Make Money
35 Ways To Make Money In Your Spare Time
6 Ways To Make Money While You Sleep