Starting a bath bomb business can be fun and profitable. Making bath bombs to sell is not complicated, but you need the proper supplies.
Once you have everything together, making them is easy! And the profits are awesome.
Nothing beats relaxing in a warm bath with a bath bomb, in fact it is one of my favorite things to do. But bath bombs in stores can get expensive so why not make your own?
And then, why not get paid to make them?
Bath bombs are an easy product to sell and create in your own home! As they are not a food product, you don't need to worry about all the hoops you'd have to jump through with a homemade cookie business so you can get started faster.
You'll need just a few materials and you can start selling today.
This guide will show how to start your own bath bomb business from scratch, including:
What are bath bombs
What materials do you need to make bath bombs
List of tools required for your bath bomb business
Ideas For Bath Bomb Recipes
The business side of bath bombs
Where to Sell Your Bath Bombs For Cash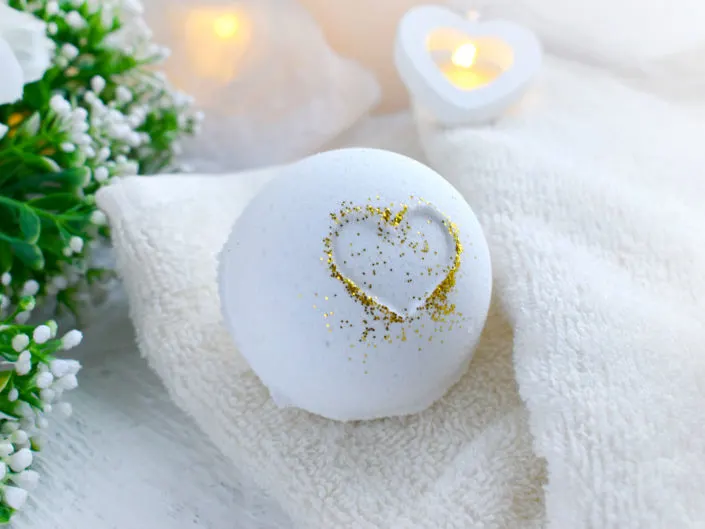 This post contains affiliate links. Please read my Disclosure for more information
RELATED POSTS
21 Most Profitable Resin Crafts To Sell
18 Easy Beauty Products To Sell Or Gift
Introduction: What are bath bombs?
Bath bombs are balls of bath salts or scented bath soap that "explode" when they are put under running water.
They come in all different scents and shapes and make wonderful gifts.
Although most bath bombs are round balls, they can be all kinds of shapes such as donuts, popsicles and hearts.
Bath bombs are really easy to make and sell for up to $10 per bath bomb at the higher end so they can be highly profitable.
If you are crafty and love making things, making bath bombs to sell is a great way to marry your love for crafts and your need for cash.
They are one of the most profitable beauty products to sell right now thanks to the low costs of supplies and high profit margin.
Is it easy to make bath bombs?
Making bath bombs is easy and there are low costs of ingredients. DIY Bath Bombs can be made with little initial financial outlay.
You can start with a basic bath bomb recipe and then develop different scents, shapes and colors to attract different buyers.
This is a really easy business to scale up as you go.
How Much Money Can You Make Selling Bath Bombs?
There are two factors involved in decided how lucrative your bath bomb business will be.
First of all, it depends how many bath bombs you can sell.
Secondly, you income depends on how profitable your bath bombs are.
How many bath bombs you sell will depend on how much you promote your business and how many customers you can get.
Using the tips and tricks below, you will be on the right track to success, whether you are making bath bombs to sell on Etsy, at craft fairs or on Facebook.
How much does it cost to make a bath bomb?
A bath bomb can be made for as little as 50 cents and sell for between $3-$10.
The price for your bath bombs will really depend on your local market and how much you spend on materials.
Your bath bomb price should be your materials cost + your time + a profit margin
A successful bath bomb business can make about $30,000 in profit each year.
How Much Money Can Your Bath Bomb Business Make?
Let's do some calculations on how profitable making bath bombs to sell can be:
Let's say you make and sell 100 bath bombs a month.
It costs you 50 cents to make each one and you sell them for $3 each. That's a net profit of $2.50 per bath bomb.
Multiply that by 100 and you have a monthly income of $250.
Scale it up and make 1000 bath bombs a month (which sounds a lot but will easily be done if you sell your bath bombs in batches).
Now your profit is $2500 without factoring in reduction of costs for getting wholesale rates on your supplies.
Which materials are needed to make bath bombs?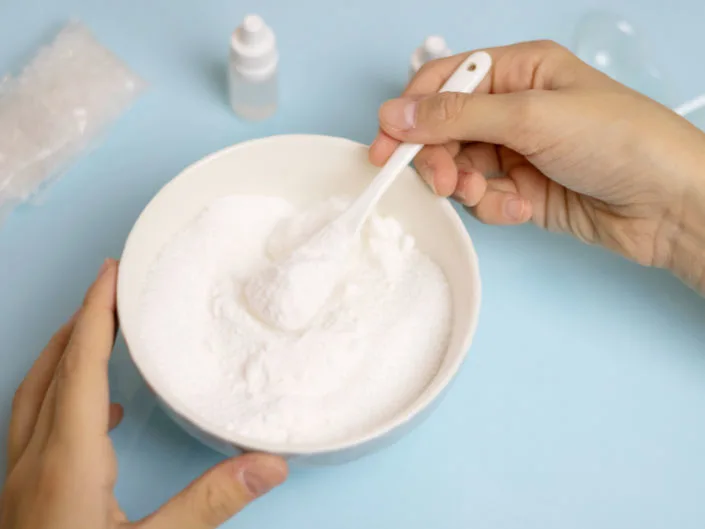 Bath bombs are a great way to make money. Once you know how to make them, you can sell them at craft fairs, flea markets and online.
But first, you need the right ingredients!
The first step is to buy a basic list of supplies that come with all the instructions on how to make them!
Next, if you want to go big or go home (literally), Amazon is perfect for bulk orders so pick up some jars of bath bombs at wholesale prices.
After purchasing your ingredients, it's time to mix them up and get started. The process is very simple!
To start with, you will need the following supplies:
Epsom Salt
Citric Acid
Baking Soda
Corn Starch
Essential oils for scents (or fragrance oils)
Options for a Bath bomb mold
Almond Oil
Pigment for coloring (optional)
Olive oil, melted Coconut oil or Shea butter
You'll also want the following tools:
Hand mixer or a stand mixer
A large Bowl ( I always use a glass bowl)
Spoons and other kitchen essentials.
A spray bottle for adding water to the bath bomb mixture
You can get bath bomb molds at craft stores or on Amazon or you can use something as easy as ice cube trays.
If you are planning on selling your bath bombs then you will need packaging supplies and possibly shipping supplies but we will go over that later in this post.
Basic Bath Bomb Recipe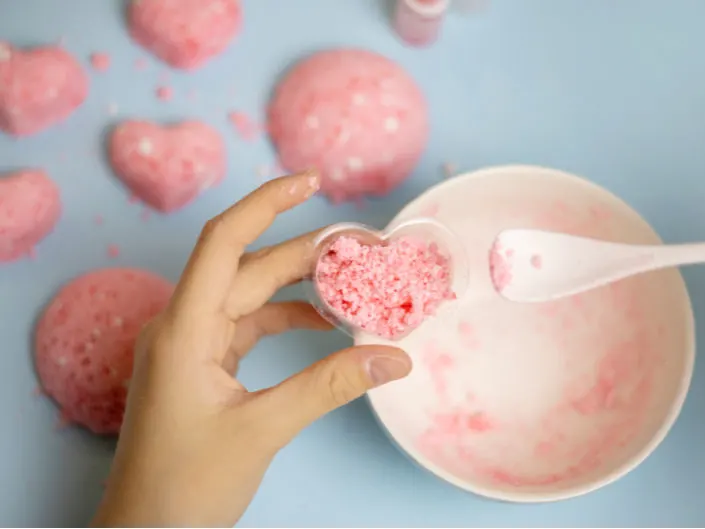 Bath bombs are easy enough for beginners to make, take this basic recipe for the perfect bath bomb and then switch up the scents and colors to make it different.
The first step is deciding on the shape, size and color of your bath bombs.
The next step is to gather your ingredients and equipment together. You will need a microwave, measuring cups, spoons, bowls and you bath bomb molds.
The third step is to mix your ingredients in a large bowl. You will need 1 cup of baking soda, 1/2 cup citric acid, ½ cup cornstarch, 2.5 tablespoons of coconut oil and 10 drops of your favorite essential oil.
First mix the dry ingredients together and then mix the wet ingredients separately before combining the dry mixture with the liquid mixture.
You need to mix very slowly until it is the consistency of wet sand to avoid activating the citric acid (you will see it bubbling).
Once you have mixed the ingredients, pack the mixture into each half of your mold and then press them together.
Leave your bath bomb in the mold for a day before removing.
Using this simple recipe, you can invent your own homemade recipes by using the same dry bath bomb ingredients and different colors and scents.
Tips For Coloring your Homemade Bath Bombs
The color of the bath bombs is often a big part of their appeal.
Although you can use food coloring, the best way to add different colors to your own bath bombs is with mica powder pigments.
This is powder that you add into the dry ingredients of your bath bomb recipe.
A little pigment powder goes a long way and you won't need to add more than a little bit to your bath bomb mixture .
Using Fragrance Oil For Bath Bombs
There are lots of different fragrance oils for bath bombs that you can use. Much like when you are making and selling candles from home, you should use high quality fragrances in your bath products.
Personally I use essential oils such as:
Lemongrass
Lavender
Eucalyptus
Peppermint
Sweet Orange Oil
When you are making seasonal bath bombs you can match the color and scent for a really festive look.
For example, red bath bombs with a rose scent for Valentine's day or red and green bath bombs with a spruce or peppermint scent for Christmas.
Fun Bath Bomb Recipe Ideas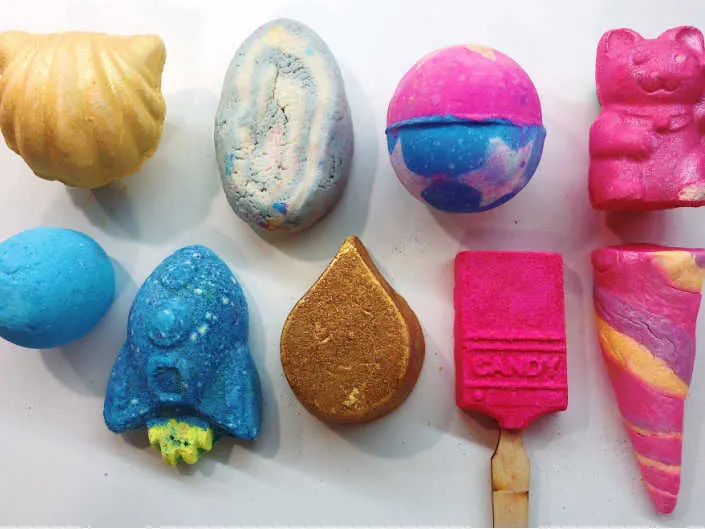 You can invent your own bath bomb recipes by experimenting with different essential oil blends and colors.
Different molds will give you all kinds of fun shapes that sell well.
Bear in mind that seasonal bath bombs are very popular during the holidays and can make you a lot of money.
Here are some fun bath bomb recipes you can try:
How To Create Your Bath Bomb Business
A bath bomb business can start with a small investment, and there are multiple ways to scale your operation.
You can sell at fairs or in stores or online. Your inventory will be available on your website, social media site, and potentially in stores.
The first thing to do is to create social media pages for your business and a website where you can sell your items.
You can also start an Etsy store that will allow you to sell your bath bombs worldwide.
Choosing A Bath Bomb Business Name
What should I call my bath bomb business?
This is a question that many people ask themselves when starting their own company. If you are considering opening your own bath bomb company, here are some tips to help you choose the perfect name for your business.
-Think of what words would describe your products (e.g., happy, calming) and then find a word that captures that feeling in two or three syllables
-Do an image search on Google Images with the keywords "bath bombs" and see what comes up – if there is something similar out there already, maybe think about using another name for yours
-If you have friends who don't know much about bath bombs but say they like them after trying one, ask them for their thoughts on possible names to help narrow down options
Where are the best places to sell my Bath bombs?
To be successful, you want to sell your bath bombs in as many places as possible.
Here are some places you can try:
Craft Fairs
Local stores
Instagram
Facebook
Your Own Website
Amazon
Etsy
How To Sell Bath Bombs On Etsy
Selling bath bombs on Etsy is a great way to make money from the comfort of home. It is free to get started on Etsy and you will immediately have access to a massive Worldwide audience (almost 40 million people currently use the site).
The key to being successful on Etsy is to find a niche for your bath bombs and run with it.
Maybe you will specialize in bath bombs for birthday gifts with little gems inside or bath bombs for kids with toys inside.
Or maybe you will go seasonal and focus on holiday shapes and scents.
If you haven't started your shop yet, make sure to go through this tutorial on How To Start An Etsy Store Successfully
It will take you step by step through from creating to launching your Etsy shop. You will be up and running selling bath bombs on Etsy in no time!
It also includes a link for 40 free listings which will help you to start your store for free.
How To Promote Your Etsy Bath Bomb Store
Although Etsy has millions of visitors who are searching for handmade products, don't rely on your shop organically showing up in search.
You want to promote your Etsy shop on social media and especially make use of Pinterest. This tutorial will show you How To Use Pinterest For Etsy
Etsy SEO is how you will get your bath bombs to show up in the Etsy search results.
It involves using keywords in your title and description.
You can use my handy Etsy SEO checklist to help you with this:
Starting Your Own Bath Bomb Website
The best way to sell bath bombs online is through an eCommerce website. You can do this with Shopify or you can start your own website in a few minutes.
By having your own website, you can customize it as you build out your online store. You can also add a blog to your website (more on that below).
You should also create a domain name for your site that is catchy and easy to remember.
Once you have created this domain name, set up the website by following instructions on how to use WordPress as outlined in this post.
After the site has been setup, promote it with social media marketing campaigns like Facebook ads and Instagram.
Making Bath Bombs To Sell On Facebook
Facebook is a really good place to sell your bath bombs because it is completely free to get started.
It's a great idea to list your bath bombs for sale on Facebook during the holidays when everyone is looking for gift ideas and teacher gifts.
The same goes for other gift giving occasions such as Mother's Day and Bridal Shower season.
There are 3 places you can sell your bath bombs on Facebook:
Facebook Marketplace
Facebook marketplace is the obvious place to start selling your items as you don't need to pay anything and can reach a local audience.
You can create as many listings as you like for free.
The only downside is arranging shipping or pick ups with your customers.
People can be flakey on Facebook so I would make sure to ask for a deposit for any custom orders
You should also definitely get payment before handing over any products.
Your Facebook Page
You can create your own Facebook Page and promote your bath bombs that way.
Ask for people to like your page and advertise sales and promotions.
Every time you create a new bath bomb, post pictures and information of it so people can have a chance to buy it.
Do the same on your Instagram page as this is a great source of business for many DIYers.
Facebook Groups
In my opinion, Facebook groups are the best way to sell your bath bombs, especially at Christmas.
Join as many local groups as you can. Look for handmade groups, mom groups and neighbourhood groups.
You can add your business details on promotional days where advertisements are allowed.
Blogging About Bath Bombs
I mentioned starting your own website above and a bath bomb blog is a great way to do this and make money.
You can start a blog and then make money through affiliate marketing, advertising and also teach other how to make different bath bombs.
A great idea is to start a blog in conjunction with an Etsy store to really boost your sales.
You should also consider starting a YouTube channel in conjunction with your blog so you can show people the steps to making bath bombs to sell.
Ideas For Selling Your Bath Bombs At Local Stores
This idea may take some extra time to start up but it can be really profitable.
Try and build relationships with local bath and beauty store owners or businesses where your products might fit.
Ask if they will stock your bath bombs for a cut of the sale price. It's a win-win for both of you!
How to wholesale bath bombs
When you are looking to sell bath bombs online, another option is to partner with a wholesaler to sell your bath bombs on a large scale.
You will need more organization and the space needed for wholesale production is larger than that of retail production.
If you do want to scale up, then wholesale production is the way to go. How to wholesale bath bombs
To increase the number of stores in which you sell your bath bombs, use bulk materials to produce a higher volume of product. It can also help reduce material cost and overall profit.
How to package bath bombs for shipping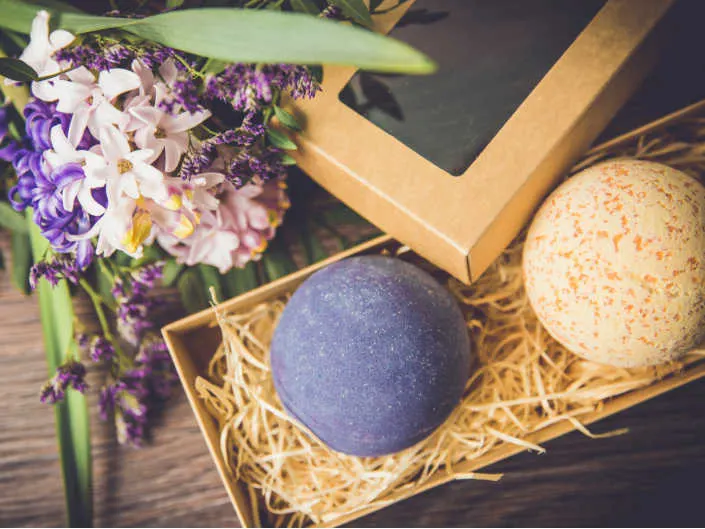 Bath bombs are relatively fragile so you will want to really make sure you package them correctly for shipping.
There are many ways to package bath bombs for shipping, but there are some things you'll need in order to get the job done.
First you'll want to wrap each individual bath bomb in shrink wrap. Use a heat gun or blow dryer to create a tight seal.
Wrapping the bath bomb in two layers of shrink wrap will help keep moisture out while keeping it safe during shipping.
Next, place the wrapped bath bombs in a box with shredded paper underneath.
Make sure that your box is large enough for all of your bath bombs with no extra space left over for them to roll around.
The last thing you'll need to do is add in your business card or pamphlet. A nice handwritten note to your customer is always really cute too.
How to safely ship bath bombs
When it comes to shipping bath bombs, you want them to look as good when they arrive as when you shipped them.
Make sure that your products are well-made and packed in good packaging by using bubble wrap or packing peanuts around the box.
Making Bath Bombs To Sell FAQs
Do I need a License to Sell Bath Bombs?
In most cases you will only need a business license in order to get started making bath bombs to sell.
A state license is only worth for the state you are in so bear that in mind if you move.
In most cases you will not have to get any special licensing but it is worth double-checking.
The FDA's guidelines can be found at their website.
It is better to get advice from the source, so ask them if you have any questions about getting started making bath bombs or selling them.
What regulations are there for selling bath bombs?
There are some regulations that bath bombs must abide by.
In the US, as long as your bath bombs are purely cosmetic and you are not making any medical claims, then you do not need an FDA inspection.
In Canada, Health Canada requires that anyone who sells a cosmetic product in Canada must file a CNF (cosmetic notification form) with them within 10 days of first making the product available for sale. This includes bath bombs that you sell locally.
Make sure to check out the regulations where ever you live to avoid trouble down the road.
Do I need Liability Insurance for making Bath Bombs to sell?
Liability insurance is a must for any small business that is selling products to the public.
This type of coverage protects your business in case something goes wrong during the production process or if something goes wrong with a batch and someone gets hurt.
Making Bath Bombs To Sell – Final Thoughts
Starting a bath bomb business can be fun and profitable. Bath bombs are not complicated to make, and can turn an amazing profit if you play your cards right.
Just make sure to follow the steps in this article to create your own profitable bath bomb business.
More Home-based business Ideas
Start A Soap Making Business From Home
How To Start A Home Based Floral Business