Are you googling the terms "proofreading jobs online no experience required" and wondering if it is even possible to find a cushy work from home proofreading job with no prior experience or credentials?
Yes it is!
Online proofreading jobs without experience are the best entry level opportunity for anyone to work from home, with no previous experience required!
Proofreaders can be found in many industries, and all that is needed is a strong attention to detail and an ability to find mistakes.
Starting your own proofreading business at home has never been easier than it is today. I'll show you how in this article!
This is one of the best remote jobs you can get without prior experience and the great thing is, there are tons of job opportunities for work at home proofreaders.
In this post, I'm going to take you show you more than 50 places where you can find the best online proofreading jobs to start your own business.
I'll also cover important questions like:
How much do online proofreaders make?
Where to find the best proofreading jobs for beginners
How to become a proofreader with no experience at all
Plus we will talk through how to get started as a freelance proofreader so that your business is a success!
Proofreading is a great job for people who need to make money but need the flexibility to look after their kids, work from home and set their own hours.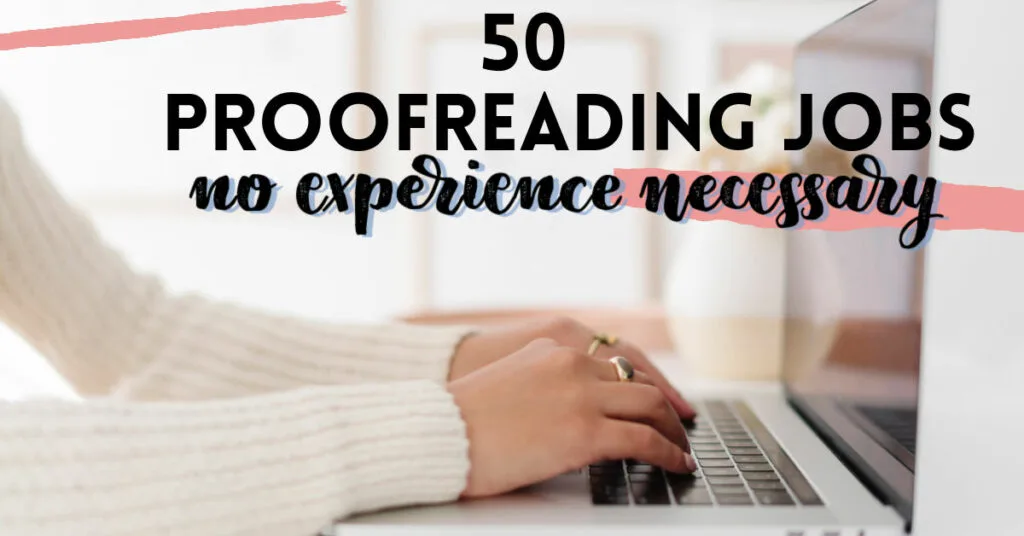 This page contains affiliate links meaning I earn a commission if you use those links. Please read my affiliate disclosure for more information.
RELATED POSTS
What is a proofreader?
Simply put, a proofreader (sometimes called a copy editor) is someone who reads and analyzes documents to correct punctuation, formatting issues, accuracy and spelling mistakes.
You've probably come across many lay-proofreaders on social media, those people are missing out a great opportunity to get paid to proofread!
If you have a knack for spotting grammatical errors in emails, have a good command of the English language (or whichever language you want to proofread), you are well on your way to an illustrious proofreading career.
Who Uses Proofreaders?
Lots of people! From small companies, students handing in their thesis, bloggers and content writers who have no time to proofread – this is an in demand skill that can become a lucrative way to make money.
Even entry-level proofreaders can find work pretty quickly, especially if they fulfil the basic requirements for the job.
Proofreading services are used by many different people including:
Authors
Marketing teams
Academic Papers – journals, papers, manuscripts
Bloggers and Brands -blog posts, Instagram captions and more
Small and large businesses – proposals, website copy, reports & communications
ESL Students – thesis, essays, admission papers
Individuals – resumes, applications, submission papers
Website Owners – copy editing
What Kind Of Work Do Proofreaders do?
There are all kinds of proofreading jobs remote or otherwise and many different fields of work that you can find clients in.
Proofreaders can be found in many different industries, such as:
Publishing
Legal
Academic
Marketing and Advertising
Customer Service
Litigation Support
Medical
No matter which industry you decide to work in, the most important skill needed for all proofreader jobs remote and in office is an extremely strong attention to detail and a knack for finding mistakes.
Online businesses hire proofreaders for all kinds of remote proofreading jobs including:
Blog Posts
Website Copy
Reports and White Papers
Short Stories
Medical and Legal Transcripts
Social Media Posts
Research Articles
Below you will find a ton of places to find proofreading work without a lot or even, any experience but first let's look at some important questions about proofreading.
Can anyone be a proofreader?
All kinds of people have chosen proofreading as their online job because of the minimum requirements (no master's degree required!), flexible work and potential for extra income.
Stay at home moms, college students and side hustlers all love the flexible hours and independent business days.
But can anyone succeed as a proofreader?
While anyone can learn to be a proofreader and apply for jobs, there are certain personality traits that tend to lend themselves to proofreading.
You might be a good proofreader if you:
Are detail oriented
Have great time-management skills
Enjoy reading all kinds of material
Have ever been accused of being a "grammar nazi" on Facebook
Familiar with online platforms such as Microsoft Word and Google Docs
Want to see if you have what it takes to become a proofreader?
Take this proofreading test from The society for editors and proofreaders in the UK.
It is kind of fun and will let you know if you have what it takes to make get online proofreading jobs with no experience.
Even if you have no experience as a proofreader, there are many different fields in which you can use your expertise and background to get work as a proofreader.
For example, if you have a background in finance then you can go after positions in a related field such magazines or online publications focusing specifically on personal finance-related topics.
Niching down is the best way to make sure you get as many proofreading job opportunities as possible.
Want to know about becoming an online editor or proofreader?
If so, this FREE workshop is the perfect way for beginners who are just starting out in their field. You will learn what it takes and how much money can potentially made doing editing work!
How Much Money Do proofreaders Make?
While your earning potential as a proofreader will grow with your experience level, according to Payscale, the average proofreader makes around $40,000 a year.
This means that a full-time income is more than possible.
Of course some proofreaders make much more as it all depends on how much work you take on and your time management skills!
Entry- level proofreaders typically start off at around $15 an hour and scale up from there as they hone their proofreading skills
If your skills are in demand then chances are high-paying jobs will come knocking at your door!
Is Proofreading only an option if you are based in the United States?
No!
There are successful proofreaders all over the World and proofreaders are needed everywhere that words are written (eg. everywhere).
The list below of proofreading jobs online that don't require experience has jobs globally.
In addition, I added a specific list of job boards to check out if you are in Canada.
Best Online Proofreading Jobs No Experience Required
How To Find Proofreading Jobs
Now you are ready to find some fantastic paid work from home jobs as a proofreader.
Where you find the most work will likely depend on your particular niche. Below I will give you the best places to find work from home writing jobs:
Proofreading Job Boards
I've also found that just by inputting "proofreading jobs" in search engines, you can find some great freelance proofreading opportunities:
Below you will find more than 50 sites that post proofreading jobs specifically.
Bear in mind that they might not all have vacancies right now but keep on checking as new jobs are posted all the time.
Some might want experience – at the bottom of this page you will find info on a free course that can help you get a foot in the door before you even get a job.
A few of them even require you to take a 20-minute screening test before you can create your user account.
Click through to search open positions, fill out an application form and find the best companies to proofread for.
The Top Two Proofreading Job Boards Include:
This is not a site where you have to bid on jobs which is why a lot of freelance proofreaders love it.
Scribendi offers really competitive pay and they have jobs for all native english speakers from around the World.
If you are successful in your application, you will become an independent contractor working with Scribendi, taking advantage of Scribendi's unique system and getting paid monthly.
Scribbr helps students achieve academic writing success by creating tools that will help students learn, grow and achieve their academic goals.
The great thing, they offer proofreading and editing jobs for all languages so there are lots of opportunities available, no matter what your native language is.
The basic requirements to work as a Scribbr editor are: A university degree, and native speaker in chosen language
On average, you can expect to earn approximately €20 to €25 per hour as a Scribbr editor.
The earnings are calculated based on fixed per-word rates depending on the type of assignment.
There are 3 steps to becoming a proofreader with Scribbr:
Take the online test to confirm your proofreading skills
Complete and application
Attend Scribbr Academy – a month long training session to learn what is expected.
More Places To Find Online Proofreading Jobs With No Experience
Freelance Job Boards For Proofreading Jobs with No Experience
A freelance job board is an online platform that has all kinds of jobs for freelancers – writers, photographers and of course, proofreaders.
Bear in mind that for some, like Fiverr, you can also post your own ad offering your services.
The top Freelance job boards for proofreaders include:
Problogger is a huge job board that specializes in jobs for freelance writers that want to write blog posts and articles.
They also have quote a few proofreading and editing jobs too so it is worth a search.
Upwork is a great website for freelancers to find proofreading jobs.
It will highlight relevant opportunities that you can apply too, but your profile affects what type of projects and clients they want to work with in the future so make sure it looks professional!
Freelance Proofreading Jobs From Home Canada
Lots of the places above are great for finding global proofreading jobs from home, no experience needed.
Places like Indeed, Linkedin and Fiverr are international. If you are based in Canada, you can also check out these Canada specific sites:
52. Facebook Groups
The best way to find freelance proofreader jobs? Facebook groups!
Join as many different groups that you can and see what kind of opportunities they offer.
Job postings on the social media site are an easy place for beginner proofreaders to get started.
Transcribing, Editing & Proofreading Services
Proofreading and Editing Services
Proofreader Needed Today (general proofreaders and editors)
Proofreader Needed Today (Proofreaders for Court Reporters)
Binders Full of Remote Proofreading and Editing Jobs
English Editing + Proofreading Jobs
Freelance Content Writers, Content Editor, Proofreader, & Digital Marketers
Cold Pitching For Proofreading Jobs
If you're serious about finding proofreading jobs with no experience, then email marketing is one of your best bets
Cold pitching can be hard work but it can help you land jobs that you would otherwise not be able to get.
The easiest way to start is to send out emails to build connections with business owners who might need proofreading services. Keep track of all the pitches you send using Google Docs and try to send out emails on a daily basis .
How much should I charge for proofreading?
The president of ProofreadingPal recommends that companies choose a proofreader that charges by the word because that is the most precise and up-front pricing model.
iproof.ca offers proofreading at rates from 2-4 cents a word depending on the type of document.
To start you might want to charge an hourly rate until you become more experienced. You can then consider raising your rates as a proofreader.
If you have your own website and business name, this will lend creditability and allow you to raise your rates.
Can you be a proofreader without a degree?
A lot of people think that you need a graduate degree, or at least a college degree in English to become a proofreader but luckily for the rest of us, that is not the case.
In fact you don't need a bachelor's degree in any subject to become successful at proofreading.
And in fact, many proofreaders who do have degrees, are not English majors.
Proofreaders are in such high demand that you don't need a university degree in order to be successful on the freelance marketplace as a proofreader.
If you are a native english speaker then you are already in a great place to start getting proofreading jobs.
The most important skills you need are great spelling, grammar, punctuation and the skills to get and maintain clients.
Do I need training to be a proofreader?
Even though you can become a proofreader with a high school diploma and no proofreading experience, training is a good idea.
A remote proofreader with no experience can give themselves an advantage if they have completed an online proofreading training course.
The good news is that there are some great online proofreading courses you can take.
How can you get started as a proofreader?
The most popular way to become a proofreader from home is by taking an online course.
Proofread Anywhere is the most highly rated course I have found and hundreds of students have gone through it in the last decade.
The course is run by Caitlin who herself became a full-time proofreader earning upwards of $70K a year. She first started proofreading in 2007 and quickly become a bit of a guru in the field.
In the course you will get:
General Proofreading Basics
Real life examples
Case Studies
Grammar worksheets and quizzes and more.
Free Proofreading Training
Proofread Anywhere offers a free 76 minute webinar training to get you started in the world of proofreading.
If you want to see what it is all about, you can sign up for the free webinar here.
About The Proofread Anywhere Course
The Proofread Anywhere course is especially designed for people who want to make extra money as a proofreader working from home.
The founder, Caitlin Pyle became a proofreader back in 2007.
That was her primary income ($40k+ per year!) — until she realized that she was just as good at teaching proofreading as she was at actually doing the proofreading itself.
After some encouragement from her husband, Ben, she created an online transcript proofreading course which now has hundreds of graduates, and almost all of them have incredible success stories. (check out the website to read some of them!).
Caitlin has two popular online courses to teach you everything you need about proofreading:
The Transcript Proofreading course focuses on proofreading legal transcripts, which takes longer to master.
The General Proofreading course will set you up with the skills to grow a business proofreading more general — and fun! — types of texts like books, blog posts, resumes, news articles, etc.
The course is split into 40 lessons in 9 modules.
Students who pass the course Transcript Proofreading: Theory and Practice™ or General Proofreading: Theory and Practice™ will receive a Certificate of Completion.
How do I market myself as a proofreader?
Once you have decided to start your proofreading career, it's important that you know how to market yourself as a proofreader, even if you don't have years of experience.
Many potential clients will want to check out your credentials before hiring you so a great online presence can really give you a headstart in the application process
Here are 4 Ways that you should market yourself as a proofreader:
Set Up A Proofreading website
Create Social media profiles
Join Proofreading Associations
Cold pitch For proofreading jobs
Set Up A Proofreading Website
If you want to be a successful proofreader even with no experience, you need to showcase your skills.
Create a website where customers will know about what services/products exist at any given time along with pricing info so there's less chance wasted potential.
You can easily set up a website in an afternoon for just a few bucks.
Make sure to include the following pages on your site:
Services Offers – Outline the different proofreading services you offer
Work History – As you get work, add samples to this page and include any testimonials that you get from happy customers
Contact/Hire Me Page – Include all relevant contact information including your social media handles.
About – Give a little information about your background and personalize yourself. Include any special skills you have that might give you an edge.
Blog – If you want to add a blogging section, this is a great way to get your website found on google searches for proofreaders.
It goes without saying that your web content should be error free – after all, you are trying to get work as a proofreader!
Using Social Media To Market Your Online Proofreading Business
Create user accounts on all the big social media platforms and encourage your friends to like and share your posts.
Linkedin is a good option to try as you can find jobs there and connect with people in related fields to the niche you have chosen.
Use your social media accounts to network with other proofreaders and proofreading companies in your niche.
What kinds of things should you post on social media?
Links to your blog and newest blog posts
Links to interesting articles about grammar and proofreading
Reels and Facebook lives of new things you are working on
Stories about your writing process and your work station
Fun grammatical posts to encourage engagement, like this one:
Join proofreading associations
Professional proofreading associations can help you to network and also can make a remote job like proofreading a bit less isolating.
Most regions of the world have their own association you can join to network and meet other proofreaders in your area
United States And Canada
Europe
Australia and New Zealand
Work From Home Proofreading Jobs: FAQS
Is Proofreading a Freelance Career?
In order to get proofreading jobs online no experience necessary, the best option is to become a freelancer.
In fact, most entry level proofreading jobs are for freelancers.
As a freelance proofreader, you will not be working the typical 9-5 job, you might have busier and quieter times throughout the year.
Most proofreaders, even those who work full-time, are independent contractors.
What is an independent contractor?
An independent contractor is someone who provides goods or services to companies without being penned down to one company.
Although this means you will not qualify for employee benefits and you will have you manage your own taxes, there are tons of benefits to being a freelance proofreader:
Ability to set you own rates
Freedom to pick and choose the jobs you want
Create your own work from home schedule
Work as much or as little as you want
Are proofreading jobs legit?
Proofreading is a legit profession used by all kinds of companies and industries every day. Courts, doctors and all kinds of companies use proofreaders to check their documents before publishing them.
Of course, there may be scam jobs out there so make sure to do your research on any site to find the true legitimate proofreading jobs online.
That's why the list above is gold.
They are tried and true places to find the best proofreading jobs online no experience required.
Remember that you shouldn't have to pay in order to get a job. Anyone asking you to send a money order or wire before you get the work should be viewed as highly suspicious.
Proofreading jobs online no experience required – Final Thoughts
You may not have known that you can edit papers for money without any experience but proofreading online content is a great job for anyone who wants to work flexible hours from home.
There are all kinds of proofreading remote jobs available so you are sure to find one that suits you.
The best thing about proofreading is that anyone can apply for proofreader remote jobs with a little training and no prior experience.
A good place to start is this list of over 50 proofreading jobs with no experience at all!
Resources To Make Your Proofreading Business A Success
Free Proofreading Webinar Sign Up
Find the Errors! II: Proofreading Activities
A Proofreading Companion: Tips, Tools & Strategies for the Professional Proofreader