If you are interested in making wood projects that sell well, one of the things you might want to invest in is a CNC Router.
Now that you can get small, desktop CNC machines, it is more accessible than ever to make beautiful wood projects at home and sell them for a profit online.
Below you will find some amazing CNC projects for beginners and more advanced woodworkers.
All of them are top sellers on Etsy and at craft fairs around the country.
It's easy to find x-carve project ideas that sell enough for you to have a steady business just selling one or two kinds of products.
Carved signs, flags and cutting boards are so hot right now that you could start a whole Etsy shop just selling different variations of one of those things with personalization and custom orders.
Handcrafted wood decorations and signs are so popular right now that it is possible to buy a CNC machine and make back your investment in just a few weeks.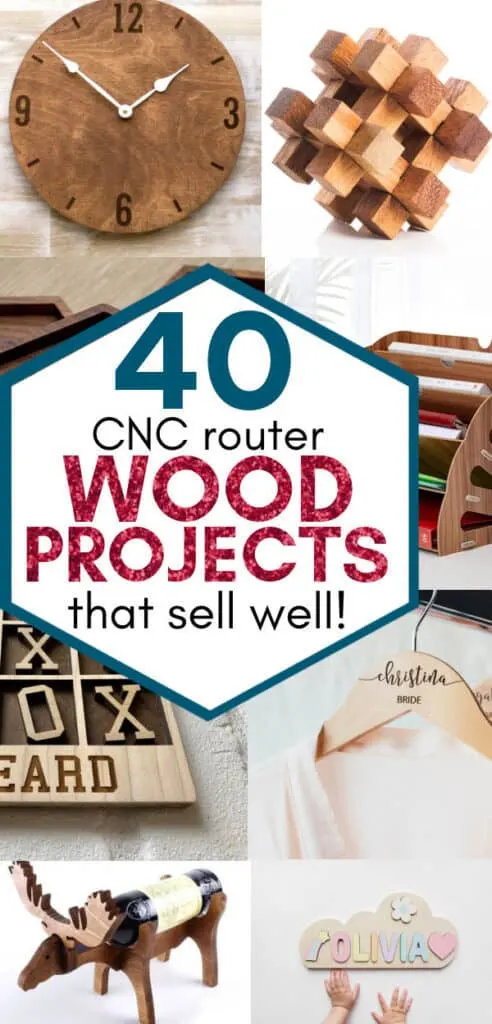 This post contains affiliate links. Please read my Disclosure for more information.
MORE WOOD CRAFTS TO MAKE AND SELL
What Is A CNC Router?
CNC routers are machines that can etch, carve a design, or cut out a shape.
They have changed the way that decorations are made and allowed them to become more accessible and affordable.
They work using CAD and CAM engineering software.
Where can I sell my CNC Projects?
Once you have made some beautiful items with your CNC router, you are probably wondering who is going to buy them!
The best places to sell your project are online – Facebook Marketplace and local buy and sell groups.
Local craft fairs are also ready great places to sell your crafts, especially during the holidays.
If you want to take your CNC business to the next level, starting an Etsy shop is the way to go.
It will give you access to a much bigger, Worldwide audience.
For tips on opening your own Etsy store and to get 40 free listings to start you off, check out my tutorials:
How To Start An Etsy Store Successfully
40 CNC Projects That Sell Well
1. Classic Wood Welcome Signs
A classic wooden sign with engraved letters is the most popular thing to make with a CNC router, especially for those that are just getting started.
People love to display these signs on their porch or inside their homes.
2. Wooden Sign with Raised letters
Here is a twist on the regular sign, as signs with raised letters are not as common, you can command more money for this kind of project.
3. Clock
A modern looking clock with cut out numbers is a really nice project made on a CNC. Skeleton clocks, where you can see the inner workings of the clock are super popular.
4. Wooden Games
Dominos and tic tac toe games make wonderful gifts. Oversize scrabble pieces are another idea.
5. Alphabet Tracing boards
Tracing boards are awesome for kids to practice their letters and numbers.
These wooden alphabet boards make great birthday gifts and look amazing displayed too!
6. Coasters
We often thing of these kinds of coasters as being laser engraver projects but you can also use a CNC machine.
Coasters for drinks always sell well at craft fairs and online because they are affordable and make great gifts.
You can do tons of different designs and shapes and they are an easy project to start with for newbies to CNC.
7. Monogram Sign
These monogram signs are really popular as wedding and anniversary gifts.
8. Growth Charts
Another popular idea on Etsy are oversize rulers for measuring kids as they grow.
You can offer personalization for an extra fee.
9. Trinket Trays
Catch-all trays are a great project for starting your business.
Be creative with different shapes and sizes.
Ring holders are always a hot seller.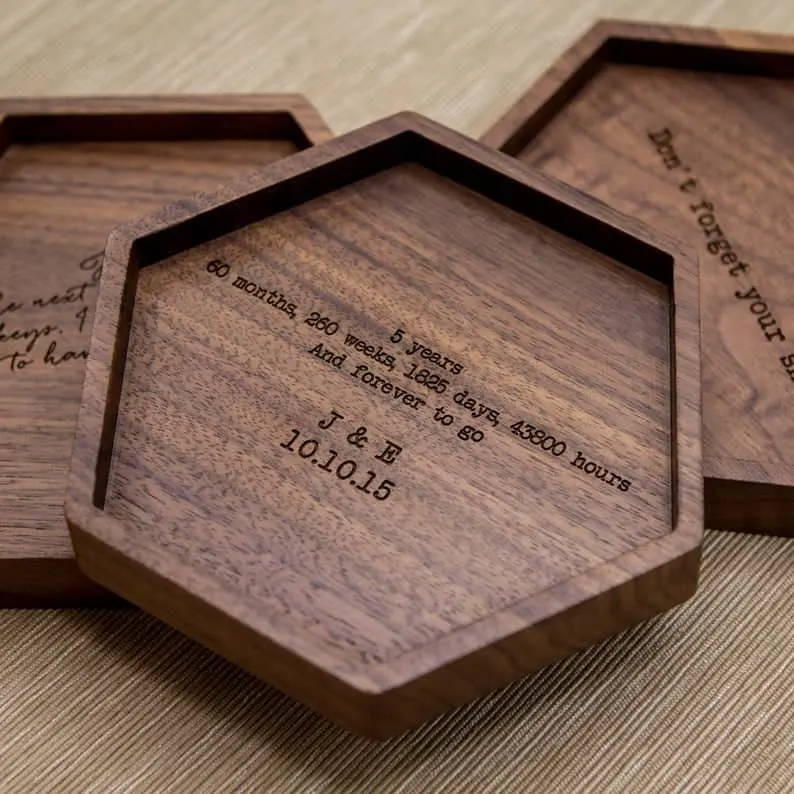 10.Customized Cutting Boards
Cutting boards and Cheese boards look awesome with a monogram or personalized saying.
You can make them out of quality hardwood and even pair them with a cheese knife for a fantastic hostess gift.
11. Tray For Santa's Cookies
These trays are so cute and are perfect for leaving milk and cookies for Santa.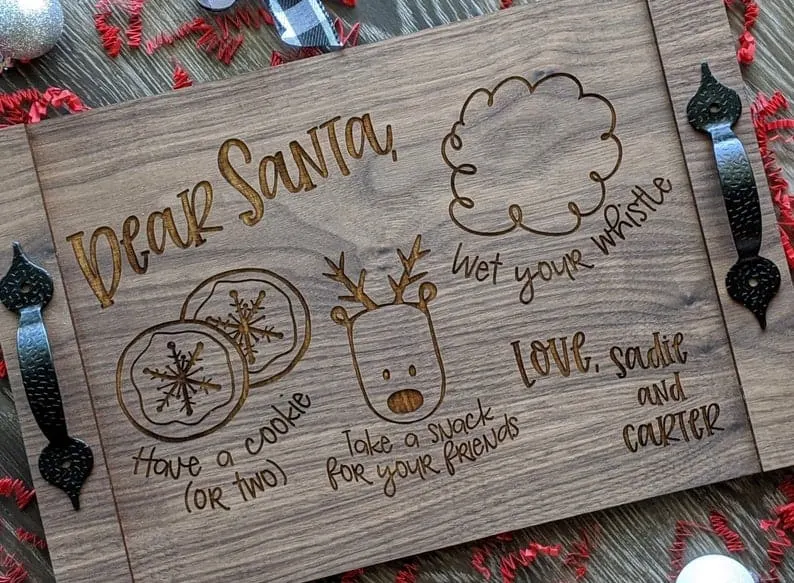 12. Bathtub Tray
A tray that goes over the bathtub makes a great gift.
Offering personalization is another way to boost your sales of this kind of product.
13. Sofa Tray Table
A small tray table to go over the sofa and hold drinks and snacks is a great project to sell on Facebook or local groups.
14. House Number Sign
Boost curb appeal with a classy wooden house number sign.
You can offer individual numbers or customized boards.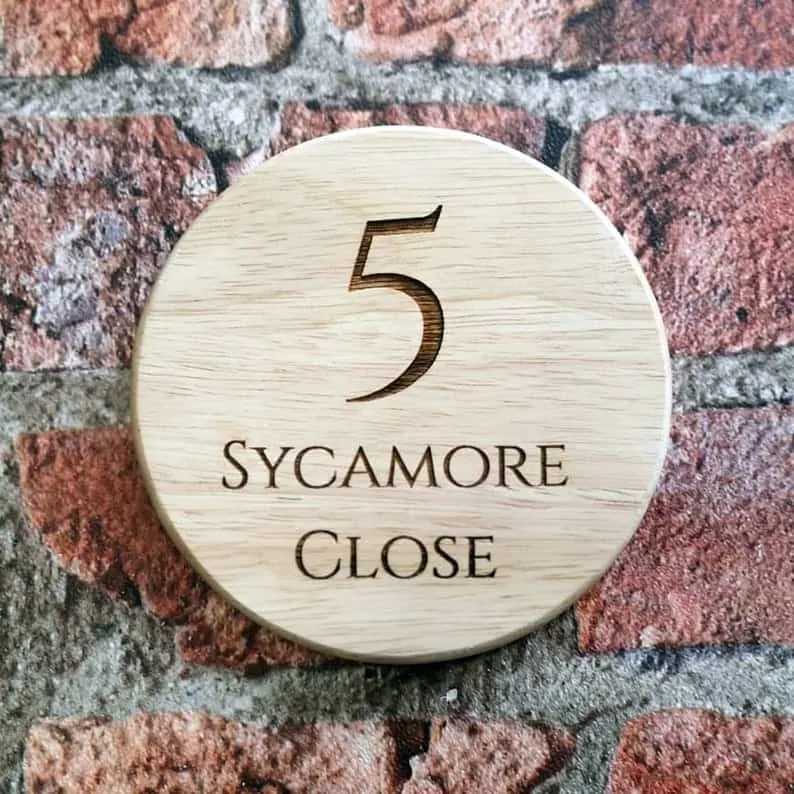 15. Lawn Signs
Large lawn signs for the holidays are unique and huge sellers.
You can get creative with different designs and sizes.
16. Switch Plates
A unique addition to home decor are these carved wooden switch plates.
You can make them for regular light switches and the modern paddle switches.
17. Wooden Cross
These wooden crosses are beautiful displayed on a wall.
18. Wooden Maps
Wooden 3D maps that can be mounted on the wall are really popular on Etsy.
Bear in mind that on Etsy you will have prospective buyers from around the World.
19. Carved Rolling Pin
These rolling pins were all the rage during the holidays.
You can do all different kinds of designs and wording on them and also offer customized rolling pins.
20. Mantle Blocks
Blocks of wood that spell words are perfect for the fireplace or a baby's nursery.
21. Holiday Ornaments
Wooden carved Christmas tree ornaments are a really simple way to get started with selling CNC projects.
22. Puzzles
Simple puzzles for toddlers make great baby shower gifts.
I love the ones that spell out the child's name.
23. Toy Car Storage
How cute is this storage box for a little kid's toy car collection.
Get the CNC project plan here.
24. Carved Wooden Flags
Carved flags, especially wooden American flags, have become really popular in recent years.
25. Business Signs
One niche you can consider is to target business to business sales with carved business name signs.
26. Brain Teaser Games
Who remembers the "executive toys" of the 1980s?
Any respectable high-flying businessman had a little brain teaser puzzle on their desk. These wooden ones are the modern version.
27. Chess Set
This is not a CNC project for beginners but a wooden chess set is a beautiful heirloom piece.
28. Family Name Sign
Wooden cut out signs are another twist on the ever popular wooden signs.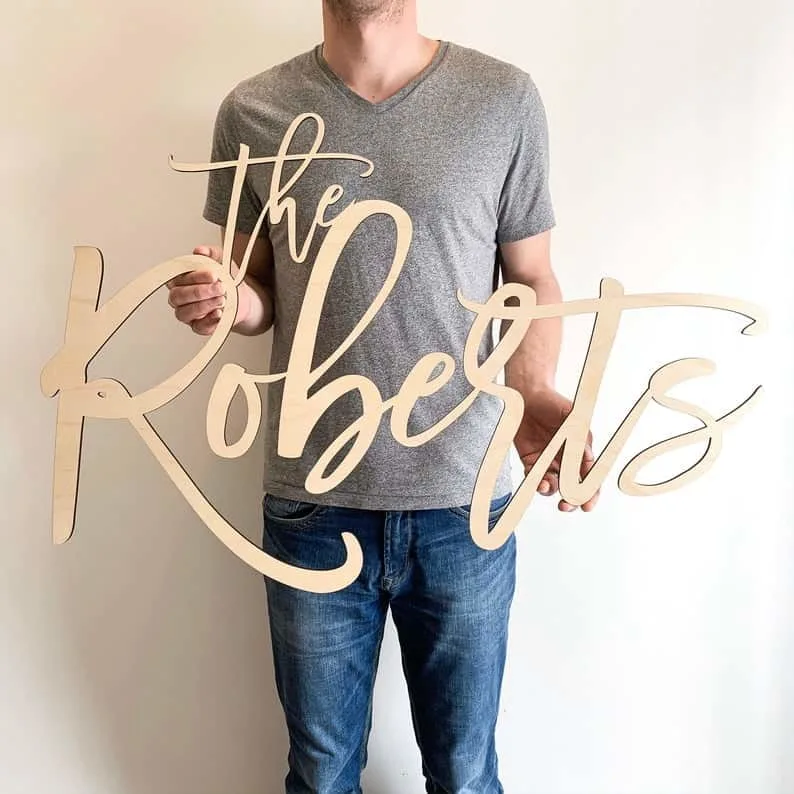 29. Wooden artwork
Art panels for the wall are a perfect gift idea that is popular on Etsy. This store on Etsy has tons of great artwork templates.
30. Dolls Houses and Castles
Simple plywood dolls houses and castles are really nice CNC projects for beginners.
31. Photo Frames
Carved photo frames are another hot commodity on Etsy.
32. Wine Boxes
If you are looking for simple CNC projects that sell as you get started, pretty gift boxes for wine and other items are great for selling around the holidays. Get the template for these house ones here.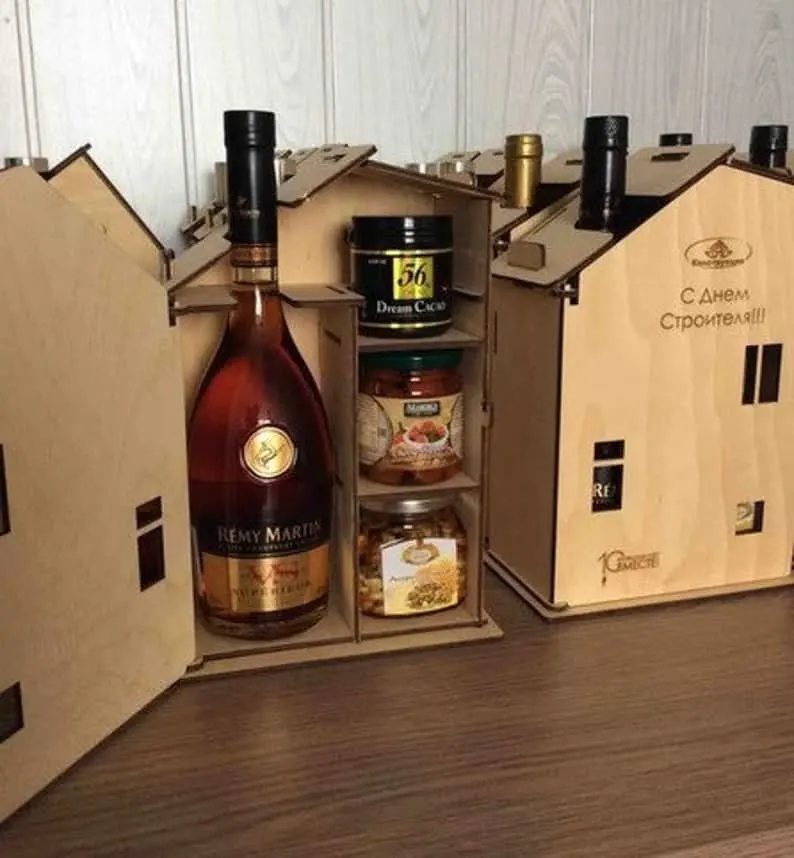 33. Cat Bed
How cute are these cat beds? Get the CNC template here.
34. Desktop Stationery Rack
Pencil pots and file folders are pretty easy CNC projects for the less advanced woodworker.
Click here to get the template for the rack pictured here.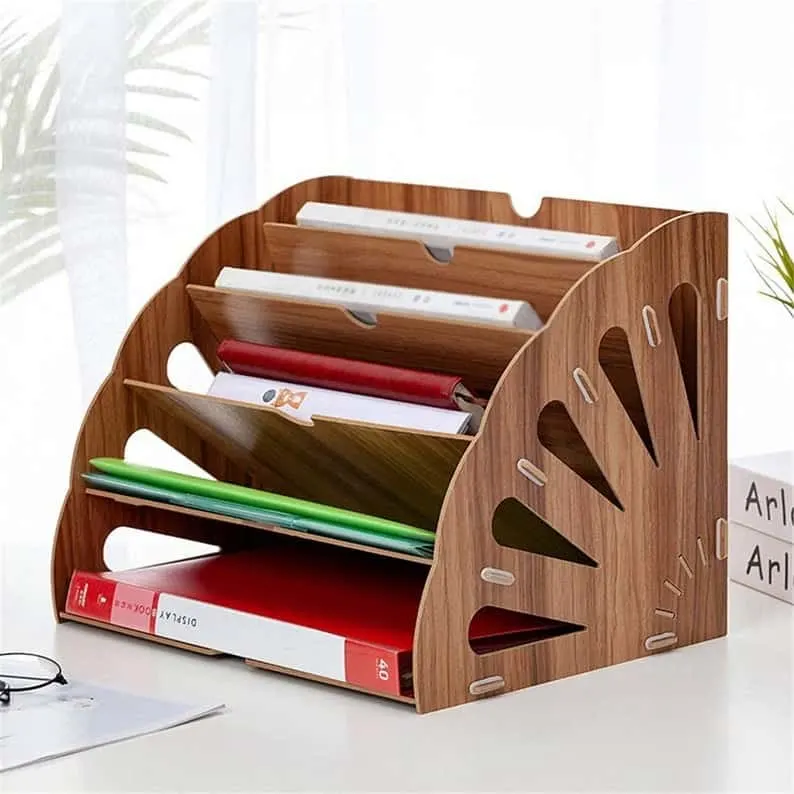 35. Key Rings with Key ring holder
How cute is this puzzle key ring holder?
36. Tissue Box
These carved tissue boxes are an easy gift idea.
37. Wine Bottle Holder
This holder for a wine bottle is cute and practical. Get the CNC project template for it here.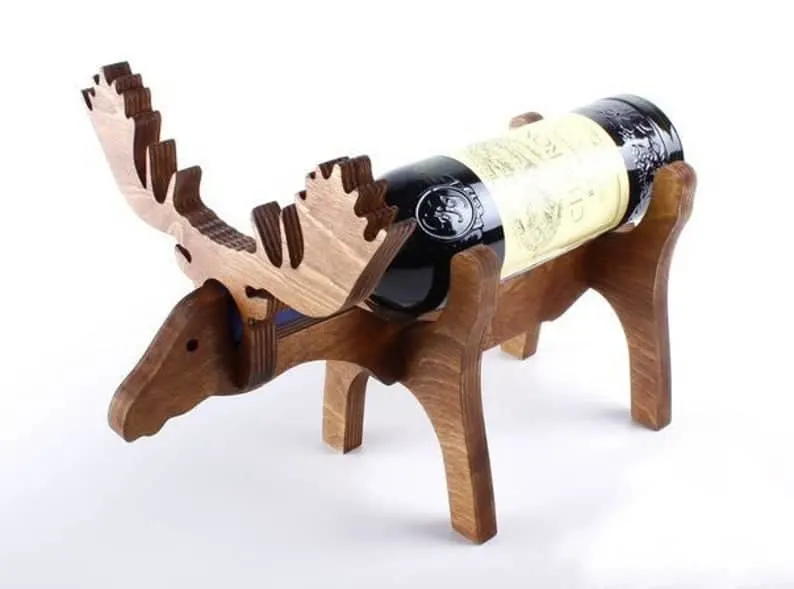 38. Bridesmaid Hangers
These custom hangers are a really popular wedding party gift.
39. State Valet Trays
These trays in the shape of US states make a really unique gift idea.
40. Personalized Bottle Opener
We had bridesmaid gifts, and now one for the gents, personalized beer bottle openers.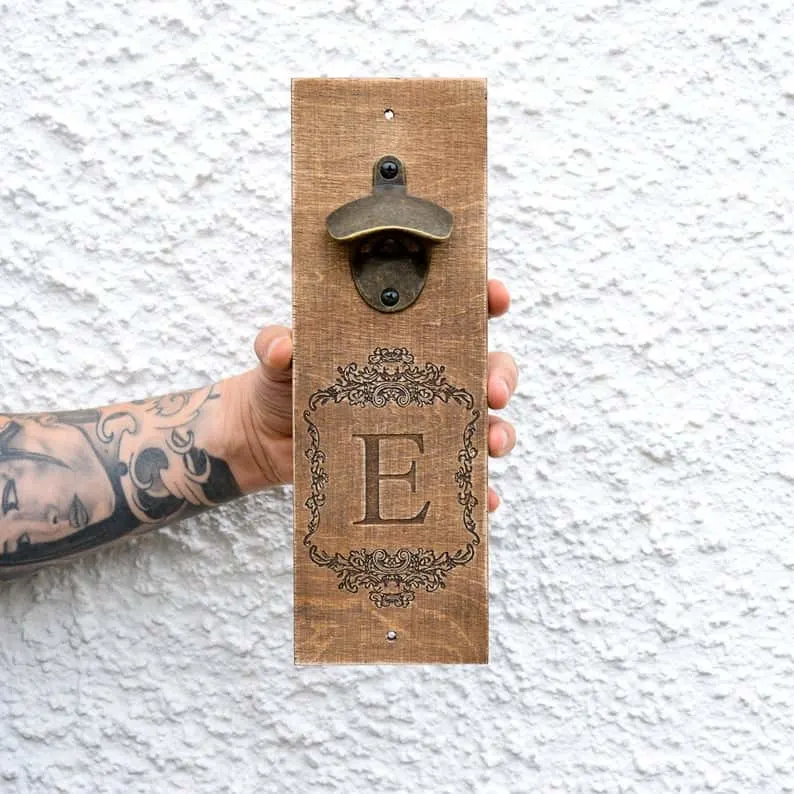 CNC Project Templates
Now you have seen some great ideas for making CNC projects that sell, you just need to decide where to begin!
For project plans and templates for the projects above, you can look on Etsy for cost-effective (under $10) options.
14 Sites To Get Free CNC Project Files
You can also find free CNC project templates at the following sites:
More Ways To Make Money With Crafts
10 Easy DIY Crafts To Sell Or Give As Gifts