I'm so excited to write this tutorial on how to use Pinterest for Etsy!
I've been using Pinterest to promote my businesses since 2017 and I know that it is a fantastic option for getting free traffic to your Etsy store.
Pinterest is a paradise for anyone creative and it makes perfect sense that the same people who love searching on Pinterest, love buying on Etsy. It is a huge treasure trove of potential fans and customers for you.
Below, we will walk through how to use Pinterest to promote your Etsy store.
Even if you have been using Pinterest as a "regular person" for years, strategically using the platform for promoting a brand or business requires some specialist knowledge.
From creating your Pinterest business account to developing a Pinterest strategy for your Etsy shop, this is an in-depth look at being successful on Pinterest.
If you are still in the early stages of Etsy, you can check out my tutorial on how to start an Etsy store successfully.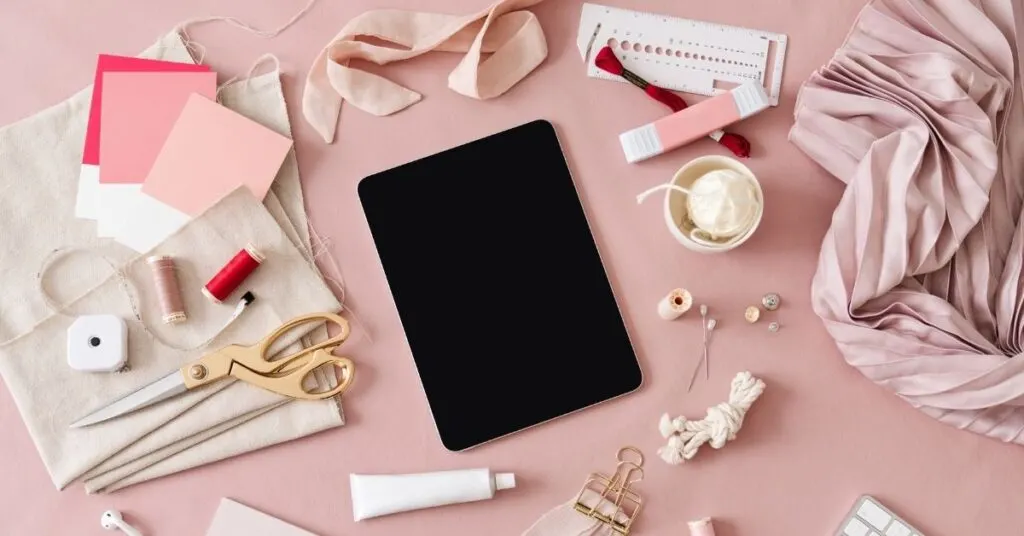 This post contains affiliate links. Please read my Disclosure for more information.
RELATED POSTS
Why Use Pinterest To Promote Your Etsy Store?
First let's look at some Pinterest facts. According to Pinterest themselves:
478 million people use Pinterest every month to find ideas and inspire their next purchase.

80%

of weekly Pinners have discovered a new brand or product on Pinterest

45%

of people in the US with a household income over $100K are on Pinterest
Pinterest offers your Etsy store a reach that you really can't get on Facebook or Instagram without paying for sponsored ads.
For me, using Pinterest is a no brainer for a few reasons:
It is completely free to use
Etsy and Pinterest audiences are very similar. Many people scroll Pinterest looking for inspiration for their weddings, showers and other events.
Pinterest has your target demographic. On Pinterest, women make up more than 60% of the l audience. And as of 2017, 81% of all buyers on Etsy were female.
How To Use Pinterest For Etsy
There are tons of guides for using Pinterest but most of them are aimed at brands or bloggers. While a lot of the information is the same, Etsy shop owners need to know a few extra tips in order to promote their products successfully.
Here's what you need to do first:
Create A Pinterest Business Account
If you already own a Pinterest account for personal use, you have a couple of options here. Here you can either convert your personal account to a business one or you can start a completely fresh account.
Which is best?
This depends on your personal account. If you already have pins relating to your Etsy store then it might be worth converting it and then just archiving or deleting irrelevant boards.
That way you already have an established account with a history and potentially some followers.
If your personal account is full of stuff that has nothing to do with your Etsy store then I would just start with a clean slate and open a new account.
Whichever option you choose, the process is the same. You can either go straight to converting your personal account or open a new personal account and then convert it to a business one.
To do this, simply click on your profile picture in the top right of your Pinterest home page. You will see an option to convert to business. Just click that and you are away. It takes seconds to do this step.
Why Do You Need A Pinterest Business Account?
There are a few advantages to a Pinterest business account when you are planning to promote your Etsy store:
You can claim your other social media accounts and link your Etsy store to your Pinterest
You get access to Pinterest analytics so you can see your pinning performance.
Here is an example of the pin stats you will be able to see once you have created your business account and added some pins to it (you can also see the link at the top left where you can access all your Pinterest analytics)
How To Claim Your Etsy Shop On Pinterest
Once you have made your Pinterest account, the next step is to learn how to claim your Etsy shop on Pinterest.
This is easy and is a helpful step for accessing even more statistics about your Etsy Shop Pins.
Once you have claimed your Etsy Shop, your Pinterest account will get credit for all pins from your store. That means that if other people pin your products, they will be linked back to your Pinterest account instead of just being lost in the ether.
To claim your Etsy shop, go to your Pinterest account and click settings under your picture on the right hand side.
Then click "claim" and pick Etsy. A pop up will then appear asking for authorization to connect Etsy to your Pinterest.
That's it! (and by the way, if you own a website or blog, make sure to claim it too, like the example below).
How To Get Rich Pins On Pinterest
If you do own a website, there is one more step to take on Pinterest. Setting up Rich pins.
If you don't own a website then you can skip this step as claiming your Etsy store automatically creates rich pins for pins linked to your Etsy URLs.
Rich pins are the ones you see that have the website in bold black letters under the image.
Rich pins are very easy to set up once you know how.
Once you have enabled them, all your new pins will become rich pins.
I like this tutorial for setting up rich pins.
Why You Want Rich Pins
Pinterest pulls more data from the blog post (the meta description)
Your pins may rank higher in search
Optimizing Your Pinterest Profile For Etsy Sales
Now all the technical stuff is done, it's time to make your Pinterest profile look amazing and get found in search.
Go to settings again and fill out as many of the boxes as you can.
Add your business name to your Pinterest profile
Add a description to your profile. Use keywords to tell potential visitors what you pin about (eg. use keywords that reflect the topics your Etsy store covers eg weddings, planners, beads etc).
Add a photo to your profile to personalize it.
The bottom line is that very few people will actually visit your Pinterest profile. Most will just come across your pins by searching or in their home feed.
Your profile gives you chance to be found in search via keywords.
Here is what my profile looks like:
A quick word about followers
Unlike sites like Facebook and Instagram, followers do not really matter on Pinterest. Don't get caught up on thinking that more followers mean more sales.
Most people find pins via search and not because they are following the pinner.
Creating Your Pinterest Boards
Now that your profile is ready to go, it is time to create your Pinterest boards.
You really only want to have boards that are relevant to your niche and your target customer.
It doesn't make sense to have a ton of boards about weddings and then a random Food board thrown in.
To begin with, aim for around 8-10 boards on your profile that are all highly relevant to your store. For some niches, it might be really easy to think of 10 boards that you can create while others might have some trouble.
The most important thing to remember is that your board names need to be well keyworded so that they come up in search.
For example, if your niche is weddings, you don't want to name a board a cutesy name like "Two become One". That works for personal accounts but no one is searching that as a keyword.
How To Choose Pinterest Board Names
If you are stuck for board names or want to make sure your keywording is en pointe, the easiest thing to do is a search on Pinterest for boards that already exist.
Put your general niche in the search bar and see what suggestions Pinterest gives you. You can filter by "all pins" or boards like I did here: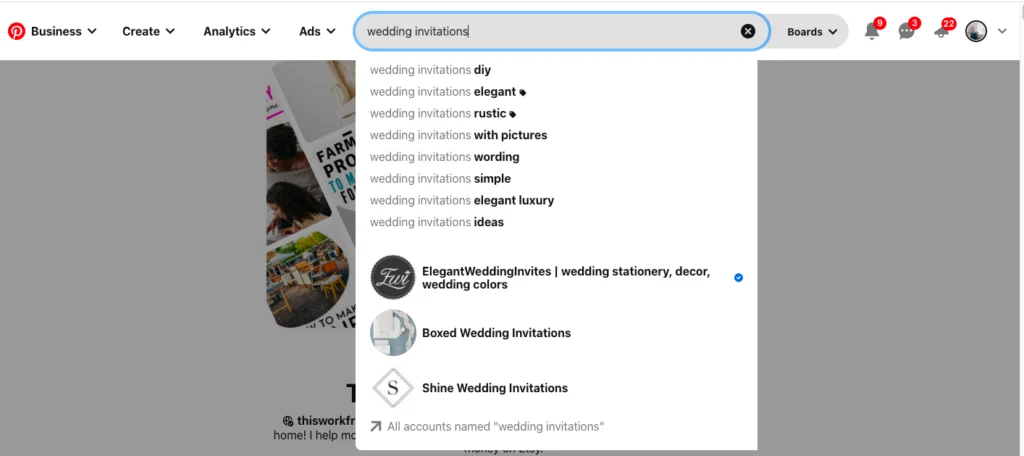 Just from this quick search, you can see a ton of options for Pinterest board names that are actual phrases people search.
So If I was in the wedding invitations niche, I would probably start with some boards like this:
Rustic Wedding Invitations
Wedding Invitation Ideas
Simple Wedding Invitations
Wedding Stationary
Elegant Wedding Invitations
and then maybe a couple of more general wedding boards.
Add Board Descriptions
Once you have created each board, you want to give it a description and add it to a category.
Use the description of your boards to tell Pinterest what your board is about.
Again, no fancy words, just straight forward information. Write naturally in sentences and include a few keywords.
Good board descriptions will help your board appear in searches on Pinterest. To add a board description, click on your board and then click on the little pencil at the top left-hand corner. The box you see below will pop up.
You want to fill your description with key search words that people might be typing into Pinterest.
Remember these can often be questions such as "how can I clean granite?" or " how to potty train ".
Make the most of all the characters available to you in the description. You can use 500 characters but bear in mind that the first 50 or show up in the feed.
You also need to choose a category for each board from the drop down. If you don't see a category that fits your niche, just go for the closest one.
How Do I Pin From Etsy To Pinterest?
There are two ways to promote your Etsy store on Pinterest.
First you could add your products directly to Pinterest by pinning from Etsy. To do this, you want to add the Pinterest Chrome extension to your browser.
You can then head to your Etsy store and pin any image you want (it will link back to your store).
The only issue with this is that the "pin" that Etsy creates is not really an optimized pin. Pinterest likes long, vertical pins. Etsy images are square.
The second way to use Pinterest for your Etsy store is to create unique pins and upload them either to your website or directly onto Pinterest (this is where having a business account really kicks in).
This will allow you to create the kind of pin images that Pinterest loves.
How To Create Pins For Your Etsy Store
Creating great pins is 80% of the work when it comes to being successful on Pinterest.
I've been promoting my blogs and businesses on Pinterest since 2017 and I've learned that pins that stand out can really make or break your success.
Pinterest's own best practices offers the following guidelines:
Use high-quality, vertical images that will stand out in people's feeds. We recommend a 2:3 aspect ratio (e.g. 1,000 x 1,500 pixels). Other ratios may cause your Pin to truncate, or may negatively impact performance.
Put your product or service front and center.
Add Text overlay to your pins (don't just include an image and nothing more) Text overlay is the copy that goes on your Pin image to make it stand out.
Clear titles and descriptions help your Pin get discovered in search. You can use up to 100 characters for your title and up to 500 characters for your description.
Step By Step Guide To Creating A Pin
First you will need to use a graphic design program like Canva. (It is free).
Second, I recommend using templates for your pins. Canva does have templates but honestly, they are not that amazing.
Personally, I use the Pin templates from Carly Campbell and I have been using them for over a year now.
You can try them out for free, plus get a free tutorial video on using templates on Canva (below is an image of the pin templates you will get)
How To Create Great Pin Descriptions
Once all your boards are nicely organized, it's time to look at your pin descriptions. Pin descriptions can improve your Pinterest search results and help you get more traffic to your posts.
When the Pinterest search engine is pulling keywords to return results for a search, there are 3 places that seem to be a factor – the words on your actual pin, your pin image, and the keywords in your pin description.
When you are searching on your home feed on Pinterest, you will see that you can normally only read the first couple of lines of the description. Factor that in when choosing what to write as you want something that entices the reader to click and save your pin.
Although everyone agrees that a keyword -rich description is key for your pins, there are a few schools of thought with on how the description should be written.
Top Tips For An Amazing Pin Description
Include the board name in your description
Use as many keywords as possible
Experiment with hashtags for keywords
Put your most important words at the beginning of the description.
How to find keywords for Pinterest?
The best way to find Pinterest keywords is to search for the topic yourself on the platform and use those words that come up.
I showed you how to do this when we were creating out Pinterest boards.
This is really easy to do and will give you a ton of fantastic keywords that might also give you new product ideas.
Where Should You Use The Keywords?
Pinterest keywords are like chocolate – there are never enough.
It's not like Google where you can be penalized for over optimizing, with Pinterest keywords, you want to sprinkle them everywhere.
Create a Board with the Main Keyword in the title and the description
Use a keyword as the title on the Pin graphic
Use Another keyword in the Pin title
And include all keywords in your pin description
How To Add Your Pin To Pinterest
Adding your pin to Pinterest is really simple and the great thing is, with a business account, you can schedule your pins to go out to your boards when you want.
Click on "Create" in the top left of your home screen on Pinterest
Choose Pin and a box will open up that looks like the one in the image below.
Add your image from your computer library
Fill in your description and title bearing in mind the keyword tips above.
Copy and paste the URL of the product in your Etsy store
Choose whether to publish the pin immediately or schedule it for later (you can schedule up to 2 weeks in advance)
Click the two dots at the top of the pin box to either delete or duplicate the pin. I use this when I want to add the pin to a different board a week or so later.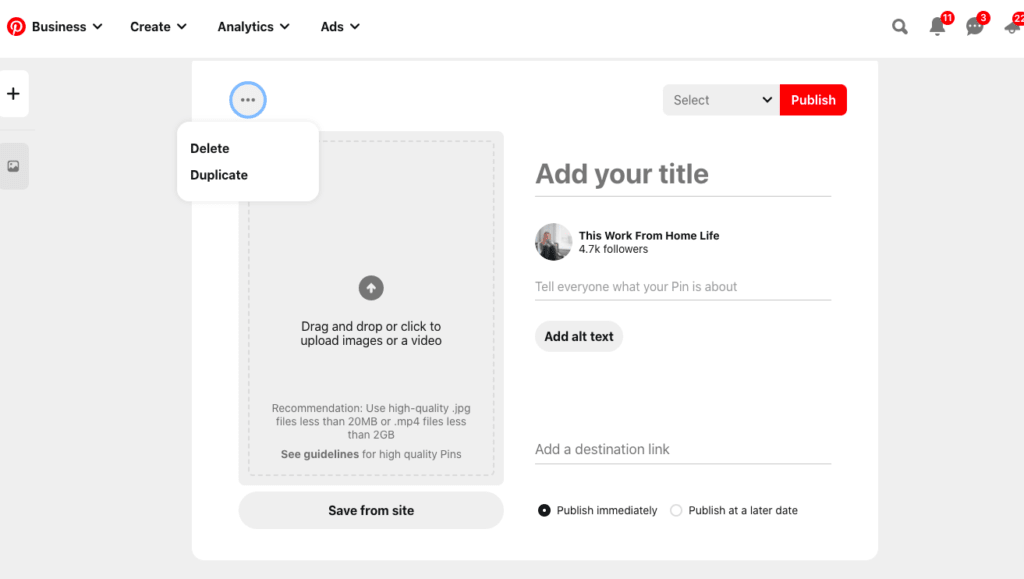 Creating A Pinterest Strategy For Your Etsy Shop
Once you have your Pinterest business account all set up and you are rocking the quality pin creation, it's time to actually plan your Pinterest strategy.
Here is what to do first before you even add your own pins to your account:
Every time you create a new board on your Pinterest account, spend some time filling it with related content from other pinners.
Pinterest makes that really easy for you by asking you if you want to add content as soon as you create the button.
Once you have done that you can start adding your own content to your boards.
You don't want to flood your Pinterest feed with your own content so I suggest adding a pin or two per day to start with.
Back in 2017 and 2018, I used to add up to 50-100 pins of my own a day but that technique is now outdated and doesn't work. Plus it was a ton of work so I'm glad it's not necessary anymore!
How Often Can I Add The Same Pin To My Pinterest Account?
You are going to see so many conflicting opinions on this but I want to let you know something important – Pinterest routinely marks accounts as spam and restricts their access.
For this reason, I am very careful to not pin the same pin to the URL too often. I normally leave at least 14 days+ before repinning a pin to my account.
Remember that you can have multiple pins for the same Etsy product so you could still promote a product once a week using different pins.
I typically create about 5 pins per product and have them circulating. Pinterest loves fresh (new) pins so I try to add a new one for each product once a week.
Using the pin templates makes this easier and quicker to do than starting from scratch each time.
An Easy Pinterest Strategy
Let's imagine you have 10 boards and 10 products for the sake of ease.
Pin 1- 2 pins a day to your Pinterest account. So for example pin:
Day 1 – Product Pins A and B to boards 1 and 2
Day 2 – Product Pins C and D to Boards 3 and 4
Day 3 – Product Pins E and F to Boards 5 and 6
Day 4 – Product Pins G and H to Boards 7 and 8
Day 5 – Product Pins I and J to Boards 9 and 10
Once you have done one cycle, you can switch it up for the next 5 days so different pins go to each board again.
Advanced Pinning Strategies
Once you have got the hang of using Pinterest for Etsy and want to take it to the next level, I recommend taking a Pinterest specific course by an expert.
There are tons of Pinterest courses out there and I've taken a bunch but there is really only one that I recommend; Pinteresting Strategies.
This is a great course that is updated regularly and will teach you everything you need to know about getting tons of traffic from Pinterest.
More Etsy Tips
How To Start Your Own Etsy Printables Business