Everyone likes to buy new stuff, but sometimes it makes a lot of sense to purchase used items.In fact, there are certain things that just make sense to buy used.
Many things are much less expensive – but just as nice – when you buy them used instead of new.
Don't be afraid to purchase used items. Be knowledgeable about what you're buying and you'll be satisfied with your purchase. The keys to getting a really great deal are being aware of what things are really worth and being patient.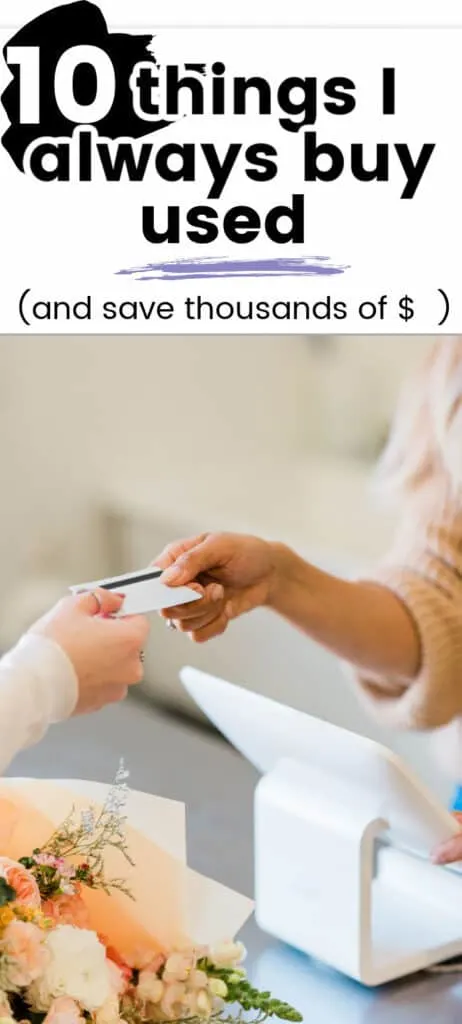 This post may contain affiliate links. Please read my Disclosure for more information.
MORE WAYS TO MAKE AND SAVE MONEY
10 Ways To Earn Money With Swagbucks
11 Easy Things Kids Can Make & Sell
10 Things To Buy Used
1. Pets
Ok, it sound a bit weird to call a pet "used" but eith all the animals that are readily available, it doesn't make sense to spend several hundred dollars or more on a pure bred puppy.
3.5 million dogs and cats are euthanized every year.
If you just have to own a pure bred animal, you'll be happy to know that 25% of shelter animals are pure bred.
Save an animal from a shelter and you will save money and give a pet a new lease on life.
2. Books
The library is actually your best bet – it's free!
Used bookstores are popular, and there are even used bookstores online.
That includes textbooks, too.
Plus, selling back your books and textbooks when you're done makes their final cost even less!
Another spot to find books at cheap prices are yard sales and thrift stores.
3. Bicycles
New models come out every year and last year's model will always be marked down.
There are also a ton of used bikes for sale that haven't seen a lot of use.
This is especially true for children's bikes which are outgrown quickly.
4. Your Home
They don't make things like they used to.
If you have ever lived in a new build with paper-thin walls, you know what I mean.
Just like appliances are only built to last 10 years nowadays, new houses often need repairs much sooner than quality-built older houses.
Existing construction is usually considerably less expensive per square foot than new construction.
Many new homes actually lose value over the first couple of years. So finding a nice home in an established area can save you lots of money.
5. Children's Clothing
Baby clothes is particular are one of the things that is better to buy used.
Barely worn kids clothes fill thrift stores and places like Once Upon A Child.
They rarely wear out before they're outgrown and some are brand new.
Used clothing stores are everywhere, and you can save a bundle.
Remember to ask co-workers, friends, and family: the best clothes are free clothes!
RELATED POST: How To Dress Well On A Budget
6. Furniture
Many folks don't want to take their practically new furniture with them when they move.
Check Craigslist and look at your local classifieds for yard sales and great deals.
Another great place to look for second-hand furniture is your local Habitat for Humanity ReStore.
I bought brand new couches there for $200 including delivery.
If you like scouring stores for used furniture, you could even start your own side hustle flipping furniture for a profit.
7. Vehicles
A car that's a year old with 10,000 miles on the odometer can be as much as 30% less than a new car and still has plenty of time left on the warranty, too.
As soon as new car leaves the lot, it depreciates so let someone else take the hit and buy the car from them!
8. Toys
Used toys are widely available at a fraction of the cost of new toys.
Look for them at children's resale shops and yard sales.
Make sure to sanitize them properly before giving to your children.
I don't recommend buying plush toys and teddy bears used because of hygiene reasons.
9. Jewelry
New jewelry is much more expensive than used. You could get a great piece for 50% less than new.
Check antique fairs and estate sales.
10. Tools
Most tools don't get a lot of use. If you're not in a hurry, you're likely to find any tool you need for a lot less money.
Flea markets, yard sales, pawnshops, and the classifieds always have used tools for sale. Remember to check estate sales as well.
More Tips To Save Money
15 Smart Money Habits That Can Pay Off Big
9 Ways To Earn FREE Starbucks Drinks!