You've probably seen on social media before and after photos of old furniture turned into something amazing but did you know that for dedicated crafters, furniture flipping can be a full-time job?
If you have some time, basic tools and love hunting for good finds, you can turn a fun hobby into a flipping side hustle.
In this post we will walk you through everything you need to know to get started and give you the answers to these all-important questions:
What is flipping furniture?
How much money can you make flipping furniture?
What is the best furniture to flip for profit?
Where to find inexpensive furniture to flip
What furniture flops you should avoid when looking for furniture flips
Tips for making a full-time income in your space time
Where to get expert help on flipping furniture( including a free workshop for beginners)
This post may contain affiliate links. Please read my Disclosure for more information
What is flipping furniture?
Let's start with the basics, what on earth is flipping furniture?
You've probably heard of flipping houses for profit. This is when people buy a "fixer-upper" then renovate it and sell it for a profit.
In fact, there are tons of ways you can make money flipping items.
Similarly, flipping furniture is the process of buying used furniture and then selling it for a profit. Depending on the piece of furniture you find, you may just need to add a fresh coat of paint or you may need to fix up the piece completely.
To be a success at furniture flipping, you need to know how to find good quality furniture at a low price, how to refurbish it, and how to price it so that you make a profit. That's what we are going to look at in this post.
Why is flipping furniture a good side hustle?
If you are into handy work and want to make a side income, this is a great side hustle for you!
There are a number of benefits to flipping furniture, including:
You can make a good profit in your spare time
It's a fun and creative way to make money.
You can learn new skills.
You can make your own hours and set your own schedule
It can be exciting when you make great finds
The best part about flipping furniture is that you can make good money without having to invest a lot in the beginning or have any special skills.
How can I make money flipping furniture?
There are a few different ways to make money flipping furniture. The most common way is to find furniture that is being sold for cheap, fix it up, and then sell it for a higher price.
Another way to make money flipping furniture is to buy furniture that is being sold at a discount because it is damaged, and then repair the damage and sell the furniture for full price.
The best way to make money flipping furniture is to find good deals on used furniture, fix it up, and then sell it for more than you paid for it.
To do this, you will need to learn how to find good deals on used furniture and how to repair damage.
You can find good deals on used furniture by shopping at yard sales, thrift stores, and online classifieds websites. You can learn how to repair damage by watching videos online or taking a class at a local community college.
Flipping Furniture Income
Of course, the question on everyone's mind is "How Much Money Can You Make Flipping Furniture?"
The amount of money you can make flipping furniture will depend on a number of factors, such as the type of furniture you're flipping, your margin, how much work you're willing to put in, and the market conditions in your area.
Generally speaking, you can expect to make a profit of anywhere from $50 to $500 per piece of furniture. If you're flipping higher-end pieces, you could potentially make even more.
Of course, the best way to maximize your profits is to keep your costs low. This means sourcing furniture from thrift stores, yard sales, and even the side of the road.
Another way to keep your costs low is to find quality paint at a good price.
It also helps to have a good understanding of what types of furniture are in demand in your area. This way, you can focus your efforts on flipping items that are more likely to sell quickly and for a higher price.
How can I get started flipping furniture?
If you're interested in making some extra cash by flipping furniture, there are a few things you need to know before getting started. First, you'll need to have a good eye for design and be able to spot trends. You'll also need to be able to find furniture at a good price and know how to negotiate.
Once you've got those basics down, you'll need to choose the right tools for the job. For starters, you'll need a good set of tools for stripping and refinishing furniture. You'll also need some supplies like sandpaper, paint, and stains.
Once you've got your supplies, it's time to start looking for furniture. The best place to look is garage sales, thrift stores, and online marketplaces like Craigslist and Facebook Marketplace. When you find something you like, be sure to inspect it carefully before buying it. Once you've bought it, take it home and start stripping and refinishing it.
Finally, once your piece is finished, it's time to sell it! You can list it on online marketplaces or even in local classified ads. With a little effort and some elbow grease, you can easily make some extra cash by flipping furniture!
What Kind of Furniture to Look For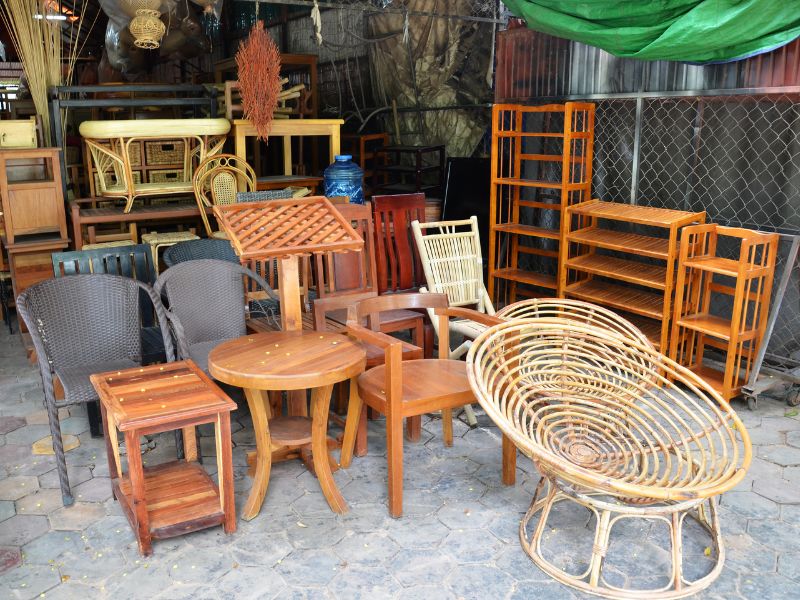 When you're first starting out flipping furniture, it's important to choose the right pieces to flip. You'll want to look for furniture that is:
In good condition
Look for pieces that are structurally sound and don't have any major damage.This means that all of the screws are tight and that there are no loose joints.
Made of solid wood
Solid wood furniture is more durable and will last longer than furniture made of particle board or other materials.
A popular style
Choose styles that are currently in demand so you can sell your pieces more easily.
Not too big or too small
Pieces that are too large or too small can be harder to sell. Look for pieces that will fit easily into most homes.
Once you've found a piece of furniture, take some time to research how much similar pieces are selling for online so you can price your piece accordingly.
Where To Find Furniture to Flip
While it is often called Flea Market Flipping, there are a few different places that you can buy furniture to flip, depending on your budget and what type of furniture you're looking for.
Here are a few options:
The Curb
It sounds crazy but some of my best finds have been on garbage day. Most cities allow you to take items from the curb if they are put out as junk items (check your local bylaws). Hunting on the side of the road can be the easiest way to get started flipping furniture as there is no initial investment needed.
Garage sales
You can usually find some great deals on furniture at garage sales, although you may have to put in some elbow grease to fix it up.
Thrift stores
Thrift stores are another great option for finding cheap furniture. Just be sure to inspect the piece thoroughly before you buy it to make sure it's in good condition.
Flea markets
Flea markets can be a great place to find unique pieces of furniture that will stand out from the crowd. However, be prepared to haggle over the price.
Online auctions
Online auctions (like eBay) can be a great place to find deals on furniture. Just be sure to do your research before bidding so you don't overpay.
Estate Sales
If you are looking for higher end, quality pieces, auction sales may be your best option. While the price point is often higher than at flea markets, the furniture is also of a higher quality.
Antique Sales
Here is another place to find higher value items that may not require as much work as thrift store finds.
The Best Place To Find Furniture To Flip
If you're working with a limited budget, garage sales and thrift stores are likely going to be your best bet. You can often find great pieces of furniture for very cheap at these types of sales. However, it's important to inspect the furniture carefully before you buy it, as it may need some work in order to be sellable.
If you're not worried about budget, estate sales and auctions can be great places to find high-quality pieces of furniture. You may have to pay more upfront, but if you choose wisely, you can end up making a significant profit.
Ultimately, the best place to find furniture to flip will likely depend on your personal preferences and budget. There are pros and cons to each option, so it's important to weigh all of your options before making a decision.
The Best Furniture To Flip
Not all pieces of furniture are worth buying and if you buy the wrong items, you won't make much profit.
Here are some things that always sell well:
End tables
Coffee tables
Chairs
Sideboards and Buffets
Dining Table
What Kind of Furniture to Avoid
There are some types of furniture you should avoid if you want to make a profit from flipping furniture. These include:
Outdoor furniture
This type of furniture is exposed to the elements and can be damaged easily. It's also generally less expensive, so it's not as profitable to flip.
Upholstered furniture
This can be tricky to refurbish and very expensive to reupholster. It's best to avoid upholstered furniture unless you're confident in your ability to repair it.
Antiques
Antique furniture can be difficult to appraise and may not sell for as much as you expect. Unless you're an experienced antiquer, it's best to avoid flipping antiques.
Anything made with fake wood – cheap "Ikea" style furniture is not going to make you a ton of money. While there are some great Ikea hacks, for flipping furniture, solid wood is your best bet.
What are the tools needed for flipping furniture?
You'll need basic tools such as:
Drill and drill bits
Screwdriver
Saw
Measuring tape
Hammer
Level.
You will also need some basic supplies like sandpaper, wood glue, wood filler, and paint. When it comes to paint, you can use a plain can of white paint or create vintage furniture looks using chalk paint. You may even choose to stain your furniture piece depending on the style you are going for.
Tips For Refurnishing Furniture To Sell
Now you have your first piece, it is time to start refinishing it to sell at the best price.
You can start by sanding down any rough edges and then painting or staining the piece.
If there are any holes or cracks, you can fill them in with wood filler and then sand them smooth.
Next, use new paint to spruce up your item and make it look like new. Consider bright colors for a modern look or go vintage with stains.
You can also switch out door handles and hardware to further improve the look of your item.
Once you're finished with all of these steps, your piece of furniture should be ready to sell!
The Best Places to Sell Used Furniture Online
There are a few different options for selling furniture, depending on what you are looking to achieve. If you are looking for the highest possible price for your furniture, then you may want to consider auction houses or consignment shops.
These places will typically take a bit longer to sell your furniture, but you will be able to get top dollar for your pieces.
If you are looking for a quicker sale, then you may want to consider selling your furniture online or at flea markets. These options will typically result in a lower sale price, but you will be able to sell your pieces more quickly.
Here are some of the best places to sell used furniture online:
Facebook Marketplace
Facebook Marketplace is a great place to sell used furniture because there are millions of potential buyers. Plus, it's free to list your items on the platform.
Craigslist
This is another popular option for selling used furniture. It's especially good for larger pieces of furniture that may be difficult to ship.
OfferUp
Offerup is a great app you can use to sell your furniture to people in your local area.
eBay
eBay is a good option if you're looking to reach a global audience. Keep in mind that you'll likely have to pay fees to list your items on the platform.
1stdibs
1stdibs is a luxury marketplace that specializes in vintage and antique furniture around the world. If you have high-end pieces, this may be the best place to sell them.
When selling used furniture online, it's important to take quality photos and write detailed descriptions of your items. You should also set realistic prices and be prepared to negotiate with potential buyers.
How To Price Your Furniture
Pricing your furniture can be tricky, but it's important to get it right if you want to make a profit. One you have flipped a lot of furniture, you will become a pro at pricing individual items based on your knowledge but in the beginning it can be tough.
Here are a few things to keep in mind:
Condition of the furniture: Is it in good condition or does it need some work?
Style of the furniture: Is it popular or trendy? How in demand will it be?
Size of the furniture: Larger pieces will usually sell for more than smaller pieces.
Materials used: Are the materials high quality or low quality?
The going rates for your item – spend some time researching on Facebook and Offer Up to see what a reasonable price is.
Once you've taken all of these factors into consideration, you can start pricing your furniture.
A good rule of thumb is to add up the cost of the materials, plus the cost of any repairs that need to be made, and then add a markup for profit. For example, if a piece of furniture costs $50 and needed $50 worth of repairs, you would price it at $150.
Price To Negotiate
The most important thing to remember when pricing your items on Facebook Marketplace is to leave room for haggling.
Everyone hates people who try to get them to bring their prices down but if you want to sell on Facebook Marketplace, you need to be prepared for negotiations, even if you write that your price is firm on your listing. My advice is to price your item slightly higher than the price you are hoping to fetch – perhaps $5-$10 depending on the ticket price.
This allows people to haggle with you and makes them feel that they got a bargain when you agree to the lower price they offer.
Both parties then walk away happy – you get the price that you want and the buyer thinks they got a deal. Of course, this strategy can also earn you more money if you are lucky enough to find a buyer who doesn't haggle with you.
With a little bit of effort, you can make a lot of money flipping furniture. It's also a great way to get rid of unwanted furniture and learn new skills. If you're looking for a fun and creative way to make money, flipping furniture is the perfect option for you.
Is there a class I can take to learn how to successfully flip furniture for profit?
If you want to become a professional flea market flipper, it is a good idea to take a course from a pro. You learn a lot from YouTube or even Reddit.
If you prefer to take an actual course, Flipper University is highly rated.
In the course you will learn about the following:
Getting Started with furniture flipping
Finding the perfect items to flip
eBay
Using Craigslist, Facebook, and Offer Up to sell your items.
Avoiding Scams, Frauds and Recalls
Packaging and Shipping
If a course isn't in your budget, consider taking the Flipper University free workshop to get a fell for what you need to know to make your first sale.
This 75 minute webinar will take you through the basics of flipping, for free! I actually took this course last year and found it really inspiring.
8 Tips To Increase Profit When Flipping Furniture
1. Do your research. Before you start flipping furniture, it's important to do your research.
This includes researching the types of furniture that are in demand and the going rate for those pieces. You'll also want to research where to find good deals on furniture and how to negotiate prices.
2. Invest in quality tools. Flipping furniture is a lot of work, so it's important to invest in quality tools.
This includes things like a good saw, drill, sander, and paintbrush. Having good tools will make the job easier and help you produce better results.
3. Don't skimp on supplies. In addition to investing in quality tools, you'll also want to make sure you're using quality supplies.
This includes things like paint, wood filler, sandpaper, and screws/nails. Using cheap supplies will only result in a lower-quality finished product.
4. Start by finding affordable pieces of furniture. You can find these at thrift stores, garage sales, or even online.
5. Choose a style that is popular and in demand. This will help you sell the piece more easily.
6. Take good quality photos of the piece of furniture. This will help attract buyers online.
7. Be prepared to negotiate on the price of the piece of furniture.
Free Ebook To Boost Your Furniture Flipping Income
Grab a free ebook on the 47 best household items to flip for a profit! This will help you start your side hustle quickly and make the most amount of money fast.
Flipping Furniture For Profit – Final Thoughts
There are a few different ways to find furniture to flip. You can buy it from garage sales, thrift stores, or online marketplaces like Craigslist or Facebook Marketplace.
Once you've found some pieces, you'll need to clean them up and repair any damage. This can be done by sanding, painting, or reupholstering the furniture.
Finally, you'll need to price your furniture so that you make a profit. To do this, research comparable pieces online and see what they're selling for.
You should also factor in the cost of materials and your time when pricing your furniture.
Flipping furniture can be a great way to make some extra money. With some effort and research, you can find good quality pieces at a low price and sell them for a profit.
More Ways To Make Money Flipping Things For Profit
13 Quick Flips for Money: How To Flip Money Online
Website Flipping: Ultimate Guide To Flipping Websites For Profit
How To Make Money Flipping Items {8 Best Things To Flip!}