Are you interested in starting your own business? If so, you may want to consider a foreclosure cleaning business.
A foreclosure cleanout business is a great way to make money and help others in the process. In this article, we will show you exactly how to get started.
In times of economic uncertainty, there are always money-making opportunities for those willing to work hard. One of the best examples of making lemonade out of lemons in hard times is to start a foreclosure cleaning business.
If you have ever looked at a foreclosure real estate listing in person, you might have noticed they are not normally as clean and "staged" as a regular house.
In fact, some of them are completely trashed by the previous owners who are likely very unhappy about losing their homes.
Even if you do not already have a cleaning business, you can start a foreclosure cleaning business and work with banks and realtors who are looking for foreclosure cleaners and property restoration services.
Read on for all the details plus a free "How to start a foreclosure cleaning business PDF cheatsheet.".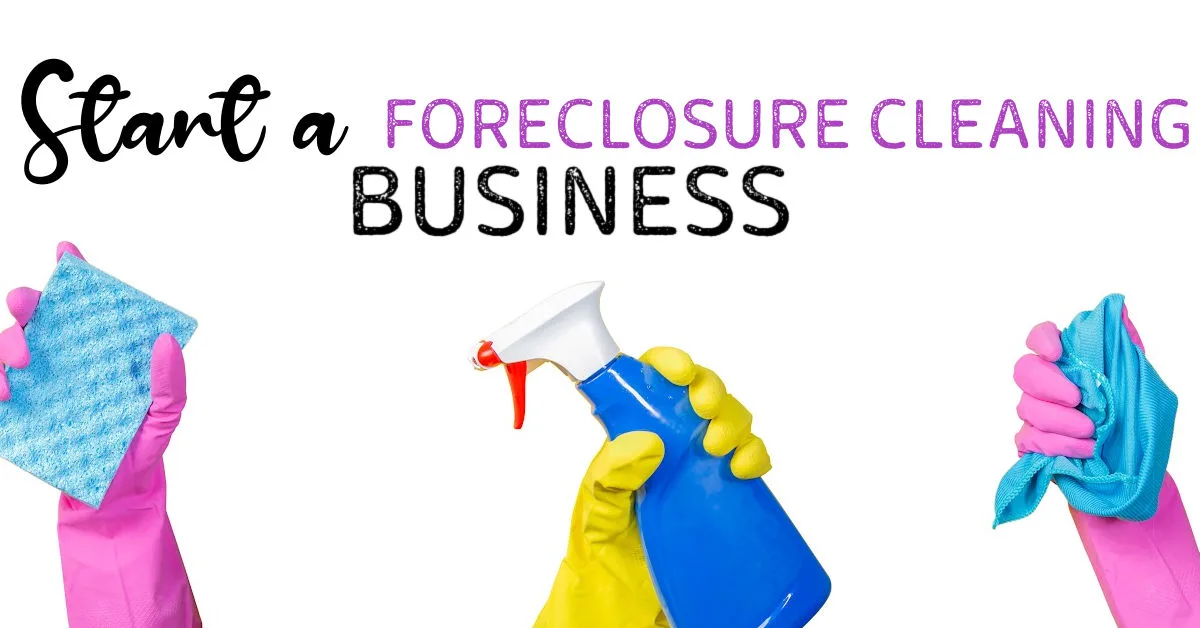 This post may contain affiliate links. Please read my Disclosure for more information.
MORE GREAT SIDE HUSTLES
9 Ways To Make Money This Week
30 Side Hustle Apps To Make Money
What is a Foreclosure?
A house is foreclosed on when the owners no longer keep up their mortgage payments. This could be due to job loss, increasing mortgage rates or ballooning payments (as happened during the 2008 Great Recession).
In any given month, at least 4.1% of mortgages are in some stage of delinquency (including foreclosure) which means there are a lot of foreclosure properties on the market at any one time.
Once a house has been foreclosed on by the mortgage company (often a bank), it is their responsibility to sell the house and try and recoup the money owing on the mortgage.
What is a Foreclosure Cleaning Business?
Foreclosure cleaning is the process of cleaning up a home that has been foreclosed on.
This can include anything from trash removal to power washing the exterior of the home. F
oreclosure cleaning businesses typically charge by the hour or by the job and can be highly lucrative as a small business.
If you're looking for a business opportunity that can be profitable and satisfying, starting a foreclosure cleaning business may be the right choice for you.
A foreclosure cleanout service provides an important service to real estate professionals and the housing industry by cleaning and preparing homes that have been foreclosed upon.
There are a few things you'll need to get started in this business, including a detailed understanding of the foreclosure process and what is required of you as a foreclosure cleaning specialist.
You'll also need to be familiar with the different types of cleaning products and equipment available, as well as how to use them safely and effectively.
With these basics in mind, you're ready to start planning your foreclosure cleaning business. Keep reading to learn more about what you'll need to get started.
Why Are Banks Looking For Foreclosure Cleaners?
The owners of a house who are being evicted have no incentive to get their house "show ready".
They have normally done everything they can to keep their house and are likely very unhappy to find themselves without their home.
Foreclosure houses often need a deep clean and at the very minimum minor repairs.
Sometimes the houses are completely trashed. by an unhappy property owner who is understandably mad and sad that they are losing their home.
In order to get top dollar for these houses, banks hire foreclosure cleaning services who can bring the house back up to sellable standards so it can go on the market
The bank cannot list the property for sale with real estate agents until these homes are completely cleaned out and all the previous owner's possessions are removed. Banks refer to this as a "Trashout".
How much do banks pay to clean foreclosed homes?
The average foreclosure cleaning business works on 5-25 houses a week depending on the area and pay on average is from $500 to upwards of $2500 per property, some properties even exceed $10,000 on very large jobs.
Bear in mind that the money is lucrative for this kind of work as it can be messy and pretty disgusting.
Depending on how long the house has been empty, you may be looking at a very deep cleaning and refresh.
I visited one foreclosed house that was full of mouse droppings everywhere!
This is not a job for the faint-hearted.
The Benefits of Starting A Foreclosure Cleaning Business
In the wake of the housing crisis, many homeowners have lost their homes to foreclosure.
As a result, there is a growing demand for foreclosure cleaning businesses.
These businesses provide an essential service by cleaning and repairing foreclosed homes.
There are several benefits to starting a foreclosure cleaning business.
Low Start-up Costs
It is a relatively low-cost business to start up as not much is needed in terms of an initial investment.
Your operating costs will also be low as you will only require cleaning supplies and perhaps some employees to help you.
High Demand
There is a growing demand for these services as more and more homes are being foreclosed upon.
As far as small businesses go, it is one of the easiest ways to make extra money with a little hard work.
Recession Proof Business
Given that most foreclosures occur during times of economic strife or recession, starting your own cleaning business is one way to make money when there are not a lot of jobs around.
Flexible Schedule
If you need a job that involves mainly weekend work or a really flexible work day, cleaning a foreclosed property is for you!
This kind of work is housing market dependant but many companies work only on the weekends or evenings.
How to Start Your Own Foreclosure Cleaning Business
Foreclosures are a necessary evil in the world of real estate and in certain economies, the need for foreclosure cleanouts is very high.
Starting a foreclosure cleaning business is not as difficult as one might think. With a little bit of research and planning, almost anyone can start this type of business and be successful.
Here's what you need to know to get started:
The first step is to research the local market for foreclosure cleaning businesses. You'll need to know how many foreclosures are happening, and where they're happening.
This information will help you determine whether there's a demand for your services. The best way to do this is to check out foreclosure auctions or local real estate listings. You may also be able to get stats from your local real estate board.
Once you've done your research, it's time to develop a business plan.
This should include how you'll market your services, what your pricing structure will be, and what type of equipment and supplies you'll need. Make sure to check out other janitorial services in your area to see what they charge for foreclosure clean-outs.
This will give you an idea of what you can charge.
Once you have all of this figured out, it's time to start looking for foreclosure cleaning contracts!
What Do You Need To Start Your Foreclosure Business
You really don't need much to start your own foreclosure cleanup business.
Of course, you'll need a business license, insurance and cleaning supplies such as heavy-duty cleaner, gloves and a vacuum.
You will likely also need a larger vehicle to carry all your gear with you.
On the marketing side of things, you will need to pick a business name, get business cards and flyers printed and perhaps create a simple website to promote your services (check out my easy tutorial to launch your website in an afternoon).
You may also want a smartphone or a digital camera to take photos of before and after clean outs for your website or portfolio.
With a little planning and effort, you can have your foreclosure cleanout business up and running in no time.
How To Find Foreclosure Houses To Clean
The ease of finding work in the foreclosure cleaning industry is very depending on your local real estate market.
Scroll down for a free "How to Start A Foreclosure Cleaning Business" PDF cheatsheet.
Regardless, there are lots of ways to find your first foreclosure property to clean.
Most of the time, having a contract with the bank is the best way to get business but you can also find cleanout foreclosures in a few different ways:
Look For Foreclosures Online
Check your local newspaper for foreclosure listings. This is a great way to find potential customers who may need your services.
Build a network of realtors
Real estate is the best place to start looking for business. Build relationships with mortgage lenders and realtors in your area.
Visit their latest open house and give out your business card.
Contact your local real estate agents and ask if they have any clients who are in the process of foreclosing on their home.
These clients may need someone to clean up their property before it is put up for sale.
You can also Join local realtor Facebook groups and market your services
Contact Investors
Send mailings to real estate investors who are looking to buy and sell foreclosed properties.
Let them know the type of service you offer and get your name in their heads so they think of you the next time they need cleaners.
Become Friends With Reno Companies
A general contractor might be your best friend when it comes to building your foreclosure cleanup network.
They are often used to do repairs to a home before it goes on the market and cleaning is the next step after they are done.
Market The Old Fashioned Way
Drop flyers in neighbourhoods where foreclosures are common
Get online with your own website and promote your business with Google ads
When promoting your services be specific about what you include.
For example, you could advertise that you'll remove all trash in the home, down to the walls and floors.
Your job would be to carry out all the debris, load it into your truck, and take it to the dump. You can charge per property or hourly.
Tips For A Successful Business As A Foreclosure Cleaner
Prior to bidding or accepting the job, meet with the owner at the property for a walk-through
This way, you'll see exactly what you'd be dealing with so you can name a price you're comfortable with.
Before you know it, banks or contractors will be calling you for your services.
Offer additional services
Take care of the lawns of properties for sale
Contact the realtors or banks to let them know you're skilled in lawn maintenance and have the necessary tools to keep up their properties.
Paint the interior or exterior of homes for sale
If you enjoy painting, why not sell that service to banks or home "flippers in addition to cleaning foreclosed houses
Offer snow removal services
If you live in a cold climate, offer to remove the snow on a regular basis from your properties. This is a service that all realtors and banks need in vacant properties.
Phone local building contractors and offer your "gopher" services on the weekend
Offering to pick up needed tools, building supplies, and even lunch for over-worked builders on their weekend workdays could grow to some pretty lucrative occasional work.
Poll your prospects and offer your services
Contact bank representatives, realtors, and property owners to inquire what kind of work they need done on their properties. Give them your name and number and have them call you with their needs.
Apply for work at banks or other lenders
If you have stellar office skills, consider checking to see if local financial institutions require additional assistance to process paperwork and make phone calls on short sales, bankruptcy properties, and the like.
Use your creative nature to put the current housing recovery to good use. You have the power to fill your bank account with extra dollars right now. Think of every step from property clean-up to putting up real estate for sale. You'll be surprised at the money you can make!
Making a success of your foreclosure cleaning business
Foreclosure cleaning businesses are one of the latest trends in the real estate industry.
A foreclosure cleaning business is a company that specializes in the cleaning and maintenance of properties in or around the foreclosure process.
Starting your own foreclosure cleaning business can be a very lucrative opportunity.
With the number of foreclosures rising, there is an increasing demand for these services. If you are thinking about starting your own foreclosure cleaning business, there are a few things you need to know.
First, you need to have some experience in the field of property management or real estate.
This will give you an edge over your competition and will make it easier to find customers. Next, you need to have a good business plan.
This should include how much you plan on charging for your services, what type of equipment you will need, and how you will market your business.
Free downloadable Cheatsheet!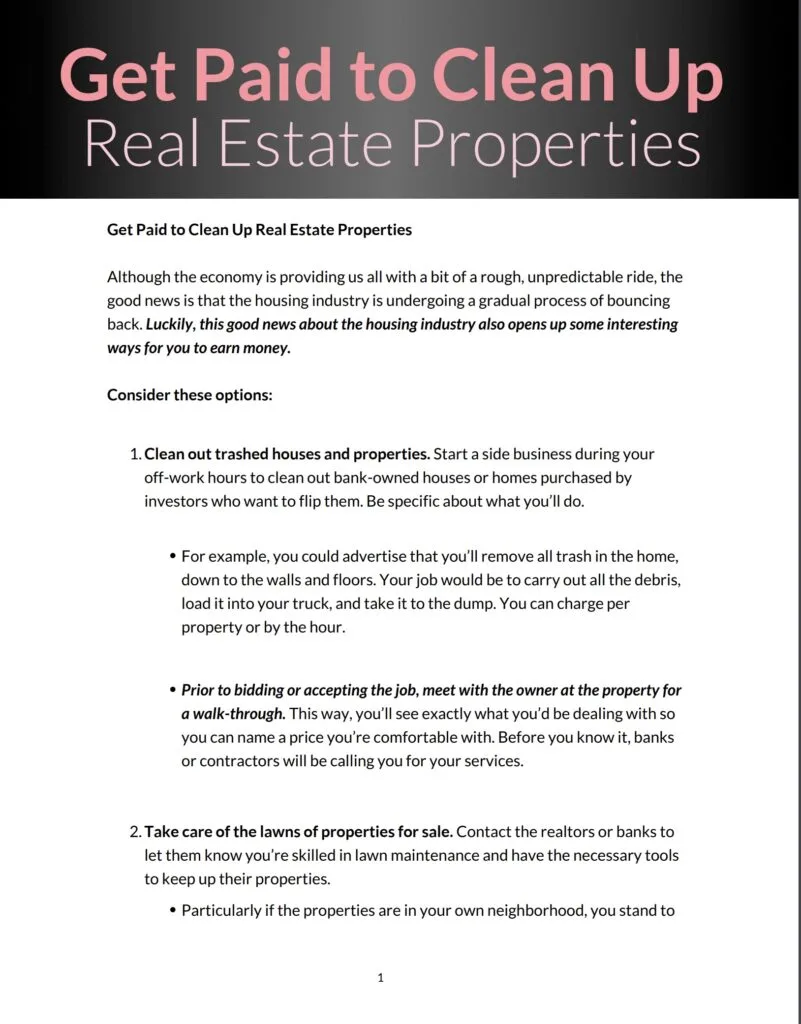 Click the link below to download a free "How to start a foreclosure cleaning business PDF cheatsheet."
More Side Hustle Ideas
30 Side Hustles For Introverts
10 Easy DIY Crafts To Sell Or Give As Gifts
12 Best Things To Sell On Etsy To Make Money