It's the original online marketplace and still the most popular. Most of us have used it at some point and there are hundreds of people making a LOT of money on the site. If you want a piece of the action, read on for the best things to sell on eBay for a profit.
eBay has been around since 1995 and has been a popular way to make and sell used and new items since the early 2000s.
The great thing about the auction site is that it is well known in many different countries so you can harness a huge international audience for your goods.
If you are interested in making money buying on eBay, there are choose items that will net you a profit faster than others. Although eBay businesses are similar to other ways of flipping items for money, with eBay you need to consider more than just buy low and sell high.
Read on for everything you need to know to become a successful eBay-preneur.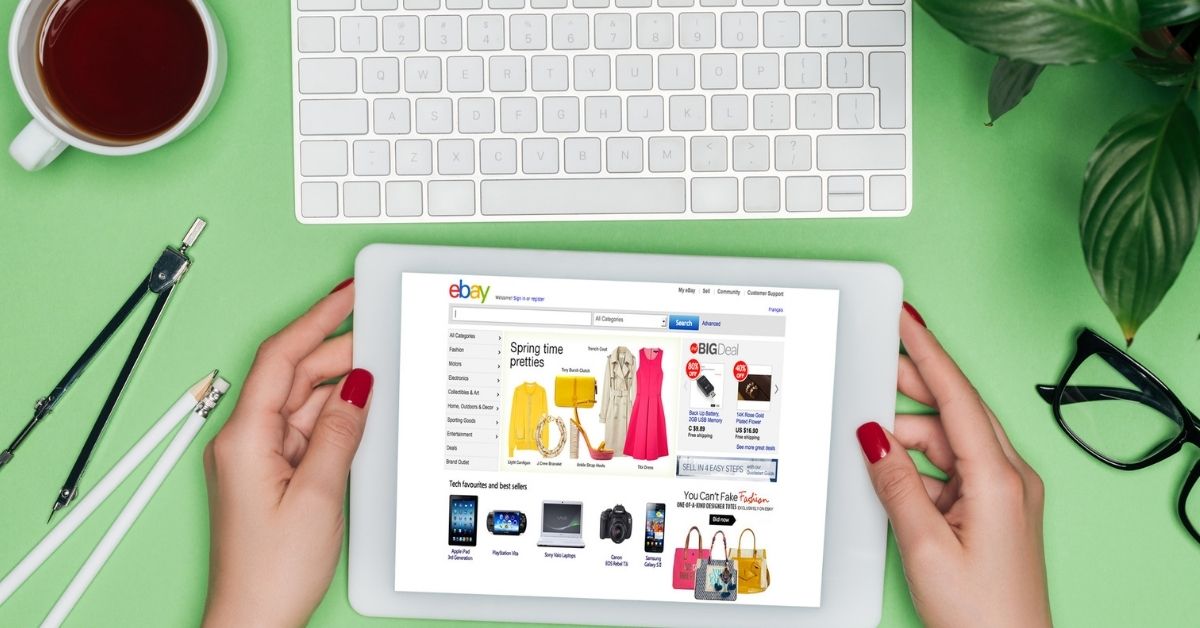 This post may contain affiliate links. Please read my Disclosure for more information.
RELATED POSTS
What To Sell On eBay To Make Money
Before we dive into the list of the best things to sell on eBay for a profit, you need to know that it's not quite as simple as that.
Although there are some things that sell better than others, your location and other factors will come into play.
How popular is the item?
Is the market for the item saturated?
What kind of profit margin can you get with this item?
Are the shipping costs prohibitive?
Will it be easy to source this item for a good price consistently?
The reason I mention your location is that there are certain countries where selling on eBay is much easier than others.
One place where eBay sellers have a tough time is Canada.
Although it is not impossible to make money on eBay if you are based in Canada, turning a profit can be difficult due to the high shipping costs charged by Canada Post (compared with, for example, the US Postal Service).
If you are in country where shipping costs are high, you will want to consider selling easier to ship items or only selling to domestic buyers. Or you can consider something like selling on Amazon FBA Canada instead.
That being said, choosing the best items to flip on eBay in 2022 will help you get a leg up on your eBay business if you do decide to go that route.
Best Things To Sell On eBay For A Profit
The ideal eBay business is based on low competition items that are easy to ship, in demand and cheap to buy.
This may sound like a unicorn but with some research you can find great items to sell for maximum profits.
Quick note – If you want help starting your eBay business, make sure to read my guide on How To Make Money On eBay.
How To See What Is Selling The Most on eBay
Before you embark on starting your eBay store, you should do some research to make sure what you have in mind is really a viable product.
There are two easy ways to discover what the best things to sell on eBay for a profit are right now:
zik Analytics
zik Analytics is a website that will show you the best selling eBay items in different categories in real time. It makes market research easy and will stop you wasting time on items that don't make you money.
With zik, you can research any eBay product, niche, category to find the items that best work for you. There is also a Competitor Research Tool to help you find new product ideas. You can see what's selling well and who the big eBay players are.
Zik is a paid website but you can try it out for a free 7 day trial and get as much information as you can.
eBay Categories
The other way to see what the easiest things to sell on eBay are is to go onto the website and do your own research.
This is a good idea as you want to spend a lot of time getting to know the platform and knowing who the big sellers in your niche are.
Here is how to see what is selling the most on eBay for free:
Head to eBay.com and choose a category
Then on the left-hand side column, filter your search to:
"New" – this will show you products people are buying in bulk and selling, not one-off vintage items
"Free Shipping" – Power sellers normally always offer free shipping as they know it attracts the most buyers.
"Buy it now" – This will eliminate all the auction listings which are often items that don't see as well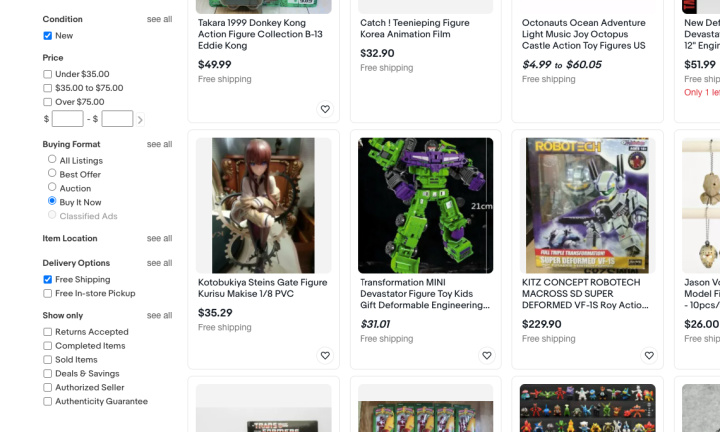 Once you have filtered your search, you will have a list of the items that sell the most and you can then sort by price (a lot of people recommend forgetting any items that sell for less than $20 in order to ensure you make money).
You can also check up on the sellers to make sure they are selling a lot of those items.
As you can see in the listing below, the seller has sold 599 of those chargers so you know it's a popular items that sells well.

Where To Buy Things To Sell On eBay
A lot of people suggest using a dropshipper for your eBay store.
If you are not familiar with this, it is when you sell an item but someone else takes care of the actual fulfilment for you. Personally, I don't recommend you using a dropshipper for a few reasons:
1. You should know what you sell and sell what you know.
With a dropshipper, you do not know what (or even if) they are sending to your customers. This can result in lots of complaints and chargebacks which will quickly eat into your profits.
2. Dropshipping makes it very hard to make money.
The prices you are charged are full retail and your supplier has hundreds of other customers competing with you.
So where should you look for things to sell on eBay?
The best places to find things to sell in your eBay store are local liquidators, importers and manufacturers.
You want to source dead stock, small job lots and end of line merchandise. Choose something you actually know something about.
You will not only see what you are buying before you buy it, but you will be in control of shipping time and costs.
You can also look at flipping items for a profit by searching thrift stores and Facebook Marketplace for things to buy.
Here's what to look for at thrift stores to make money
Things To Sell on eBay That Are Free
I've spoken about where you can buy things to sell on eBay.
However, don't forget about things that you can pick up for free and then sell for a profit.
Check out Craigslist free section, junk left on the curb and Facebook Marketplace for freebies to flip such as:
Old power tools
Old cosmetic containers and perfume bottles
Sea Glass (scour the beach for this)
Pinecones, driftwood and other decorative items found in nature
Coins that are out of circulation
13 Best Things To Sell On eBay For A Profit
Now let's look at the perennial eBay bestsellers that always top the lists year after year.
Electronics
Health and Beauty
Home and Garden
Computers and Tablets
Crafts
Clothing, Shoes & Accessories
Automotive parts
Sports gear
Jewelry & Watches
Collectables and vintage items
Toys
Baby
Books
Some of these categories make sense – anything technology is in demand including computer accessories (chargers, add-ons etc), sporting goods and memorabilia,
Items from store that have gone out of business or from discontinued lines are really popular.
For example, the children's clothing store, Gymboree has shut down but it still has the cult following it enjoyed for years and people (including myself!) love searching for specific clothes from the most popular collections.
Surprising Things That Sell on eBay
In addition to the obvious eBay bestsellers, there are some surprising things that sell pretty well:
Lego
Almost all lego sets sell really well on eBay. If you have children, you probably know that they love Lego sets and can't get enough of the stuff but it can be really pricey. Some sets sell for almost $100 retail.
New sets or vintage collectibles are hot sellers that can net you a profit. Search thrift stores, yard sales and Facebook for Lego that you can flip on eBay.
Old and Obsolete Electronics
Vintage video game consoles, blank beta max tapes and MP3 players are just some of the weirdest things that sell well on eBay.
Shoes
In addition to discontinued clothing lines, other things that sell really well are limited edition sneakers and sportswear.
You can make a living reselling designer shoes for a profit on eBay. I ran an eBay store reselling designer shoes that I found in thrift stores
I was often able to pick up a pair of designer shoes at Goodwill or at the Outlet Malls for $5 then turn around and sell them for $20+ on eBay.
True designer shoes will get you even more money – Beau Hunter is a shoe flipper extraordinaire who makes massive profits flipping shoes for money.
Here is one of his best ever flips – he bought the shoes below for $10 and look what they sold for!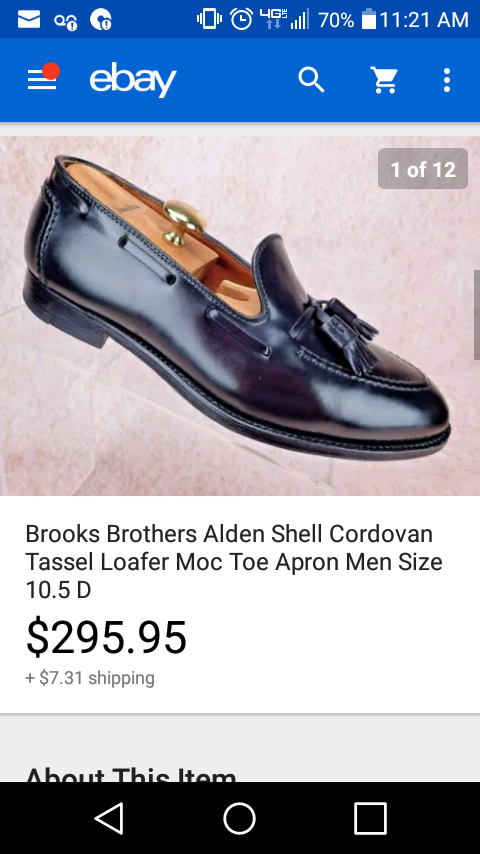 Beau has a workshop on how to make money flipping shoes for a profit.
In the workshop, you will learn:
​Where to find awesome deals on shoes.
​Which brands to look for.
​How to clean up all types of shoes so you can make the most money from them.
​How to take GREAT pictures that will increase your sales.
​How to properly ship shoes so they don't get damaged and the buyer is happy to leave you positive feedback.
You can check out the workshop and sign up here.
The Best Books To Sell on eBay
One of the bestselling items on eBay are books but not all books are worth selling.
First of all, you need to factor in the shipping costs of heavy books and see if it is really possible to turn a profit with this niche.
Rare and "in demand" books sell easily. Others just get lost in a sea of others, and never receive a bid. Mass produced books that you can easily buy at Costco or your local bookstore are unlikely to be worth your time.
Specializing in a niche market that you know well is a good idea.
Some factors to consider when selling books on eBay:
Condition of the book
The number of books published.nMany books have been published over and over again and because of this the earlier publications have little of no value.
Market research is key with books – you need to sell books that don't have hundreds of competing listings.
The Most Popular Books that sell on eBay Include:
Text Books for popular courses and exams (SATs, LSATs etc)
Bibles sell great. Especially rare editions or leather-bound versions
History books, especially about niche topics, are hot sellers
Magazine back-issues are fantastic finds at thrift stores to flip on eBay. Condition is important with these.
Tips For Selling Items On eBay
Now you have decided on what to sell for a profit on eBay, it's time to make sure you get the sales.
Here are some quick tips for creating a profitable eBay shop:
Not everything works on eBay
Cheap bulky items are going to cost more to ship than their price but you might be able to charge for shipping and handling. Bear in mind that free shipping items will sell better but you can price your items accordingly:
For example:
$10 price+ $10 shipping
$15 price +$5 shipping
$20 price+ Free Shipping
$20 plus free shipping is the more attractive way of pricing to most eBay buyers.
Competition Matters
With items such as books, you really need to research your competition. If there are a million of the same item on eBay, you won't get the sale. Look for rarer, in demand products.
Double Your Listings
If you are an international seller, you can double your listings for the same price by listing on both the eBay site of your country and eBay.com. For example, ebay.ca and eBay.com for a Canadian.
Buy a Digital Scale for Shipping
Even small mistakes with shipping costs can really eat into your profits. Buy a digital scale- a kitchen scale costs under $20 and weighs up to 5 kilos.
Consider using one of the Companies That Sell on eBay For You
If you want to sell collectible items, the eBay consignment center is a great way to skip the hard work.
eBay consignment sellers are industry experts who are selected by eBay staff. You will benefit from their industry knowledge and selling experience but of course they will take a cut.
Final Thoughts On The Best Things To Sell On eBay For A Profit
Selling on eBay can be a fun way to make extra income and it can even become a full-time income with some hard work and research.
Don't expect to get rich quick but with the right niche and the right pricing, you can easily make a profit selling on eBay.