The Ultimate Guide To Selling Used Socks For Profit
Can I sell my used socks online? I know you are probably thinking that this article is an April fools joke but you can really make money selling used socks online.
What do I mean by used socks? Exactly what you fear I mean. Used, dirty, sweaty socks that are worn and unwashed. In fact, it might delight (or disgust) you to know that the sweatier and dirtier the better.
So if you are looking for a side hustle and are thinking that you aren't crafty enough to start an Etsy shop or talented enough to make money with your art, let me ask you this.
Do you wear socks?
If the answer is a definite "yes" then your ideal side hustle is just minutes away. Grab a pair of socks and lets dig in.
In this article we will look at everything you need to know including:
The best platforms to sell used socks online
The types of socks that sell best
How much money you can make selling used socks for profit
Specific tips for selling socks on places like eBay and Etsy
Ready? Let's jump in with both feet (preferably with a pair of used socks on).
This post may contain affiliate links. Please read my Disclosure for more information
MORE THINGS TO SELL TO MAKE MONEY
How To Sell Foot Pics For Money In 2022
How To Sell Nudes Online (25 Tops Sites In 2022)
Why Sell Socks Online For Cash?
We all wear socks right? And we could all do with a little extra money these days so why not combine the two and start our own online business selling socks?
To be honest, until I research this trend, I had no idea how big the sock selling gig was online. There are people making thousand selling their dirty socks online for a profit.
If you have considered selling your used underwear online but aren't quite ready for someone to get sexual pleasure from sniffing your panties, then consider the lighter version: used socks!
Why Selling Your Used Socks For Cash Is The Ideal Side Hustle In 2022
No investment needed at all. You can start today
It's a free side gig that you can work as much or as little as you like.
This job has unlimited earning potential
Anyone can sell their used socks online. This isn't limited to models or people with perfect bodies like other kinky ways to make money can be.
Do Socks Sell Well Online?
Let's get to what we really want to know, is selling socks online legit?
Take some time to search on eBay and you will see that the used sock fetish business is huge.
It might not be your cup of tea but the truth is, a sock fetish is harmless and completely legit.
Plus it's a win-win for people like you who want to profit off the people willing to buy your socks.
Why do people buy used socks?
People might want to buy your used socks for all kinds of reasons, but, just like when you are selling used underwear online, once you sell your item, it's really up to them what they do with their purchase.
Some people might just wear your socks, others might get turned on by them.
What Kinds Of Socks Do People Buy?
In general, most people with a sock fetish are looking for worn socks. Super smelly socks will likely fetch top dollar.
You will also find that most people will want you the socks "shipped zipped" meaning in a zip-lock bag so they will still smell once they arrive at their destination.
As far as what kinds of socks you can sell online, any really! Dress socks, gym socks, funky socks. They all have their market.
Can I only sell socks or does other footwear sell too?
Although socks are the number one segment of the used socks business, don't forget about others thing you put on your feet such as stockings, pantyhose and even used sneakers and shoes.
Other things to sell include:
Ankle socks
Footliners,
Fishnet tights
Knee highs
Over knee socks
Legwarmers
Of course, if you have pretty feet, you can even make money selling feet pics online and really cash in with the foot fetish crowd.
Do Men's Used Socks Sell or is this a women-only side hustle?
Gentlemen, I have good news! Even men can get in on the act when it comes to selling their used socks online.
Unlike underwear which is a strictly female-only side hustle, men's used socks are also really popular.
I even came across an Ask me anything thread on Reddit about a man selling socks online. He made thousands!
How much money can you make selling used socks?
Honestly, the sky is really the limit when it comes to selling smelly socks for profit.
The average selling price on most sites is $10-15 online so if you can sell a pair a day then you can net yourself around $100 a week for basically no work at all.
Once you get some regular customers, you can sell bundles of socks and also offer custom orders of specific socks for even more money.
The Best Place To Sell Used Socks Online
Now we have seen how amazing selling socks online is for making some extra cash, where exactly do we sell our dirty socks?
There are a few places to sell your used socks for cash. Below we will break down your options so you can choose the right place for you to become a superstar socks seller.
First of all, there are the websites that are essentially marketplaces for people who want to buy and sell used items such as panties or socks.
Most of them let you create your own online store selling stinky socks for cash.
Then there are the online platforms that allow you to sell socks although they do not specialize in them.
First, let me tell you the absolute best place to sell socks online, especially if you want your own business in the long term.
In my opinion it is Sofia Gray.
Sofia Gray
A lot of people have heard of Sofia Gray as it is one of the biggest sites for selling underwear online.
Not only that but the Sofia Gray reviews are really good and its one of the best places to actually make money selling your used clothing online.
Sofia Gray started off as a used panties marketplace, however, it has grown to be much more than that.
Why I love Sofia Gray for selling used socks:
Get your own storefront to showcase your lovingly used socks
There are no commissions taken from your sales, you keep all the profits
You can stay completely anonymous on Sofia Gray, no need to share personal information
How Much Does It Cost To Sell Your Used Socks on Sofia Gray?
In order to list your used socks on Sofia Gray, there is a listing fee.
You can pay this fee one time and not get charged again or you can decide to renew. (it is not an automatically recurring fee which is nice).
The fees on Sofia Gray are as follows:
$24.99 for 3 Months of selling
>$62.49 for 12 Months of selling (the best deal)
Once you choose your term, you can list as many used socks as you like within that timeframe.
Special offer for This Work From Home Life Readers
Use promo code "USEDSOCKS10" for a 10% discount off the Sofia Gray listing fees.
More Sites To Sell Used Socks Online
Naughty Connection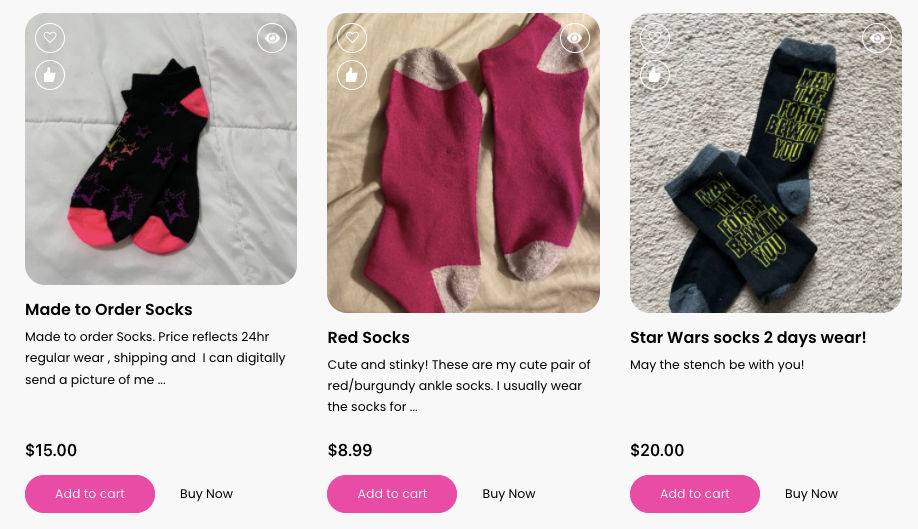 Naughty Connection is another site that has a whole section dedicated to selling socks and footwear. Used of course.
Prices for used socks range from $8 to $20 depending on the type of socks and their condition (remember when it comes to used socks, the dirtier and stinkier, the better).
Unlike the Sofia Gray, Naughty Connection takes a 15% cut of your sales rather than charging a listing fee.
This can be a good or bad thing, depending on how many pairs of socks you sell each month, you might be better with the flat fee charged by Sofia Gray.
Snifffr.com
Snifffr.com is another really popular places to sell used socks online.
The site works like Sofia Gray – you get your own personal shop, chat to buyers privately then arrange the transaction.
There are no transaction fees on Snifffr as the buyer pays to privately message with you.
Snifffr also has a whole section that answers the question "Can men sell their s0cks online for cash?"
There is a Men's Underwear section on Snifffr where gentlemen can list all their used undergarments for sale.
All Things Worn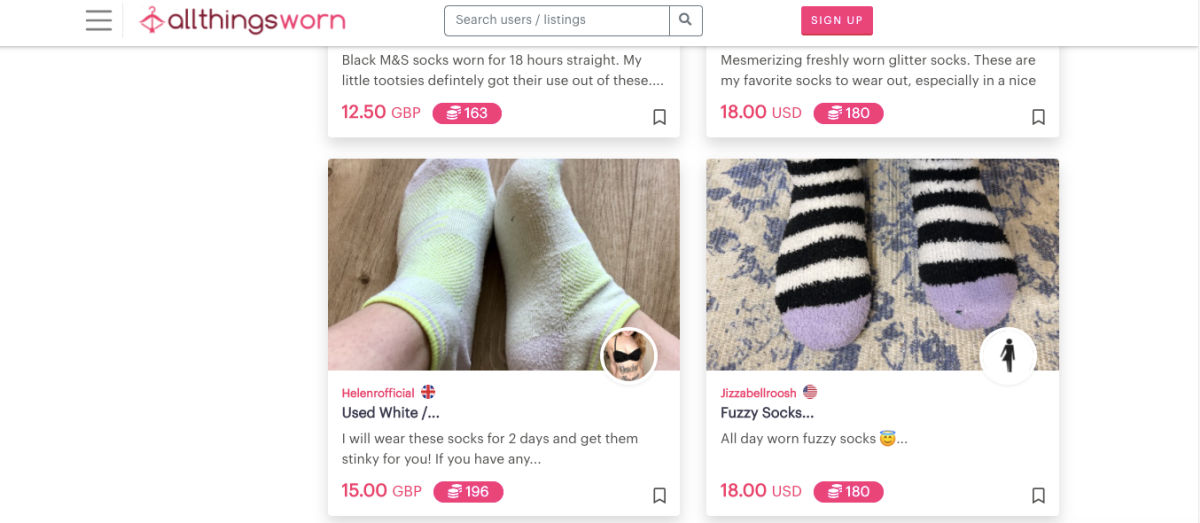 Here's another site that has its own section for selling used socks, hosiery and other footwear items.
Most of the socks on All Things Worn are selling for around $20 a pair making this an awesome choice for your online side hustle.
It is free to join ATW but to list your used socks for sale, you will need to purchase a Premium Seller package for $14.99.
If you want an even better deal, you can sign up for 6 months for a one-time payment of $69.99, which gives you the equivalent of 1 month free.
OnlyFans
You can start your own OnlyFans creator account and sell your used socks to your fans and subscribers.
This is a good option if you are interested in selling photos and interacting with fans.
If you want to build a whole business around your used socks and don't mind chatting with fans and sending photos and videos of you wearing your socks, then this can be a great way to grow a following.
Bear in mind that it is not easy to stay anonymous on OnlyFans so if privacy is important to you, it might not be the best option.
Other Places To Sell Used Socks Online
Craigslist
Many people make crazy money selling used socks on Craigslist but bear in mind that you do not have the safety net of using a platform that allows you to stay anonymous.
You can choose to exchange the items in person (I do not recommend this) or you can ship your socks once you have received payment.
In terms of a payment method on Craigslist, most sellers request payment either through CashApp or Amazon gift cards.
Reddit
You probably know that reddit has forums for almost everything on Earth and used socks are no exception.
You can post pictures of your used footwear on r/usedsocks and connect with buyers that way.
Bear in mind that a lot of people use the forum just as a way to see pictures of used socks so it might not be the best place for selling but some people do have success.
Selling Used Socks On Etsy
As of 2022, I don't recommend Etsy for selling your used socks. That's because reselling clothing is not allowed on Etsy and your listing will likely get taken down.
There is only one way you can really start your Etsy shop selling socks and not get your listings removed. Vintage clothing can be sold on Etsy with no problems.
What is Etsy's definition of vintage clothing?
For an item to be considered vintage on Etsy, it must be at least 20 years old.
So let's face it, if you have some used socks that are over 20 years old, I guess you can sell them on Etsy but to be honest, you might want to consider donating them to a museum!
More Things To Sell On Etsy
Although selling used socks on Etsy isn' a great idea, if you are interested in starting your own Etsy shop, here are some ideas:
The Ultimate Guide To Selling Seeds On Etsy
Selling Used Socks On eBay
Back in the day, you could sell used socks on eBay but in recent years they have really cut back on the types of items you can list and sell on the site.
Nowadays, you cannot sell used socks on eBay but there is an alternative – Ebanned.
Ebanned is an adults-only site that specializes in all the things that you are not allowed to sell on eBay.
From offering your services in anything from financial domination to selling sex toys online, the world is your oyster on Ebanned.
To list your used socks for sale on Ebanned, you will need to pay a listing fee and another fee once your item sells.
Here is the current fee structure:

How To Sell Socks Online – FAQs
Is it Legal To Sell Used Socks Online?
As socks are not x-rated or anything other than regular clothing, in most countries, there are no laws forbidding their sale.
However, while is it not illegal to sell your used socks in the USA, UK, Canada or Australia, I recommend doing research into your own particular country and jurisdiction to be sure. (I am not a lawyer and cannot give legal advice).
That being said, there are a few things to be aware of when you are selling used anything online.
Be Clear On What You Are Selling
First of all, make sure to disclose exactly what you are selling and the condition that they are in.
Any potential buyers should know that they are buying used socks and are expecting them to be worn and potentially unwashed.
Don't Sell To Underage People
Although in theory socks are items of clothing and not "underwear", you could be subject to prosecution if you are found to be selling these items to people who are minors.
If you sell to someone underage even through an online platform, you will be liable if there is an investigation.
Is It Safe To Sell Socks Online?
You can stay safe and anonymous while selling your socks online by protecting your privacy and not using your real name or address.
Be aware that you might get buyers asking for more than just socks or to meet with you in person so stand your ground and don't do anything you feel uncomfortable with.
If you are selling your dirty socks on Craigslist or another online platform, you will need to consider how you will ship them.
To get around the need to provide a return address on packages, you could rent a PO box from your local post office.
There are also some shippers that don't require a return address on packages.
If you are in Canada, you can sign up for the free FlexDelivery program and get a return address at no cost.
Tips For Making Money Selling Socks Online
Pick A Niche
Spend some time on Sofia Gray, All Things Worn and the other sites and see what other sellers are having success with.
Check out other people's prices and consider how you can compete with them.
One thing that seems to really work is to find a niche and stick to it.
For example, maybe you will specialize in gym socks that you wear for running. Or maybe you are a MILF who can capitalize on that.
The more of your "personality" you can show in your listings, the more buyers will connect with you and want to buy your socks.
For your socks to fetch higher prices, you need to stand out from the crowd and offer buyers something that no one else is selling.
Take Great Photos
Offer buyers a view different photos for each of your listings. Take photos of your socks on your feet and off and even try and put your feet in different poses.
If you are selling used socks that you wear with certain shoes or when doing a specific activity, make sure to include photos as "proof".
Make sure to try and show how used the socks are so if you are selling white socks, photographing the dirty soles is a great idea.
Try and get inside the head of someone with a foot/sock fetish and tailor your sock listings to them.
Provide lots of information
Include as many details as possible in your used sock listings, for example:
what kind of socks are there, what store are they from and what patterns do they have, for example, Pink knee-high socks from Target.
When and how you wore the item (for a sweaty gym session, with heels etc)
How many days you have worn the socks for
You can boost sales by offering free shipping but bear in mind that this will eat into your profits so consider if this is worth doing before committing to it.
Buy in Bulk
To boost your profits, get multi-packs of socks or tights from Walmart or Target then sell them for a profit.
As your socks are really your only expense in this side hustle, the lower your costs, the more money you can pocket.
Promote Your Socks
If you want to create a regular income selling fishnet stockings and smelly shoes as well as socks, it makes sense to promote your items on social media as well as on the sites mentioned above.
Check out Facebook groups, start your own blog and promote your used socks on TikTok or Instagram.
By boosting your exposure it will be easier to grow your market share and get new clients.
Other Ways To Make Money With Socks
How To Sell Socks On Amazon
The only way to sell socks on Amazon is by reselling brand new socks via retail arbitrage. This is when you buy socks for a wholesale price then resell them on Amazon for a profit.
To do this, you would need to become an Amazon third party seller and get started that way. For more information on reselling new socks and other items, you can read this tutorial.
Design Socks To Sell
The way to make money with socks is by designing your own custom socks to sell and using a print on demand service such as Printful to fulfil your orders.
With POD services, you can make custom socks with your design or brand logo and sell them on your own online shop or e-commerce website. (Shopify is a great option for this)
How To Sell Socks For Cash – Final Thoughts
While it might not be a side hustle that you want to talk about at Thanksgiving dinner, selling used socks for cash can be a lucrative way to make money on the side, with little or no investment.
The market is huge when it comes to foot fetishes and there are lots of potential buyers looking to buy your dirty socks for money.
What are you waiting for? Start listing your socks online today and watch the money roll in!
More Things To Sell For Money
How To Sell Coloring Pages On Etsy
How To Start Reselling Shoes For Profit