Are you one of the many people that get excited about Halloween? Imagine being able to get paid to stay in haunted house set-ups such as the Haunted Mansion at Disney or a local theme park.
This may sound like something out of your dreams, but it is possible with spooky tourism.
Spooky tourism refers to the act of visiting or staying in locations that are known for their eerie atmospheres and/or legends.
This post may contain affiliate links. Please read my Disclosure for more information
RELATED POSTS
How To Get Paid To Stay In A Haunted House
Halloween is the perfect time to get scared, and get paid for it! That's right. You can get paid to stay in haunted houses all over the country.
I heard a while ago that certain people have been getting paid lots of money to stay in various buildings – such as abandoned industrial plants, castles, mausoleums, estates, houses, etc. – that are really haunted.
Spooky tourism has become a huge business, offering people an opportunity to get their scare on while getting paid at the same time.
Haunted House Actor Jobs
A great way to get paid to stay in haunted house set-ups is to become a haunted house actor.
First of all, If you want to get a job in the haunted house business, there are several things that you need to be able to do.
You will have to get past any fears of ghosts and ghouls that may or may not be present.
Be physically fit enough for strenuous work like running away from monsters or zombies while holding onto an actor who is pretending to be a scared victim.
You will need to get past the fact that you might get your hair or clothing tugged on by unseen forces. Also, it is best if you don't mind hearing strange noises and feeling cold drafts in places where there shouldn't be drafts at all. : )
If those things sound like fun then read on.
According to the Haunted house Association (yes, it exists) there are thousands of purportedly haunted houses in the USA and internationally, many of which hire actors year round.
In addition, another place to find haunted house actor jobs is to apply to work at seasonal events or the various Halloween themed events that pop-up in the fall.
Haunted Houses That Hire Actors
Some examples of places that hire lots of Haunted house actors every year include:
Halloween nights at Eastern State Penitentiary in Pennsylvania where actors get paid to get scared out of their wits.
This company runs 14 Haunted houses across the USA and hires hundreds of people to work in them.
Haunted houses in Orlando, Florida
This is a really popular place for haunted house actor jobs and there are lots to choose from including the annual Halloween Horror Nights event at Universal Studios.
Haunted Mansion in Disneyland
The Haunted Mansion is a great place to spend the Halloween season if you can get a job there.
There are also some other Disney seasonal jobs such as the annual "Nightmare Before Christmas" and "Boo To You Halloween Parade". Employees get free park admission, discounts on food and merchandise throughout Disney Parks.
Haunted house actor jobs near me
Click here to find a searchable list of Haunted venues near you
How Much Do Haunted House Actors Make?
Non-unionized actors typically make around $10-20 an hour for their work in a Haunted house.
This may not seem like much money but when you factor the time it takes to get through a spooky house and how many people can get paid at once, it adds up quickly.
Some haunted houses even offer tips so there's a chance for some extra money as well. Plus – you might get to keep your costume!
The $20,000 Haunted House
Want to make a full-time salary in just less than a day? Then you will want to get on the list at the notorious $20,000 Haunted house.
This house is so scary that they will actually pay you to complete a night at the residence and get out unscathed.
Where is the haunted house that pays you to finish?
McKamey Manor is one of the most popular examples of spooky tourism. It is an extreme haunt located in Tennessee that offers visitors $20,000 to get through the entire experience, which can last up to ten hours long!
Participants are required to sign a 40 page waiver prior to entering and they must be 18 years or older. In addition, you need to provide a letter from your doctor, pass a background check and be prescreened via video call.
It has become so popular that there is a two month waiting list to get in!
It doesn't cost any money to actually try the McKamey Manor challenge but participants are asked to bring a can or two of dog food for the house's canine residents.
Has anyone survived the McKamey Manor?
No one has actually managed to complete the stay at McKamey Manor (the challenge involves all kinds of frights from being buried alive to being force fed and verbally berated.)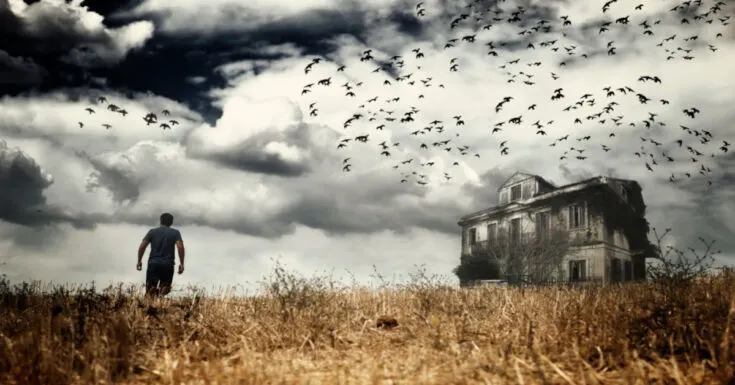 How Much Can You Get Paid To Stay In A Haunted House?
While McKamey Manor pays $20,000 but you will likely earn closer to $100 a night for a regular Haunted house actor job.
Is Starting Your Own Haunted House A Good Investment?
The popularity of spooky tourism has grown exponentially in recent years, and many businesses have gotten involved with the trend.
If you love Haunted houses, how about starting your own business welcoming guests into your scary retreat?
It makes sense because it offers a way to get involved in Halloween festivities and make some extra revenue on the side.
As with any business opportunity, there are a few things to consider before getting started:
First of all, you should figure out what type of haunted house experience your location offers.
You can turn your farm, house or lake front property into a Halloween tourist destination with the right know-how.
Consider the location of your haunted house in terms of population size, accessibility, and what time it opens up for visitors.
Remember you will need to hire all kinds of staff and equipment (lighting, fog machines, creepy music etc).
A good idea would be to look at some direct competitors in your area so that you can get a better sense of the market demand.
Other Ways To Make Money This Halloween
If frightful things are your jam and you want to make some money doing what you love, consider the following job opportunities too:
Work at a Halloween Store: get paid to wear a Halloween costume and sell merchandise
Sell Crafts Online: get creative with your crafting skills, make something spooky or scary, take good quality pictures of it and try selling them online.
Work at an Escape Room: get paid to test the limits of your mind this halloween – work as part of a team to get out of a mysterious room by solving problems and puzzles.
Work as aTour Guide: get paid to show people around your town this Halloween – you can also put together some spooky tours if you want additional income.
Get Paid To Stay In A Haunted House That Scares You
Do you want to get paid to stay at a haunted house?
There are many places that will pay you for this. It is an exciting way get scared and get paid all at the same time!
More Fun Ways To Make Money
Get Paid To Fish {15 genius ideas!}
How To Start A Dog Treat Business