Ah, the beauty of the internet. Now your average woman (or man) can get paid to sext with strangers from the comfort of home.
The adult "entertainment" industry provides so many work-from-home job opportunities.
Back in the day, you had to work at a seedy call centre while Bob from Accounts ate his tuna sandwich in the next cubicle if you wanted to make money this way.
Now you can sit in your pjs at home and sext on your phone to strangers around the World.
This is a way to make money from home without meeting anyone or investing anything.
But of course, paid sexting isn't a side hustle for everyone.
Read on for all the details on how to make money sexting plus the best apps to find sexting jobs.
This post may contain affiliate links. Please read my Disclosure for more information.
The Best Places To Sell Used Underwear
What Is Sexting?
Sexting refers to the sending sexually explicit messages, photos, or videos via text message or other messaging apps.
This can include anything from flirty messages to full-on nudity and explicit content.
Sexting is a popular way for people to explore their sexuality and connect with partners or strangers in a new and exciting way.
Nowadays, it is so popular that I've created this post to show you how to get paid for sexting with strangers.
However, it's important to remember that sexting can come with risks, such as privacy concerns and the potential for messages to go public without consent.
It's important to set clear boundaries and protect your privacy when engaging in sexting.
Is Sexting The Same As Phone Sex?
Sexting and phone sex are not the same thing, although they both involve sexual communication between two or more people.
Sexting typically refers to the exchange of sexually explicit messages, photos, or videos via text message or messaging apps, while phone sex involves having sexual conversations over the phone.
Phone sex is often more intimate and involves more direct verbal communication, while sexting can be more visual and involve the exchange of photos or videos.
Both sexting and phone sex can be fun and exciting ways to explore your sexuality, but it's important to remember to practice safe and consensual communication with any sexual activity.
Can You Really Make Money Sexting?
Does this sound too good to be true? Just like anything in life (do you know how much people will pay for your used underwear?), there is a market for everything and you can definitely make money sexting strangers.
Yes, you really can get paid just to text people from your phone.
The best part about sexting is that you do not have to show your body to strangers, you do not have to get naked, or be uncomfortable.
Lots of people are more than happy to pay for someone to chat, flirt and give them some company without any obligation to meet up or even talk on the phone.
The one thing about this business is that it is no where near as seedy as you might imagine. Nowadays loneliness is pandemic and many people find themselves without anyone to talk to or form a connection with.
People who get paid to sext are often part online friend, part flirt and part social worker.
Who Will Pay You To Sext With Them?
It might sound crazy that there are people who will pay to sext but lots of men are looking for an online girlfriend experience.
The different people who are looking to make a connection via text may surprise you.
Working professionals who don't have time to connect with people
Introverts who don't want face-to-face communication
Lonely people who want a connection with someone
People who are in "dead bedrooms" or unhappy relationships are looking for an outlet without cheating
Individuals who want to explore kinks and are unable to do that in "real life"
Bored people who just want some sexting fun
How Much Money Can You Get Paid to Sext?
It's hard to find real stats on how much money you can make with sexting but there is no doubt the money is good.
For example, you can get paid to be an online friend (no sexting) for up to $50 an hour so you can take a guess at the extra money you can earn by adding a sexual element to your chatting.
Earning $2000-8000 part-time is not out of the ordinary and you can earn as much as you are willing to put in the time.
Things To Consider Before Making Money Sexting
Although sexting doesn't involve you meeting anyone in person, you still need to be very careful with your personal safety.
As with other adult work such as making money on OnlyFans or selling used underwear for cash, there are scammers and creeps out there so you need to have your wits about you.
Tips For Safe Sexting
Never use your real phone number. You can get a free phone number using Google Voice.
Even better, use an app such as Kik or Whatapp so you stay anonymous.
Never divulge personal information such as your address, occupation or real name. You might be surprised at how easy it is to find phone numbers and addresses from even the basic info.
Do not to anything you are not comfortable with. Don't feel that you have to send photos or videos if you don't want to.
Beware of people who want to wire transfer you money or move off the platform right away.
Do I Have To Send Photos And Videos To Get Paid To Sext?
When it comes to sexting for money, most things depend on the app that you use and what you agree to with your customer.
Some people view nudes and videos as part and parcel of sexting while for others, the limit is flirting by text.
Chances are at some point someone will ask you to send photos or videos and you can then decide if this is something you feel comfortable with.
That being said, it is totally possible to make money sexting without sending any kinds of photos or videos.
Don't fancy sexting for cash? Check out these other options that are 100% PG:
Get Paid To Be An Online Friend (Earn $2000 a month, part-time)
Get Paid To Chat Online (Who Is Hiring Now)
Who Can Get Paid To Sext?
In truth anyone can get paid to sext – men or women. As you are not talking on the phone or sharing photos, you really have no idea who is behind the phone.
That being said, the number one thing you need to be successful at this side hustle is to be good at sexting.
Some people are naturally good at creative writing and connecting with people via text while others find it stilted and difficult.
If you want to be really successful at sexting, the best thing you can do is get some practise and get experience.
If it doesn't come naturally to you, spend some time sexting with your partner and even watching porn to get an idea for the kinds of things men and women like.
This guide on sexting is great for getting you started (and it includes sample text messages).
Other than a gift for the art of sexy texts, the only other thing you will need is a smartphone and a internet or great data package.
Once you have those, you are ready to start making money sexting.
The Top Apps To Make Money Sexting
There are numerous apps where you can get paid to flirt or sext with strangers.
These apps and sites all have a bunch of adult chat jobs or the opportunity to create your own profile and find people to sext with for cash.
If you want to make serious money sexting, join more than one to increase your chances of getting customers.
Eventually, you may be able to focus on one platform but in the beginning it helps if you keep your options open.
The 12 Best Sexting Apps in 2023
Phrendly is free to join and is one of the most popular ways to get paid to chat online. Of course, it is also an amazing way to make money sexting.
It is kind of like an online dating site without ever meeting anyone. The reviews are great on Phrendly and it can be a great way to launch your sexting business for free.
To get started with Phrendly, you can get a $5 credit which will give you a chance to try the site out yourself before you sign up as a sexter yourself.
How It Works
The nice thing about Phrendly is that there is an app you can use so that you can easily sext from your phone.
All you have to do is sign up on the site for free and start sexting.
Message someone and share "drinks" with monetary value. If someone reaches out to you, you earn cash rewards.
How much can you earn with Phrendly?
This depends on the kind of communication you are having. For example, you will earn $0.35/volley for sex chat, 70% of phone & video call earnings (after the $0.20/minute connection fee), and 90% of gifts.
Payment is made through direct deposit if you are US based.
Lip Service is a staffing agency for companies looking for phone sex and sexting workers.
If you want to sext for money it is a good option as it offers a lot of different opportunities.
You can complete then job application online and will be contacted with adult chat jobs.
Lip Service handles staffing for both traditional phone sex and texting so there are a lot of options for you when it comes to online work.
What Do You Need To Work For Lip Service?
All you need is a dedicated land line or a high-quality cell phone with headset.
A great voice and great personality.
Be RELIABLE!
Live in the United States or Canada.
MUST BE 18+ years of age to apply and for some positions you may need to be over 21.
Own a working PC OR MAC and have steady access to email/Web.
You can work as a webcam model, live adult performer, or psychic chatline operator with ChatRecruit.
No experience is necessary and there is no sign up fee.
Earnings go up to $2 a minute making it a lucrative option to sign up for if you are looking for adult chat jobs. You will also get a nice $10 sign up bonus on your first paycheck.
Payment is monthly or bimonthly with ChatRecruit (although UK based sexters can choose weekly payment).
I am a huge fan of Flirtbucks because they put you in control of who you talk to.
FlirtBucks is not a cam performer, psychic line or phone actress program.
You don't have to pretend to be someone else, take orders from anyone and or get naked.
You only chat with users YOU want to chat with and talk about the things YOU want to discuss.
Obviously, there are more opportunities to make money sexting than just chitchatting about the weather. But you knew that already.
Set Your Own Hours
Work From The Comfort of Your Own Home
Payment is by Check or PayPal
No Upfront Fees or Investment Required
How Much Does Flirtbucks Pay?

Text121Chat is one of the industry's biggest interactive media and adult phone operator service providers, specializing in interactive media, adult SMS & MMS text messaging, adult phone sex and mobile adult chat – UK and globally.
British entrepreneurs Lorna Williamson and Helen Simpson launched the site in 2003 so it has been around for a long time.
This online chatting agency is more like an employer than a freelance site for sexters and there are strict minimums in order to work on the site.
Text21Chat require that operators commit to a minimum quota of 2000 messages per month in order to stay working on the site. In addition to that, you must be 18 to work for Text21Chat.
Only Fans is an adult-friendly social networking website and while it doesn't post adult chat jobs per se, it is one of the most popular kinky ways to make money online.
There are many people earning a lot of money interacting with their fans on the platform and it can be a great way to start sexting.
The nice thing about OnlyFans is that you are your own boss and can set your own prices and work whenever you want.
To learn more, make sure to read How To Make Money On OnlyFans
Want to make money talking to lonely people online? Then MyGirlFund is for you.
It is an online community for members to relax, connect with new people and have a great time.
It offer a fun way for men to flirt with the sexy girl next door. Enjoy great company and meet interesting new people, all while earning extra cash.
The thing I like about MyGirlFund is that they take safety really seriously. They strictly prohibit the exchange of personal information between members and girls.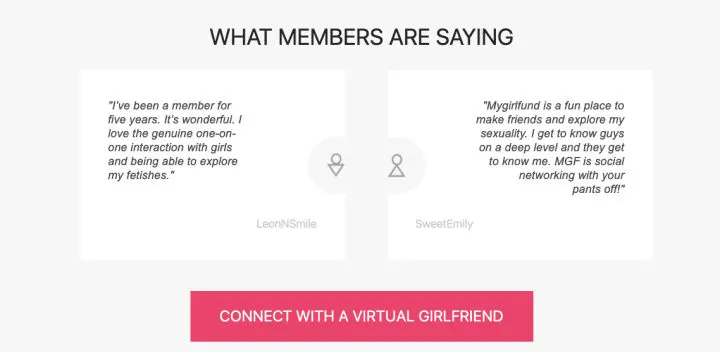 AROUSR is a mobile chat service where customers can connect with real, live chat hosts to share fantasies, pictures, video clips and more.
This is a great app to make money sexting.
You can make money in several different ways with Arousr (all free for you to join).
Text Chat – You are paid for messages you send to members while in Premium Mode. The longer your conversations are (the more messages you send), the more money you earn.
Video Calls – Another hugely popular channel on Arousr is Video Calling. If you choose to make yourself available for video calls, you will get requests via your app or the Desktop portal for private video sessions.
Roulette – The Arousr roulette is a new twist on the classic Chat Roulette concept. This maximizes your chances of getting video call sessions with members. The concept is simple: Arousr members can get 5 x 30 seconds free video sessions per day. If they wish to extend their session with you, the session turns into a paid video call.
SextPanther allows you to set up a new, private phone number and charge your clients for every text, call, and picture you receive.
Connect your SextPanther phone number to any of your existing phone numbers and intuitively route your text messages and phone calls from fans to your cell phone without your fans ever seeing your real phone number!
The only downside to SextPanther is that you will have to drive your own traffic and get fans rather than rely on the site to draw people in.
Requirements to work on SextPanther
You must be located in the United States or Canada.
You must have an established following on social media sites such as twitter or Instagram
OR
Have an active following on MyFreeCams, Chaturbate, Flirt4Free, Streamate, CamSoda, Naked, or any other respected cam sites.
You must engage and market your business to get new fans.
Niteflirt is another one of the big companies to get paid for sexting. They are a strictly adult site and do require that you input your credit card details before you sign up as a "flirt". This is to make sure you are 18 years old.
The reviews on Niteflirt are really good and it looks like it can be a really lucrative option if you want to make money on the side.
You can set your own prices but most women charge 99c per minute for chatting.
TalkToMe advertises itself as one of the highest payers in the industry. They are definitely a great option if you want to start sexting for cash.
Using their existing Talk Lines
You call the shots!
Post your own schedule!
Connect when you want, for as long as you want!
Record and Sell audio sound bites for extra income!
Earn additional income from emailing users, IM, Texting and more
This is an adult social networking site that will allow you to set your own prices and schedule. You can get paid to sext from your smartphone or for photos and videos.
Furthermore you can write "Scripts" and have other members fund your project. Also you're able to write sexy "stories".
What Does It Take To Be Successful at Sexting?
Here are some tips for earning as much money as possible as a phone sex worker or sexter:
Your Voice Is Your Most Important Asset
As your callers can't see you, you need your voice to ooze personality. Practice flirting to improve your game before you start work.
Learn to enjoy roleplay
Many customers will want to sext or have phone sex with their fantasy and that often involves role playing. It will help to have some standard characters ready to go to make things easier.
A nurse, secretary and teacher are always popular.
Perfect Your Work Environment
Although you can work from anywhere in this job, you will want to make sure you are in a quiet place without any distractions. An alarm or screaming baby is sure to completely ruin the mood if you are in the middle of a chat.
Create A Connection
Most successful sexters have a barrage of repeat clients that make up the majority of their work. Spend time getting to know your clients and make notes of their personalities and interests so that you can build a relationship with them.
Tips From A Successful Sexter
My name is Annabel and I've been working as phone sex operator for 5 years now. I have made over $100,00 the last three years and I'd love to share some tips with you!
First things first, you need to figure out which platform you're going to use to connect with potential customers.
There are a lot of options out there, but some of the most popular ones include OnlyFans, SextPanther, and NiteFlirt. Do your research and choose the one that works best for you.
Once you've set up your profile and are ready to start accepting messages, it's important to establish clear boundaries with your customers.
Decide what you're comfortable with and what you're not, and make that very clear in your profile and in your initial conversations with customers.
For example, if you're not comfortable with sharing explicit photos or videos, make that clear upfront. This is important because you won't do your best work if you feel uncomfortable.
Another important thing to keep in mind is that you need to protect your privacy.
Never share personal information like your real name or phone number with customers, and be careful about sharing photos or videos that could identify you.
Many platforms offer privacy features like blurred photos or voice-changing tools that can help you stay anonymous.
One thing I've found to be really effective in making money through sexting is building ongoing relationships with customers.
When someone messages you, take the time to get to know them and what they're looking for.
Ask questions, listen to their responses, and make them feel heard and understood.
This can lead to repeat business, and can even turn some customers into long-term fans who are willing to pay for more personalized content.
Finally, it's important to remember that sexting is work, and it can be emotionally draining.
Set boundaries for yourself around how much time and energy you're willing to put into this side hustle, and make sure to take breaks and take care of yourself when you need to.
Overall, making money by sexting strangers can be a fun and lucrative side hustle, but it's important to approach it with caution and professionalism.
With the right platform, clear boundaries, and a commitment to protecting your privacy, you can turn this kinky side hustle into a successful money-maker.
How To Get Paid To Sext: FAQS
Is it legal to sext for cash?
Yes, it is legal to make money by sexting as long as you are over 18 years old and the content you are sharing is legal.
However, it's important to be aware of any local laws or regulations around adult content and sex work, as these can vary by location.
How much money can you make from sexting?
The amount of money you can make from sexting can vary widely depending on the platform you use, the amount of time and effort you put into it, and the demand for your content.
Some people report making hundreds or even thousands of dollars per week through sexting, while others may only make a small amount of extra income.
Do I need to show I face or share explicit photos?
No, you don't necessarily need to show your face or share explicit photos to make money by sexting.
Many platforms offer features that allow you to blur or censor photos or videos, and you can set your own boundaries around the type of content you're comfortable sharing.
It's important to communicate these boundaries clearly with customers and stick to them.
How can I start making money from sexting?
First, you'll need to choose a platform that allows for adult content and set up a profile.
From there, you can start accepting messages and setting boundaries with customers around the type of content you're willing to share.
It's important to do your research and choose a platform that works for you, and to approach this side hustle with professionalism and caution.
Get Paid To Sext – Final Thoughts
If you want to make money from home and have an open mind, you can sign up for various apps and get paid to sext.
All while sitting at home on the couch!
This is can be a great way to dip your toes into the lucrative world of online adult work such as OnlyFans and the other kinky ways to make money from home.
As long as you stay safe and feel comfortable, the World is really your oyster when it comes to making money sexting.
More Ways To Make Money From Home
80+ Creative Side Hustle Ideas