If you love fresh flowers, have a green thumb, and want to work from home, learning how to start a home based floral business may be the perfect opportunity.More and more of us want to become business owners and opening your own floral business can be the perfect way to do just that!
In this post, we will show you everything you need to start your own flower shop business working from the comfort of home!
You'll learn:
Why a home based business is a great opportunity right now
Factors to consider in your business plan
How to find your target market to ensure a profitable business
How to develop a marketing strategy
Are you ready to get started in the florist industry? Read on for all the details!
This post may contain affiliate links. Please read my Disclosure for more information.
RELATED POSTS
How To Start A Home Based Floral Business
The world needs flowers. Let's face it, there is nothing better than getting a bouquet of fresh, fragrant flowers delivered to your doorstep with love from someone you care about.
As a floral business owner you will be able to provide joy and happiness to so many people with your beautiiful creations,
Flowers are one of the most popular gifts in the United States every year, with an estimated 20 billion dollars spent annually!
With that kind of demand for floral arrangements, there's never been a better time to jump into the floral industry and start your own home based business.
To start your own retail flower business you'll. need to first make sure it is the job for you.
You'll need to make sure there is room in your area for a new florist. If there is a lot of competition, you may find it hard to get enough potential clients to make money.
Pros and cons of starting a home based floral business
A home-based floral business can be a great way to make some money at home, here are some of the advantages to this kind of business:
Be your own boss
A timeless industry
Not a fad, not season-based
Opportunity to break into other industries
That being said, there are some things to be aware of before you get too excited.
First of all, florists work long hours, especially on the weekends. There are also many peaks and valleys throughout the year. For example, while you will be rushed off your feet on Mother's day, things might be quieter at other times of the year.
The work is also very labor intensive and you will need to be relatively strong to carry big arrangements.
The industry is also very competitive with lots of people vying for the same work so marketing and making a name for yourself is key.
Another thing to bear in mind, and this is something that trips a lot of florists up – you will need to be involved in the day to day operations of your floral store.
Many people want to do the fun flower arranging part and not bother about the customer service or bookkeeping but it is important that you run your business properly if you want to be successful.
How Much Do Home Based Florists Make?
The most important consideration when starting a new business is how much money you will make in the end.
This all forms part of your business plan which will outline goals for your floral shop plus how you will achieve those same goals (through investment and marketing).
According to The Globe and Mail, recent graduates and new entrants to the floral business typically make about $14 or $15 an hour.
The exact amount you make, however, will depend on many factors unique to you and your situation.
To determine this, you need to do some market research and crunch the numbers:
Work out how much it will cost for your materials per arrangement (the flowers themselves plus decorative elements like vases or boxes).
The next, very important step, is to add on a competitive profit margin so that you make some money!
You'll need to research the prices of florist shops in your local market to determine what kind of profit you can turn.
Don't forget online platforms too!
There are many home based florists who make a full-time income with their businesses.
Step By Step Guide To Starting Your Home Floral Business
Choose a name for your home-based floral business
A successful florist business begins with a catchy name.
Choose a business name that people will remember if they want to look you up online or share your information with a friend.
Make sure that the social media handles are available for your name (Facebook, Instagram, Twitter etc). A social media presence is really important for floral businesses as that is the best way to find new customers.
Decide where to work
The next consideration is making sure you are in a good location.
A successful flower shop can be run from home but you may want to consider a small retail outlet in a high-traffic shopping area too.
Bear in mind that you have two options with your home based floral business if you want to sell fresh flowers:
Firstly, you can make money growing plants at home and then arranging them or selling them wholesale.
Secondly, you could act as a retailer only and source your flowers and plants from a wholesaler then arrange them in bouquets etc. Most florists choose the second option to start with because it is easier.
Bear in mind that growing your own plants to sell will net you more money in the long run because you cut out the middle man.
Look at the average price of flower arrangements around town and determine if it is worth it for you to grow and sell them yourself independently or whether you would do better working with an established florist in your community.
Find an office space or use the kitchen table if necessary to start working on your florals.
A shed or garage that you can repurpose as a home-based flower shop, that is ideal.
If your goal is sell cut flowers in arrangements, you'll need studio space and a water source.
You'll also need to consider whether you will need a delivery van for dropping flowers at special events such as weddings and parties.
Keep it legal
Do you need a business license to start a home based floral business?
Most cities and towns require you to have some sort of licensing for selling handmade items, but it varies from place to place. Call the city clerk's office or local government website where you plan on selling your products and ask about any regulations that you need to be aware of.
Fill out the necessary paperwork to create your company's legal entity and find a business license in your state or country if applicable.
Get Online
Setup your website and social media accounts. This is a really important step for any online business , especially one that is home-based.
To set up your website, follow these simple steps:
To see if the domain you want is available, head to Namecheap.com and plug your chosen name into the search bar.
You need hosting for your website but you don't need to spend a ton of money on it, especially at the beginning. I use WordPress for my small business websites because it is really easy to use.
Choose EasyWP WordPress on Namecheap as it has everything you need for a cheap price.
You can then follow the step by step instructions here to create your website in minutes.
Do Some Market Research
The first step in starting any type of new business venture like this is research. Market research is important for making money with your home-based floral business.
Find out what the market will bear for buying flowers from an independent supplier.
You can visit other florists in the area to see what types of arrangements they are selling and at what prices. Visit your competitors and get a sense of the pricing and product offerings they have.
Check out the laws surrounding home businesses in your city or town, as well as any regulations about retail space where you plan on selling these products.
Talk to local retailing shops, customers and gather information about the current trend and buying behavior of people in your area.
Home Based Floral Business – Setup Costs
The good news is that the initial cost to start a home based floral business is tiny.
The largest initial expense will be the purchase of a large cooler or other necessary items.
Bear in mind that a lot of customers will ask for delivery to their events so be prepared if you are going to offer this service.
Your insurance might need updating and you will want to account for the mileage and wear and tear costs on your vehicle.
You'll be able to build up stock from the flowers that are left over from your first few orders
There are also some other small expenses you'll need to consider that are mostly one-time costs:
Wire Cutters, Vases and items to tend to the flowers
Business cards and promotional materials: You'll want flyers and business cards with your contact information as well as any other important information about your floral business.
Website setup costs: These will be low but are very important for marketing your business.
Greenhouse: This allows the plant to grow year-round, regardless of the weather. You can buy a greenhouse for your flowers at most garden supply stores or home improvement warehouse type places.
Pots: These are used to plant each individual flower in and allow you to transplant them if needed without disturbing their roots too much. They also keep the plants from growing into one another's space and crowding each other out.
Pest control: Most plants will require some sort of pesticide to keep bugs away from their flowers, so it's important that you have the appropriate supplies on hand in your greenhouse or home office.
Marketing Your Floral Business
To be successful in floral business, you must remain updated with latest trends and styles of consumers. You will also want to spend a lot of time promoting your business to get new clients.
Market your flower items to potential customers
Attend relevant trade shows, farmer's markets and community events to get your name out there.
Make sure to tell everyone you know that you are starting a floral business and would love to help them with any flower needs you have.
A great way to market your business without being too salesy is to add a blog section to your website. Become known as an expert in flowers and the go-to resource for people who want to learn more.
Community Outreach
Think of all the different industries that use flowers and reach out to all the ones in your area to offer your services.
Wedding venues, wedding planners, funeral homes and more may all be willing to give out your business cards to their customers. Offer a discount to their clients for even more chance of business.
Social Media
Make sure to start social media accounts for your business and to post lots of photos of your work for people to see your flower arranging skills.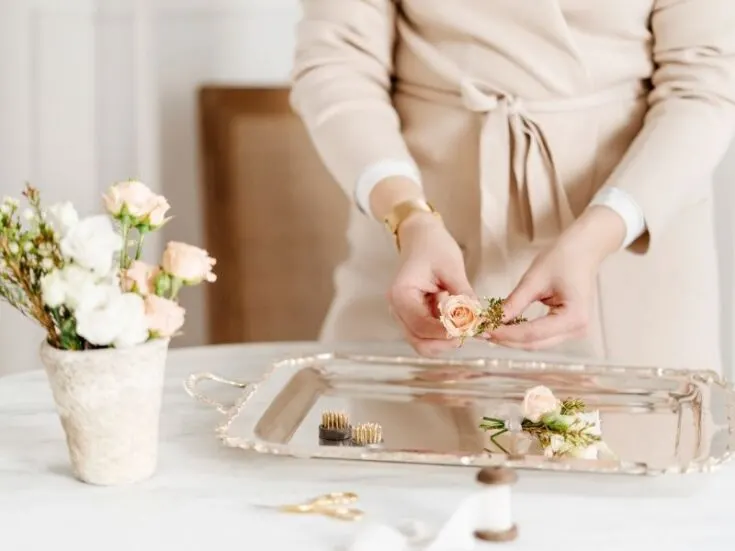 How To Start A Floral Business: FAQS
Who Buys Flowers From A Home-Based Business?
The number one customer you will have are event planners. This is great news because rather than selling one bouquet at a time, you will be making sales for lots of centrepieces and bouquets in one go.
This makes your work easier and can help you turn a profit much faster.
Event planners might need flowers for the following special occasions:
Weddings
Birthday Parties
Corporate Events
Funerals
Festivals
Do I need to do a course to start a home based floral business?
No, you don't.
You can grow your own flowers and sell them at the market or online without any formal education.
You can also source your flowers from wholesalers which is what most smaller florists do.
However, if you are serious about this venture, it is helpful to have some background knowledge in gardening so that you know what varieties of plants will do well in your area.
You should also take some courses for floral designers to help you improve your floral design skills.
Skills Needed To Be A Home Based Florist
Strong analytical and numerical skills.
Ability to multi task.
Able to work in a team setting as well as independently.
Strong computer skills, including knowledge of Microsoft Office products and the ability to learn new software packages with ease.
Must be able to work in a fast paced environment with minimal supervision.
Must be able to multitask and prioritize tasks with little notice.
Customer Service skills and a desire to work with people in stressful times of their lives (weddings, funerals).
A lot of people have ideas about starting their own business but don't know where to get started. Here are some tips on how to get started with your own home-based floral company
Can I Start A Floral Business with Artificial Flowers?
Fake flowers have come a long way! Nowadays many brides are opting for silk bouquets and arrangements as a way to save money.
Although the demand for artificial flowers is not as high as it is for fresh flowers, it can be a great way to break into the floral business, especially if there is a lot of competition in your area.
Start A Home Based Floral Business – Final Thoughts
Starting your own home floral business can be a lucrative venture, but some research is important.
If you are considering this as an option for yourself or someone else in the family, make sure to do thorough market research before investing any money.
This includes looking at other florists' websites and how much they charge for arrangements similar to what you want to offer.
From there, determine if growing your own flowers is feasible or if you would be better purchasing them wholesale.
With a bit of hard work and determination, you will be up and running in no time!
More Home Based Business Ideas
How To Start A Soap Making Business From Home
Start A Gift Wrapping Business
Start A Home Based Greeting Card Business