Making money on the internet is as easy as browsing it. Seriously, people are actually getting paid to search the web.
I know it sounds like this might sound like a scam but you might be leaving money on the table every time you make a search online and don't get paid for it.
In this post we will look at the LEGIT ways that sites that will pay you to search the web and learn exactly which sites pay the best.
You can make money by:
Searching the web
Allowing companies to collect your search data
Testing websites as a search engine evaluator.
There are many websites that pay users for just surfing, or playing games on their phone for a living. In this post we will look at the sites that will pay you and how to get started.
This post may contain affiliate links. Please read my Disclosure for more information.
20 Ways To Get Paid To Search The Web
Appen
Telus International (AKA LionBridge)
TestingTime
WebTestClub
Swagbucks
Ask Wonder
Survey Junkie
Microsoft Rewards (Bing rewards)
Qmee
Brave
Zoombucks
Crossmedia Research Panel
SavvyConnect
MyPoints
Irazoo
Honeygain
Surf
Nielsen Computer and Mobile Panel
MobileXpression
Upvoice
How To Make Money Searching The Web
As I mentioned above, there are 3 main ways to make money for browsing the internet.
Search Engine Evaluator
Searching the web using different browsers
Getting paid for your search data
Let's go through each of these methods and the best sites you can sign up with today.
How To Be A Search Engine Evaluator
Search engine evaluators analyze search results to improve them using a set of guidelines provided by the search engine.
To give you can idea, the guidelines from Bing are over 100 pages so this is a job that requires online research and hard work.
As an evaluator, you will analyze the results from Google and Bing so that they are relevant in your opinion.
Out of the different ways to get paid to search the web, this is the only one that is an actual job and not a side hustle to make extra cash.
This gig can be harder to land than other jobs because it is in demand but if you land a position, it's a great work from home job.
They work on a variety of projects including, but not limited to, content analysis and evaluation, algorithm assessment, and keyword research.
Search engine evaluators are people who get paid to test and review search results. They typically work part-time and earn an hourly wage.
Jobs start at around $10 per hour, but can vary based on demand and location.
What are the requirements to be a search engine evaluator?
The requirements for being a search engine evaluator depend on the sites that you are working on.
Some jobs will require specific languages or certifications. In general you will need to be a quick worker and follow instructions to the letter.
Additionally, you will need:
A laptop or desktop. A smartphone with web capability is also needed for some tasks.
High-speed internet.
Ability to follow directions. Evaluation guidelines are very specific and must be followed.
Great research skills to verify information
Here are the requirements for an evaluator job I just found on Glassdoor.com and they are pretty typical: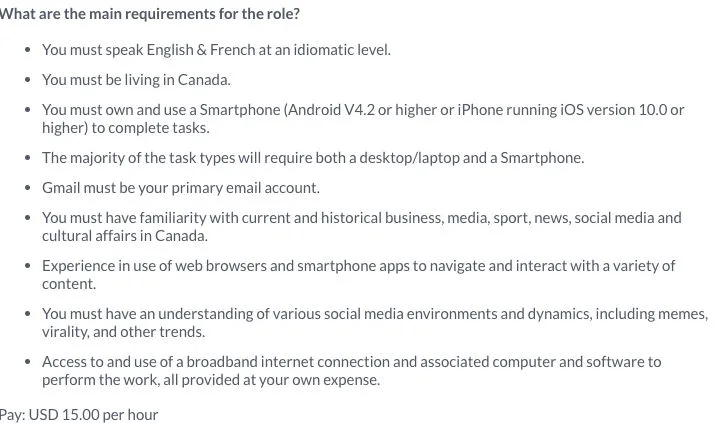 Pros and Cons of working as a Search Engine Evaluator:
Pros
Flexibility – as an independent contractor you can work when and where you want
Work from home – almost all search engine evaluator jobs are 100% remote
Cons
Like any job, there are also some downsides to being a search engine evaluator:
No guaranteed work – this is often project based so you don't have a guaranteed income
As an independent contractor you will not receive benefits or health insurance
Where can you find work as a search engine evaluator?
The two most popular sites that hire search engine evaluators are Appen and Lionbridge.
Flexjobs is another option. It's a job board that often posts search engine evaluation jobs.
Appen is a leader in the work at home industry.
They provide opportunities for search engine evaluators, translators, and content creators who can make money from their work on the internet.
According to Glassdoor.com, the typical Appen Web Search Evaluator salary is $14 per hour.
Telus International is one of the best places to look for search evaluator gigs. Most of the jobs are for Bing searches but you may get chosen for Google evaluations too.
You may see this company called LionBridge as they very recently (December 2020) were acquired by Telus International, a telecommunications company out of Canada.
Bear in mind that Lionbridge has high expectations and will reject work that they do not find up to par.
To become a search engine evaluator with Telus, you have to pass an exam and then you can practice your skills using simulations.
GlassDoor and Flexjobs
Glassdoor is well known for being the place to go for salary info and reviews of companies but did you know they also have a job board?
Flexjobs is another great place to look for search engine evaluator jobs online.
You may well find that Telus and Appen advertise their jobs on these job boards so it is worth checking them out.
Here is an example of the ad for a search engine evaluator for Telus that I just found on Glassdoor:
Other Ways To Get Paid To Test Websites
Test apps, websites, physical products, gadgets, food and many other things when you sign up with TestingTime.
You can earn up to $50 an hour for completing tests for the TestingTime.
Most studies range from 30 to 90 minutes. Some studies you can participate in from home (e.g., online surveys, phone or video calls), some are held at the customer's premises.
You will make more money for the tests that require you to attend a specific location.
WebTestClub used to be called UsertestingClub so you may see that on some out of date websites.
I've been doing online tests for them for about 2 years and it is a really easy way to make some extra money by checking search engine results.
How it works:
Every day or every couple of days, you will get an email with a new task. Here is an example of an email I got this week:
The task involves searching the web for a specific search term and telling WebTestClub what you see on Google.
You will get paid $1 for every task you complete and are paid by PayPal a few days later.
I've seen people mention getting paid $10 per task but in two years, I have only been offered tasks for $1 each.
The WebTestClub does say that some tasks pay up to $10 but I think that they might be rare.
Here is what I see when I click on today's task: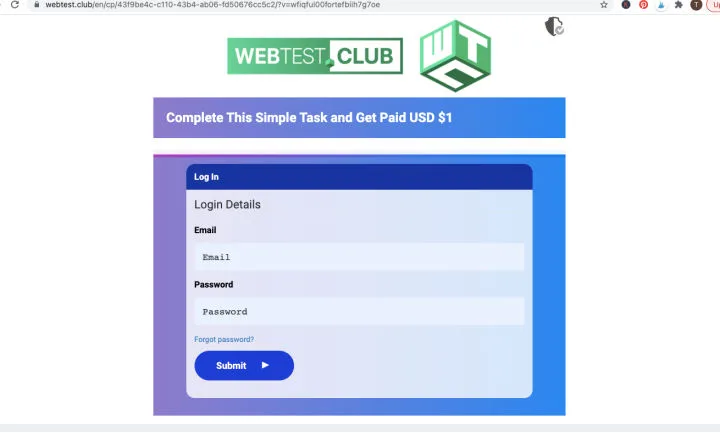 How to get started with WebTestClub?
They only accept new members on an invite only basis but you can check out their website for more details and to get on their radar.
How To Get Paid For Searching The Web
The easiest way to make money for searching the web is by changing your web browser for cash.
There are a variety of websites that can pay you for your web searches and using the internet if you make their site your primary search engine.
The catch for most of these sites is that you need to use their search engine when conducting searches.
Most of them have a tool bar you can download to your computer to make it easier to remember to use a different search engine than your normal one.
These websites typically act as ad networks, so they will provide you with ads to view while browsing.
You can also earn some extra cash on these sites by finding what you need and more through their search engine functionality.
The key to making the most money possible is to make the web browser eg Swagbucks, your default search engine so that you don't forget to use it when you search the web.
Swagbucks is a site where you can earn points by performing search activities, and then redeem these points for free gift cards.
The Swagbucks search engine uses Yahoo! Search results to help users find the best results in their searches.
Note that you won't win SBs everytime you search on their browser but most users find they win at least once an hour.
Swagbucks search has a browser extension that helps you earn points for doing things online and you can also make money with Swagbucks for watching ads online and playing games.
If you want to get started with Swagbucks, you can get signup bonus of $5 just for joining.
Here is an example of a SwagBucks web search I just did that earned me 6 SBs (you need 375 to cash out for a $5 Amazon gift card and 450 for Paypal)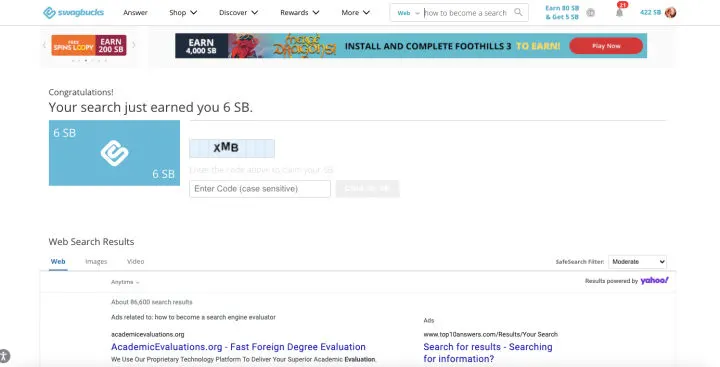 AskWonder is a crowdsourced research platform where you can make up to $30 an hour answering questions and summarizing the answers.
You will get paid per task with AskWonder and can earn up to $35 per job depending on how complex it is.
Survey Junkie is a website that pays you to take surveys. You can earn $10 for completing each survey and only receive cash out if you've accumulated 1000 points or more.
However, Survey Junkie also offers other opportunities to make money on the internet such as taking part in paid product testing, making videos, reviewing products etc.
You can also get paid for sharing your search data with Survey Junkie.
I'm not going to make any comments about the fact that Microsoft actually has to pay you to use their search engine.
This program used to be called Bing Rewards and it can actually be a really easy way to earn Amazon gift cards and other rewards.
The bottom line is, that if you switch to Bing and start using it instead of a different browser, then Microsoft will reward you with gift cards for Microsoft products and other goodies.
Start searching on Bing from any device to earn up to 3 points for every search.
You can't cash your points for cold hard cash but you can redeem for gift cards to places such as Starbucks and The Microsoft Store.
Qmee is a free browser and mobile app that allows you to earn real cash rewards for sharing your opinion and for engaging with your favorite brands.
This is. legit site that can help you make some extra money on the side.
You can also earn cash rewards for searching and shopping online with the Qmee extension.
Simply install the Qmee app to your browser to start earning while you search on your favorite sites and engage with your favorite brands.
Note that you can also take surveys on Qmee and they do pay slightly better than searching the web does so the best approach is to do both.
The nice thing about Qmee is that there is no minimum cashout amount so you can get your money right away.
Expect to earn around $2 an hour on Qmee.
Brave browser is my favorite search engine because it allows users to choose which ads they see and where to see them.
It is one of the top web search engines rated by experts, both for its ease of use and speed.
Turn on Brave Rewards and you can earn money for your searches.
You will earn frequent flyer-like tokens (BAT) for viewing privacy-respecting ads through Brave and can make a few bucks every month for doing what you would do normally for free.
Zoombucks is a competitor of Swagbucks and works in much the same way.
You can earn points by searching the web,taking surveys and doing other tasks.
Cash out when you reach the minimum payout of $3. The ZoomBucks system is 5 points per dollar and $5 minimum payout.
By participating in Google Opinion rewards (formerly Cross Media Panel), you can earn weekly rewards just for browsing the Internet and using your devices like you normally would.
This helps Google improve the user experience across the Internet and is super easy to use. Just download the app and get started.
You will get rewarded with Google Play or PayPal credit for each task you complete with Google Opinion Rewards.
MyPoints is an online shopping rewards program that has over 9 million members.
You can earn points when you answer surveys, watch videos and print and redeem coupons as well as for searching the web.
You can get a $10 bonus when you sign up with MyPoints.
Score free cash or gift cards just by completing easy tasks on Irazoo.
This another site similar to Zoombucks and Swagbucks that offers a bunch of different ways to make some beer money.
You can take surveys, watch videos and refer friends for money as well as getting paid for searching the web.
Sharing Your Web Search Data For Cash
It's becoming more and more common for companies to collect information about our internet habits, like what we search and buy, and use it for market research.
This is valuable not only to the company collecting this data but also to other businesses that want access to similar information.
The data collected is valuable and there are a variety of ways to monetize it.
Market research and targeted advertising are used, but some companies sell our personal data for lots of money.
There are apps that collect this information for us, sometimes for free or sometimes for a fee, but don't you agree that we should be paid in return?
Honeygain is a really fun concept. By signing up, you give businesses access to your internet connection.
There is nothing for you to do other than let them use your internet and you will make money passively.
Honeygain can be installed on any Windows, Linux, MacOS, or Android device with a stable Internet connection
How It Works
Once your account is active, Honeygain securely shares your Internet connection, never gaining access to your personal data
Honeygain uses your Internet connection to gather bits of information that's publicly available online
Credible companies use this data for web statistics, price comparison, and other verified business processes.
You will then get paid in PayPal cash or Bitcoin.
Surf is a free browser extension that allows you to passively earn rewards for simply browsing the web.
According to Surf, "last Year Big Tech Earned Over $500 Billion From Tracking and Selling Your Data… and You Received $0 For it. ". Surf wants to change all that with their free app.
You can get paid to search the web with Surf and redeem points for gift cards to all kinds of famous stores and brands.
Surf is currently only available in the US and Canada but there is a waitlist for international customers who want to join.
SavvyConnect isa US only market research company that uses safe, cutting-edge technology to collect data as you surf the web.In exchange for sharing your search date with SavvyConnect, you can earn cash rewards.
The site offers special incentives to its US users for each device they install the software to.
They will pay you guaranteed monthly incentives – up to $15 USD per month ($5 per device type) simply for remaining active in the SavvyConnect community!
Once you have accumulated more than $1 USD in incentives, you can request payment by using the "Request Payment" tool under the Account section once logged in. Payment is made by check in USD and will be mailed via U.S. post to the residence on file.
Nielsen is a well known market research company that offers lots of different options to make money online.
The Nielsen Computer & Mobile Panel app is a web-based service that collects data on how people use the internet.
All you have to do is use the internet as you normally would and Nielsen Digital Voice will pay you for your data.
You can install the browser extension to get paid for doing nothing and redeem your points for gift cards.
You can cash out for a gift card once your balance with Nielsen reaches $5 so you can easily make a few gift cards a month.
If you have a smartphone or an Ipad, then you can download the MobileXpression app software get paid to search the web and perform other easy tasks.
Most people who use MobileExpression make $10 a week for doing absolutely nothing.
I've actually had MobileXpression on my Ipad for years and its a great way to make passive income.
To be eligible to join MobileXpression, you must:
Be at least 18 years of age and capable of entering into a binding agreement.
Review our Privacy Policy and consent to our Terms of Service to participate in the MobileXpression community.
Own or control a mobile device that is compatible with the MobileXpression software.
Be able to access the Internet from your mobile device.
Once you get started and download the software, there is nothing more for you to do other than use your phone as you normally do.
Get paid to search the web with UpVoice if you are in the USA.
UpVoice is a market research company that pays its members to search the web, take surveys, use their social media sites as usual.
All you have to do to get started is to download the browser extension (desktop only).
As you browse through Facebook, Twitter, YouTube, LinkedIn, and Amazon, UpVoice will anonymously collect data about the ads you see and give you daily points that can later be redeemed for a selection of e-gift cards.
Every day you will receive 10 points for visiting the first supported site and an extra 1 point for every additional site.
According to UpVoice, most particpants can make up to $195 in their first year.
The site only accepts people from the UK, US and Israel right now.
Get Paid To Search The Web – FAQS
Can you get paid to search on Google?
You can't earn money by searching Google, but there are many ways to make money with Google.
Google Opinions is one option and starting a blog and making money with Google Adsense is another way that you can get paid by Google.
A very advanced option that goes beyond starting a blog is to connect a Google AdSense account to a custom search engine to make money on contextually-relevant ads placed into the search results.
If you want to get paid to search the web, your best bet is to use a browser that incentivizes you to make search such as Microsoft rewards or SwagBucks search.
What app pays you to search the Web?
There are actually a number of apps that will pay you for searching the web.
The highest paying apps to get paid to search the web include:
Telus International – $15-25 an hour
Swagbucks – Earn $25-$200 per month
TestingTime – Earn $55 per hour
What is the name of the Search engine that pays you?
Although there a number of ways to get paid to search the web, the following are the names of search engines that pay you to browse the internet:
Microsoft rewards (Bing)
Swagbucks Search (Yahoo!)
What are the different ways I can get paid for searching the web?
There are lots of ways to make money with search engines including:
Search Engine Evaluations
Web Testing
Market Research
Data Sharing
Clicking on ads
Doing surveys
Watching videos
Can I make a lot of money searching the web?
Let's all be clear here. We are talking beer money for most of these sites that will pay you to search.
You are not going to get rich overnight or make millions a day.
Can you make some extra cash to pay for groceries or family days out?
Definitely! If you need some pocket money for the little extras or want to avoid getting into debt this Christmas, the sites above are perfect for you!
I would recommend that you join as many different sites as possible and use them in your spare time.
The best thing about these rewards sites is that they are free to use and you can spend as much time or as little as you want.
If you are looking for a side hustle that will make you a full-time income, then check the following options which are more lucrative:
How To Make Money Selling Printables On Etsy
How to Become A Freelance Writer With No Experience (5 simple steps)
Become A Work From Home Travel Agent – No Experience Needed!
Get Paid To Search The Web – Final Thoughts
Now you know that there are a lot of sites that will pay you for searching the web.
Users on these sites can earn some quick cash by browsing the web and performing searches.
This is a growing trend with people who want to make money on the internet and search, but it's also something that will be more prevalent in the years to come.
There are many websites that pay you for surfing the internet like SwagBucks plus search engines that will pay you to switch to using them.