If you want to make passive income with little time or effort, then selling printables on Etsy is an ideal work from home job that you can do in your spare time.
You usually have to put in plenty of up front preparation for this type of business but there's very little required afterwards since most products are completely hands-free once you create your Etsy Listing.
I've already spoken about How To Start Your Own Etsy Printables Business and today I'm thrilled to have a real live Etsy Printables Shop owner on the blog to tell us everything we need to know about making our businesses a huge success!
In this interview we will learn:
What are printables and why they make a great Etsy business
Can you really make a full-time income with an Etsy Printables Business? (screenshots included!)
Tips for starting your Etsy shop and making money asap
Design tips to make sure your printables sell.
Let's get on with the interview!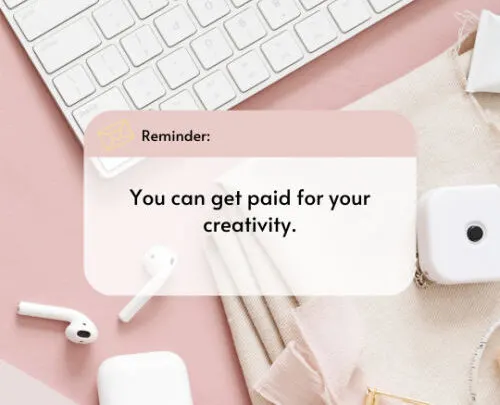 This post may contain affiliate links. Please read my Disclosure for more information.
RELATED POSTS
What are printables?
Printables are exactly what they sound like – things you can print out for use at home rather than buying already printed out for you.
They are sometimes also called digital downloads and the most popular ones to sell on Etsy include:
Planners
Checklists
Calendars
Trackers (for debt repayment or fitness, for example)
Signs and artwork
Digital Downloads will also encompass files that you might not print out such as excel worksheets and social media templates. Although you don't print these items out, they are sometimes also called printables and sell well on Etsy too!
If you're curious about the kinds of printables you can sell on Etsy, this FREE guide is secret list of the best-selling products by month on Etsy and how to use seasonal trends to make sales.
Why are people selling printables on Etsy?
Selling printables or digital downloads online is a great side job.
You can make your printable one time and then sell your product unlimited times, to anyone in the World!
The customer will get the file immediately which means no shipping costs for them either-you handle all of this from start to finish.
If you have weak graphic design skills too then this may be right up your alley because making these files takes very little work at all and you don't need to have crazy design skills.
Is Etsy the best place to sell printables?
Although you can sell printables on Shopify, your own site and even on social media, Etsy is a fantastic place to start your printables business.
There are many advantages to launching your own Etsy printables business, including:
Existing captive audience who are ready and willing to buy printables
Verified sales system meaning you don't have to be the merchant of record for your sales
Etsy is really easy to use and you can list your first printable in minutes
How To Get Started Selling Printables On Etsy
I'm thrilled today to have a really successful Etsy printables shop owner on the site to tell us all about running our own Etsy printables business.
Julie paid off nearly $100k of debt and is on her way to financial independence thanks to her side hustle as an Etsy printables shop owner.
Julie sells bachelorette party printables and other fun printables in her Etsy shop called TheSwagElephant. After only 3 years of selling printables on Etsy, she is in the top 10% of Etsy sellers worldwide!
Now that is what I call an achievement!
In 2019, Julie launched Gold City Ventures along with her co-founder, Cody.
At Gold City, she teaches others how to make and sell printable products online as a side hustle through a fabulous course called E-Printables Side Hustle.
She also hosts a podcast about financial freedom called Fire Drill and blogs at Millennial Boss.
In the interview below, I asked Julie to share her experiences with starting and running an Etsy printables shop.
She talks about the biggest challenge that Etsy sellers face right now plus the truth about making passive income on Etsy.
If you want to start your Etsy shop today, make sure to download my free starting an Etsy shop checklist PDF.
Selling Printables On Etsy – Interview With Julie From Swag Elephant
First of all, I'd love to know a bit about your background? What did you do before Gold City Ventures?
I'm a work-at-home Mom now but before that I worked in tech for a decade. My job took me to Colorado, California, and Washington before I settled in New England.
How did you get into the printables business? What caused you to start this side hustle?
I was selling temporary tattoos on Etsy and it was profitable but I was having a hard time managing inventory, packing, and shipping orders each day before my corporate job started.
I heard about printables, started selling printable bachelorette activities, and never looked back!
What are your most favorite printables to make?
My favorite printables are variations of what I already have in my shop.
I love making more products, and thus generating more revenue, from what I already have then spending time creating something from scratch.
When I am creating from scratch, I like to make printable games which I find really fun and sell well.
And what is your biggest challenge as an Etsy Printables Shop Owner?
I think my biggest challenge was generating ideas for what to make but since I started using some tools such as eRank I have an easier time figuring out what to sell.
How much money can you make monthly as an Etsy Shop owner?
I've made just under $1,100 in the last 30 days selling printables on Etsy and haven't listed another product in that time.
I actually took 6 months off my Etsy shop this year to move 3000 miles cross-country. I love how passive this side hustle can be once you put the work in up front.
Here is a screenshot of my Etsy shop stats for the last month!
What is a typical day like for you working on your Etsy printables business?
I downloaded the "Sell on Etsy" app and I will respond to a customer inquiry (which only takes a few seconds since many of the questions are the same and can be copy pasted again).
Besides that, there are no daily activities that I have to do to keep sales coming in on my shop.
What are you working on right now? Any fun plans for this year?
I'm about to list some new products in a different niche that I'm really excited about.
I've started to sell more printable templates for entrepreneurs and I also am starting to list Halloween and Christmas printables since those are big sellers every year.
I hope I have some time this weekend to get those new products up in the shop!
Section 2 – All About Etsy Printables
I've mentioned to readers that the great thing about taking the Gold City Ventures E-Printables Course is that you don't need to be a graphic designer.
That being said, do you have any design tips and tricks for This Work From Home Life Readers?
Use lots of white space and test print your products before you list them on Etsy!
I also like to make the colors all match and use the free website colors to get color scheme ideas.
Do you think it is possible to make a full-time living out of an Etsy Printables Business?
Yes! And one of our students, Rachel, has done that!
She has made over $150,000 selling printables on Etsy since taking the course two years ago.
I'm so jealous since I just do this as a side hustle but now I'm inspired to put more time into my shop and dream bigger.
This side hustle can totally become a full-time job if that is what you want.
If you only have a few hours every few weeks like me, then you can definitely keep it in "side hustle mode" and aim for a few hundred to a $1,000+ dollars per month.
It cost 20 cents to list a product on Etsy and a small percentage in fees that only are taken out of your revenue when someone buys the product.
You can pay for clipart or find free stuff. It's free to make printables on Canva.
This is a really low-cost side hustle compared to others I have tried to do.
What is the biggest mistake you see people making with their Etsy printables?
I think people don't spend enough time researching what keywords people are searching for up front and that is why we focus on that in the course.
We want people to spend time and make something that sells!
Do you think the printables market is getting saturated?
Absolutely not! It's only growing.
Especially with everything going on in the world right now.
More people are DIYing things and shopping less in stores.
They are being inspired to make things they see on social media and printables go along with that.
One example, people in the course have sold treat bag toppers they designed for Halloween.
They saw examples on Pinterest and made their own and they are selling!
Where do you see the most growth potential when it comes to printable niches going for 2022?
We will continue to see teacher appreciation and seasonal products sell well! People are loving DIY right now.
What are your top 3 tips to starting an Etsy Printables Business that makes money?
Make products that you would use yourself (and use them!) (check out this list of 51 Best Selling Printables on Etsy)
Don't let self doubt creep in – none of us are graphic designers and we are doing it!
Have fun with it. This is a creative outlet for many of us.
Can you tell us about your Etsy printables course? What's unique about it?
We focus on seasonal and editable printables which allows our students to hit up trends and also charge more for their products.
In our Facebook group, we have hundreds of experienced sellers ready to help newcomers along with us!
What made you decide to create the course and who is the target audience?
I had a podcast and kept getting questions about my Etsy side hustle.
I ran a small live mastermind of a handful of students and realized that if I recorded videos of myself making the printables then it was basically an online course.
Cody and I teamed up and decided to found Gold City Ventures together.
What is the best success story you have heard from a student on the course?
Off the top of my head we have had three people leave their jobs to do this full time and have made five figures and six figures selling printables!
They have kids at home like me and are super impressive with what they have been able to do. One even is now full-time RVing with her family across the US.
Does the course get updated often and will students get free updates?
Yes, we update the course and students have access to the content that is updated in future. There is no set time frame to take the course it is self-paced.
Last question and I have been wondering this for a while – why is your business called Gold City Ventures?
Cody and I wanted to bring our brands together (we both had podcasts and blogs under different names) so we brainstormed and Gold City Ventures popped out.
I actually wanted something wizard-related because I love Harry Potter but we decided that made no sense at all and now it's a running joke between us about the wizard thing.
I guess you can think of a city of gold like what people think an online business could be in terms of profitability and we knew we wanted to focus on helping people start profitable online businesses.
We chose Ventures because we never know what direction it will take us in the future.
We have other courses not just on printables so we wanted something that could stick with us as we grow.
Here's my review of the Printables Side Hustle course plus here are lots more student testimonials.
More Etsy Tips and Tricks
How To Make Money Selling Stickers On Etsy
ETSY SEO CHECKLIST (FREE PRINTABLE)
How To Make An Etsy Store Website In Minutes