Looking for the best selling Christmas crafts to make and sell in 2022? You can find some festive and unique ideas in this list of Christmas crafts to sell.
To get you started on your Christmas shopping, I've compiled a list of some of my favourite DIY crafts that are perfect for selling at stalls or markets. They also make wonderful gifts for everyone on your list!
From simple decorations to cute handmade gifts, there's something in this list for everyone. So check out these ideas below and you will have the answer to the question "What Can I make to sell at Christmas".
This post may contain affiliate links. Please read my Disclosure for more information
20 Bestselling Christmas Crafts To Make And Sell
Christmas is fast approaching, and that means it's time to get ready for the festive season.
If you're planning on selling crafts at your local Christmas bazaar or market, then why not try making some of these Christmas craft ideas 2022?
They are sure to be a hit with customers! If you find that making Christmas crafts to sell for a profit is your thing, how about starting an Etsy store and making money from your hobby?
It's super easy to get started on Etsy and you can get 40 free listings to start you off at this link.
Here are the Christmas craft ideas to sell at a Bazaar that we will look at in this article:
Candy Cane Sugar Scrub
Christmas Dog Treats
Homemade Peppermint Candle
Joy Wood Sign
Christmas Slime
Wood Slice Ornaments
Peppermint Bath Bombs
Christmas Morning Pancake Mix in A Jar
Homemade peppemint lip balm
Christmas Gnomes
Holiday Hot Chocolate Bombs
Gilded-edge agate slice coasters
Cookies for Santa Plate
DIY Christmas Mug
Resin Christmas Ornaments
Holiday Wine Bottle Stoppers
Scrunchies
Christmas Essential Oil Blends
Handmade Peppermint Soap
Hot Chocolate Ornament Gift
RELATED POSTS
The Bestselling Christmas Crafts To Sell At A Bazaar
Christmas is nearly here, and that means it's time to start preparing for the holiday season! If you want to make some money this year or even just have a great Christmas without spending a lot of money, we have you covered.
To get you started on your Christmas shopping, I've compiled a list of some of my favourite easy Christmas crafts that are perfect for selling at stalls or markets.
From simple decorations to cute handmade gifts, there's something in this list for everyone. So check out these ideas below and start Christmas crafting!
Candy Cane Sugar Scrub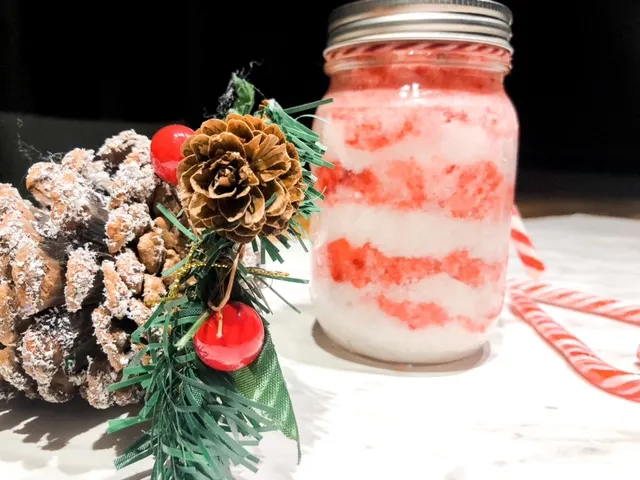 This peppermint sugar scrub recipe can be made in under 10 minutes and it is a really fun craft to make with the kids.
My children love making this every year and we gift it to teachers and family.
Christmas Dog Treats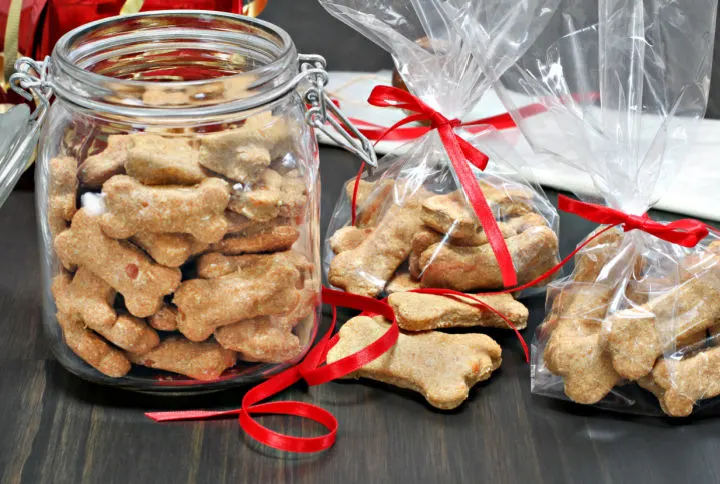 Dog treats are always really good sellers at Christmas bazaars and markets. You can make several batches quickly and then package them nicely in a mason jar with a festive ribbon.
If you want to go any further, take this free course on starting your own dog treat business – there are people making over $10,000 just selling dog treats!
Peppermint Candle

Making candles at home to sell is a great side hustle. How cute is this candy cane striped DIY candle that you can make from home? It also smells amazing too! Get the tutorial here.
DIY Joy Wood Sign for Christmas

Wooden signs are all the rage right now and this Joy one is perfect for the holidays.
Christmas Slime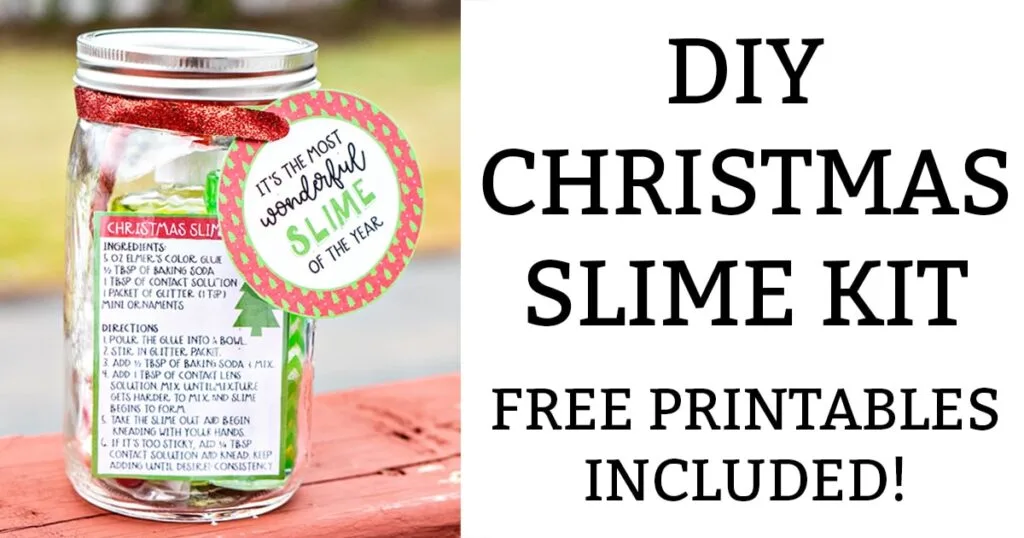 If you have kids then you know that slime is always popular (at least with kids!).
This easy to make recipe is one of the best Christmas crafts to sell at bazaar stalls because you can whip up a big batch in no time.
Click through for the tutorial and a free printable tag that reads "It's the most wonderful slime of the year".
Wood Slice Ornament
Everywhere I go right now there are these rustic wood ornaments for sale. You will love this easy tutorial.
Peppermint Bath Bombs

These cute bath bombs would make a wonderful Christmas stocking stuffer! A bath bomb business is a great way to make money online or at craft fairs.
If you haven't made bath bombs before, this easy to follow recipe will help you become a pro in no time.
Shake and Pour Mason Jar Pancakes
I love mason jar gifts as they are easy to make and perfect for gifting to hostesses or teachers.
These pancakes are perfect for Christmas morning and the tutorial includes a free printable of the red and white tag you see in the photo.
Peppermint Lip Balm

Lip balm is always an easy Christmas craft to make and sell at a holiday market. This tutorial will tell you exactly what you need to do.
You can make a lot of lip balms pretty quickly and they make great stocking stuffers or part of a larger gift (with the peppermint candle above maybe?).
In fact, DIY beauty crafts are one of the hottest selling items around the holidays.
Christmas Gnomes
Christmas gnomes are one of the hottest holidays decorations this year.
If you want to make some to sell at your Christmas bazaar or give as a gift, check out this tutorial that includes both sew and no sew options.
Hot Chocolate Bombs

I made hot chocolate bombs last Christmas to give as gifts and they were a huge hit!
If you don't know what they are – its a large ball of chocolate filled with hot chocolate powder and marshmallows.
When you drop the bomb into a cup of hot milk, the chocolate melts and you have a delicious cup of holiday cheer!
This guide to making hot chocolate bombs is really easy to follow. I got my hot chocolate bomb molds here.
Agate Slice Coasters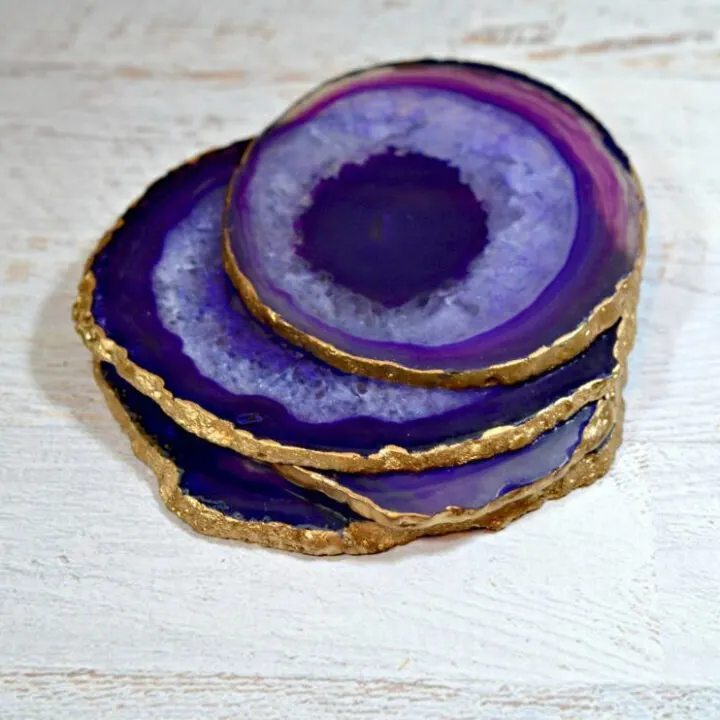 How gorgeous are these coasters? I actually can't believe they are a DY Christmas craft that you can make yourself.
You can get all the details in this how to guide here.
As you can imagine, they are one of the best selling Christmas crafts at bazaars and markets. Start your own Etsy store and start selling these amazing crafts this holiday.
Cookies For Santa Plate
This plate and mug are always big hits at craft sales and Christmas Bazaars. The good news – they are actually easy to make!
Get all the details about making them yourself here.
Want to go even further? Start your own cookie business too!
Christmas Mug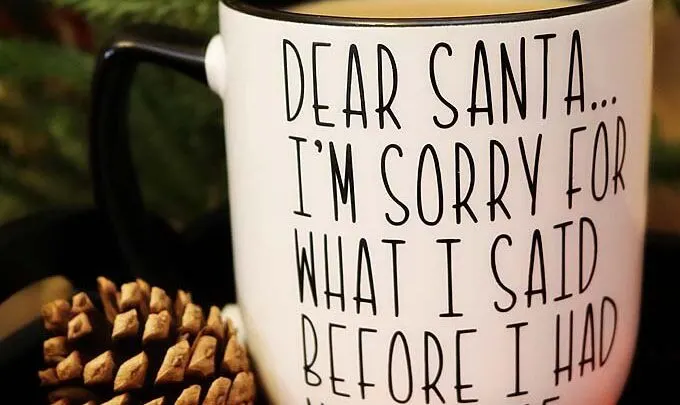 This Rae Dunn inspired mug is sure to be a hit at any Christmas market. You do need a Cricut to make it but if you have one – what are you waiting for?
Poured-Resin Christmas Ornaments
There is a woman in my local Facebook neighbourhood group who made a killing selling these last Christmas! Making resin crafts to sell is one of the fastest growing craft side hustles right now.
She was selling each one for $10 and even made small jewelry trays using the same method and sold them for $25.
Get all the details and the tutorial here.
Holiday Wine Cork Stoppers
Here is one of those easy Christmas craft ideas that look so much more complicated that they really are to make.
These holiday wine bottle stoppers would make a wonderful stocking stuffer for a man or woman who loves vino.
Scrunchies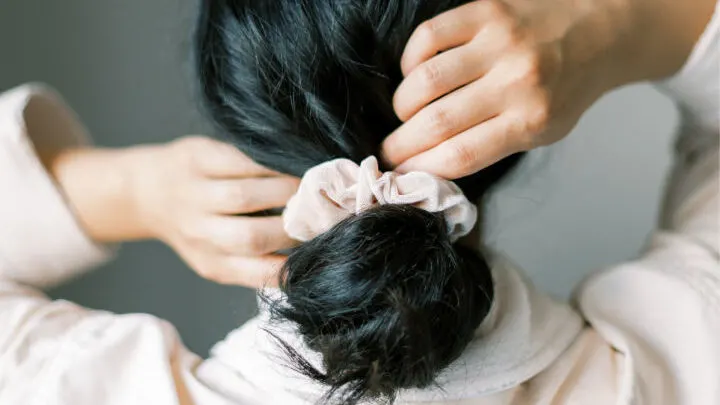 Scrunchies are back! If you want an easy Christmas craft that always sells well and makes a cute holiday gift for a teen, then consider sewing up some scrunchies.
Christmas Essential Oils
These holiday blends make wonderful Christmas gifts and are easy to put together yourself at home.
Many people love to use essential oils in their home and these make a great thing to make and sell at a Christmas bazaar.
Peppermint Soap
Handmade soap is always a popular craft to make and sell at Christmas bazaars.
This peppermint version is festive both in scent and look! I love the presentation of it tied with a candy cane ribbon.
I bet it will be one of the best selling Christmas crafts at your holiday bazaar.

What says holidays more than a steaming cup of hot chocolate?
These hot chocolate ornament balls are the perfect Christmas craft to sell at a holiday bazaar.
They are also easy enough to make that the kids can join in too!
More Easy Christmas Crafts To Make And Sell
38 Woodworking Projects That Sell
15+ Cricut Maker Projects To Sell
11 Easy Things Kids Can Make & Sell