Do you like chatting to new people? Do you have a lot of spare time? Did you know that you can get paid to talk to lonely men?
If you are you looking for an easy way to make some money, consider becoming a paid chat buddy.
There are many companies that will pay you for making phone calls, video calls or engaging in text chat with lonely men.
If you need a way to make good money from home, offering virtual companionship or adult chat can be a great way to pump up you PayPal account.
Granted, this isn't a side hustle for everyone, but it could be worth your time if you're looking for a way to make some extra cash and you enjoy talking to strangers and making people feel comfortable.
This post may contain affiliate links. Please read my Disclosure for more information
Related Posts on Getting Paid to Chat:
Get Paid To Be An Online Friend (Earn $2000 a month, part-time)
How To Become A Professional Cuddler
Get Paid To Chat Online (Who Is Hiring Now)
18 Text Chat Operator Jobs From Home 14 Ways to Get Paid to Talk to Lonely Men:
Papa
Where To Get Paid To Talk To Lonely Men
There are many ways to get paid to talk to lonely people, but the most popular way is through chat services and customer care platforms.
You can chat with them on your own time, from the comfort of your own home, and you'll be helping someone in need.
The best part is that most of these websites are free to join, so you're not only getting paid to talk to people–you're also providing a valuable service.
These websites often have a wide variety of people looking for conversation, so you'll never run out of things to talk about.
If you're interested in getting paid to talk to lonely people, there are plenty of websites where you can do just that.
From live video chats to text messaging service centres, there are all different options available for you to choose from.
For most of the companies below, you will be in complete control of how much or how little you make.
I've listed the most popular sites below, these are all legitimate companies that will pay you for lending a listening ear to a lonely man.
14 Companies That Pay You to Speak to Lonely People
There are many companies that will pay you to speak to lonely people. In fact, it's one of the easiest ways to make money.
You can chat with them on the phone, through a chat service, or even through webcam services.
In most cases, you will be able to set your own hours and make money talking to lonely guys from the comfort of home.
What Kind of work might you do?
Depending on the company that you sign up with, you might get paid for:
Voice Calls
Acting as a fake girlfriend
Being a local friend to a lonely person
Taking part in a video call
Here are some of the best companies that will pay you to talk to men:
Flirtbucks chat hostesses can make money either with text or video chatting.
You don't have to advertise yourself externally as everything works via the Flirtbucks system.
This is nice for privacy and means you don't have to worry about trying to get customers yourself.
How much can you get paid with Flirtbucks?
Text chatters make 10c a minute for the first 3 months, gradually going up to 15 cents per minute after 6 months. Video chat is more lucrative starting at 40 cents a minute.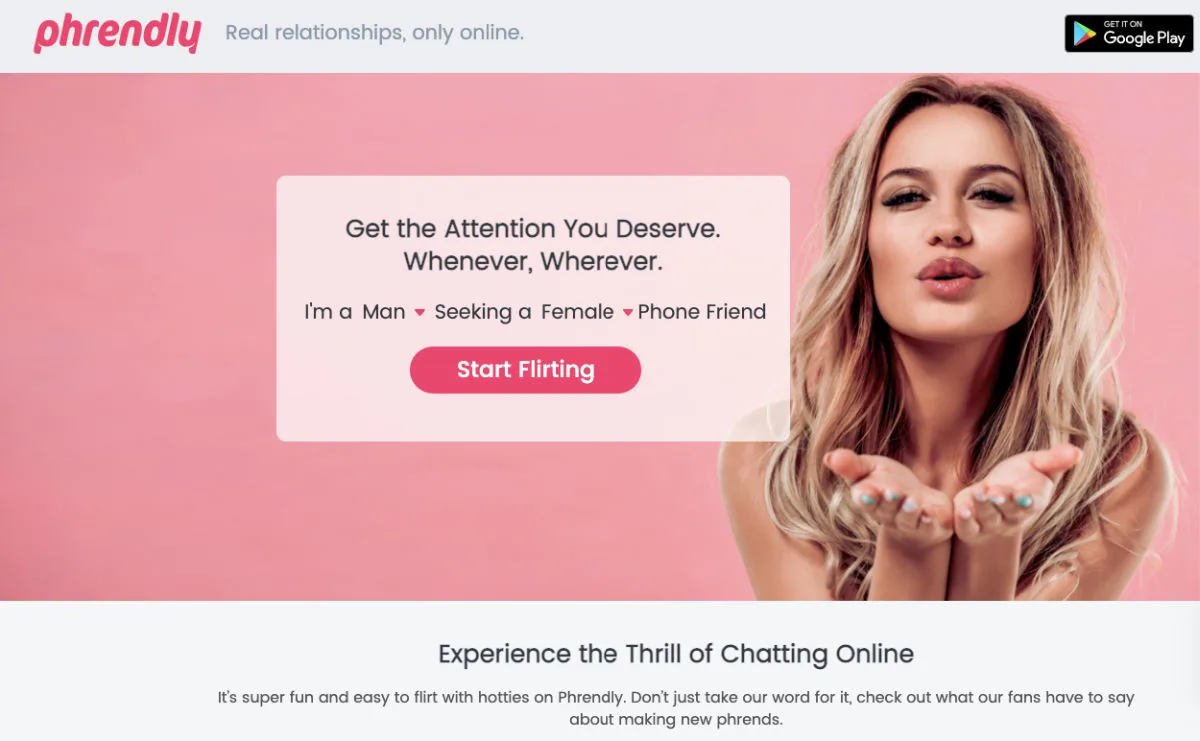 Phrendly is a great website if you want to get paid to talk to guys. This site one of the biggest for women to get paidi to flirt with men.
How it works
When you message someone on Phrendly, you share "drinks" that have cash value. (If they message you first, you earn money – obviously if you want to make money, you will wait for someone else to make the first move.)
Your first few "sips" are on the house, so it's free to try. After that, you can keep the fun going for less than the price of a movie.
How much money can I earn on Phrendly?
Each drink that is shared with you is worth $10 which equates to 8 minutes of talk time.
You can also make money by chatting via text messages.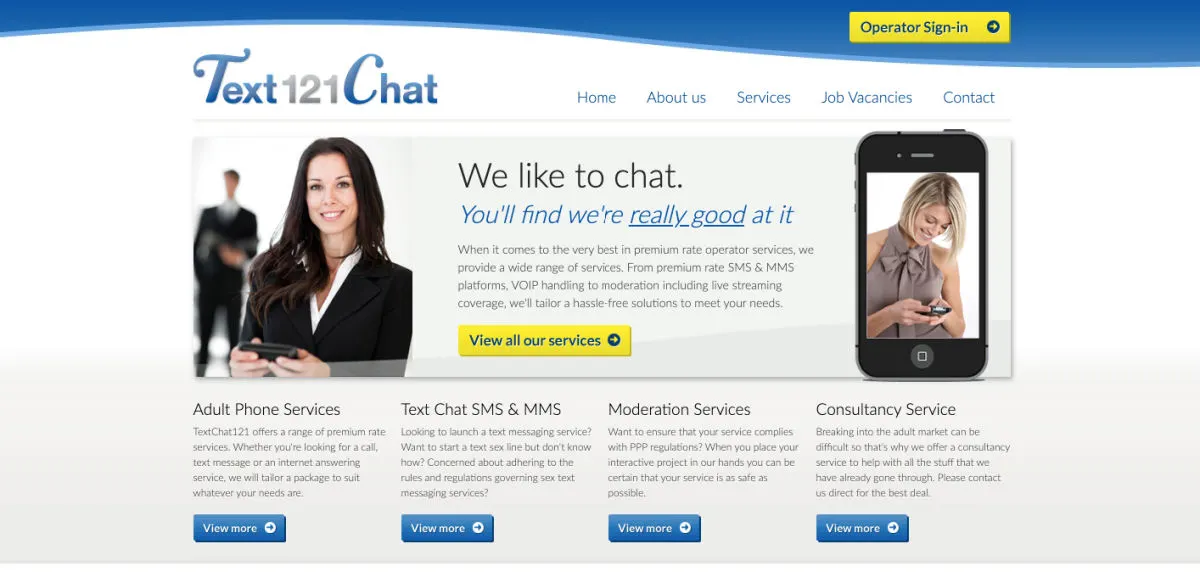 Uk based Test121Chat is one of the oldest running adult phone companies and they offer opprtunities for chatting with lonely men via both phone and text.
This online chatting agency is more like an employer than a freelance site for sexters and there are strict minimums in order to work on the site.
How much can you earn wtt text121 Chat?
You can make around 7 cents per text with this site but more if you work in the adult section of their business.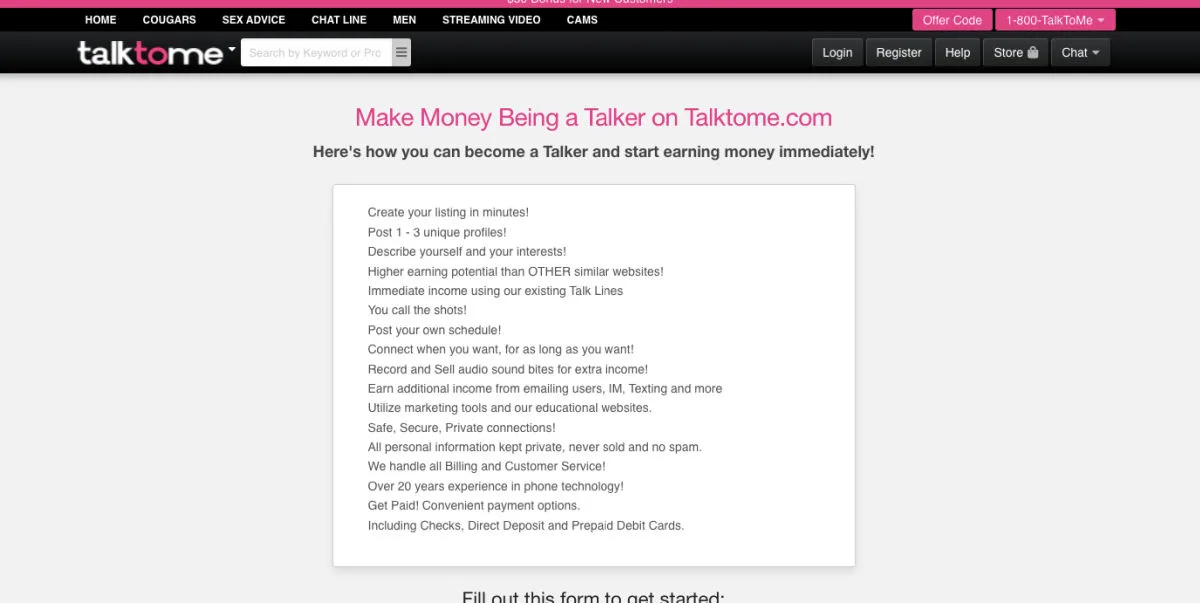 TalkToMe advertises itself as one of the highest payers in the industry. They work a bit differently from some of the other websites because you actually use their existing talk lines rather than your own.
You can use them to create your own schedule and decide how much to work.
Higher earning potential than OTHER similar websites!
Immediate income using our existing Talk Lines
You call the shots!
Post your own schedule!
How much Can you Earn?
You can make up to $2.99 a minute for talking to lonely men online.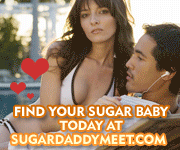 If you are willing to meet men in person and are open to a potential more adult style of companionship, consider signing up for SugarDaddyMeet.
You can get paid in gift cards or cash for talking and keeping lonely men company.
The sky really is the limit with this opportunity. There are women who make $1000 or a more a week working as a personal companion to lonely men.
Interested in learning more? Read my guide on How To Be A Sugar Baby Online
Have you always wanted to be a tour guide? Maybe you love where you love and enjoy showing it off to other people.
With Rent A Local Friend,you can help people when they visit your local area. If you live in an area with a lot of tourists, this may be the perfect opportunity for you.
How much can you make?
How much you charge will depend on where you live and how many other local friends are vying for the business.
You can charge as much as $200 an hour if you live in a high demand area.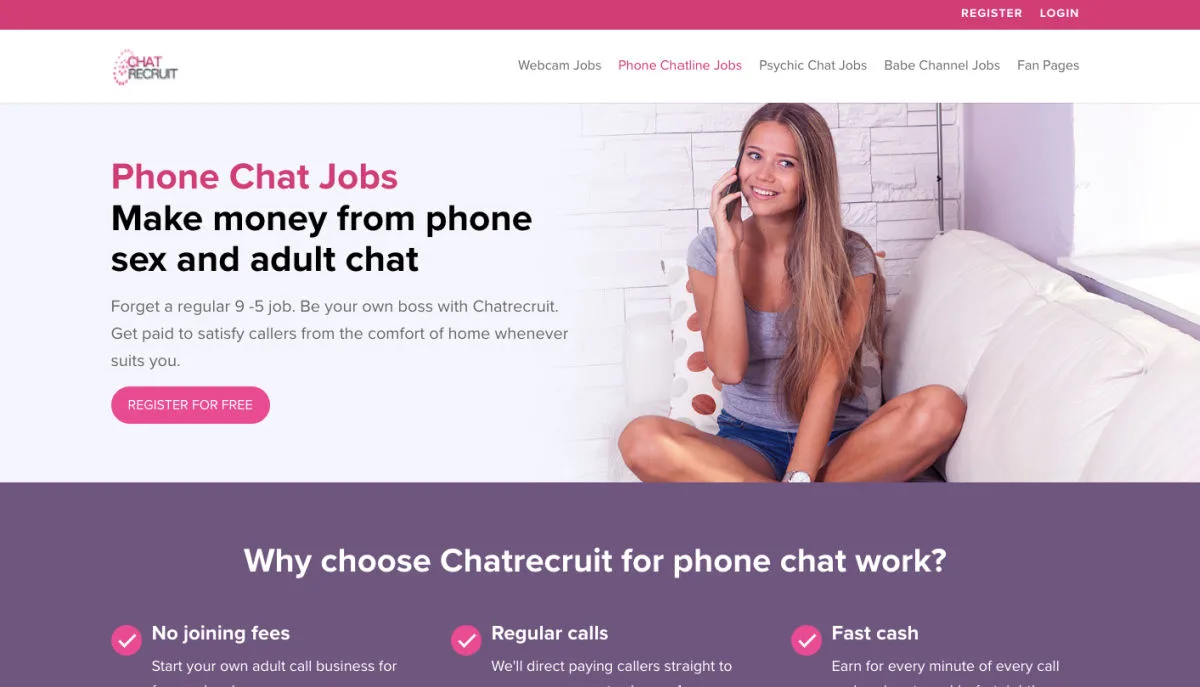 Chat Recruit is a true adult sex line out of the UK. They accept English speakers from all over but this is an opportunity for women only to make money chatting online.
This site is definitely a little bit more risque but it can be a lucrative option if flirting sites are your thing.
How much can you make with ChatRecruit?
You can easily earn $2 per minute with the option to be paid weekly, bi-monthly, and monthly.
FriendPC is a great site if you want to get paid to be an online friend. People might hire you for emotional support, to play video games with, boost their self-esteem, or to start a conversation about (almost) anything.
This is a great website if you want to get paid to talk to lonely men on a virtual basis only.
There are no in person meet ups on FriendPC.
There are four main kinds of virtual friend on FriendPC and customers can filter based on that criteria:
Virtual Friend
Life Coaches
Virtual Gamer
Virtual Girlfriend
How Much Can I Earn On FriendPC?
As an independent contractor, you set your schedule and you can also choose your rates.
Once you begin earning money by providing Services to Members, you'll take home 90%-95% of your earnings from each booking.
Bear in mind that being a "virtual girlfriend" will net you more money than being a regular virtual friend.
Rates seem to vary from $5-$2000 depending on the type of friend services offered.
Although the website looks a bit outdated, Rent A friend is a great way to get paid to talk to lonely men and your services will be in high demand.
There are currently over 621,000 people registered to be "friends" on the site and it is growing every day.
The website is aimed at helping solitary users hire a (purely platonic) companion for a variety of reasons.
This site is not just for online friends so you might find that some people are looking for a friend to meet with in person.
On Rent A Friend, you can offer virtual Friend Services such as Facetime, Zoom, Texting, Penpals, Phone Friends and more.
How much can you earn?
It is completely free to join Rent A Friend and you can set your own pricing. You keep 100% of your earnings.
Most of the Friends on RentAFriend.com start at $10 an hour and the average earnings are $25 an hour.
Some friends earning more than $2500 per week.
Want to get paid to talk to lonely people men online? Then MyGirlFund is for you.
It is an online community for members to relax, connect with new people and have a great time.
It offer a fun way for men to flirt with the sexy girl next door. Enjoy great company and meet interesting new people, all while earning extra cash.
How much can I make?
You receive 1 credit for every message reply you send to on MyGirlFun.
The only set rate is the amount you make when responding to a message, how much you work is up to you.
Many women report making $100s a day on the site but they do admit is can take a bit of time to get some traction with regular customers.
Rent a Cyber Friend offers all kinds of virtual friend opportunities. In addition to just being a companion, there are experts who are virtual online trainers, language tutors and mentors.
This is a much smaller site that Rent A Friend. When I did a search for available friends right now, there were only 186 to choose from so this can be a good option with less competition than Rent A Friend.
How much can you earn?
You can set your rate anywhere between $15 – $50 per hour. Once reached $75, you can cash out.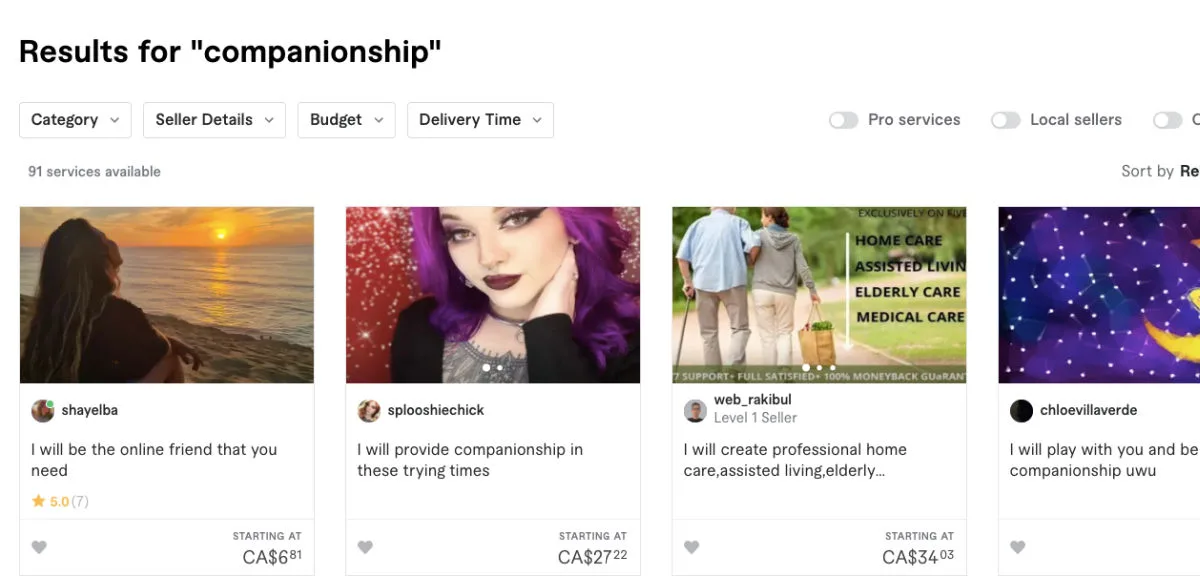 You can make money doing almost anything on Fiverr and being an online friend is no exception. It is really easy and free to join the site and you can find work as a professional companion.
You can list your services on Fiverr, set your prices and wait to get bookings.
Note that this is a freelance website and not specifically for finding an online friend so you will want to be very clear with what services you are offering.
How much money can talking to lonely men on Fiverr?
Based on my research, it looks like around $10 an hour is average for online friend services. Lots of friends also offer their services as virtual assistants for the same price.
Think of Papa as grandkids on demand. This a website where you can get paid to talk to both lonely men and women, all seniors.
It is easy to become a "papa pal". You sign up via the website and provide your phone number. Download the app then browse flexible work opportunities, book visits with members on-demand, and work as much as you want, whenever you want.
How much can you earn?
Expect to make an hourly rate of $15 and In addition to that hourly pay, Papa will reimburse commuter mileage and offer daily and weekly bonuses based on how many visits you complete.
Lipservice connect quality chatters to online chat agencies so it works a bit differently to the other companies on this list.
To start working with LipService, you'll need to be in the US or Canada and have a dedicated landline that you can use.
You'll need to fill out an application and then get accepted to their database.
How much can you make on Lipservice?
Working as an online chat operator on this platform can earn you up to $18 per hour.
Get Paid To Talk To Lonely Men – FAQs
How Much Money Can You Make Talking with Lonely People?
The amount of money you make talking with lonely people greatly depends on the platform and services that you offer.
For example, if you are simply chatting with someone over email, your hourly pay is likely to be much lower than if you were to provide webcam chats or phone conversations.
That being said, most people can expect to make anywhere from $15 to $25 per hour for their services.
There are ways to make more money beyond just basic conversation.
The highest-paying opportunity by far is working as a webcam model.
This profession can earn an individual up to $20/hour for basic conversations and up to $50/hour for more specialized work.
Keep in mind that the average wage is closer to around $15-$25/hour across all platforms though.
Another option is to make money sexting and flirting with strangers.
If making money talking with lonely men is something that interests you, consider what other services you could offer in addition to simple conversation.
This can help you to make more money and provide a better service for your clients.
Can you get paid to talk to someone? Is this a real job?
There are many ways to get paid to talk to lonely people. In fact, 3 out of 5 Americans report feeling lonely.
The older generation is the most likely to feel lonely due to their age and that the youth are left behind in the dust in a digital world.
However, there are now platforms where people can earn money by talking with others.
In addition, there is a huge demand for human companionship via online chats.
People are willing to pay a premium price for quality conversation and communication skills, especially when they are working in the field of technology.
As a result, many people are willing to pay for someone else's time and conversational skills.
What skills or requirements are there?
Each company is a bit different but in general, you will need the following:
Good Internet Connection
Good Communication Skills
Free time in which to chat to lonely men
In some cases, the openness to engage in explicit content (depending on the company you sign up with)
A social security number for getting paid
A mobile phone or a landline
Your own bank account or PayPal
Is Being a chat hostess or online friend safe?
While most of the companies above have many safeguards in place to keep your personal details secure, it is important to take some safety measures yourself:
If you are meeting someone in real life, make sure to let people know where you are going and meet in a public place
Use a money app such as Cashapp or an Amazon wishlist for private payments – don't give out your bank details
Do not give your personal information to strangers. Consider using a fake name when working online.
Get paid to talk to lonely men – Final Thoughts
There are many people out there who are lonely, and they're always searching for someone to talk to. This is where you come in! If you're good at talking to people, then you can make extra money by doing it online.
You can get paid for phone chat services, in person services and even texting.
One of the best ways to get started is to sign up for some of the different companies on this list.
It's a good idea to start your own blog or website where you can offer your services as a conversation partner. You can also join an online dating site and look for lonely men who need someone to talk to.
Don't be afraid to reach out to them; most of them will be happy that someone is interested in hearing what they have to say.
If you want, you can also look for freelance jobs that involve talking on the phone or via video chat. There are many companies out there who are looking for people like you!
The best part about these jobs is that they don't require any experience or special skills. All you need is a friendly personality and a willingness to help others feel better about themselves.
Make sure to be aware of your personal safety at all times and never give out your information to a stranger on the internet. With these things in mind, this is a great opportunity to make money, learn a new skill and maybe make a fun connection with a lonely man!