Are you someone who loves snuggling and have wondered "how can I make money cuddling?" Well, this guide will show you how to become a professional cuddler and make money giving hugs.
Have you ever cuddled with a friend, significant other, or family member and wished you could hold on forever?
Have you ever wanted to do it more often but just couldn't find the time?
Well now there are opportunities to make money as a professional cuddler! Yes. that's right, you can find professional cuddler jobs that will pay you to snuggle!
This is an exciting opportunity for those who want to work from home and be their own boss.
Professional cuddlers are expecting a huge rise in demand in the next few years as more and more people struggle with isolation.
This is a really good time to consider a new side hustle as a professional hugger.
If this sounds like something that interests you then read on below where I'll share some insights about what being a professional cuddler entails. And yes, this is a real job!
This post contains affiliate links. Please read my Disclosure for more information
RELATED POSTS
451 Most Profitable Crafts To Sell
What is a Professional Cuddler?
Working as a professional snuggler has to be one of the more unique side hustles I have investigated.
Not only are cuddle jobs on the increase but this is a really fun and nice job to do.
Have you ever had a bad day where you just need a hug?
Imagine being able to call a professional cuddler and get all your snuggles in for a fair price.
As we move to more and more remote work and socializing online, more people are looking to reconnect and feel the human touch again.
This is probably why the professional cuddling business has exploded in the last few years.
If you are a warm person who loves hugs (kind of like Olaf from Frozen), you can learn how to be a professional cuddler and make money doing what you love.
What Does A Professional Cuddler do?
Of course, you might be thinking that this is a stupid question but learning how to become a cuddling therapist, as they are also known, is more than just giving hugs.
In addition to cuddling and spooning, a professional cuddler may also do the following activities with their clients:
Light conversation
Holding hands
Hugging
Watching movies together
Listening to music
Playing board/video games
The professional cuddler offers G rated and platonic therapy in the form of hugs and human touch.
A typical cuddle session lasts for about 60 minutes and each one is different depending on the client's needs.
Who Hires Professional Cuddlers?
The majority of people who look to hire a pro cuddler are adult men. Many of them are lonely and looking for human contact.
Bear in mind that becoming a professional cuddler is not the same as getting paid to talk to lonely men. This is more of a therapeutic role than companionship.
Other people are looking to hire a cuddler for therapy due to trauma or a disability. As you probably know, a warm hug can make everything feel better.
Is this a gateway into sex work?
Absolutely not. Professional cuddling involves fully clothed, platonic cuddle sessions with clear rules, consent, and open communication from both sides.
There is nothing more involved in the professional cuddler job than hugs and making someone feel good.
Who Can Become A Professional Cuddler?
While, anyone can become a professional cuddler, according to the largest cuddle website, the following requirements are necessary to get a cuddler job:
A photo of yourself
The ability to be affectionate to anyone.
Accepting of all races, ages, genders, and sexual orientations.
Reliable with strong interpersonal and communication skills.
That being said, there are a number of organizations that offer training and professional cuddler certification. While not necessary, they can help to give you an edge and also boost your chances of getting good cuddler jobs.
How do I become a certified cuddler?
If you want to become a certified snuggler, you can take an in person or online course a number of different companies.
Here are some of the best cuddle wedsites:
Certified Cuddlers offers two options. An online course with a test at the end and a 3 day intensive in person course which will teach you at least 80 different cuddles.
You can purchase the course for $79 and then a $30 ongoing fee or for a one-time cost of $1500.
In the training you will learn:
A variety of different cuddle poses and customization options
Self care techniques
How to avoid codependency
Keeping safe during job (professional cuddler rules are very important)
How to conduct consultations
The Cuddle Sanctuary offers a 6 week online course which will teach you everything you need to know to become a certified professional cuddler.
The course costs just $25. You can read more about it here and also check out a free webinar.
How To Find Jobs As A Professional Cuddler
A lot of the certification programs offer job boards where you can advertise your services to potential clients.
You can also sign up on a site such as Cuddle Comfort.
Cuddle Comfort is kind of like an online dating site but for cuddlers and cuddle-ees.
They have a free option and also an option to hire a professional cuddler which is of course what we are interested in.
Cuddle Comfort has a large customer database of over 230,000 and offer a great compensation program.
With Cuddle Comfort, you get to keep 85% of the total session price when you work a job. Only professional cuddlers who pay this fee on the site can advertise paid jobs.
The nice thing about Cuddle Comfort is that you can sign up with other companies too – they don't demand exclusivity of your cuddles.
How Cuddle Comfort works
Step 1: Create a Professional Cuddler profile on the website
Make sure to fill out as many details as possible about what a client can expect if they book you and the kinds of things you can do together.
For example, are you open to going for walks or spending time together holding hands? Can you host clients at your home etc.
Work as few or as many hours as you want and set your own prices. You can also choose where the cuddles will take place – at your home, the client's home or a third location.
Step 2: Communicate with potential customers
Direct communication
Members directly approach you through our website and it's your choice who you accept.
This means you can slowly build your clientele with only those you feel most comfortable with.
Step 3: Booking
The client will make the booking and pay you in cash during the meeting.
Finding Professional Cuddling Positions: FAQS
Is it legal to be a professional cuddler?
There is no professional licensing body for cuddlers but it is a perfectly legal side hustle that is half being a friend and half being a companion to someone in need.
How Much Can I Make As A Professional Cuddler?
Of course, we all want to know how much do professional cuddlers make?
Although the typical cuddle therapist salary varies greatly, in general, the market rate for a professional cuddler is around $80/hour, but ultimately, you can charge whatever you want on any given day.
If you browse the ads on Cuddle Comfort, you will see that rates vary from $80-$250 an hour.
One way to make more money as a cuddler is to offer additional services and packages to potential clients.
Offering package deals with a bulk discount can also really boost your professional cuddler salary.
Here is an example of packages that I came across on Cuddle Comfort:
Starting your Own Professional Cuddler Business
Another option to make money as a cuddler is to start your own website. This will allow you to take bookings yourself and avoid paying any fees.
This is the closest way to become a professional cuddler for free without paying any extra fees.
Cuddle Up To Me is an example of a professional cuddler who offers sessions and also trainings.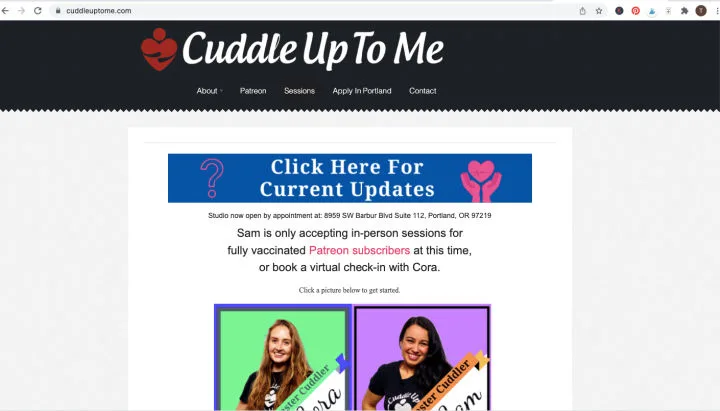 If you want to create your own website, you can do so in just a few minutes.
Step 1: Buy a Hosting and a Domain
The first thing that you need to do is buy a hosting and a domain for your site. The domain is the name that people type into their browser to get to your site.
I always buy my domains at NameCheap as they are, well, cheap.
I use a host called Lyrical host that is very good and provides great support and customer service.
The nice thing is, you can add as many websites as you want with their Boss plan which means you can really build your empire without spending a ton of money.
Get 10% off your Lyrical host hosting using my special promo code "WORKFROMHOME".
(Lyrical also have domain names to purchase too in case you want to do everything under one roof, so to speak.
When you choose a domain name, make sure to choose one that is easy to remember and preferably a .com or .net.
Also check to see if the social media accounts are available for the domain name so you can have matching Instagram, TikTok and Facebook accounts.
Installing WordPress
Once you have purchased your domain and hosting, it is time to install WordPress. This is how you will make your site look pretty and ready to sell.
You can purchase a WordPress theme or use the free ones provided to make your site look good. Then you will want to start making your pages.
On the left hand side menu, you will find the page tab, click "create new" to make the following:
About and contact – write a blurb about yourself and your background including any certifications
Services offered – provide details of your services and your rates
Contact – Let people know how to make a booking
Privacy Policies – Use the GDPR Framework plugin to create your privacy policy page.
Disclosures – If you will be using affiliate links, you need to disclose this somewhere on your blog.
You should also consider opening social media accounts for your cuddling business so you can promote it to friends and family and hopefully build up a following of clients.
Advertising locally in newspapers and on Facebook will help to get you clients until word of mouth kicks in.
How To Become A Professional Cuddler – Final Thoughts
Have you ever wanted to cuddle with a stranger? Have you wanted to be paid for this service? You can!
There are many professional cuddlers who make their living through the practice and the demand for cuddles is only expected to go up in the future.
Why not getting started today and be ready for some great money making hugs in the future?
More Fun Side Hustle Ideas
How To Become A Disney Travel Agent
How To Start Reselling Shoes For Profit
Get Paid To Stay In Haunted House Of Horrors