Whether you want to make some extra cash through the holidays or need a summer job, high paying seasonal jobs are always in demand.
Even if you already have a full-time job, you might consider picking up some seasonal employment to give your budget a bit of wiggle room in tough times.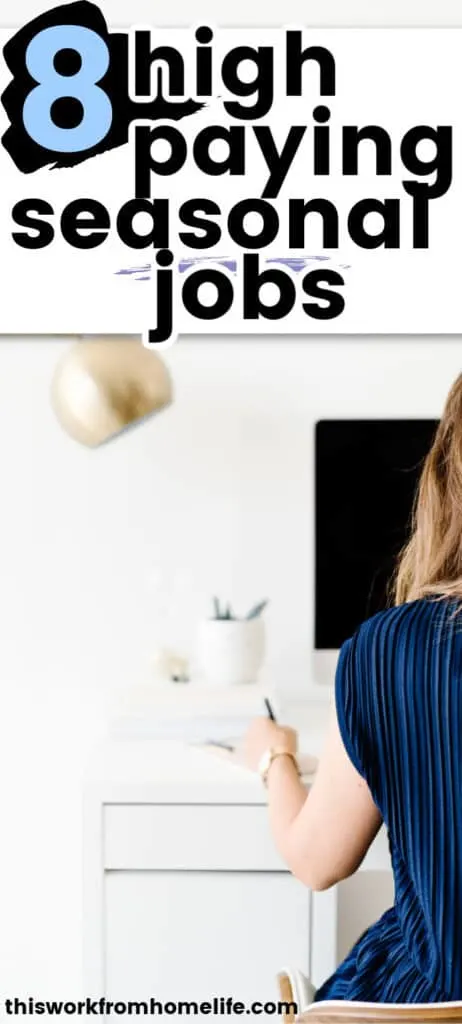 This post contains affiliate links. Please read my Disclosure for more information.
RELATED POSTS
How To Start Your Own Etsy Printables Business
How To Be A Blogger And Earn Money
High Paying Seasonal Jobs Anyone Can Do
Deliver phone books or flyers
This is a fantastic seasonal job that picks up at certain times of the year.
You choose your own hours and use your own vehicle to drop off phone books to people. Once the phone books are all delivered, you're done until next year's books come off the press. This seasonal, part-time job is about as flexible as you can get.
Similarly, delivering flyers is an easy job that is often in high demand by realtors and local small businesses.
Work retail during the holiday shopping frenzy
From September onwards, retailers start looking for dependable, hard-working extra help for the holiday season.
Although this can be a crazy time to be working in a store, it is also a fun way to make extra cash for the holidays.
You might even get a discount on your own holiday purchases. This seasonal work will really pay off.
Shovel snow
Start your own side business of shoveling walks and drive-ways when it snows. Of course you will need a heavy duty snow shovel like this one. (which is good for saving your back).
If you drive a truck, consider purchasing a snow-blower or even a plow which will make you very decent money quickly and with less physical exertion when the white stuff comes down.
Once your neighbours see you out and about with your shovel or snow-blower, they'll be calling you over to take care of their snow. This is a job that could pay several times a week in snowy areas and might keep you really busy.
Mow lawns
If you live in a warm climate or snow season is over, why not boost your income with a lawn care business?
Mowing lawns is a consistent job each year.
Plus, there's a little flexibility in terms of scheduling this work around your full-time job.
Depending on the type of lawn mower you have, you'll get plenty of physical activity. And you can earn $20 to $50 or more, depending on the size of the lawn. But remember, when fall rolls around, this seasonal job is done (unless you move on to leaf blowing…)
Clean vacation properties
If you live in a community that enjoys a vacation season that floods your community with visitors, find work helping landlords and vacation property owners prepare homes and condos for vacationers. Once the season is over, you've earned your extra income until same time, next year.
House-sit
Speaking of vacations and vacationers, have you ever considered house-sitting as a seasonal or part-time job?
The upfront investment is low.
You'll need some flyers or business cards that you make on your own computer for practically nothing.
Then, you'll need transportation and a bit of organization to keep notes and keys for homes of people who're on vacation.
When you become a house-sitter, you might stay over in a vacationer's empty home to deter thefts while the owners are gone.
Some owners may not require you to stay over and just ask that you spend evenings in their homes so it appears someone is there.
Keep the newspapers cleared away, lawns mowed or snow cleared, and a vehicle in the driveway occasionally.
Set your own rates to do house-sitting and earn additional income.
Be a tutor
It has never been a better time to become a home-based tutor or teacher. You don't even need a degree in some cases.
One of the best companies to work for is Outschool as you can literally teach any subject and set your own schedule.
If you have teaching experience, you will not have a hard-time finding a job. This job is not strictly seasonal but work normally picks up during the school year and around exam time.
Read more at Why Tutoring Is A Good Job
Professional Organizer
Helping people clean out garages, sheds and closets is one of my favorite high paying seasonal jobs.
You might think this is just housecleaning but it's more a service to help people, sort, organize, discard, donate and re-organize these challenging spaces in their homes.
It's also lucrative with the average wage in the US being around $21.23 an hour.
You'll need a strong back, plenty of cardboard boxes (pick them up at your local grocery store) and a ton of garbage bags.
Spring and summer are probably the best seasons to do this type of work. The jobs you get by word of mouth doing these types of tasks for pay will astound you.
Do an estimate on each job separately before starting the work.
List out what you understand your customer wants you to do so you can estimate the time and effort it will take. You'll be amazed at how much people are willing to pay to clean out, pack up and get rid of their junk. Plus, it brings in great seasonal income for you.
More Ways To Make Money On The Side
How To Make $1500 A Month From Home
How To Make Money With Your Car