Have you ever considered making and selling gift baskets? You can start a gift basket business from home on a shoestring budget with our easy to follow guide below.
Even if you are not that creative or inventive, consider making some side income with gift baskets and you might be pleasantly surprised at how much money you can make.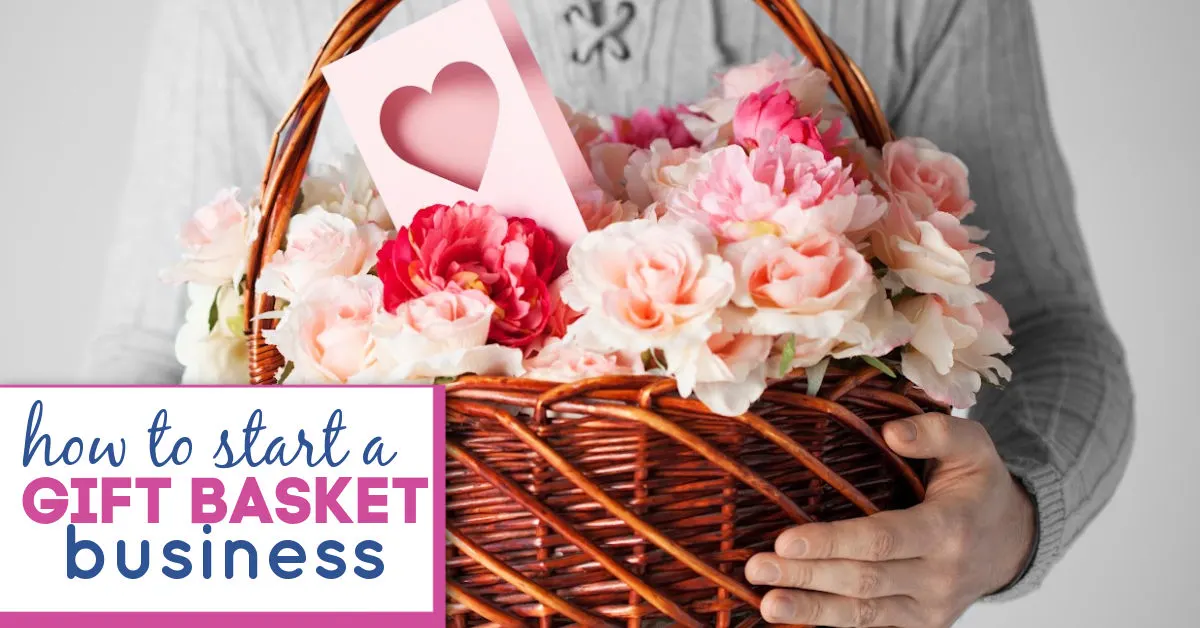 This post contains affiliate links. Please read my Disclosure for more information.
MORE FUN SIDE HUSTLE IDEAS
Start A Gift Wrapping Business
Simple Wood Pallet Projects To Make And Sell
How To Start A Cotton Candy Business
What is a gift basket business?
A gift basket business is a great way to earn extra income from home.
You can start your own gift basket business with just a few supplies and a little creativity.
The gift basket industry is huge – In 2021, consumer and corporate food gift sales were over $33 billion in sales.
This is for products such as gourmet food gift baskets and corporate gifts.
This figure doesn't even include the gift baskets that don't include food – diaper cakes, beauty baskets and more.
If you are looking for a fun work from home job idea and are relatively creative, starting your own gift basket service can be a good way to make money in a flexible job.
To get started, you will need a few basic supplies like baskets, cellophane wrap, ribbon, and shredded paper.
You can find these items at your local craft store or online.
Once you have your supplies, you can start designing your gift baskets.
Think about what kinds of gifts would be appropriate for different occasions.
For example, you could make a baby shower basket filled with diapers, baby lotion, and other newborn essentials.
Or you could make a sympathy basket filled with comforting foods and soothing teas.
Get creative and have fun with it!
Once you have designed your baskets, you can start marketing your business to friends, family, and potential customers.
Is a gift basket business profitable?
A gift basket business is a great way to make money from home.
The gift basket business profit margin is excellent which makes it a great choice for newbies.
There are many different ways to make a gift basket, and the possibilities are endless.
You can make a gift basket for any occasion, and there is always a market for them. If you are creative and have a good eye for detail, then this could be the perfect business for you.
There's not much to creating a gift basket other than purchasing the basket, the gift items, and putting them all together in an attractive arrangement.
Creating and selling gift baskets is great way to make money, even if you don't have a creative bone in your body!
The most important thing to remember when starting a gift basket business is that it is important to be unique and only sell high quality goods.
There are many gift basket businesses out there, so you need to find a way to stand out from the crowd.
Offer something that no one else does, and make sure that your baskets are of the highest quality.
This will ensure that people keep coming back to you for their gifting needs.
Who Buys Gift Baskets?
Many people think that a good gift basket or gift hamper is the ideal gift.
Think of all the times you have had to get a gift and weren't sure what to buy, or didn't have time to go shopping for that perfect gift.
A ready-made gift basket is the perfect solution to our busy, no-time World.
Receivers of gift baskets love them because they are a fun, mystery gift and a great way to try different products out.
Gift basket buyers love them because they look like an high effort gift for little work.
They are an easy way to knock off a lot of your gifting to-do list quickly – which is exactly why they are so popular with businesses around the holidays.
When do people buy gift baskets?
Special occasions like birthdays and anniversaries
The Holidays
Valentine's Day
mother's day
Mother's Day
Get-well soon
New Baby gifts
Shower gifts (wedding, baby)
Corporate gifts – Realtor, Christmas gifts for employees or clients
Prizes for auctions and events
While the holidays are obviously the best time to sell gift baskets, they are popular all year round too!
The benefits of starting a gift basket business from home
There are many benefits to starting a gift basket business from home.
Perhaps the most obvious benefit is that you can set your own hours and work as much or as little as you want.
This is a great option for stay-at-home parents or anyone who wants to earn some extra income without having to commit to a full-time job.
Another benefit of starting a gift basket business from home is that you can start small and gradually grow your business as demand increases.
You can also tailor your offerings to the needs of your local market. F
or example, if you live in an area with a lot of families with young children, you could specialize in baby shower baskets or new parent gift baskets.
Finally, running a gift basket business from home is relatively low-cost and low-risk compared to other types of businesses.
There is little initial investment needed other than your supplies so you don't have to worry about risking your money for your gift basket company.
How Do I Start A Gift Basket Business?
In this step-by-step guide, we will show you how to start your own successful gift basket business. Read through the information below to create your business plan.
Step 1: Market Research
The first step is to find out everything you can about the gift basket industry.
Before you start any type of business, you need to do some market analysis.
The easiest way to do this is to find out what existing gift basket companies are doing.
Who is their target audience and what type of baskets are they selling?
How much are they selling their baskets for and how to they market their items?
This will give you an idea of any gaps in the market that you can exploit as well as the kinds of things you need to sell to keep up with the competition.
Step 2: Researching Gift Baskets
The next step is to decide on what you want to sell.
What type of gift basket vendor are you going to be? Will you sell a made-from-scratch arrangement of food and flowers or will you focus products like baby gear that can be stored for months?
Search online for attractive gift baskets that are currently on sale and get ideas.
Create lists of things you can include in different types of basket and work out how to source those items cheaply.
This will also help you to determine how much you'd like to charge.
The best option is to also look at local offerings and find a competitive price point.
Since you're a one-person operation, your overhead is minimal.
You can undercut your competitors and still turn a nice profit.
What Kinds Of Things To Put in Gift Baskets?
A gourmet food Basket for a corporate gift might include:
Fruit
Candy
Cheeses
Jams and jellies
Gourmet cooking supplies
Wine or Microbrew beers
A basket for a new baby might include:
Diapers
Pacifier
Onesie
Rattle
Shoes
Step 3: Creating your Business Entity
So, you have decided what kind of custom baskets you want to sell .
Now it is time to actually start your own business and look up the laws on selling gift baskets in your area. T
his includes making sure you have the right types of insurance to start a home-based gift basket business.
Depending on where you live, you'll need to decide on a legal structure.
This means choosing whether to be a sole proprietorship or whether to create an LLC (Limited Liability Company).
You'll also need to look into registering your business with your local authority or State.
You'll also need to pick a great business name and order business cards and other marketing materials.
Opening a business bank account is also an important step for small businesses.
Bear in mind that if you plan to make any food items at home or even handle food products, you may need to jump through a few extra hoops and complete food safety courses.
Make sure to check with your local authorities on this.
Step 4: Creating Your Baskets
To really increase your potential profits, finding good suppliers for your business are key.
The lower your wholesale cost, the more money you will make.
You're going to need baskets and items to place in your baskets.
You might be able to find many of the items locally, depending on where you live.
You might have to outsource others.
By limiting yourself to just a few types of baskets, you won't need to keep as much inventory on hand and you won't have to spend as much capital to get started.
First, you'll need baskets of various sizes to accommodate different types of gifts.
You'll also need cellophane wrap and ribbon to make the baskets look presentable.
In terms of contents, you'll need to stock up on items like scented candles, gourmet food items, and small household objects.
It's also a good idea to have a variety of price points in mind so you can cater to different budgets.
A few basket suppliers include:
Don't discount using a regular site like Amazon for many of your basket supplies. Alibaba or Aliexpress are other great options to check out.
Step 5: Your Marketing Plan
During your market research you should have come up with some ideas of your target market
You have two main groups of customers: regular retail customers and businesses.
Finding Retail Clients
Start by creating a list of potential customers. This can include family, friends, co-workers, and neighbors.
What kinds of marketing efforts are you going to employ to get regular people to use your business for memorable gifts?
Social media is a great place to start so make sure to create a Facebook page and an Instagram account.
At the start of the business, you don't need to spend money on retail space however, if might be a good idea to rent a booth at craft fairs or farmer's markets around the holidays.
How To Find and Keep Corporate Customers
The corporate market can be more challenging to crack, but you won't need to spend a lot of time fishing for other clients either.
One large corporate client can keep you busy! Between giving gifts to their employees and customers, you might have all the work you can handle.
Potential corporate clients might include real estate agents, financial planners and small-medium sized businesses in your area.
One of the best ways to approach business owners is to provide them with something they can't get at a retail store.
For example, clever gift items for a company to send to their clients might include locally sourced gourmet foods that highlight the region where the business is based.
Everyone wants to wow their clients so this is a great opportunity for gift-basket entrepreneurs to offer something no one else does.
How To Market Your Gift Baskets To Corporations
Launch a Website
You need to look professional and successful to get big clients. Fake it til you make it!
The best way is to create a web presence that looks modern and reliable. You can even create an online store so people can shop right on your site.
You can start your own website for very little money – Here is my step by step tutorial
Make sure to create a Facebook Page, an instagram account and a Twitter for your business. Fill them with pictures of your work. Become a go-to resource for gift baskets in your area.
Create a brochure
Brochures are less expensive than you think. You can even make brochures on your own with your personal computer.
Approach every business that you believe might be interested. Introduce yourself and drop off your brochure.
Drop off a free sample
You might want to consider dropping off an example of your work at the front desk. Once you do something for someone else, they're much more likely to do something for you.
Ask for help
Do you have a friend that works for the big pharmaceutical company in town?
She might know the right person to approach at her company.
She might even do the heavy lifting for you and speak on your behalf.
Think of everyone you know and where they work. You know someone that can help you to get your first corporate client.
Approach likely partners
You might find a flower shop that doesn't offer gift baskets. They might be willing to advertise your services for a commission.
Finding non-corporate clients
This is probably easier but the business will be more one-offs so you will have to work harder to build your business.
A combination of both corporate and non-corporate clients is ideal.
Word of mouth
You already have a friend or family member willing to give your service a try.
They'll also happily spread the word about your business.
If everyone you know would tell 10 other people, you'd be all set.
Advertise
In addition to your website, you can place online classifieds in a local newspaper and also ads on Facebook and Instagram.
Advertise daily until you have the clients you require.
As old-fashioned as it might sound, make sure to list your business in online directories such as the Yellow Pages.
Persevere
Advertising will require a lot of your effort until the business is off the ground.
If it were easy, everyone would be doing it. Expect that finding clients will take time.
Start A Gift Basket Business: FAQS
Is it profitable to make gift baskets?
As far as starting an online business goes, making and selling gift baskets can be very profitable.
First of all, startup costs are low enough that you don't need a bank loan or substantial savings to get going. Secondly, the profit margins on gross revenue are very high.
How much does it cost to start a gift basket business?
You can start a gift basket business from home for under $100.
That's why this guide to how to start a gift basket business on a shoestring is so great.
You can stat small and just offer baskets made to order so that you never have a lot of surplus materials at home.
Once your business grows, you can build up an inventory and have all different baskets on hand.
As you won't really have labor costs in the beginning, this is a side hustle that even college students can do from home.
How to start a gift basket business on a shoestring budget
If you love crafting and gift giving, starting a gift basket business from home is a great idea.
With a little creativity and some basic business know-how, you can have a successful home-based gift basket business up and running in no time.
There are a few things to keep in mind when starting your own gift basket business.
First, you'll need to decide what type of baskets you want to make. W
ill you specialize in holiday baskets, baby shower baskets, or something else entirely?
Next, you'll want to know the legal requirements in your area, find customers and of course, provide excellent customer service to your clients.
Starting any new business can be a challenge, but you can start a gift basket business from home pretty easily.
Determine the types of gift baskets you want to offer and get busy finding your suppliers and customers.
Provide a good product and service and you can boost your income significantly.