Have you ever considered making and selling gift baskets? You can start a gift basket business from home and start your own side hustle.
Even if you are not that creative or inventive, consider making some side income with gift baskets and you might be pleasantly surprised at how much money you can make.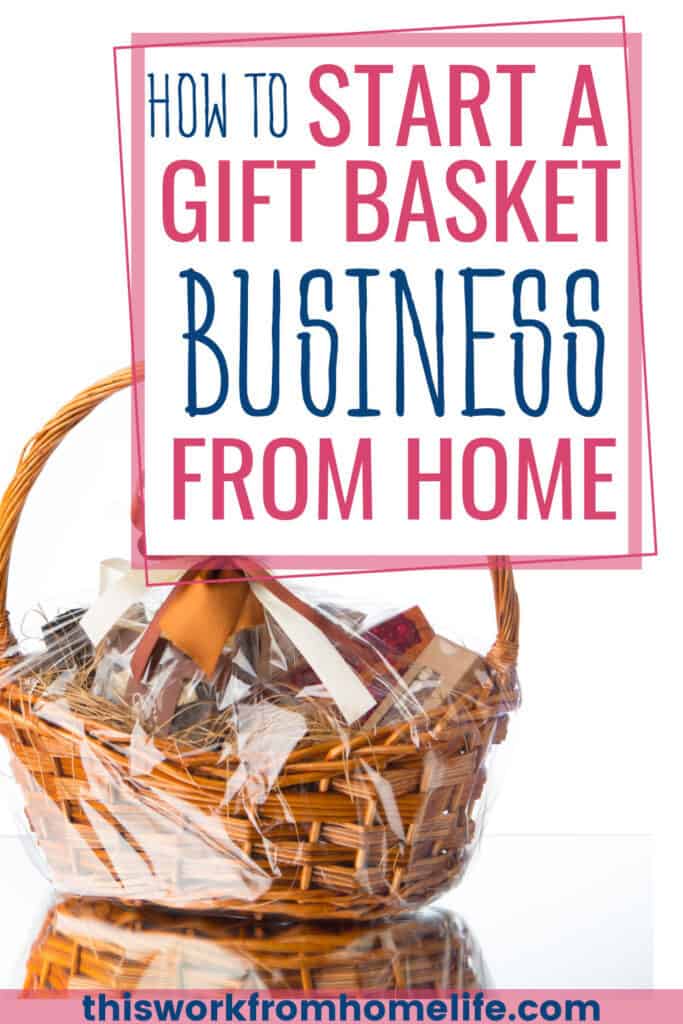 This post contains affiliate links. Please read my Disclosure for more information.
RELATED POSTS
Start A Gift Wrapping Business
Simple Wood Pallet Projects To Make And Sell
How To Start A Cotton Candy Business
Is a gift basket business profitable?
Yes! The gift basket business profit margin is excellent which makes it a great choice for newbies.
There's not much to creating a gift basket other than purchasing the basket, the gift items, and putting them all together in an attractive arrangement.
Creating and selling gift baskets is great way to make money, even if you don't have a creative bone in your body!
Who Buys Gift Baskets?
Think of all the times you have had to get a gift and weren't sure what to buy, or didn't have time to go shopping for that perfect gift.
A ready-made gift basket is the perfect solution to our busy, no-time World. People love receiving gift baskets as they look amazing and exciting.
People love buying gift baskets because they look like you put more effort in than you did!
When do people buy gift baskets?
Birthdays
Holidays
Get-well soon
New Baby gifts
Shower gifts (wedding, baby)
Corporate gifts – Realtor, Christmas gifts for employees or clients, prizes for auctions and events
Gift baskets are popular all year round so there are opportunities all year for you to make money with your business.
How To Start A Gift Basket Business From Home Successfully
Researching Gift Baskets
Search online for gift baskets that are currently on sale and get ideas. Create lists of things you can include in different types of basket and work out how to source those items cheaply.
This will also help you to determine how much you'd like to charge.
Look at local offerings and find a competitive price point.
Since you're a one-person operation, your overhead is minimal. You can undercut your competitors and still turn a nice profit.
What Kinds Of Things To Put in Gift Baskets?
A Food Basket for a corporate gift might include:
Fruit
Candy
Cheeses
Jams and jellies
Gourmet cooking supplies
Wine or Microbrew beers
A basket for a new baby might include:
Diapers
Pacifier
Onesie
Rattle
Shoes
Finding Suppliers for your gift baskets
You're going to need baskets and items to place in your baskets. You might be able to find many of the items locally, depending on where you live.
You might have to outsource others. By limiting yourself to just a few types of baskets, you won't need to keep as much inventory on hand.
A few basket suppliers include:
Don't discount using a regular site like Amazon for many of your basket supplies. Alibaba or Aliexpress are other great options to check out.
Finding Customers
You have two main groups of customers: regular retail customers and businesses.
One large corporate client can keep you busy! Between giving gifts to their employees and customers, you might have all the work you can handle.
How To Find and Keep Corporate Clients
Corporate clients can be more challenging to land, but you won't need to spend a lot of time fishing for other clients either.
Launch a Website
You need to look professional and successful to get big clients. Fake it til you make it! The best way is to create a web presence that looks modern and reliable.
You can start your own website for very little money – Here is my step by step tutorial
Make sure to create a Facebook Page, an instagram account and a Twitter for your business. Fill them with pictures of your work. Become a go-to resource for gift baskets in your area.
Create a brochure
Brochures are less expensive than you think. You can even make brochures on your own with your personal computer.
Approach every business that you believe might be interested. Introduce yourself and drop off your brochure.
Drop off a free sample
You might want to consider dropping off an example of your work at the front desk. Once you do something for someone else, they're much more likely to do something for you.
Ask for help
Do you have a friend that works for the big pharmaceutical company in town? She might know the right person to approach at her company. She might even do the heavy lifting for you and speak on your behalf.
Think of everyone you know and where they work. You know someone that can help you to get your first corporate client.
Approach likely partners
You might find a flower shop that doesn't offer gift baskets. They might be willing to advertise your services for a commission.
Finding non-corporate clients
This is probably easier but the business will be more one-offs so you will have to work harder to build your business.
A combination of both corporate and non-corporate clients is ideal.
Word of mouth
You already have a friend or family member willing to give your service a try. They'll also happily spread the word about your business. If everyone you know would tell 10 other people, you'd be all set.
Advertise
In addition to your website, you can place online classifieds and also ads on Facebook and Instagram. Advertise daily until you have the clients you require.
Persevere
Advertising will require a lot of your effort until the business is off the ground. If it were easy, everyone would be doing it. Expect that finding clients will take time.
Conclusion
Starting any new business can be a challenge, but you can start a gift basket business from home pretty easily.
Everyone knows someone with a birthday, and everyone celebrates several holidays each year. Take advantage of these common events and provide a great gift idea at a reasonable price.
Determine the types of gift baskets you want to offer and get busy finding your suppliers and customers. Provide a good product and service and you can boost your income significantly.
More Work From Home Ideas
How To Start An Etsy Store Successfully
What To Sell At A Farmer's Market To Make Money