Whether it's mystery shopping, selling on eBay, or creating a blog, there are plenty of ways to make money online whether you want to make $50 a week extra or $500.
When you are looking to make money online, consider the following:
How much time you have to spend online
How much money you need (or want) to make
Whether you have any special skills to put to use
If you want to eventually quit your 9-5 for a work from home gig, then look for a sustained business that can develop with online trends.
If you just want to supplement your income for the little luxuries in life or to pay off debt, then you have a lot of options.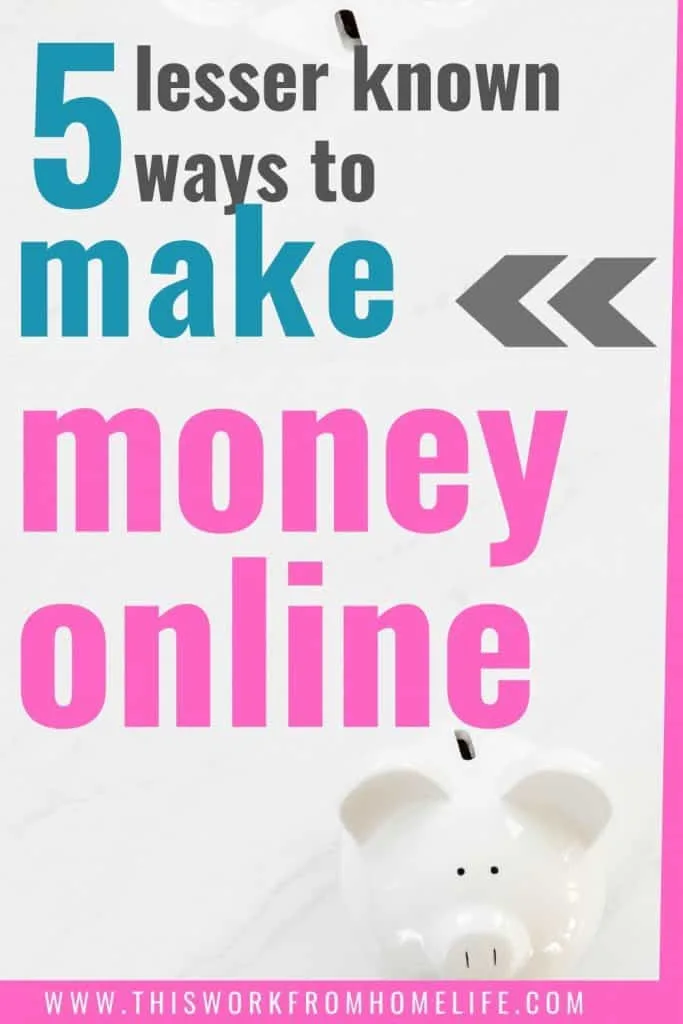 This post contains affiliate links. Please read my Disclosure for more information.
Make Money Online Quickly
Want To Make Money Filling Out Online Surveys? Ten Sites To Try!
Make Money Selling On Amazon FBA
10 Ways To Earn Money With Swagbucks
5 Ways To Make Money Online
Here are five ways to boost your income online whether you want to make $10 or $10m!
Mystery Shopping
Connect with mystery shopping networks. With mystery shopping, not only can you be paid for shopping, but you can also be reimbursed for your meal expenditures in restaurants when you conduct "shops" in restaurants and fast food places.
Your funds may be reimbursed if you're completing shops in hair salons, pet shops, and various other businesses. Thus, you get free services plus a few bucks extra when you mystery-shop.
Mystery shopping requires you to have sharp observation, listening, and attention skills as you'll be asked to complete online questionnaires after you do a shop.
Mystery shopping companies are paid by various businesses to get usable, specific details about how their staff members are treating customers.
Who knows, you just might get a free lunch tomorrow simply for offering your opinion about your restaurant experience!
How to find mystery shopping opportunities
Read this post for more information on making money as a mystery shopper
Sell items on eBay or Amazon.com
If you're internet and tech-savvy, try selling some of your stuff you don't want or need any more online.
You can also make extra income from buying and re-selling items from various websites.
You'll need a good digital camera and knowledge about how to upload your pictures to whatever website you're using to post your pictures and text descriptions of what you want to sell.
But be ready, you'll need packing materials, envelopes or boxes to mail your items to the highest bidder.
If you've run a small business before, you can most likely handle the online "business" of buying and re-selling items to earn extra income.
For More Information:
Make Money Selling On Amazon FBA
Get Paid For Your Skills
If you have special talents and skills, consider putting yourself out there in cyberspace.
Although there's a number of ways to reach your client base on the internet, one of the cheapest and quickest ways to do it is on Craigslist.
You can advertise on Craigslist today and get calls tomorrow, depending on the size of your local area.
The closer you live to bigger cities, the quicker you can access your market base and make some extra income using Craigslist.
Start A Blog
Start a blog and add ads such as Google Adsense or Mediavine (who I use).
Starting and maintaining a blog can be a lot of work, depending on how you set it up, so reserve some time in your schedule several days each week for making new posts, answering readers' queries, and maintaining your blog.
For a step by step guide to starting a blog that makes money, here's my in-depth tutorial.
You can also sell products or services on your blog – either your own or another product for which you receive commissions from your sales.
For example, Clickbank.com, Commission Junction, and many others offer many products that you could recommend to your readers. Search for websites that pay commissions and sign up for an affiliate account.
Sell your photographs
The amateur photography business is booming online. There are stock photo sites where you can sell images and most will lead you through the steps to post your photographs online.
An abundance of such photography sites exist, so examine several of them and their terms before deciding to post your snapshots on one or two of them.
More Ways To Make Money Online
How To Teach English Online (Who's hiring now!)
21 Online Work From Home Jobs For Moms