Do you love crafting? A home based greeting card business can help you bring in additional income plus it's a fun business that doesn't require a large startup cost.
You can design and sell your own greeting cards for a profit. You have the option of selling the cards in person at farmer's markets or even to local stores as well as online on sites like Etsy.
Greeting cards have an unlimited style and design potential, so you can use your imagination. They make fun gifts and can be customized to fit a variety of needs.
This guide will help you get started making money from your own home based handcrafted greeting cards.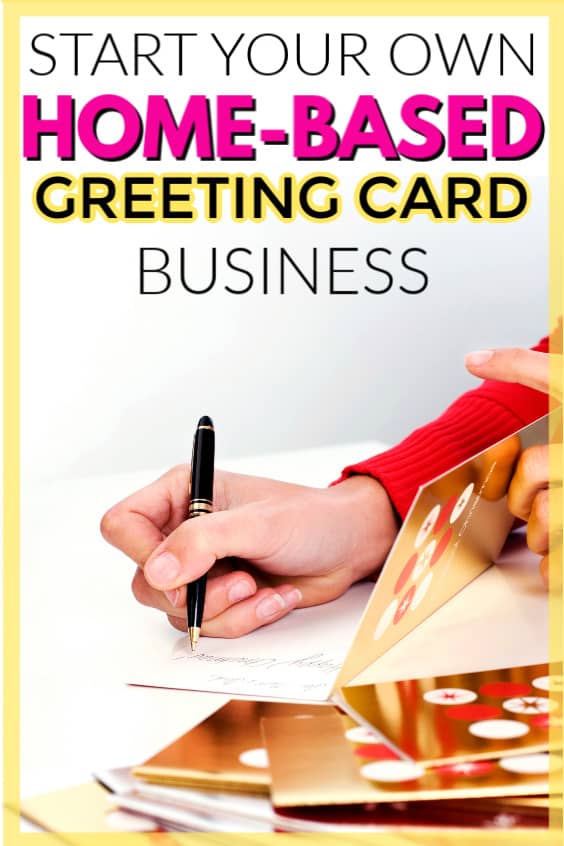 This post may contain affiliate links. Please read my Disclosure for more details.
RELATED POSTS
Start A Soap Making Business From Home
Making and Selling Jewelry Successfully- How To Get Started
Start Your Own Home Based Greeting Card Business
Before you can sell your handcrafted crafts, you have to actually make them! There are quite a lot of supplies you will need to get started, some of which you may already have at home.
Scissors
You'll need strong and sharp scissors to make greeting cards.
Colorful paper
You can find colorful paper in a variety of sizes and styles. You may want to purchase different types as you develop your business.

This heavy paper is excellent for greeting cards. You can find card stock in many different thicknesses and strengths. Just go with the ones you like best.
Envelopes
Customers prefer to have greeting cards with matching envelopes. Add designs or special embellishments to the envelopes to coordinate with the cards.
Glue
You might need different kinds like glue sticks, glue pens, rubber cement, glue rollers, glue dots, and hot glue.

If you decide to use glitter on your cards, you can save money by purchasing it in bulk. Glitter is available in many shapes and colors.

A cutting mat will protect your tables as you work on creating the cards.
Craft knives or paper cutter
These will give you perfectly straight edges.

Decorative trimmers make the edges of your cards wavy or other shapes. They provide variety in your designs.
Adhesives and tapes
Glue isn't the only option for attaching embellishments or other items to your cards. Adhesives and tapes can also help.

They punch out different shapes and patterns such as hearts, stars, or circles.
Beads
Beads add a unique touch to your greeting cards. You can find them in many colors, patterns, and sizes. Some even resemble jewels.
Ribbons and threads
Use these for additional decorative touches.
Rubber stamps
Rubber stamps come in hundreds of shapes, sizes, and pictures.
You can also use stickers to decorate your cards.
Pens, markers, crayons, and colored pencils.
Once you have gathered the supplies you need, you can look online for tutorials for different cards or just make up your own ideas. Pinterest and YouTube are great sources for step by step guides.
Here are some websites with tutorials to give you some ideas:
Simple, quick and easy Handcrafted greeting cards
Getting Started With Your Greeting Card Business
Greeting cards are a competitive industry, so you'll want to find a niche or unique way to stand out. You can turn this into a profitable business, but it takes research, time, and dedication.
Get a good start with these steps:
Research successful greeting card businesses.
The first step is to discover how others who are successful have developed their ideas. See what's working and do that.
Develop your niche
Reflect on your artistic talents and think of ways you can incorporate them into your cards. Do you excel in calligraphy or make beautiful pastel drawings? Find a niche that uses your unique skills to make your greeting cards special and unusual.
Consider the tax implications
Before you start your business, it's wise to look into tax requirements and tax-saving strategies. Depending on your state, you may have to pay both federal and state taxes on your earnings. Plus, how will you handle sales taxes?
An accountant or tax attorney can provide excellent advice on how to set up your business to take advantage of work-at-home tax deductions and keep up with the taxes.
Make a business plan
It may be tempting to jump right into making cards and selling them. However, a business plan will help you set and achieve your goals.
Buy the supplies
After buying the supplies, you can begin to experiment with designs. You may want to test a few of your ideas with friends and family.
Check business license rules
Your location may require a business license for home operations, consider using an accountant to help you with this.
Set up a home office or dedicate an area for your business. Successful businesses thrive in their own spaces. You can use a home office or simply use part of another room in your home for the business.
Where To Sell Your Homemade Greeting Cards
Greeting cards can be purchased at many retailers.
Even gas stations carry a small amount of cards.
Plan ahead to find places where you may be able to get customers.
Prepare a customer strategy before you create a large supply of greeting cards.
You can make this business work by targeting customers and making cards that fit their needs.
Here are the best places to sell your homemade greeting cards:
Your Own Website
Etsy
Craft Fairs
Local stores
Instagram
Facebook
Amazon
eBay
Local Businesses
Your Own Website
Create your own greeting card website. By creating your own site, you'll be able to control all of the design and marketing aspects.
Come up with a catchy domain name. Show a variety of cards on the site and either direct people to buy from your site or from your Etsy shop.
Making it easy for customers to buy directly from the website is the best way to get a lot of new business.
For tips on starting your own website for your greeting cards, I have created a step by step tutorial which you can access here.
How To Sell Greeting Cards On Etsy
Selling greeting cards on Etsy can be a great way to launch your business to an audience of millions of captive buyers but it is competitive.
The greeting card market on Etsy is full of great cards so you will need to stand out from the crowd and offer something unique and different.
In order to be successful, you want to really showcase your Etsy store the most ways possible and to promote your products both on Etsy and on social media.
If you haven't started your shop yet, make sure to go through this tutorial on How To Start An Etsy Store Successfully
It will take you step by step through from creating to launching your Etsy shop.
The post also includes a link for 40 free listings which will help you to start your store for free.
Promoting Your Etsy Store
Although Etsy has millions of visitors who are searching for handmade products, don't rely on your shop organically showing up in search.
Make sure to let everyone know that you have started an Etsy shop and what you offer.
You can promote your Etsy shop on social media and especially make use of Pinterest.
This tutorial will show you How To Use Pinterest For Etsy
Another really important part of selling greeting cards on Etsy is to work on your SEO.
This stands for Search Engine Optimization and is the way you will make sure that your greeting cards come up at the top of the search results on Etsy.
To improve your Etsy SEO, you need to use good keywords in your title and description. Consider the kinds of words someone might search for when looking for your cards.
For example, if someone is looking for a funny baby shower card for a dog lover, they might search the following:
"Dog baby shower card"
"Baby shower card with picture of dogs"
"Puppy card for baby shower"
So, you will want to cover all bases by including those keywords in your product description.
You can use my handy Etsy SEO checklist to help you with this:
Selling Your Greeting Cards On Online Marketplaces
Join established online businesses to capitalize on their existing traffic and potential customers.
You can join websites such as Amazon or eBay to sell your handmade greeting cards.
You'll have less control, but these popular sites bring traffic and customers. You can still set your own prices on these websites.
Selling Your Greeting Cards At Local Stores
Ask local gift shops to carry your cards. This can be a really good way to become known locally for being the best source for unique cards.
You can also try selling your handmade cards in other stores.
You can ask different stores to display your cards and sell them. Reach out to a variety of shops such as grocery stores, clothing stores, craft stores, and others.
Selling Your Greeting Cards At Craft Fairs
Sell your greeting cards at fairs. Local fairs attract art lovers, and they may be interested in buying your handcrafted cards.
You can also showcase your items at card trade shows. Greeting card trade shows bring together many crafters.
How To Sell Handmade Cards On Facebook
Selling your cards locally on Facebook is a really good way to get started if you are new to making money with your hobby.
Social media in general is a really great place to start selling your handmade greeting cards and what better place to start than Facebook?
On Facebook itself you have a few different places to list your cards for sale:
Facebook Marketplace
Facebook marketplace is the obvious place to start selling your items as you don't need to pay anything and can reach a local audience.
You can create as many listings as you like for free. The only downside is arranging shipping or pick ups with your customers.
Your Facebook Page
You can create your own Facebook Page and promote your greeting cards that way. Ask for people to like your page and advertise sales and promotions.
Facebook Groups
In my opinion, Facebook groups are the best way to sell your handmade cards.
Join as many local groups as you can. Look for handmade groups, mom groups and neighbourhood groups.
You can add your cards to business promotions where allowed or respond to requests for unique gift ideas.
Sell Your Handmade Cards in Art Galleries and Museums
Contact local art galleries. They may be interested in displaying handcrafted cards.
Offer greeting cards to businesses.
You may be able to sell your cards to local or national businesses.
Businesses often send cards to employees, clients, and customers. You can offer your handmade creations and build your customer base.
Consider both small and large businesses in your area.
You can find customers who are interested in greeting cards in many locations. It's important to diversify and have multiple locations that carry your cards.
Reach out to local charities
They may need greeting cards for a variety of reasons.
Partnering with local charities will gain exposure for your business. You can help others while more people learn about your cards.
Selling Your Cards To Schools
They may be interested in selling your cards for fundraisers. So you would give them back a percentage of your profit.
In addition to schools, you can contact youth groups and even churches to see if they are interested in partnering for a fundraiser.
They may want to sell your cards to raise money for their groups or charities. Scouting groups or youth ministries are good places to try.
Doctor and Dentist's Offices
Dental and medical offices send out reminder or appointment cards throughout the year. They may be interested in other types of cards that they can send to their patients.
Marketing Your Business
Marketing is an essential part of a successful home based greeting card business. Target your audience and use several techniques for greater exposure and success.
Find a niche or make unique items that get attention.
Greeting cards that stand out will help you achieve business success. It could be a unique design of card or you could target a specific audience (dog lovers, fishing fanatics)
Offer extra services
Bring in more customers by offering extra services such as addressing and mailing the cards for your customers.
You can offer to customize each card with their names, unique poems, or other messages. You can also include photos or keepsakes with each card.
Advertising Your Cards
Advertise in local newspapers and magazines. Place ads with pictures of your cards.
Advertise online.
You can purchase ads from multiple sources online. Consider buying ads on social media sites such as Facebook. You can link to your social media profiles, offer coupons, and link to your website.
Network
Join local craft organizations and support groups. They can help you network, find customers, and grow your business. You can also share your cards with them and learn more about handcrafted items.
Find sales representatives who work with crafters. You can hire a sales rep to promote your products and sell them
Consider the National Stationery Show. This annual event draws many card makers. You can exhibit your greeting cards or simply attend the show to network. You can even enter to win awards at the show.
Contact local reporters. Discuss what makes your handcrafted greeting card business unique and get publicity.
Join craft forums online. Interact with other crafters and business owners. Share ideas, ask questions, and get craft ideas. Learn about new products and marketing opportunities in your area and on a national scale.
Enter design competitions. You can find competitions online or in magazines. Craft and art magazines have competitions for handmade items. You can also enter competitions sponsored by art galleries, guilds, and craft shows.
Partner with artists or photographers
Do you know other creative people who are starting their own businesses?
You can work with them and incorporate their art or photos into your cards.
Together, you can market and sell the finished greeting cards.
You can feature their work and offer customers customized art or photos.
Partner with jewelry makers
Did you know that greeting cards that have extras are more popular? You can partner with jewelry makers and add their handmade items directly to your cards.
Marketing your handcrafted greeting card business is a long-term process. For the best results, reach out to new customers and markets regularly.
It also helps to stay aware of the trends and use technology to your advantage.
Selling Handmade Greeting Cards – Final Thoughts
A handcrafted greeting card business can be a fun way to use your creativity and make money at the same time.
This kind of side hustle can be a great source of income for your family as well as a rewarding way to use your talents.
More Home Based Business Ideas
How To Make Money With Affiliate Marketing
Why Tutoring Is A Good Job In 2022
How To Start A Home Daycare & Make Money