Are you looking for a side job that will allow you to make lots of money from home and help people? If you have social skills, you can get paid to be an online girlfriend and get extra cash from making small talk with strangers.
You might think that virtual friendships are not a real way to pad your bank account but in fact, this is a really lucrative side hustle that is becoming more and more popular.
In this post, we will show you what it takes to become a successful internet girlfriend and how to get started.
You'll learn:
How much money you can earn as a virtual girlfriend
Where to find potential customers for your business
The skills you need for success in the online friend world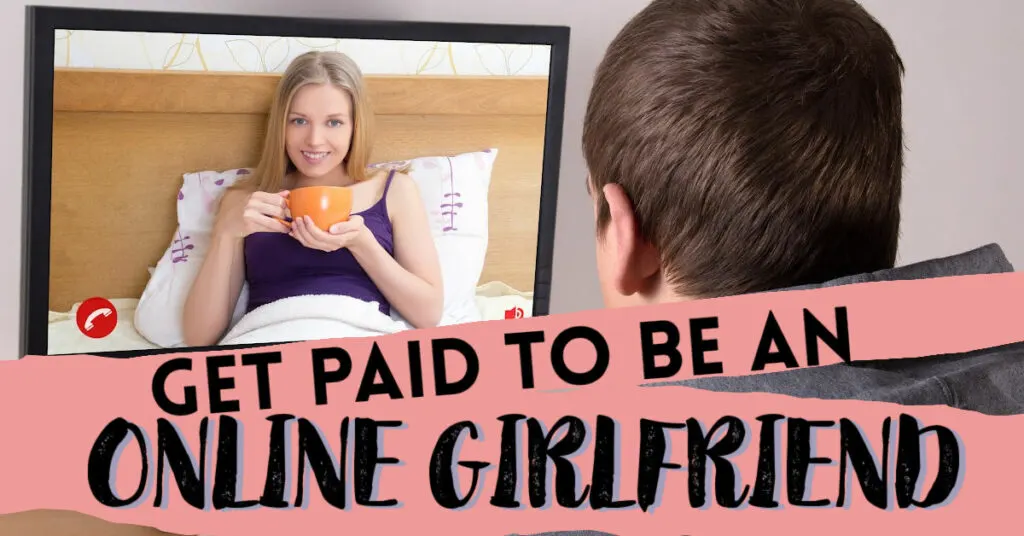 This post may contain affiliate links. Please read my disclosure for more information
MORE GREAT ONLINE SIDE HUSTLES
Get Paid To Go On Dates With A Rich Woman
The Ultimate Guide To Selling Feet Pics On OnlyFans​
What is a virtual girlfriend?
An online or virtual girlfriend is a woman who provides companionship, emotional support, and often, a romantic relationship to clients exclusively over the internet.
Online girlfriends communicate with their clients through messaging, video chat, and phone calls, and may do fun activities such as watching movies together or playing video games.
While the nature of the relationship may vary depending on the client's needs and desires, online girlfriends typically offer a safe, discreet alternative to traditional dating, and are compensated for their time and attention
With more and more people feeling disconnected and lonely, there has never been a better time to get paid to be an online girlfriend.
What is the difference between an online girlfriend and a sugar baby?
While both sugar babies and online girlfriends may engage in remote interactions with clients, there are some key differences between the two.
The main difference is that a sugar baby typically enters into a mutually beneficial relationship with a wealthy individual (the sugar daddy) who provides financial support in exchange for companionship.
On the other hand, an online girlfriend may provide emotional support and companionship to clients without any expectation of financial support other than the fee they receive from the website.
Additionally, sugar-baby relationships often involve in-person meetings and physical intimacy, while online girlfriend interactions may be limited to text or messaging.
Sugar-baby relationships are also often more structured, with clear expectations and arrangements established between both parties, while online girlfriend relationships may be more flexible and open-ended.
Ultimately, the specific nature of these relationships can vary widely depending on the individuals involved and the terms they establish, but the key difference lies in the expectation of financial support and the level of physical intimacy involved.
Not ready to be an virtual girlfriend and would rather some more platonic? Check out these ways to get paid to be an online friend – no strings attached.
How To Get Paid To Be An Online Girlfriend
If you are interested in getting paid to chat with lonely men, then becoming an online partner is a great option. You will get to meet new people and make good money in the process!
Are you ready to get started? Here are the steps you need to take:
Create Your Online Girlfriend Profile:
Choose a catchy username that is easy to remember
Write a compelling profile description that showcases your personality and interests
Add high-quality, attractive photos to your profile that reflect your style and personality
To create a compelling profile for your online girlfriend gig, start by choosing a username that is catchy and easy to remember.
Your profile picture should be clear and appealing, so invest in high-quality cosmetics and a professional camera to look your best.
When writing your bio, keep it simple and honest, and highlight your unique talents or interests that might spark conversation with like-minded people.
Mention any languages you speak, your general field of work, and any interesting titbits that might interest people. If you love travelling, include some places you like to go.
Remember to include anything relevant even if you think you have no interesting hobbies or experiences to talk about. Finally, pay attention to your looks online as it is the first point of attraction.
With a well-crafted profile, you can be a successful online girlfriend in no time.
Find the Right Platform:
Research different online girlfriend platforms to find one that aligns with your goals and preferences
Read reviews from other online girlfriends to get a sense of what the platform is like
Consider the platform's safety measures and policies to ensure your own safety and privacy
Below you will find a list of the best legit websites to sign up for if you want to make money as an online girlfriend. You can sign up for one or more sites so that you have more chance of having a constant stream of income.
Build Relationships with Clients:
Communicate clearly and set clear boundaries with clients from the outset
Develop a rapport with clients by actively listening to them and engaging in conversation
Offer emotional support and companionship to clients, while respecting their privacy and personal boundaries
Providing quality services as an online girlfriend requires dedication and attention to detail.
To communicate effectively with clients, take notes, personalize your approach and make your clients feel special.
Set clear boundaries and expectations from the beginning to avoid misunderstandings later on.
t is important to maintain a professional demeanour while still being personable.
Remember that this is a job, and treat it as such.
Create time for your clients and provide a girlfriend experience that is tailored to their needs.
Quality services translate directly to how many clients you have and how much you can charge.
Focus on providing excellent services, and getting positive reviews and referrals from previous clients.
By doing so, you will not only build a loyal client base but also increase your income as an online girlfriend.
Manage Your Online Girlfriend Business:
Set clear rates and payment terms for your services
Keep track of your income and expenses for tax purposes
Continuously promote your services through social media and other channels to attract new clients.
Remember that while being an online girlfriend is a fun way to make money, it is a business and you need to treat it as such.
Make sure to set your rates competitively so that you can sustain your lifestyle with the income you make.
You will also need to pay taxes on any income you make, so make sure to set aside around 20-30% of your earnings for tax time.
Lastly, you will want to continuously market your business to attract new clients and boost your income.
How To Find Jobs As An Online Girlfriend
Now you are ready to become an online girlfriend to one or more men, where do you find potential suitors?
In general, you have a few options:
1. Social media
One way many women find a virtual relationship is through their socials.
To do this, all you have to do is create separate social media accounts that are not connected to your personal ones to advertise your services.
Next, engage with potential clients by commenting on and sharing posts and politely sliding into their DMs or commenting that you offer this type of service
Online Platforms
The next option is to sign up for sites such as OnlyFans or Fansly.
These sites take social media one step further and allow you to charge customers directly on their sites for subscriptions or private chats and videos.
Both sites are free to join but do require a very active profile in order to really make money.
Dating and Friend Sites
Online dating sites can be used as a platform to make money as an online girlfriend.
To get started, you will need to register on the site and create your profile.
Make it clear what you are looking for in your profile so that no one is disappointed.
Webcam Modeling
Webcam modelling has become a popular way to make money as an online girlfriend.
There are many cam sites that you can sign up with.
To become a webcam model, you need a high-speed internet connection and a webcam and confidence.
This is a good option is you are willing to go beyond texting someone and are looking to make as much money as possible.
The Best Sites To Become An Online Girlfriend
Below are the top 10 sites for getting paid to be an online girlfriend- join one or join them all for more chance of making lots of money chatting, texting and flirting.
What Skills Do I Need As An Online Girlfriend?
Communication skills
Sparkling conversation skills are the number one must-have for making money as an online girlfriend, as it involves chatting with clients most of the time.
You need to connect with your clients emotionally so they want to come back and chat to you again and again.
Before you get started, practice flirting when you are out and about and plan out some fun and flirty text messages you can use to break the ice with first time clients.
Asking open-ended questions is a great way to encourage people to talk and to get to know your clients better.
It is also important to avoid being boring or uninterested, and to stay positive no matter what the client tells you.
Additionally, being a good listener, not interrupting, and avoiding being judgmental are crucial skills that can make a conversation engaging.
Organization skills are also important.
Keep notes on important things about your clients, such as their names, numbers, likes, and highlights from conversations.
Getting them mixed up is unprofessional and will turn them off!
Flexibility
You may need to adapt to different client needs and preferences to provide a personalized experience that meets their expectations.
Different clients will be expecting the online girlfriend relationship to look different. Some may want to chat with you all day while others may want a standing once-a-week virtual date.
Discretion
This is probably the most important trait you need to be a great online girlfriend. You must maintain confidentiality and protect your clients' privacy at all times.
In order to create an emotional bond, your clients need to trust you with any sensitive information that they give you. Remember that many clients are going through emotional issues and will want someone to chat to discreetly.
Get Paid to Be An Online Girlfriend: FAQS
What is an online girlfriend?
An online girlfriend is a woman who communicates with people electronically, often through social media platforms or dating websites.
The role can vary a lot. Some online girlfriends maintain a real relationship with their "invisible boyfriend" while others mainly provide companionship, and emotional support to people experiencing feelings of loneliness.
This type of relationship may include activities such as chatting, texting, phone calls, and video calls.
​In most cases, you will be performing the same kind of role as a real girlfriend – offering support when your boyfriend has personal problems, flirting, chatting and having a good time.
Although some online girlfriends may engage in sexting or other sexual activity, most are not sex workers and they focus on providing non-sexual emotional support and forming deep relationships with their clients.
The relationship is typically virtual, with no expectation of meeting in person.
What types of activities will I need to do as a virtual girlfriend?
As a virtual girlfriend, the activities you engage in will depend largely on the preferences and needs of your clients.
Some may simply want someone to chat with or vent their feelings to, while others may be looking for a more romantic connection, such as sending flirty texts or having virtual date nights.
Video chat is often an important part of the job, as it allows for face-to-face interaction and a greater sense of intimacy.
Some virtual girlfriends also offer services such as sending personalized messages, creating custom videos or photos, or even playing video games together.
It's important to establish boundaries and communicate clearly with your clients about what activities you're comfortable with and what you're not, as this can help ensure a positive and respectful working relationship.
How much money can I make as a virtual girlfriend?
The amount of money you can make as a virtual girlfriend varies depending on several factors, such as the platform you use, the services you offer, and the number of clients you have.
Some virtual girlfriend platforms pay by the minute or offer a flat rate for certain services, while others allow you to set your own rates.
On average, virtual girlfriends can earn anywhere from a few hundred dollars a month to several thousand dollars per month, depending on their level of commitment and the time they invest.
Factors such as marketing yourself effectively, offering unique services, and establishing a strong reputation can help you attract more clients and increase your earning potential.
It's important to keep in mind that virtual girlfriend work is not a guaranteed source of income, and may not be a sustainable long-term career option
Can I really make money as an online girlfriend without meeting anyone in person?
Yes, you can get paid as an online girlfriend just by talking by text, without ever meeting the person in person.
There are many ways to get paid to chat online.
In fact, many online girlfriend platforms do not involve any in-person meetings or physical contact.
However, the specific services you provide and the rates you charge may vary depending on the platform and your clients' needs.
Some platforms pay by the minute or per message, while others may offer flat rates for certain services.
What safety measures should I take when working as a virtual girlfriend?
When working as a virtual girlfriend, it's important to take steps to protect your safety and privacy.
First, use a pseudonym and avoid sharing any identifying information, such as your real name, phone number, or address.
Don't use your regular email address for your virtual girlfriend business. It is important to keep your personal live private.
You should also establish clear boundaries with clients to avoid putting yourself in uncomfortable or dangerous situations.
Finally, trust your instincts – if something feels off or uncomfortable, it's okay to say no or end a relationship.
Get Paid To Be An Online Girlfriend: Final Thoughts
Becoming a virtual girlfriend is a great way to make money and have fun!
While some individuals may find virtual girlfriend work empowering and fulfilling, others may find it emotionally draining or uncomfortable.
It's important to establish clear boundaries and communication with clients and to prioritize your own safety and well-being.
Additionally, it's important to research potential platforms and clients carefully and to be aware of potential scams or fraudulent activities.