As its popularity grows, more and more people are looking to make money podcasting. The real question is how to make money with a podcast and if it is really a viable way to earn some extra income in 2022.
The truth is, just like with blogging and other online money-making pursuits, most people who try end up making no money.
Then there are those who make a ton of money (one top earner, The Joe Rogan Experience, makes over $800,000 per month!).
If you are interested in making money podcasting and want tips on how to get started, read on for all the details.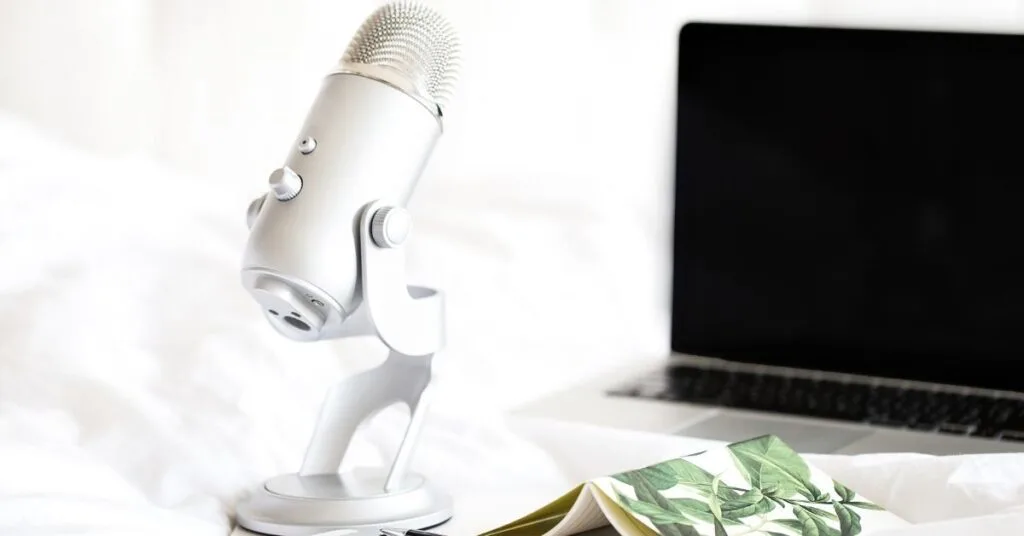 This post contains affiliate links. Please read my Disclosure for more information.
RELATED POSTS
What Is A Podcast?
I'm going to assume you are already a fan of podcasts but just in case you are new to them, here is their official definition:
"A podcast is a digital audio file that you can stream from the internet or download and listen to. Podcasts can be free or sold for a fee. You can set up a podcasting site or "channel" and make daily podcasts like a radio show."
Why Podcasts Are Popular Right Now
20% of adults report listening to podcasts at least occasionally. That's a lot of people you can reach with your voice!
Because podcasting is a newer medium for making money, it is a much less crowded space than an area such as blogging.
People love listening to podcasts as it an alternative to reading a book or listening to the radio. Plus it is free most of the time (more on that later).
People can do other things while they listen. You can catch up with a podcast on your commute or while cleaning the house. Personally, I listen to podcasts while I run in the mornings.
Podcasts allow you to connect with the author in a way that the written word does not. This can make building a following much easier than blogging or social media.
Bear in mind that you can add a podcast to your blog or influencer strategy in order to increase your income.
How To Make A Podcast
The good news is that it's not too difficult to start a podcast.
You can get started quickly with only a couple of tools:
What you need:
1. A quality microphone.
Microphones have come a long way and you can get a quality one for around $50.
The Snowball by Blue Microphones is the most popular microphone out there and an Amazon bestseller.
Do a little research and find a quality microphone.
Remember that you're only recording your voice. You don't need a microphone that can handle the crushing volume of a drum set.
In a pinch, a combination headset-microphone can work well enough to get started.
Move up to a better microphone when your finances allow.
The headset combo is also a good option if you're interviewing others.
Remember that you have to be able to hear the other person without the sound spilling over into your microphone.
2. A good computer
Actually, there are many alternatives to a computer, but you'll need a computer to upload your podcast anyway and you more than likely already have one!
Those two things are really all you need to get started with your money-making podcast.
How To Create Your First Podcast
There are a few different formats to podcasts and you can choose the one that best suits your subject matter and style.
Choose a Format
The main ways to make your podcast are:
Go solo – narrate a story or teach something
Have one or more guests – use interviews or a radio show chat format
Most podcasters stick to a single format and occasionally change it up.
Your listeners will probably grow to expect and like a particular format, but don't be afraid to vary it on occasion.
Plan Your Podcast
Unless you're very talented, you'll want notes, if not a full script. If you're interviewing someone, have questions ready.
Although you don't want your podcast to feel wooden and scripted, completely ad hoc can flop disastrously. Even for a radio show style podcast, you will want a roughly outlined script with talking points.
Consider the purpose of the podcast
What are you trying to share, teach, or explain? Perhaps your podcast is strictly for entertainment purposes. Plan out at least 10 episodes so that you know your podcast has staying power.
Record in a quiet space
People don't enjoy listening to anything with a lot of background noise. It's distracting and shows a lack of professionalism.
Many of the podcasts I listen to are recorded in closets! It is a great location if you don't have a special soundproof studio.
Editing your podcast
There are many audio programs available for cutting and pasting sections of your podcast. Two free options that are highly rated include Audacity and GarageBand.
Make sure that any guests who participated in your podcast have the opportunity to review your edits.
Promoting Your Podcast
There are several places where you can distribute and promote your podcast. You have probably heard of many of them.
Your Own Website
You can create an RSS feed on your site and it will automatically be delivered to your subscribers. It's a good idea to have a site or a sub-site for your podcast even if you mainly promote through iTunes or Spotify.
Podcast Directories
Submit your podcast to all of these top directories as a starting point.
These directories have millions of subscribers who can find your podcast. They also have search features so people will be able to find you by your title and description.
iTunes/Apple Podcasts
This is probably the most well-known method for delivering your podcast. It's a great way for getting new subscribers and downloads as people will search for new things to listen to.
If you are not on Apple Podcasts, you drastically lower of chances to make money podcasting. It's as simple as that.
You can choose whether or not to charge a fee.
To get started with Apple Podcasts, you need to submit your podcast to Podcasts Connect. It can take from a few days to a few weeks for your podcast to go live as there is a review process.
Spotify
Spotify is the number 2 place to get new subscribers for your podcast. Podcasts on Spotify make money through advertising and sponsorships mainly.
The easiest way to get started with Spotify is by hosting your podcast with Buzzsprout. They have a very simple process to get your podcast live on Spotify which makes it much easier for podcasters.
Google Podcasts
The third platform your podcast should be on is Google. The best thing about this is that it will help your podcast be visible on Google search results.
You don't actually need to submit your podcast to Google. You just link your RSS feed and the Google bots will crawl and find it.
Soundcloud
You can upload your mp3s to Soundcloud for free so it is worth taking the time to do this although you cannot expect the kind of traction you will get on the big 3 above.
Social media
Tell everyone about your latest podcast. Get every listener you can find. They're all potential customers.
6 Ways To Make Money Podcasting
Now you know how to get started, lets starting making money with your podcast.
There are a few different ways to make money and some might surprise you.
1. Sell your own products
Do you have a course or other product for sale?
You can use your podcast to promote your products.
The show can be about your product, or you can casually mention it during the show. In your podcast, entice people to visit your website where they can buy your products.
I follow a lot of big blogging podcasts and I have often purchased their latest courses that they promote online. This is a great way to boost sales from existing products that you own.
2. Affiliate Marketing
Don't have any of your own products? Affiliate marketing is for you.
You can become an affiliate for different products and promote them on your podcast. You will then get paid a commission for any leads you direct to the product.
Make sure you get given a simple link to promote so that your readers remember it.
This is a great way to lure guests to your show. Let them tell your audience all about their product. You can take a piece of the action with an affiliate commission.
3. Premium Content Sales
You can also charge for your podcast. Some podcasters put out a few free episodes and then offer a premium membership for ad -free listening.
Some make a short version available free of charge, but charge a fee for the full episode or for bonus episodes.
4. Advertising
Make money by charging other companies for advertising on your show.
This works especially well when you've built an audience.
Find companies who sell products to your target audience. Run a prerecorded commercial or promote the company in the context of your show.
5. Sponsorships
Sponsorships are the most common way podcasters make money. It is similar to advertising except you are the one promoting the product during the show.
You are probably familiar with hearing about a podcast being sponsored either at the beginning of a show or during a break midway through.
Your earning potential for podcast sponsorships is based on the number of downloads per episode. Just like with website advertising RPM (revenue per mille or thousand), is between $15-50.
Sometimes the sponsor will give you a script to read. Other times the sponsor will give you more flexibility.
You can get started with sponsorships and advertising with a company that specializes in podcasts like Midroll.
6. Donations
Smaller podcasts often start off monetizing their podcasts with donations and then move onto the other options.
Simply put, you just ask your listeners outright to support your podcast by donating a few dollars to the cause.
If you have built a little following and your content is good quality, this can actually be a good way to make money podcasting.
The easiest way to get started earning support money from fans is with a Patreon account. You can then create a page that explains all about your podcast.
How Hard is it To Make Money Podcasting?
Now you know the facts, you are probably wondering how many downloads a podcast needs to actually make money.
Let's look at some examples of how a podcast could make money:
New Podcast
1000 downloads per episode/ 1 episode a week (4 a month)
3% average listeners donate via Patreon = $75-100 a month
1% affiliate conversion rate = $200-300
Total = $400 a month
You could increase this with product sales and then sponsorships once you get more downloads.
Established Podcast
Around 5000 downloads is the sweet spot for landing sponsors and ads.
5000 downloads per episode at a $20 RPM will mean over $1000 a month in ad revenue alone plus more affiliate and Patreon income.
The Highest Earning Podcasts
Now let's take a look at some what some podcasters are making, just to get inspired:
Shannon Mattern – $8908.57 in March 2020 (mainly from course sales).
Chapo Trap House makes over $200,000 a month just from Patreon
The Joe Rogan Experience – sources say he makes about $75,000 per episode, which equals over $800,000 per month.
Final Thoughts On Making Money With A Podcast
Whenever you have an audience, the possibility for making money podcasting exists. The possibilities are only limited by your imagination!
Consider podcasting as a means to boost your income. There are many ways to monetize your podcasts. All you need is a microphone, computer, and a little free time. Provide value, and the money will follow.
More Ways To Make Money Online
Make Money With Kindle Publishing
Proofreading Jobs From Home, No Experience Needed!
How To Become A Pinterest Manager