Have you ever wondered what are the best things to sell on Etsy to make money?
If you are interested in opening your own small business, an Etsy store is a great place to start as the costs are low and it's all online.
Most people are familiar with Etsy, the online market for crafts and handmade goods.
I opened my own Etsy store in the fall and am really enjoying creating new listings and making sales! I've used Etsy for years as a buyer so it's fun to be on the other side now and I can see so much room for growth.
It's still only a small store right now but I love the unlimited potential that Etsy offers.
For those of us who are not terribly crafty, it can be hard to get started selling items on Etsy that aren't handmade products.
You might be surprised that many Etsy bestsellers are not even handcrafted items!
When researching this post I was expecting that most of the top Etsy shops sold handmade products that I couldn't possibly dream of making but I was pleasantly surprised that is not that case.
There are over 2 million shops on the platform and some of the top Etsy stores are making over 500 sales a day!
If you want to get in on the action there has never been a better time.
Read on for some insight into the bestselling items on Etsy and how to access Etsy sales data so you can see the top searches on Etsy in real time.

This post may contain affiliate links. Please read my Disclosure for more details.
RELATED POSTS
What Is Etsy?
Etsy is a gift givers paradise. It is the most popular online marketplace for unique handicrafts, printables and paper products such as invitations, artwork and more.
In additional to handmade items, a lot of Etsy shop owners make money selling craft supplies on Etsy that others then turn around and sell in finished products.
Etsy launched back in 2005 and it still the number one online marketplace for selling crafts, homemade items and vintage finds.
By the end of 2019, Etsy had over 2.5 million sellers and that number has probably increased since then.
I often find myself looking to see what's trending on Etsy when I want to find a unique gift for a shower or birthday. If you haven't spent some time on the platform, you will quickly find that it is addicting.
Is it worth it to sell on Etsy?
If you want to start your own business selling things online and are not quite ready to open your own Shopify store, becoming an Etsy vendor might be for you.
It has literally never been a better time to start selling products on Etsy -for the first 6 months 2020, Etsy's sales reached $4.04 billion, up 90.8% over the year before.
It's really easy to get started with Etsy and you can get 40 free listings to start yourself off when you open your store using this special link. (It normally costs 20 cents per listing you add to your store).
How Much Can You Make Selling On Etsy?
The awesome thing about Etsy is that you can scale your business up as you add more listings and get featured on trending Etsy searches.
There are many, many Etsy shop owners who make a full-time living from their Etsy store, most don't publish their income publicly but luckily for us some of them do:
Jami from Handmade Journey made over $50,000 in her first year
Jenni from Fuzzy and Birch made $4000 in one month.
Cassie from Cassiesmallwood.com made over $1000 in her 3rd month of owning a store.
Julie from Millennial Boss made over $300 in one month with her Etsy Printables Business
How do I successfully sell on Etsy?
If you want to get yourself up there on the top Etsy sellers list, you need to do your research and choose your niche wisely.
Being successful on Etsy depends on a few different factors:
Selling items that are priced well and in high demand
Promoting your store and perfecting your Etsy SEO so you rank high in search
Good customer experiences that lead to great reviews
Choosing what to sell may be easy if you have a product in mind but if not, it is important to check out successful Etsy shops and see what they are doing.
One of the best ways to find out what products to sell is to take a look at the top earners on Etsy and go from there.
See how they promote their products and what they offer customers in terms of shipping and return policies.
One of the things that can help you to be successful on Etsy is to stay organized with your own business plan.
My Printable Etsy Store Planner is under $5 and will help you to keep everything planned and under control.
What does it cost to sell on Etsy?
It's FREE to open an Etsy Shop.
You pay for listing products and a transaction fee per sale.
Listing fee: $0.20 (USD) to list each item for 4 months on the Etsy marketplace. After the 4 months, it expires and you need to relist it for another 20 cents.
To start you off, if you open your Etsy store with this link , you will get 40 free listings.
Transaction fee: Etsy charges 5% of the selling price as commission. This also applies to your shipping fee.
Offsite Advertising: Etsy pays the advertising costs to promote listings on multiple internet platforms such as Google, Facebook, Instagram, Pinterest, and Bing. There is a 12-15% transaction fee if you make any sales this way but it's a great way to get free advertising.
Shipping Cost: You can either charge a shipping fee in addition to your product price or offer free delivery. Note that free delivery will bag you a lot more sales and also help you come up higher in the Etsy search.
How To Become an Etsy Seller
You can be up and running with your own Etsy shop in a matter of minutes. I suggest deciding on what to sell first as that is the hardest part.
You cannot open a shop without at least one listing to add to your storefront so it's a good idea to leave the actual shop launch until you have a few products to list.
(Experts recommend between 20-23 listings to start but I opened my store with just 5 and got a sale within a day).
Tutorials to help you with your Etsy Store:
Start An Etsy Store Successfully
How To Make An Etsy Store Website In Minutes
How to find the bestselling items on Etsy
It's really easy to find the top Etsy sellers by category. There are two great sites you can choose from, either Etsy Rank or Marmalead.
Both these sites are fantastic for Etsy SEO (getting you to the top of search for items or shops) and helping you craft great product names and descriptions.
I'll focus on Etsy Rank below as it is free for up to 50 keyword look-ups a day while Marmalead is a paid tool.
Etsy Rank gives you a snapshot of the most successful stores on Etsy at any given time and also the number of daily sales they make.
A an example, here are the top shops on Etsy today: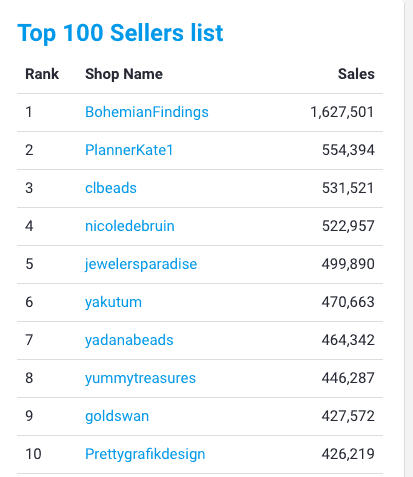 Etsy Rank is a great tool to use once you have your own site as it will help you with Etsy search rankings and competitor analysis.
You can work out what your store is lacking and check to see if your pricing is compatible.
It's also super useful when you are planning to open your store as you can research the kinds of products that sell well by checking out the top Etsy sellers.
Choosing what to name your Etsy shop can be tough so the Etsy Rank site is also useful for inspiration.
Best Things To Sell On Etsy To Make Money
It's easy to find out the best things to sell on Etsy that make money and sell well using Etsy Rank.
Here's a quick look at the biggest Etsy sellers for yesterday: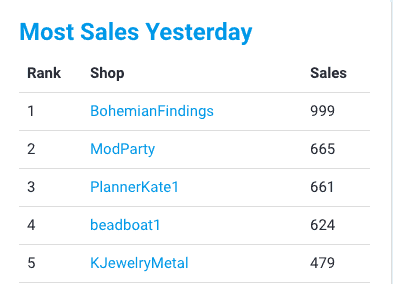 This is a snapshot from one day but I can tell you that the top selling stores on Etsy are always more or less the same.
The table below shows that jewelry and supplies for making jewelry (beads, clasps etc) are the best selling items by far.
1, 4 and 5 on the top 5 list sell jewelry or jewelry supplies. This is beads, clasps and other items for making necklaces, earrings and rungs.
Number 2 is a party/wedding store and 3 sells planners.
Everyone loves handmade jewelry and it makes a great gift so the success of these stores is no surprise.
If you aren't crafty, sourcing supplies can be a great way to get into the Etsy business easily.
The bestselling categories for Etsy stores in 2023
1. Jewelry
What handmade items sell well on Etsy? Number one is jewelry.
Jewelry is hands-down the best thing to sell on Etsy to make money. Many of the top 100 Etsy sellers per Etsy Rank are jewelry stores.
Handmade necklaces, bracelets and earrings rank top in Etsy searches. People love giving unique jewelry as gifts, to their bridesmaids, groomsmen and for many different occasions.
I recently got engaged and while searching for rings, I discovered that wedding bands are hugely popular and one of the most expensive items on Etsy to sell.
Customized pieces with personalized engravings are also top earners on Etsy.
If you are interested in making and selling jewelry successfully, you can really do well online plus your shipping costs should not be too high.
In a nutshell – the Etsy stores making the most money are selling jewelry.
2.Beads and jewelry supplies
Lots of people like creating their own jewelry at home and the popularity of this category shows this!
This is one of the easiest types of Etsy stores to open because you don't need any particular skills or craftiness.
As far as Etsy shop ideas go, this is one of the easiest to start. Unique and customized beads will help you get a head start in this lucrative niche.
3. Party Decorations
Instagram and Facebook have changed how we celebrate life's milestones and many of us want party decorations that go beyond the dollar store section. The best Etsy sellers list reflects this clearly.
Banners, cake toppers and party invitations are all hot-selling items on Etsy.
If you are good at graphic design and have a creative imagination, you can be very successful creating party decorations for children's birthdays and other parties such as baby showers and weddings.
In fact, weddings are an entire niche all by itself as there are so many things to buy – place cards, invitations, centrepieces and more.
Wedding favors are another popular search item on Etsy.
4. Printable artwork & other digital products
Opening a printable store is great because you don't even need to worry about shipping items Worldwide.
Selling digital products on Etsy is a great option if you are outside the top selling countries and shipping physical items abroad would be cost-prohibitive.
Printables are really anything that can be downloaded to your device and then printed at home or at a print shop.
Digital items that sell well include art prints, invitations and banners. Party decor can also fall into this category if your buyers prefer to get things printed themselves.
In addition to planners (by far the printable category with the most sales on Etsy), digital downloads can also include digital or printed stickers, trackers, coupons, lists and more.
If you are stuck wondering what to sell now on Etsy, look no further than printables. My own Etsy shop is in this niche and does really well.
To get started selling printables on Etsy, I was lucky enough to find this awesome course.
It has step-by-step video tutorials that take you through how to make different printables, how to create listings and how to market your products.
Plus you get exclusive access to an amazing Facebook group with live tutorials every week. It's invaluable.
You also get tons of templates for printables so you can get started quickly.
If you are interested in starting your own Etsy Printables Business, make sure to download the Free ebook on the top printables to sell on Etsy.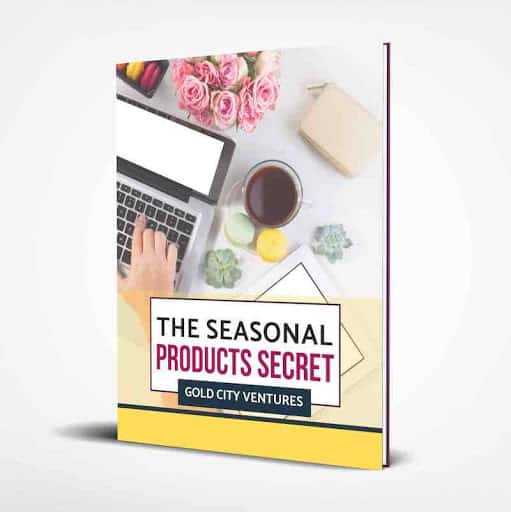 5. Vinyl mugs, socks and accessories
You don't have to be too crafty to be successful selling vinyl products on Etsy.
Stickers, socks and coffee mugs are really popular and easy to make with a Cricut machine or similar.
For inspiration check out these popular gift ideas made with a Cricut.
6. Toys and Baby Items
Handmade wooden toys are a huge seller in Etsy stores. People love beautiful wooden toys that are safe and look great. In fact, handmade wooden items are one of the top selling craft items on Etsy.
Other toys such as personalized puzzles and busy boards sell really well too.
The top selling baby items on Etsy include silicon teethers for babies, headbands and personalized baby items such as keepsake boxes.
7. Knitted Kid's Clothing
If you are good at crocheting or knitting, you already have a great Etsy store product that is popular and sells well.
Despite what some may have you believe, knitted clothing is not one of those easy things to make and sell on Etsy, compared for example, with printables.
First of all you need to have the skill plus making each item is time consuming so it can take a while to build up some inventory.
Unless you are a very fast knitter, most people will expect to receive their item quickly so may not have patience to wait for each item to be made on demand.
While it can be very profitable, bear in mind that your materials cost will be high for good quality yarn so you need to research your prices well.
Knitting patterns on the other hand, are one of the best things to sell on Etsy to make money. As knitting has made a comeback, patterns are one of the many vintage items that sell well on Etsy.
If you have any old magazines, dust them off and list those patterns.
8. Planner items
Stickers, printables and planners are all the rage and really popular on Etsy. I mentioned these items under printables but hard copies of planners and stickers are also top Etsy products.
Of course with hard copies comes the issue of printing, binding and shipping so you will need to see if the additional profit is worth the extra work.
9. Accessories
Stores that sell accessories are some of the most popular Etsy shops.
Headbands for babies, scarfs and purses are all Etsy top sellers.
Bows and hairbands for toddlers and babies sell especially well and are relatively simple to make, even if you are not overly crafty.
10. Pet supplies
Pet owners love their pets and Etsy has opened up a whole new World of dog and cat accessories.
Collars, name tags and other pet items such as leashes are a really popular search item on Etsy, especially around the holidays.
Pet items are one of the best things to sell on Etsy to make money, especially if they are personalized.
11. Sewing Supplies and Fabric
Some of the most popular shops on Etsy specialize in selling sewing supplies such as fabric, lace, embroidery patches and swatches. There are entire stores that only sell zippers!
Like jewelry, this is one of the best things to sell on Etsy to make money because you don't actually need to be crafty. Unique, hard-to-find items will sell best.
When I was researching what vintage items sell best on Etsy, I noticed that old buttons and embroidery patches are huge so start scouring your local thrift and flea markets for treasures!
12. Self Care items
Some of the most popular Etsy shops focus on self-care products. I guess it is not surprising given the year that we have had!
This niche includes items such as handcrafted soap, lip balms, bath products, essential oil blends and massage oils.
Want even more Ideas for Etsy Bestsellers?
Check out my list of 50 Etsy Shop Ideas that will give you a ton of inspirational things to sell on Etsy.
How To Promote Your Etsy Store
Etsy has some great trainings to help you promote your store. In addition as I mentioned, they also cross-promote your listings on Google and social media sites.
But don't rely on Etsy to get your customers. Here are some places to promote your store:
Pinterest: It's free and attracts the same demographic that uses Etsy.
You can create pins that directly link to your products so that pinners can buy right-away.
Pinterest is easy to start up and running and quickly grows. As Pinterest is basically a must-have for any serious Etsy shop owner, I created an in depth tutorial to show you How To Use Pinterest For Etsy.
I started my Pinterest account in 2017 and now have 30K followers organically. Once you know how to use Pinterest, you can create a nice stream of steady traffic to your Etsy shop for free.
Your Own Site: another way to promote your store is with your own website. Although that may sound a bit daunting, it is actually really easy to make an Etsy Store Website in minutes.
Search Engines: I mentioned that Etsy will add your products to Google and Bing but you should also focus on SEO (search engine optimization) yourself.
That way if someone googles "best handmade dog collar with rhinestones" your listing will pop up.
Etsy showcases: Etsy also holds in person events such as Etsy Made in Canada in different cities around the globe.
These in person craft fairs are a great way to network and meet potential customers near to you.
Social Media: Create profiles on Twitter, Instagram and Facebook for your shop and post new products and other related items.
Some of the Etsy shops with the most sales get tons of business from Instagram. An example is Heidi from Debt Free Charts who is an expert at promoting her Etsy shop on the "gram.
Want more ideas what to sell on Etsy to make money?
If you are still stumped, I came across this fun "what should I sell on Etsy" quiz – check it out here.
More Work From Home Business Ideas
How To Make Money Transcribing At Home
Become An Independent Stella & Dot Stylist
How To Make Money Transcribing At Home