Have you ever wanted a second income opportunity that's fun and pays well for your time? You'll love these balloon business ideas that will let you make some money with every kid's favorite party accessory – the humble balloon.
You don't necessarily need to be really skilled to start a balloon side hustle and make a great income from home. From entertaining at children's parties to selling balloons, there are plenty of options to get you started.
In this post, we will look at how to start a balloon business yourself. We'll also look at the best jobs with balloons including:
Creating and selling balloon arches
Selling balloon gifts
Making Balloon animals at parties
If you love making people smile, then starting a balloon business is the perfect way to make a living.
From becoming a balloon artist who creates beautiful and whimsical balloons that bring joy to anyone who receives them, to decorating wedding venues with balloons, there are lots of options to make money.
This post may contain affiliate links. Please read my Disclosure for more information
MORE FUN SIDE HUSTLE IDEAS
How To Sell Used Socks Online (For Lots of Money!)
How To Start A Doggy Daycare At Home
Genius Balloon Business Ideas Anyone Can Do
Balloons are a fun and unique way to make money.
In addition to selling balloons at events. you can get creative and make money with balloon gifts or by entertaining children with your balloon creations.
Here are three of the best balloon business ideas you can start with little money down:
Starting A Balloon Decor Business
In the last few years, balloon arches and fancy lawn decor have really become trendy. The great thing is, this design trend doesn't show any sign of stopping so now is a really good time to get in on the action.
People hire balloon artists for all kinds of events such as birthday parties, weddings and charity functions.
Remember that you can also sell your balloons at fairs and festivals although you will likely make more money at large scale events.
What do you need to start a Balloon Decor Business?
First of all, you will need balloons in both latex and foil in all different shapes and sizes. You will also need small 260Q balloons for creating designs.
In order to avoid wasting balloons, you can buy them as you go and gradually build up a stash.
You'll also need balloon weights to stop them from blowing away and also ribbons and clear fishing wire for tying. Balloon strips will make making arches and large designs much easier as will balloon stands and hoops.
A basic air pump, a helium tank and a helium inflator are also essential.
The easiest thing to do is buy a complete balloon garland kit so you have everything you need.
How To Make Balloon Arches
You can learn to make balloon arches online for free. Remember that in addition to classic arches and backdrops for parties, the more fancy designs you can offer, the more business you will get.
Here are some video tutorials to get you started:
How to make a balloon arch without a stand
How To use a balloon strip to make an arch
Once you have a few different designs under your belt, start advertising to get customers.
One of the best ways to promote your balloon arch business is to ask friends and family if they will have a balloon arch on their front lawn for free in exchange for you leaving a lawn sign with your business details.
Make sure to always have a sign with your contact information at any places you decorate with balloons. Business cards are also essential.
Stuffed Balloon Gift Business
One of the best balloon business ideas are stuffed balloon gifts. If you are not familiar with them, they are exactly as they sound, balloons stuffed with all kinds of gifts such as stuffed animals, chocolates and even bottles of wine.
Stuffed balloons can sell for upwards of $100 each depending on the size and what is included inside the balloon.
The only downside to this balloon business is that you will need a balloon stuffing machine which requires a significant upfront investment.
You will also need to make sure to price your balloons so that you make a profit once all your expenses are covered.
The great thing about stuffed balloon gifts is that you can offer them for all kinds of special occassion such as:
Valentine's Day
Easter basket balloons
Birthdays
Wedding gifts
Baby Shower gifts
The world is really your oyster when it comes to this balloon business idea plus you will be able to create the stuffed balloons from home without much client interaction.
Here is an example from Facebook of Easter stuffed balloons: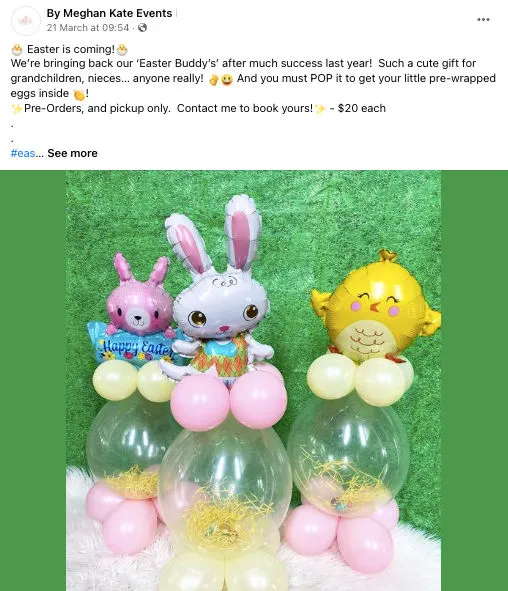 How To Make Money With Balloon Animals
Making balloon animals at parties or local businesses that cater to young children is such a great side hustle.
Making balloon animals can be both fun and lucrative. It's also a great business you can do alone or with a partner.
The cost to get started is minimal. You'll need less than $30 worth of supplies to get up and running with your first gig!
First of all you will need to learn to make balloon animals and other things such as wands and hats.
The best way to learn is by watching instructional videos on YouTube.
You can purchase a book, but it's easier to learn how to create balloon animals from a video. It's also free.
Here are a few YouTube channels with lots of tutorials:
Supplies Needs For Balloon Animals
All you really need are balloons and a pump. The simplest option is to head over to Amazon.com and search under "balloon animal supplies." 100 suitable balloons cost around $9. A good pump may cost you $9 or $10.
Get ready to perform at parties
Even the most complex animals are easy to create with a little practice.
When you're performing for an audience, you won't be able to look at an instructional video. My advice is to aim to be able to produce at least 15-20 animals from memory. Make flashcards for each type of animal you wish to learn.
Randomly go through the cards and practice making each one. When you're able to create each animal five times from memory, you're ready for action.
You should also continuously add to your repertoire. Try to add a couple of new animals each week. You'll be surprised how much you can learn in a few months.
Add Extra Skills To Boost Your Income Potential
At many venues, it will benefit you to have a partner with a related skill with which to further entertain the kids. Or, learn another fun skill yourself! Multiple talents give you more options and add to what you can offer.
Different party skills you can add are:
Magic
Kids love magic. You don't need an elaborate set with the ability to saw a person in half. Children love magic that they can view up close.
Tricks
Make a coin or other object disappear. Any sleight of hand trick is popular.
Face painting
Paint faces. There are a plethora of face painting kits available online. Be sure to use paint designated for face painting.
Again, it will be necessary to practice. Find a few willing volunteers and get all the practice you need.
You might think you need to have artistic skill, but face painting is quite simple.
Temporary tattoos
Depending on the type of tattooing you choose to do, you might need a little artistic ability. There are a variety of kits available for making temporary tattoos. Get the practice you need to ensure your little customers are happy.
How To Find Clients For Your Balloon Business
Once you have decided on the balloon business idea that you like the most and you are ready to go, it is time to actually promote your business.
Create a Portfolio
Be prepared to show your work to potential clients by having lots of photos of the kind of work you can do. You can create an online gallery on your website or social media accounts.
You can also create a flyer with all the necessary information about your balloon business and ask local shops and businesses if you can leave it for their customers.
Approach party supply businesses and ask if you can hang a flyer in their store and give them referral commissions.
Social Media
You can create social media pages for your balloon business and advertise all over. Offer special promotions and coupons to attract people to book your services.
Be creative and make full use of social media:
Facebook
Twitter
LinkedIn
YouTube
Instagram
TikTok
Word of Mouth
Let your friends and family know about your new business. Pass out business cards to everyone you know. You could also offer a referral discount to people who spread the word.
Provide a few extra, so they can pass them along to others.
Approach restaurant owners and event venues. Think about the restaurants in your area that cater to families.
Balloon Business Ideas – Frequently Asked Questions
Is A Balloon Business Profitable?
You have probably asked yourself, "how much does a balloon business make?". Well, you might be surprised to know that even small balloon businesses can make $20,000 a month once they become established.
This is a really profitable side hustle that you can easily turn full-time.
What Do I Need To Start A Balloon Business?
In addition to a business name, insurance and the correct business licensing for your state or country, you will also need your balloon supplies.
The main things to consider are a good pump, a variety of balloons and ribbons and weights where necessary.
How Much Does It Cost To Start A Balloon Business?
Depending on which balloon business you land on, your start up costs will vary.
For example, to create balloon arches, you will want a balloon arch kit that you can get for around $30. You'll also want lots of balloons which will probably set you back another $25-30.
If you want to make stuffed balloon gifts, a balloon stuffer machine costs around $300-400.
No matter what balloon business idea you go for, you will want an electric pump. You can get a highly rated duel nozzle electric pump on Amazon for around $20.
Balloon Business Ideas – Final Thoughts
If you're thinking of starting a balloon decorator business, there are a few things you need to keep in mind.
First, make sure you have an idea of the types of balloons you want to sell.
Then, find a location where you can set up shop and start stocking your inventory.
Finally, create a marketing strategy that will help get your business off the ground. With a little effort, starting a balloon decorator business can be rewarding!
More Fun Business Ideas
Start A Gift Basket Business From Home
5 Steps To Your Own Etsy Printables Business {Ultimate Guide}
Start A Soap Making Business From Home