Do you want to make money selling tarot reading on Etsy? In this post we will learn how to sell tarot readings and other psychic readings to create a fantastic side business.
In this guide to how to start a Tarot reading business, we will go through everything you need to know including:
What kinds of readings to sell on Etsy
How to open your Etsy shop
Tips for creating different products and listings for your Etsy shop
How to send Tarot readings on Etsy
Tips for pricing readings on Etsy
Other places to sell tarot readings online
This post contains affiliate links. Please read my Disclosure for more information
MORE THINGS TO SELL ON ETSY
Selling Crystals On Etsy: The Ultimate Guide
How To Start An Invitation Business On Etsy
Selling Tarot Readings On Etsy- The Ultimate Guide
Let's start with the nuts and bolts. Why would you sell tarot readings on Etsy? After all, it is known as a marketplace for anything handmade. From hand knitted items to personalized jewelry, Etsy is a crafters paradise.
So how do tarot readings fit on Etsy? According to the latest stats, in 2020 there were over 39 million active buyers on Etsy.
Those buyers are looking for all kinds of things including psychic reading, pictures of their potential soulmate and more.
If you are a card reader, you can launch your own Etsy business for free and start making money this week.
In addition to selling readings, you can also make money selling related products that your customers might like.
Do Tarot Readings Sell On Etsy?
As someone who has personally bought a psychic reading on Etsy, I can attest to the fact that they do sell.
Remember that Etsy products show up on Google so even if someone is not actually on Etsy searching for a reading, they can still find your shop.
But how will you sell your readings?
Does a Tarot reading fall under the Etsy categories of handmade or vintage?
Everything on Etsy much be handmade, vintage or supplies. So how does this work for your readings?
You are probably thinking that you need to host Zoom calls where you spend time face to face with the customer giving your reading.
In fact, as long as you are selling a tangible product (an emailed digital copy of the reading is considered tangible) tarot readings are considered handmade.
There is even an Etsy category especially for Tarot readings when you create a listing on Etsy so you know that they are permitted.
Here is what Etsy says about the category of "Divination and Spells":
"Tarot, psychic, or other divination readings must include a tangible good, such as photos of the tarot spread, audio/video of a reading, or text of the reading. You may deliver the tangible good through Etsy Messages or email."
How To Sell Tarot Card Readings On Etsy
Now you know how that Etsy requires a tangible good to be given to the customer, how does that work for psychic readings?
An explanation of the reading must be sent to the client either in a taped recording or by email. You can send the file directly to your client on Etsy after you have completed it.
So you could either upload a PDF file of your written explanation of the card reading or you could record an explanation and email them a link to the audio file.
What Kinds Of Tarot Readings To Sell On Etsy
You will want to do some research before you create your Etsy listings.
Ask yourself some questions such as:
Who might be looking online for a Tarot card reading?
What kinds of readings are they looking for?
How much are they willing to spend?
You can get this information by spending time on online forums and Facebook groups. Try and work out who your target audience is and what they might be looking for and then offer it to them on Etsy.
Maybe you can even promote your Etsy shop to those people once you are established.
You can also do some research by spending some time looking at people who are already selling readings successfully.
Here is how to do this research yourself:
Check out Etsy
First of all, spend some time on Etsy and search for psychic readings.
Look at the listings on the top of the search results (below the sponsored ads) and take some time to look at the shops that have the most reviews.
What kinds of readings are they selling?
How much are they selling them for?
How many products do they have in their shop?
What do the reviews say?
Use An Etsy Keyword Tool
Once you have got familiar with Etsy shops selling Tarot card readings, you can consult an Etsy keyword tool that will give you all kinds of data about the things Etsy buyers are looking for.
There are quite a few keyword tools out there, my personal favorite is Sale Samurai. You can get a free 3 day trial to check it out.
If you want to see how to use this tool to find the best selling readings, read my Sales Samurai tutorial and watch my video here.
You can perform a search on Sales Samurai that will show you information such as the average price point and the keywords that you should be using in your Etsy listings.
Here is the first page of my results when I search for the keyword "Tarot Readings":
Using both a keyword tool and your own research on Etsy should help you find some great ideas for your Etsy business.
The Best Selling Tarot Readings On Etsy
To make things easy, here is a list of the current best selling readings on Etsy:
Fertility Tarot reading
Same Day Tarot reading
Love Reading
Deity Tarot Reading
One Hour Tarot Reading
Aura Reading
As you can see, one thing that seems popular are Tarot Readings with a quick turnaround time. People who are looking for a Tarot reading on Etsy want answers now.
If you are able to provide a rapid response to customers, you will be able to capture those customers who don't want to wait for answers.
Other Tarot Readings To Sell On Etsy
Most successful Etsy stores have multiple listings so you won't be able to just stick up a "Tarot Card reading in an hour" and then sit back and relax.
Aim for at least 10 different listings in your store.
Here are some ideas if you can't think of how to market your psychic readings:
Career Reading
Emergency yes or no reading
Blind reading – no questions asked
Future Children Tarot reading
1-4 Questions reading
Soulmate reading
You can also offer different delivery methods such as recorded readings, written explanations and even artist's renditions (this one is very popular for the Soulmate readings).
How To Open Your Psychic Reading Etsy Shop
It is easy and free to open your Etsy shop and you can be up and running in just a few minutes.
If you don't already have an Etsy account, you will need one before you can start your Etsy shop.
Go to Etsy and click on "Create Shop".
Use this special invitation from me to get 40 free listings to start you off.
Fill out the basic information about your shop and you will be almost ready to create your first listing!
You can add a logo and a shop banner for your store (I made my own one for free using Canva).
To walk you through the whole Etsy set-up, I recommend you download my free Starting An Etsy Shop Checklist PDF.
Listing Your Readings For Sale
Head to your Etsy shop and click on "listings". You can now start to add the different readings you will be offering.
As you won't actually be selling a product, it will be really easy and quick to create your listings in one afternoon. Just be prepared to act as soon as you get some sales.
Each listing has a few different parts that you need to focus on:
Title
Photos
Category
Description
Tags
If you have Sale Samurai, you can actually create your listings on there and they will give you advice for the keywords you should be using.
Selling on Etsy is more than "make an item and they will buy." You will not get seen if you don't take the time to learn Search Engine Optimization so that your listings are seen.
Here are some tips for making sure you get your listings seen by buyers:
Your Etsy Title
Make sure your title uses every available character to fully describe your reading.
Include the turn around time, the method of delivery and anything else you can think of.
Don't waste any space in your title, make sure to use as many characters as you have.
Here is a great example of someone making the most of their Etsy title:
Your Listing Images
You are probably thinking that your Etsy listing images aren't that important as you will not be selling a craft or handmade item.
It's true that you don't need to worry as much about the images as some other sellers but you will need to add at least a couple.
You can add up to 10 photos per listing and I recommend adding at least 5 if possible.
Use pictures of your Tarot cards, images with text telling customers about the readings you offer and any other information they might want to know.
Again, Canva is a great (and free) place to make your listing pictures. It even has an Etsy listing image option with templates you can use.
How To Write An Awesome Etsy Description
Your description needs to include as much information about your reading as possible. This is how your lsiting will get found in search and also will differentiate your readings from your competitors.
Include all the information about:
The type of reading you offer
Your turnaround time
What exactly the client will receive
Any readings that you will do
If you want some tips on writing great description, you can download my free Etsy SEO Checklist.
Most Tarot card readers offer personalization in their listings as a way for the customers to answer a few basic questions.
You can include this in your description by filling out the Personalization tab when you create your listing:
Etsy Tags For Tarot Card readings
You can use up to 13 tags for your listing, the more you use, the more chance of someone finding your shop in search.
If you have a hard time coming up with tags, you can use a program like Sales Samurai to give you ideas.
Just do a search for the keyword of your item and it will come up with the commonly used tags: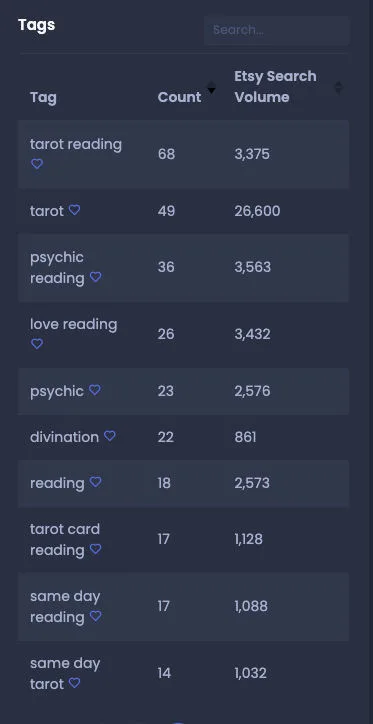 How To Price Tarot Readings On Etsy
The easiest way to choose a price for your readings is to look at the prices others are using.
You don't want to be too expensive but you also don't want to be the cheapest otherwise people will wonder if your readings are really good quality.
To decide on a price, consider the following:
The cost of your supplies
Etsy fees
Your profit margin (ideally at least 25%)
You need to cover all your costs and make a profit. The great thing about selling readings is that there are not really many material costs involved.
Most Tarot readings on Etsy average $5-15.
How Much Are Etsy Fees?
An important piece of the Etsy puzzle is the fees that you will be charged for listings and sales.
Etsy has increased their fees effective from 11th April 2022 so I am giving you the most up to date prices here:
Listing Fees
You will be charged a listing fee of $0.20 USD for each item that you list for sale on Etsy.com or Etsy's mobile apps.
(Don't forget to take advantage of the 40 free listings when you open your shop to save some cash).
Transaction Fees
Every time you make a sale through Etsy, you will be charged a transaction fee of 6.5% of the price you display for each listing plus the amount you charge for delivery.
Etsy will automatically deduct all fees owed from your payment account so you do not need to pay them separately.
One great way to boost your sales is to offered a tiered pricing structure depending on how many questions someone wants answered:
Here is an example of that:
How To Send Tarot Readings On Etsy
Once you get a sale you will need to do the reading then send it to your buyer.
Make sure to list your items as "made to order" or a physical item.
If you list it as a digital download only then Etsy will require you to attach a file before your listing is published.
Once the reading is ready to send to the customer, you can contact them via Etsy messenger and attach the PDF file.
Tips For Promoting Your Etsy Shop
Once you have published your listing, it's time to start promoting.
You can't just wait for Etsy buyers to find your store, you need to spread the word both in person and online.
One of the best ways to promote your store is by moving outside of Etsy.
Use Social Media
Selling Tarot readings on Etsy will be easier if you harness the power of social media to promote your shop.
Etsy gives you easy ways to connect your Facebook and Twitter to your shop so you can keep your fans in the loop about new products.
Use any and all of the following social media outlets: Twitter, Facebook, Instagram, Pinterest, YouTube, Snapchat and TikTok.
Make a point of adding photos of all your listings to social media and try and build a following.
Pinterest is possible one of the best places to promote your Etsy shop. It is completely free to get started and be a huge factor in driving sales to your business.
You can add pins that direct to your Etsy shop or you can pin directly from Etsy to your Pinterest account.
To learn how to get started on Pinterest, you can read my in depth how to guide on how to use Pinterest for Etsy.
Other Places To Promote Your Etsy Shop
Starting a blog about Tarot is a great way to promote your Etsy business while building your brand.
It's really easy to start your own blog and it is super cheap. You can get my step by step tutorial here.
YouTube
The third way that is great for selling Tarot readings on Etsy is to start a YouTube channel where you show people how to make them.
You can monetize your channel with ads and also direct people to your Etsy shop.
Other Places To Sell Psychic Readings
Although Etsy is definitely one of the best places to sell readings, you can boost your sales by promoting your products on other platforms too.
Here are some places you can try:
Instagram
Facebook
Your Own Website
Can I sell tarot readings on Facebook and Instagram?
While you cannot sell you Tarot Readings on Facebook marketplace as they are not a tangible item, you can sell them via your own Facebook page.
Selling your readings locally on Facebook is a really good way to get started if you are new to making money with your hobby.
First of all, it is free to use and you can find lots of potential clients by advertising in neighbourhood groups.
Your Facebook Page
You can create your own Facebook Page and promote your Tarot business that way. Ask for people to like your page and advertise sales and promotions.
Facebook Groups
In my opinion, Facebook groups are the best way to sell your readings.
Join as many local groups as you can. Look for handmade groups, mom groups and neighbourhood groups.
You can add your listings to business promotions where allowed or respond to requests.
Selling Tarot Readings On Your Own Website
One of the best places to sell your psychic readings is on your own website.
Your website will allow you to build your brand and also get sales without paying a lot of fees.
You can choose to either sell your readings directly on your website or use your site to advertise your products and direct customers to make a purchase on your Etsy shop.
Directing people to your Etsy shop is the easiest option because then you won't have to worry about finding a way to process payments. Etsy does have a an option for their shop owners who want a website.
You can also create your own website in just an afternoon and for under $5 using a host such as Bluehost.
Bluehost will give you a free domain name to make it easy to get started.
Make sure when choosing your domain name (that's the www.) that the same name is available on Facebook and Instagram as a username so that you can have a cohesive brand.
To build your own website quickly, you can follow my step by step guide.
Can I Sell Tarot Readings On Shopify?
You can sell all kinds of Tarot readings on Shopify and create your own website.
If you want to create your own storefront to sell your psychic readings, how about starting your own Shopify store?
It's easy to start selling tarot cards with your own Shopify website and the cost is low.
The only thing with Shopify is that, unlike on Etsy, you will need to do your own marketing.
Selling Tarot Readings On Etsy – FAQs
Do Tarot Readings Really Sell On Etsy?
There are Etsy shop owners making thousands a month selling their readings on Etsy. Although you might find it a hard to get traction at first, once you get started, you might find that you make a nice income with this side hustle.
What Other Products Can I Sell in My Etsy Tarot Shop?
Look beyond selling Tarot card readings on Etsy and consider selling things such as artwork, planners and also supplies such asSupplies related to spell work, such as herbs, crystals, and spell books.
To get started with crystals, make sure to read my guide on Selling Crystals On Etsy.
To get started on selling artwork and other things, here are some posts you might find useful:
Start Your Own Etsy Printables Business – this involves no shipping at all!
Make Money Selling Stickers On Etsy – another really popular Etsy best seller
Learn about Selling Prints On Etsy – great for people who love creating artwork.
For even more ideas, make sure to check out my list of 50 Etsy Shop Ideas.
MORE THINGS TO SELL ON ETSY
How To Make Money Selling Plants On Etsy
How To Sell Candles From Home in 8 Easy Steps
Ultimate Guide To Selling Quilts On Etsy