Do you love lounging around on the couch or recliner? Would you like to get paid for it?
Become a furniture tester and make your dreams a reality with this weird but legit side hustle.
In this post we will look at what it takes to become a couch tester and how to get jobs.
Plus find out what kind of money you can make as a furniture tester working part-time from the comfort of home.
In this post will will review everything you need to know to become a furniture tester including:
What is a furniture tester?
What does a furniture tester do?
How much does a furniture tester make?
Requirements to become a furniture tester
How to find jobs testing furniture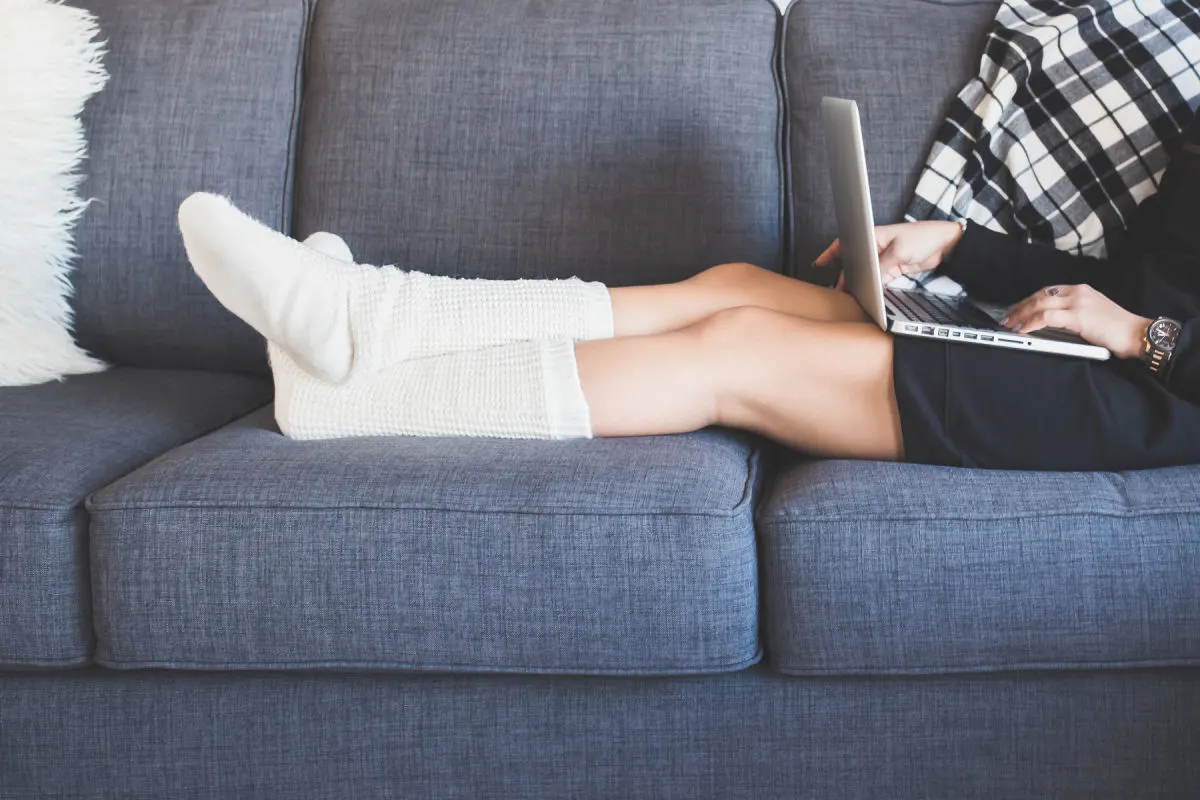 RELATED POSTS
Make Money Selling Prints On Etsy
18 Text Chat Operator Jobs From Home
What is a furniture tester?
A furniture tester is someone who tests the safety and comfort of pieces of furniture that are either in development or on the market.
They typically sit, lie, and move around on them to test how they feel while doing so. Safety testing includes stricter standards than comfort testing.
Furniture testers often need to spend long periods at work sitting and standing throughout their day.
Most furniture testers are required to work long hours because you need to make sure the sofa is up to standard.
Is a furniture tester a real job?
Yes, in fact there are many companies that hire furniture testers to work from home in a reclining chair.
They literally sit on the job and lie down in their comfy beds, where they bring forth real experience that companies can take into consideration to improve their products.
What Does a Furniture Tester Do?
The duties of a furniture tester are to test the products on comfort and ergonomics. Equipment testers do not test the equipment, they test the performance of the equipment.
Different items of furniture will have different testing requirements, for example:
What does a couch tester do?
A couch tester's job is to test the comfort and durability of sofas and chairs before they hit the showroom.
You'll do this by sitting, lying, and moving around on them for weeks or months and reporting on your findings.
What is the role of a mattress tester?
As mattresses are very personal items, mattress testers are often in high demand by manufacturers.
In fact, becoming a mattress tester is one of the best ways to get paid to sleep.
When it comes to testing mattresses, you often have to try it out for a month or so before finishing your job and you are often paid in free product (ie. you get to keep your mattress).
What to know how to become a mattress tester? Read this post:Get Paid To Sleep – 5+ Ways To Make Money Sleeping
What kinds of furniture needs to be tested?
Couches and sofas
Recliners
Mattresses
Kitchen appliances
Baby furniture
Dining Set
Rugs
A Typical Day In the Life Of A Furniture Tester
A furniture tester's job includes sitting and standing throughout the day to ensure proper function in most cases.
There are two different things that you might test for – comfort and safety.
Safety testing and comfort testing are often two separate jobs that require different skillsets.
Most unskilled furniture testers would test out the comfort level of different couches and chairs.
While the main responsibilities of a furniture tester include are if the chair or couch is comfortable, the duties of safety testers also include evaluating ergonomics, including comfort and safety.
You will be asked to check for hot spots and pressure points, grade the product according to safety and comfort and recommend improvements that can be made.
You will then provide a report with your findings and gradings for the item.
Requirements to become a furniture tester
A furniture tester is a person who evaluates and tests the quality of various types of furniture.
This can be done by working as a freelancer or through employment with an organization that hires these individuals.
At this time, there are two primary roles for those involved in testing:
freelance testers, who work on their own without any involvement from management;
and quality assurance engineers/technicians, who work within the company to test products before they leave the facility.
The main requirements to become a furniture tester include:
A basic knowledge about furniture is necessary in order to be a furniture tester.
Attention to detail is also necessary in order to complete the job properly.
Great communication skills
Good writing skills for reporting on the furniture you test
Freelancers need to be self-starters.
A standard (average) height and weight is often required for many roles
Quality assurance technician vs furniture testers
A quality assurance technician is a person who tests manufactured goods to make sure that they are safe for use and meet standards. Sometimes, QA technicians go by the name of furniture testers because their work primarily focuses on testing furniture. However, their main concern is not just testing furniture; it's trying out products and making sure they're reliable.
They spend a lot of time studying how something works before acting in an official capacity as a tester.
They also plan ahead to know what they need to test, and how the product should operate.
A QA technician is a technical person who knows about how products work and can pass on their knowledge to others.
On the other hand, a furniture tester normally is more concerned with comfort and usability of a piece of furniture and less qualifications are required.
As long as you can sit on a couch and judge how comfortable it is, you can become a furniture tester!
How much money does a furniture tester make?
Wondering how much furniture testers make an hour? Well you might be pleased to know that qualified testers can make a really great salary.
While inexperienced testers might not make much money, you will probably be able to furnish your apartment for free with all the free product you are asked to test.
If you're looking to get into the furniture tester field, there are a few things you should know.
First, it's important that you have an interest in design and style and be able to keep up with trends.
You may also need experience in building scale models or working with wood or metal.
With these qualifications, you can make between $30,000 – $80,000 annually as a furniture tester for both commercial and residential designs.
Additionally, once you build up experience and a reputation in the field, you could make much more.
Regardless, according to Ziprecruiter, the average salary in 2021 for a furniture tester was $52,000.
Do I need special training to become a furniture tester?
Although you don't need any formal education, you will need to have experience in quality assurance or furniture sales.
If you want to make yourself stand out from the crowd, then one great idea is to take some of the free webinars and trainings available on industry websites such as:
National Furniture Association
Business and Institutional Furniture Manufacturers Association
Canadian Home Furnishings Alliance
How To Find Furniture Tester Jobs
You probably won't have much luck if you do a search for furniture testing jobs as most of them are listed as "quality assurance".
The best way to find gigs is by applying directly to the furniture manufacturers and associations listed above.
You can also apply to the major furniture companies such as Lazy Boy and Ashley Furniture Industries.
Sometimes furniture companies hold competitions and casting calls looking for products testers to keep an eye out on their websites.
Another way to become a furniture tester and get free product is to become an influencer.
How to test furniture as an influencer
One way to get paid to test furniture it to become an Instagram or TikTok influencer.
Brands are always looking to boost their social media followings by hiring influencers to promote their products for them.
Influencers get paid by furniture companies to try out products for free and them post their reviews online either on social media or their own blog or website.
To become a successful influencer who tests furniture, you will need the following:
At least 10,000 followers on Instagram or TikTok
Content focused on furniture and design
Lots of follower engagement and likes
You can find sponsored posts for furniture by contacting the retailer directly but you can also get gigs through influencer networks.
Some popular influencer networks to join include:
Become A Furniture Tester – Final Thoughts
Do you love to lay on the couch and work from home?
Well, I have great news for you.
There are companies hire people like you!
Furniture testers are paid by furniture companies to evaluate their products and give feedback on how they use them in their daily lives.
The best part is, it's easy as pie.
All you need to do is sign up with a few of these companies and start testing out all sorts of different styles of couches, chairs, bed frames .
Other Furniture Related Side Hustles
Learn how to become a furniture maker with these woodworking posts:
38 Woodworking Projects That Sell
Simple Wood Pallet Projects To Make And Sell
Are you interested in becoming a furniture retailer?
You can start your own website and sell furniture through drop shipping or locally.