Earning a living from your hobby has got to be one of the most satisfying things on Earth. If you have a garage workshop, you can learn how to make money woodworking with the guide below.
A wood business is the perfect way to create an income stream on the side.
Even part-time hobbyists can make a few thousand a month on a site like Etsy or Facebook marketplace.
While many people enjoy woodworking as a hobby or as a means to create a supplemental income, but it is possible to make a full-time living from woodworking.
This is especially true once you have an established business and return clientele.
This post contains affiliate links. Please read my Disclosure for more information.
RELATED POSTS
How to Make Money Woodworking
Before you can learn how to make money woodworking from home, you need to make sure you have the right tools and gear for a successful wood business.
There are two parts to building a woodworking business that makes money.
First you need to have your woodworking room set up in your garage or basement. You need to get quality tools that will last you through many projects.
Essential Tools For A Woodworking Business
As this is the area where you need to invest the most money, you can start with the basics then add on as your business grows, after all, you will want to invest some of your profits into your business every year.
The Basics
A Mitre Saw
Power Drill
A Circular Saw
A Jigsaw
A Sander (orbital) and sandpaper blocks
As you progress in your wood business, you can add more advanced items such as a planer, a bandsaw and a wood lathe to your arsenal.
A lathe is great to make a myriad of awesome wood lathe projects.
Another handy addition to your toolbox is a laser wood burner.
There are a bunch of great wood engraving ideas to sell.
Where to Buy Wood for Your Woodworking Projects
Lumbar has really gone up in price since the pandemic hit so you will want to be careful with your purchases.
Surfaced or decking lumbar is the best type to start with.
This is also known as S4s (smooth 4 sides), it is much easier to work with than rough edge lumbar that you get from speciality wood stores.
You can buy S4s at the bog box stores like Home Depot and Lowes. They typically have a good range in softwoods such as pine which are perfect for your business as they are not too expensive compared with some hardwoods.
Lumbar yards are often cheaper than the box box stores for the more expensive types of wood because they specialize in hardwoods and different finishes.
Make sure to check prices to find a good wood source.
The Business Side Of Woodworking
The second part of a successful woodworking business is the actual business side of things.
This is where a lot of crafters get stuck. Unfortunately it is not enough to just be amazing at creating things, you need to have at least some business acumen or you will get bad reviews and lose customers.
Great skill and bad business is an issue that haunts tons of creative professions and if you can get the customer service piece down, you will be way ahead of the competition from the get-go.
How To Create A Successful Woodworking Business
1. Brand your business
You don't need to spend money on business cards or fancy signs but you do need to create a business name, potentially register it and maybe make a logo (you can get one created for you for under $50 on Fiverr).
2. Promote on Social Media
Make sure to create accounts for your brand on Twitter, Instagram and Facebook.
If you are good at video then try your hand at Tiktok too.
You can add examples of your work on Instagram and Facebook and create albums so people can see the kinds of things you can make.
Social media is a great way to promote your products and also get sales.
Just this week I bought a wooden sign from a local woodworking business that I found on Instagram.
3. Start Your Own Website
This isn't essential but if you are ready to take your woodworking to the next level you can sell your products via your own site. Shopify is a great way to do this.
4. The Customer Is King
The most important thing about having a wood business that makes money is to have happy customers who come back again and again.
Bonus points if they tell their friends about you too.
Providing excellent customer service will pay back in spades.
Respond to inquiries quickly, keep communication lines open and be honest if delays come up.
4 Ways To Make Money With A Woodworking Business
You might think that the only option to make money with your wood business is by selling things you make but in fact, you have a few different ways to create an income stream with your hobby.
1. Create A Woodworking Blog
You could start a blog that teaches other people how to woodwork.
How to blogs are really popular and a woodworking blog is the perfect way to make money showing off your skills.
With a blog you can make money recommending products (affiliate marketing), selling your own things (ebooks, woodworking plans) and by adding advertising to your site.
2. A DIY YouTube Channel
Another way to make money by showing people what you make is with YouTube.
You can either show cool videos of you making things or create an instructional YouTube channel that teaches woodworking.
Affiliate marketing and ads are both ways to make money with YouTube.
Learn more: How To Make Money With YouTube
3. A Podcast
I know this sounds kind of strange as podcasting doesn't allow you to actually show your wood projects but in fact, there are several really popular woodworking podcasts that make money with ads and sponsorships.
Wood Talk and The Woodworking Podcast are two of the most popular.
Guide: How To Make Money Podcasting
4. Selling Your Wood Projects
For anyone wondering how to make money woodworking, then selling the things you make is by far the most popular.
You can sell your wood projects on social media, at local craft fairs and online.
Etsy is the biggest online marketplace for selling handmade items and there are hundreds of Etsy sellers making full-time incomes with their crafts.
Selling Your Wood Projects Locally
By far the best and easiest way to get started making money woodworking is by building a local following.
You can start by selling one item on Facebook and then build from there.
Offer customizations and personalized orders to boost sales.
You can even offer a referral discount to promote word of mouth sales.
Many people prefer to buy local to save on shipping costs and to support their neighbours.
Search on Facebook for local handmade groups or groups that allow you to promote your local business.
My medium size city has several groups that are for citizens to share local stores and business to support, these get really busy during the holidays.
Also look for people searching for someone to make something for them that you can help with.
Lots of people look online then try and find someone local
A quick search of my Facebook showed a bunch of people looking for wooden items to buy: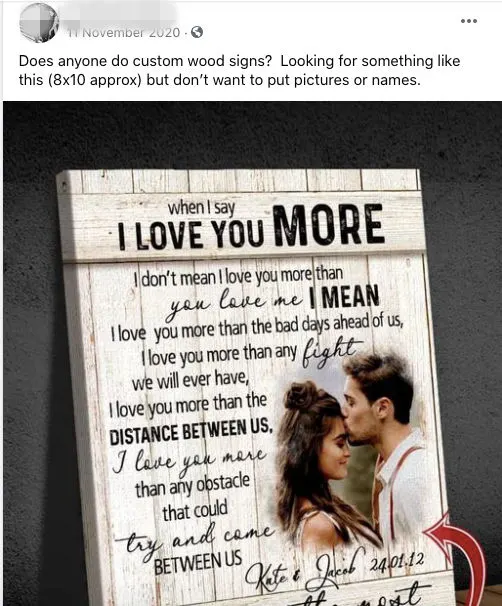 More Places To Sell Your Wood Crafts Near You:
Craft Fairs
School Holiday Markets
Local Restaurants and cafes that might be willing to promote your piece in exchange for a freebie
Mom and Dad Networking Groups
Selling Your Woodworking Online
Although selling your wood crafts locally can be a sustainable business, if you really want to boost sales and create a full-time income, you need to get online.
As I mentioned above, Etsy is your best bet for selling your woodworking projects for a profit.
It's the number 1 online marketplace for handmade goods and attracts thousands of visitors every day.
If you don't have any experience with selling on Etsy, then make sure to check out my step-by-step guide to starting an Etsy store successfully.
You can start your own Etsy shop in mere minutes with no upfront costs.
The only thing you need is a good name for your Etsy store and images of your items for the listing (more of that in a minute).
Etsy does charge 20 cents per listing that you add to your store plus a 5% transaction fee when you sell something but open your store at this link and you will get 40 free listings to start you off.
The other thing to factor in when selling your projects on Etsy are shipping costs.
Obviously large wooden objects can be heavy so you will want to factor that into your pricing.
You may want to limit buyers to your country to avoid extortionate postage fees in shipping internationally.
The advantages of selling on Etsy is that they do all the legwork for you with regards to promoting your product, taking the payment and creating a trustworthy place for buyers to feel confident.
You also get access to potential customers from all around the World so your earnings potential is limitless.
Tips For A Successful Etsy Store
There are a few ways to ensure your listings get the most sales possible on Etsy:
1. Price Your Items Right
Do some competitor research and see what other people are listing similar items for.
Price your projects in the middle range to attract the most buyers (too cheap and people will question quality, too expensive and they will pass you over).
Make sure to account for shipping and handling costs as well as materials in order to maximize your profits.
2. Photograph your items well
There is no point in creating a beautiful wooden sign or bench and then promoting it with a dark, blurry photo that shows nothing.
A good photo is 50% of the work in getting a sale and it is worth honing your skills to really attract buyers.
I recommend spending some time to perfect your photography skills.
You don't need a special camera, your iPhone will do but you will need good lighting.
This tutorial from the Woodworkers Guild of America is a good introduction to taking great pictures of your wood projects.
3. Promote Your Listings
In addition to facebook and Instagram, Pinterest is a great place to promote your Etsy listings.
You can create pins with photos of your projects and pin them to your Pinterest account (I recommend getting a business account – it's free).
Best Woodworking Money Makers
Now that you know how to make money woodworking, you need to choose what to make! You may already have some good ideas but if not, here are some top choices:
These are eternally popular for homes, weddings, businesses and cottages.
Blanket ladders are a huge hit with people who love farmhouse style.
Planters can be a bit difficult to ship but they are easy to make and really popular, especially in the spring.
More Ideas For Wooden Crafts To Make And Sell
Here are a ton more things to sell in your wood business:
Final Thoughts on How to Make Money Woodworking
Selling your woodworking projects is a great way to pay for your hobby and even make some additional income on the side.
Choosing quality items to sell that are popular year round is the key to a successful business.
Promoting your items across Etsy, social media and even your own website is the key to consistent sales that will sustain your business.