Choosing the best web hosting for your small business is one of the most important steps in creating an online presence. Customers will often check out your website before making a purchase or after finding you on social media.
A pretty website with a flashy font is great but behind the scenes you need to make sure you have the best web hosting available so your site runs fast and without downtime which will ruin your sales goals.
This post contains affiliate links meaning I make a commission if you click on a link, at no extra cost to you. Please read my Disclosure for more information.
But what is the best web hosting for your small business?
First of all you need to identify your needs.
Do you want an online shopping cart?
Are you tech savvy or would you like more guidance on getting set up?
Do you have a vision or would you like to choose from pre-made themes?
RELATED POSTS
How To Open An Online Store With Shopify
10 Best Things To Sell On Etsy To Make Money
If you are price conscious and want a stable web host that provides great customer support, HostPapa Linux hosting is a great option.
It's perfect for small business owners who don't want to spend weeks creating a site from scratch or worrying about downtime during their peak shopping times.
The Best Web Hosting For Your Small Business
What is Linux Web Hosting?
Linux Hosting is hosting using the operating system called Linux on the server. Linux is a Unix-like operating system provided as a free, open source choice. Linux is most common and widely used operating system in the web hosting industry.
It offers an alternative operating system to Mac OS X and Windows
Linux web hosting is perfect for small businesses like online stores and craft businesses that want an online presence that is self-managed.
WordPress (which most bloggers use) and other PHP web applications run well on Linux.
If I use a web host that runs Linux will Windows users be able to see my website?
Yes. Linux and Windows are two different operating systems, but the operating system that you use on your computer doesn't affect what other people see when they look at your website.
Whether you use Linux or Windows hosting, the website will send out information using standard languages (HTML, XML) that a browser like Internet Explorer or FireFox can read.
It makes no difference for someone using Windows to see a website running on a Linux server and vice versa.
What are the advantages of using Linux hosting?
Linux offers a lower cost of development than because most web hosts use a free version of Linux. You can get started with Linux hosting for your website for as little as $3.95 a month with Hostpapa.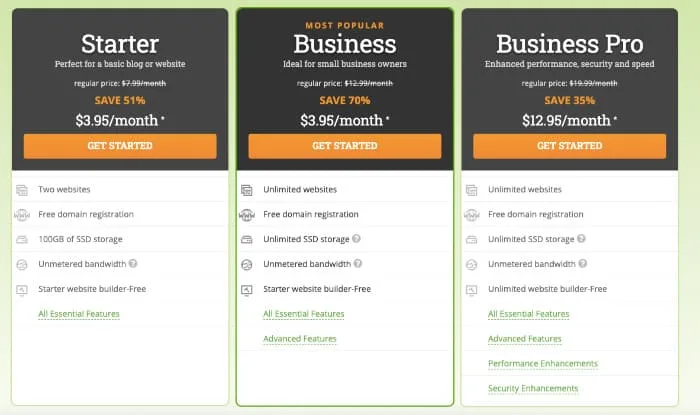 Why go with HostPapa Linux Hosting?
HostPapa's top executives have over 70 years of combined experience in web hosting services.
Host award-winning Customer Services Director has built one of the best support centres in the web hosting business, offering a 24/7/365 customer support experience.
Also, HostPapa is the only web hosting company offering dedicated one-on-one sessions with web hosting specialists to help you get started. This is absolutely invaluable for new website owners who are nervous about the technical aspect of creating an online store.
First of all, head over to The HostPapa Website and choose your plan. The cheapest one is probably fine for new businesses but right now the business plan is the same price and allows you to have unlimited sites under one hosting plan.
Hostpapa has tons of self-guided tutorials that can take you step by step from beginning to end.
If you are like me and not overly tech-savvy, you can book a free 30 minute one-on-one training session with a PapaSquad expert. They will help you get up and running fast at no extra cost!
If you run into any issues as you go through your set up or once your site is live, you can contact HostPapa customer service by phone or online. Their customer service is offered around-the-clock in four languages (English, French, German and Spanish).
Anytime I have used them for my site, I have been very impressed with their helpfulness and knowledge.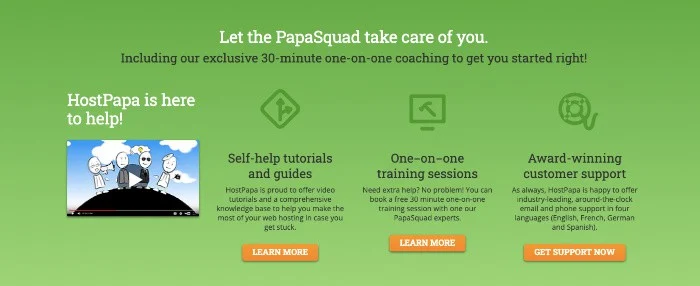 What Do You Get With HostPapa Linux Hosting?
There are lots of inclusions with HostPapa that other hosting companies might charge for.
Here are some of the standard features that you will get even on the smallest (cheapest) plan:
Free domain registration†
Free Let's Encrypt SSL
PayPal merchant compatible
Drag & Drop HostPapa Website Builder
Cloudflare Content Delivery Network – faster page load speeds
Free website migrations – handsfree
99.9% uptime guarantee
100 Email accounts
The other great thing is that HostPapa has a 30 day money back guarantee . If you aren't satisfied with the service in the first 30 days, you can get your money back
Options For Your Online Store
HostPapa offers a number of included options if you want to allow customers to buy your products directly on your website.
This is a great option for people who want to have an online store in addition to selling their crafts on a site like Etsy.
Online Store Integrations with HostPapa
OS Commerce Cart (1-click setup)
OS Commerce Cart is a shopping cart that great whether you are selling physical products, online virtual products or services. osCommerce is a complete and fully-featured e-commerce solution that has a user-friendly admin panel.
Open Cart is an open source software that allows you to set up an online store for free. You can choose from over 1300 modules and themes to get your store looking just how you want.
Over 300,000 merchants use PrestaShop for their online store. There are lots of customizations to choose from and a secure checkout module.
AbanteCart is another good option that is fully mobile responsive so your visitors can make purchases directly from their phones.
CubeCart is a powerful free ecommerce solution enabling thousands of merchants globally to sell digital or physical products online.
More Tips For Starting A Business
How To Start Your Own Etsy Printables Business
How To Start A Blog That Makes Money
Like This Post? Pin it!