If you want to start an online side hustle, this guide will show you how to make money on OnlyFans and where to promote your content to get new subscribers.
More and more people are creating video content and sharing it on sites like TikTok and Instagram stories and OnlyFans takes this to another level by giving creators the opportunity to cash in on their work.
You make money on OnlyFans by charging your "fans" a subscription fee to access your exclusive content.
There are lots of other ways to monetize your OnlyFans site which we will dive into below.
We will show you everything you need to know about OnlyFans -what is it, how to use it and most importantly, how to set up an OnlyFans to make money.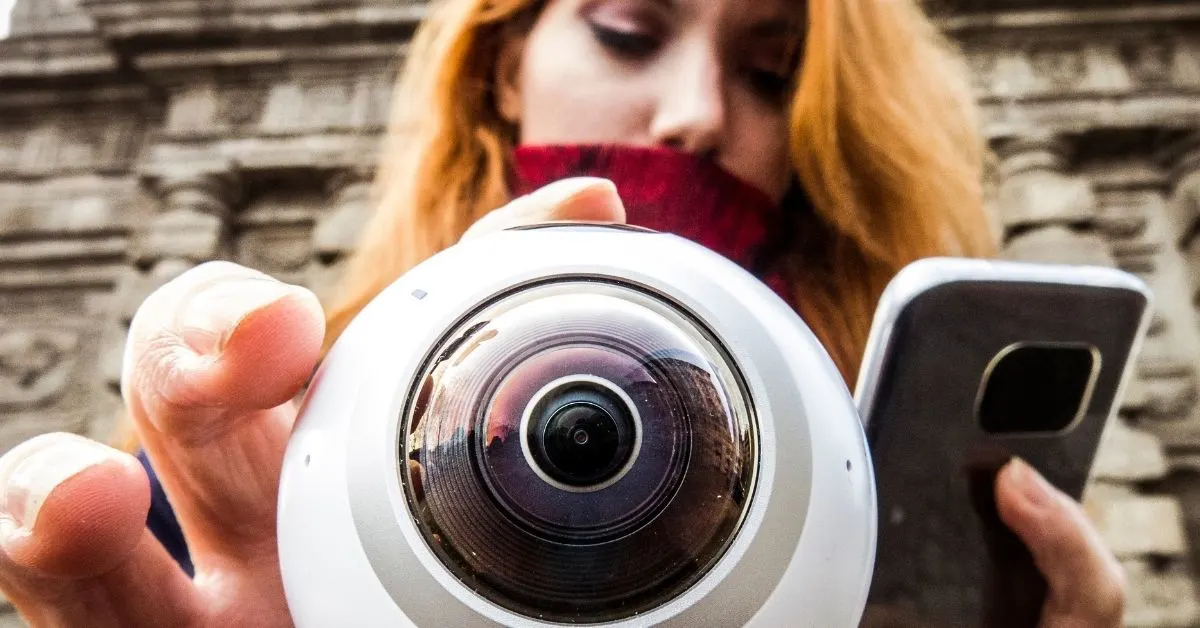 This post contains affiliate links. Please read my Disclosure for more information.
MORE GREAT SIDE HUSTLE IDEAS
70 Side Hustles For Single Moms
Get Paid To Refer A Friend -The Top Sites
What Is OnlyFans?
OnlyFans is a social network that allows members to make money sharing content and videos to their subscribers.
It is completely free to join and some content is also free to join but most requires a subscription to the content creator's Fan page.
OnlyFans was established in 2016 but didn't really become popular until a few years later.
OnlyFans popularity completed exploded in 2020 and 2021.
November 2019 stats showed 7.5 million users and that number jumped to to 85 million by the end of 2020.
Given that OnlyFans is very popular for its adult content, it seems likely that many sex workers and strip club employees joined the site after they lost their work due to the 2020 shut-downs.
Some of the surge in users is also due to celebrities such as Beyonce using the platform to promote their music plus the fact that more and more "regular" people are looking at making money online.
When you first login to OnlyFans as a user, it kind of looks like Twitter with more videos.
How Does OnlyFans Work?
Think of OnlyFans as a hybrid of a social media site and an adult content site that requires a subscription.
Anyone can sign into OnlyFans and view the content on the site but for most of the "good" stuff, you need a subscription.
If you want to know how to start an OnlyFans that makes money then it's easy.
You need to create the kind of content that people are willing to pay to see.
Is OnlyFans Only For Adult Content?
Many people think that OnlyFans is solely for adult videos and photos but it is actually a great site for lots of niches.
The adult industry really took to OnlyFans due to the unrestricted content policies which makes is completely different from the other social media platforms like Facebook and Twitter.
While pornographic content definitely makes up the bulk of material on OnlyFans, there are many other successful accounts run by people who are making money with OnlyFans.
By the way, if you are open to creating adult content, make sure to read my guide on how to make money on Pornhub.
Some Popular topics include:
Cooking Shows
Make-up Tutorials
Fashion Tips
Workouts
Meditations and Alternative Health
DIY Tutorials
Video Gaming
If you consider the kind of content that is popular on YouTube, OnlyFans takes it up another level with a more personalized approach including private messages and custom content.
Lots of non-adult content creators actually do some crossover from YouTube. They use their YouTube for promotion and then direct people to subscribe to their OnlyFans account for premium content.
People are making money creating workout plans for fans and selling recipe books amongst other things.
Here is an example from the very popular OnlyFans account @Uberdad: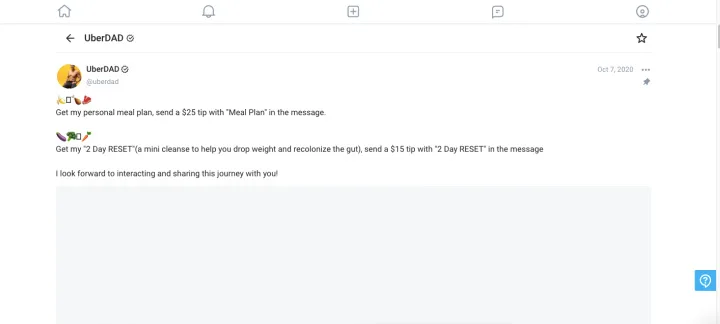 How To Make Money On OnlyFans
If you haven't already, it's time to create your free OnlyFans account and take a tour.
Head to OnlyFans.com and register with your Google or Twitter account.
Alternatively you can sign up with your email address.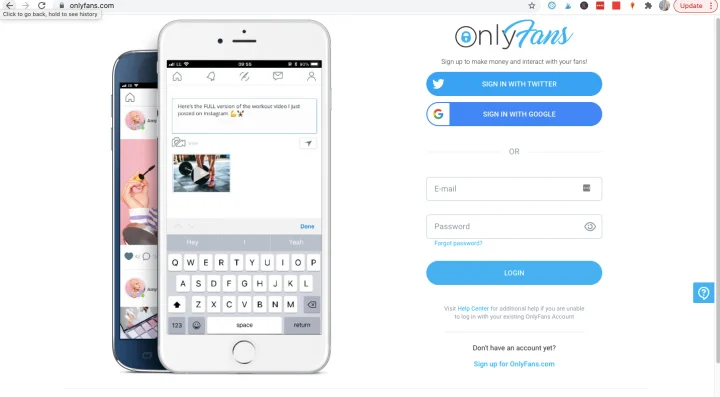 Next, click over to the profile page by clicking your icon on the right and hit "edit profile".
You need to fill out your profile before your account will be accepted by OnlyFans.
How To Fill Out Your OnlyFans Profile
You need to add a cover image and a profile picture (this works similar to Facebook where the profile picture is a small circle overlaid with the cover photo).
The cover image is a large banner that appears behind your profile picture.
Upload a cover image that is related to the content that you will post on your feed. Below is a great example of a cover photo and profile picture that match the content of the creator.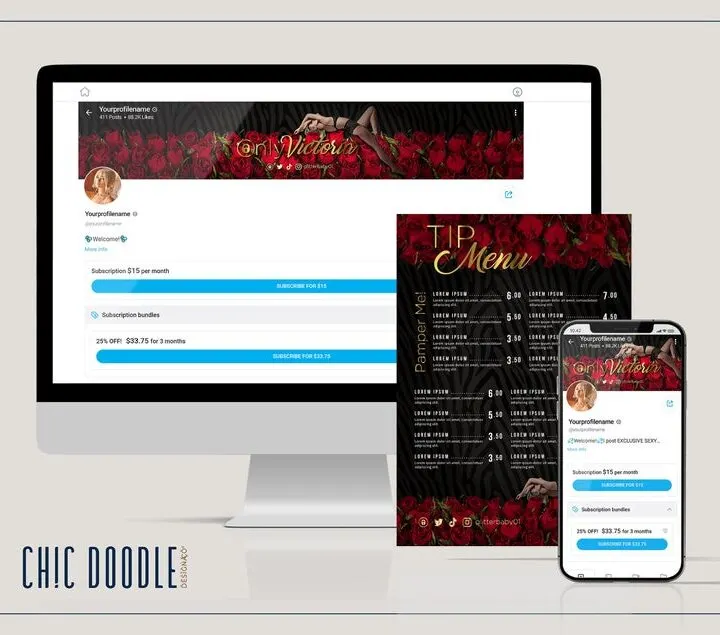 Note that your photos are one of the metrics OnlyFans uses to approve your account so make sure the picture fits your content. Full nudity is not allowed on the cover or profile picture.
Make sure to change your username to something memorable so your fans can find you. If you don't change it, it will be a bunch of random numbers.
My username is "thisworkfromhomelife" so my URL is onlyfans.com/thisworkfromhomelife and my OnlyFans name is "@workfromhomelife".
Your Username name will appear in your URL and OnlyFans Name so it is important to make it something catchy.
Bear in mind that if you plan to have a related website for your business, you should use the same name for your domain and your OnlyFans.
TOP TIP: Before you choose a username, make sure the social handles for sites like Instagram and Twitter are also available. This will make it so much easier for promoting your OnlyFans down the road.
Complete your bio and connect your Instagram and Twitter if you like.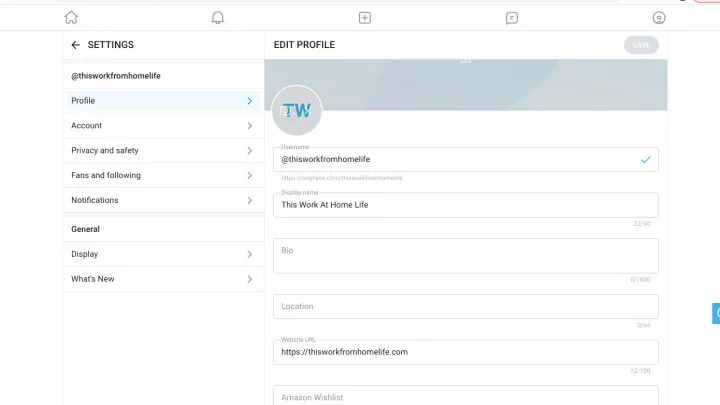 How To Verify Your OnlyFans Account
The next step is to get your account approved.
In order to set subscription prices, get paid and refer friends, you need to verify your ID and have your account approved.
To do this, first go to the OnlyFans banking page and start filling out the forms.
I completed this step on my laptop but they do recommend using a mobile device as you will need to take photos of your photo ID.
Complete the steps and then wait 24-48 hours for your account to be manually approved.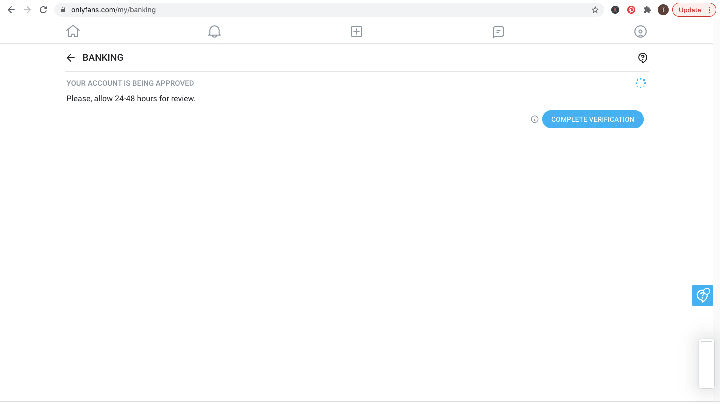 Make sure to fill out as much information as you can on your profile and take clear photos otherwise your account will be rejected.
Once you receive the email that you account has been approved, you can finish the set up process.
Note that you won't be able to set up a subscription pricing model or anything until your account is approved and you add banking info.
Once you are good to go, you can set your OnlyFans account up to start making money.
Head to Profile> Subscription Price and Bundles and then click the link to add your bank details.
You are now ready to start making money with your OnlyFans account.
How To Make Money On OnlyFans
There are a few different ways to make money on OnlyFans.
Subscribers
Donations via Patreon
Amazon Wishlist
Tips On Your Posts
Custom and PPV Content
Using all 5 of these methods is the best way to maximize your earnings on the site.
Although many people make the majority of their money with subscribers, you might be surprised at the income potential in tips and custom content.
How To Make Money With Subscribers On OnlyFans
This is the main way to make money on OnlyFans. Fans will subscribe to your account in order to view your videos and posts.
You charge a monthly fee to subscribers and in exchange they get premium and exclusive content on your account.
The nice thing about the subscriber model is that you know the money you will have coming in on any given month, assuming that your subscriber list stays relatively stable or keeps growing.
How It Works
You can set whatever subscription price you want although you will want to do some research before you set your price.
You will keep 80% of the money generated by your account and OnlyFans will take the remaining 20% as their cut.
To set your subscription price, go to your OnlyFans sign in then head to Profile> Subscription Price and Bundles
By default your subscription price is set to "Free" and the minimum subscription price you can set is $4.99.
The majority of OnlyFans creators have their subscription rates set at $9.99 a month.
Before you set yours, it is worth taking some time to check out OnlyFans accounts in the same niche as you to see what the "going rate" is.
You might find that having a lower subscription rate with more followers gives you a better income than a high rate but low followers.
If you charge $9,99 a month and have 1000 subscribers, you will make $7,992 after OnlyFans takes their cut.
If you charge $24.00 a month and only get 300 subscribers, you will make $5997.60 after the 20% is taken off.
Tips For Setting Your OnlyFans Subscription Rate
While you can just set and forget your rate, there are some features on OnlyFans that can really boost your income if you use them properly.
You can run promotions for discounted rates whenever you like. This can be great for promotions or special sales pushes.
You can also offer a free trial or a discounted subscription on your profile for a limited number of new or already expired subscribers to attract more followers. This option is under the Subscription Price tab.
Another incentive you can offer your fans is called "
or every new subscriber an existing fan refers to you, they will receive an additional 1 month subscription to your profile.
This can be a great way to grow your following quickly.
How To Make Money With Patreon On OnlyFans
A second way of making money on OnlyFans is to ask your fans for donations.
You might think this is silly but you will be surprised how many people are happy to donate for good, quality content. Even monthly subscribers may want to give you a bit extra to help support your business.
How To Set Up Your Patreon Account:
Head to Patreon and sign up for the Free/Lite plan.
Fill out your information in the set up page, including your photos, Patreon URL and legal name and information.
Once your account is set up, you will get a Patreon link to share.
Just like with your OnlyFans URL, make sure to use the same name for your Patreon account so you can be found easily.
Note that you can create a subscriber model on Patreon or you can accept one-off donations. As this is a free option, it is worth doing in addition to your OnlyFans subscriber model.
Now you can link your OnlyFans to your Patreon account. The best way to do this is to include a link in your "About" bio.
You could add additional content or freebies so that fans may want to subscribe to you on both OnlyFans and Patreon.
Adding Your Amazon Wishlist To Your OnlyFans Account
The third way to make money with OnlyFans is to create an Amazon wish list and add it to your profile.
Just head to your Amazon account and add items to a wish list. They could be related to your accounts topic or just random things you would like.
You might be surprised at how many people will purchase you "gifts" from your Amazon wish list on OnlyFans.
Then copy and paste the link into your OnlyFans Profile.
It will then appear on your homepage for your fans to click on.
Example Of A Great OnlyFans Profile Page
Below you can see an OnlyFans Profile page that ticks all the boxes.
This creator has an Amazon wish list, information about her live streams and a link to her own website.
You can also see on this profile page how her Patreon link has been added into the Bio for anyone who wants to donate.
Notice that on this profile you can "follow for free". This is an example of the free trial I mentioned above.
Note that fans do have to put their payment information in before they can access the free content. This is in case they decide to provide tips or buy PPV content from the creator.
How to Make Money With Tips On OnlyFans
Fans can tip you on posts, live videos and through private messages.
You can request tips but financially, you are probably better off trying to convert fans to subscribers for guaranteed income.
Most OnlyFans Creators have a "Tip Menu" with suggested prices and tips that people can give.
This is the best way to encourage tips and it is easy to set up.
You can even buy a ready-made tip menu template on Etsy for a couple of dollars.
How To Make Money With PPV and Custom Content on OnlyFans
The last way to make money with OnlyFans is with custom content and PPV material.
This is normally facilitated through private messages and paid through the Tip feature.
Fans can request custom videos that they pay for or you can offer PPV material that is extra to their subscription.
To give fans an idea of what they kind of custom content can request, you can create a tip menu.
A Make-Up Artist might include the following on their tip menu:
Custom product recommendations
CustomVirtual Make-Over
Honest Skincare Assessment
Ebooks and Cheatsheets for sale
Below you can see an example of a tip menu and matching cover photo to create cohesive branding.
You can purchase templates for these items from stores like Chic Doodle On Etsy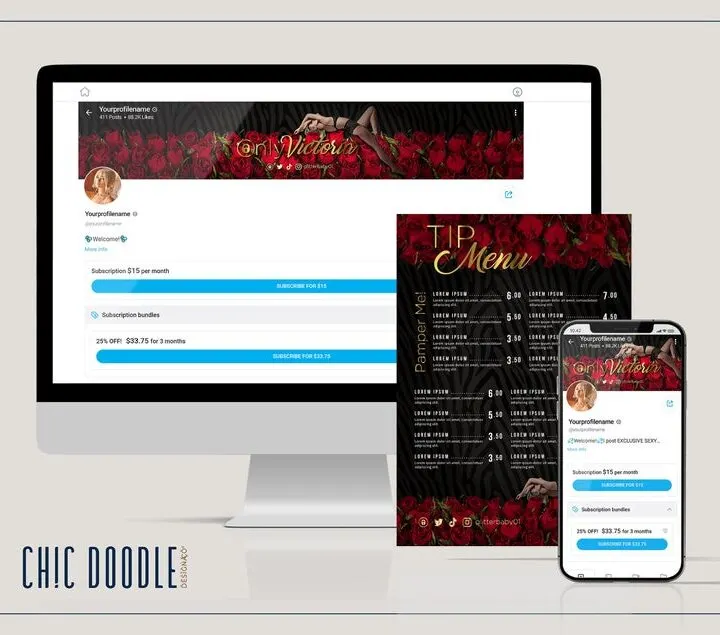 Bear in mind that you do not have to do every single customer request that comes your way.
Although these can be a great way to make money, you don't want to do anything you don't feel comfortable with.
How To Send PPV Content on OnlyFans
You can send PPV content to all your fans via mass private messages and price lock the content so they cannot access it until they pay.
Fans will be able to preview a blurred out image of your content (which could be a video, audio file or photos).
To send a PPV video, click the envelope icon at the top of the page and then click "new Message" and make sure the "all subscribers" box is ticked.
Then choose the media file that you want to share and click on the price tag icon to set your price.
How Much Money Do You Make on OnlyFans?
Here is the big question. Is making money on OnlyFans worth it? How much can you really expect to make?
Obviously, OnlyFans is much more popular now than it was even a year ago which means there is more competition for subscribers. However, there are way more users on the site as it has become more well known.
Subscriptions to an OnlyFans account start from $4.99 and move their way up to $24.99 a month. With some creators having hundreds of thousands of subscribers, you can easily estimate potential earnings.
So, how much money do the top earners make?
OnlyFans have said that while creators earnings are confidential, over 100 have made more than $1m since the site's inception.
While some celebrities have boasted of making over $2m in a week, most creators are making much less than that although many are replacing their full-time incomes with their OnlyFans earnings.
The key to making money on OnlyFans is by promoting your page off-site and taking advantage of the different ways to make money.
How Quickly Can You Make Money On OnlyFans?
Let's be honest here. You are not going to make money tomorrow on OnlyFans if you start today.
It takes time to build your followers list and get paying subscribers. That being said, it is not unheard of to make money within a month or two on OnlyFans if you dedicate your time to heavy promotion in all the places I mention further down on this post.
How Do You Make A Successful OnlyFans?
The key to a successful OnlyFans account is consistent, regular content that your fans love.
Promoting your account is probably the number one thing you can do to get your name in the OnlyFan top 10% of earners.
Being responsive is also really important as you want to build a following of people who are waiting for your next post eagerly.
What Kind Of Posts Should You Add To Your OnlyFans?
All different kinds of media works on OnlyFans and keeping it varied will make your feed interesting to your fans.
One tip is to create content around holidays and different events to keep your feed fresh and new.
I also found some bestselling cheatsheets On Etsy that can help you with content ideas.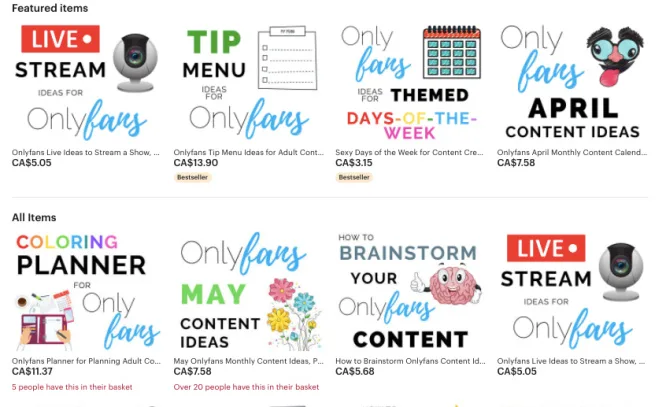 Different Types Of Content To Add To Your OnlyFans Account
Keep your feed interesting and varied with all different kinds of content.
Create A Post To Your Feed
Start by clicking the + sign at the top of the page and compose your post. This works just like other social media sites and is easy to use.
You can attach media such as a video or photos to your feed this way.
You can also click the little graph button and create a poll for your subscribers.

Add A Poll
Interact with your fans by asking them questions via a poll.
You can ask them what kind of content they want to see from you or what they thought of your last post. This is a great way to make sure you are creating content that your fans want to see.
Add A Voice Recording
Another option when you are creating a post is to record your voice (you can use your phone's voice memo feature) and upload the mp3 as an audio track/media.
Go Live
Live videos are really popular on Facebook and Instagram and OnlyFans is no exception.
Fans love live videos because they can interact with you and leave comments in real time.
One tip with live videos is to
It can be a really fun way to build your fan base quickly as you can talk about promos such as the Refer a Friend program during your Live video.
You can upload live videos to your stream after they are done so that fans can see the replays.
OnlyFans Stories
You can create expiration dates for your posts so that they are only visible for a short amount of time.
This is great for time sensitive offers and thing that you don't want to be permanently visible on your feed.
Useful OnlyFans Features
A few useful features to know about your OnlyFans page are the ability to ask for payment for individual posts and the option to schedule posts in advance.
How To Price Lock A Post On OnlyFans
You can lock individual posts so that people can pay you to access them.
You can only do this if you have an OnlyFans FREE account and if the post contains media such as photos or videos.
To price lock a post on OnlyFans, click on the create post button, add your media, then click on the dollar tag icon, set your price and post it to your timeline.
You are probably wondering why you would want to price lock a post instead of just having a subscription price for fans to pay.
Well, here is a strategy to make money on OnlyFans that really works.
Remember the profile page I showed you earlier? Let's see it again for a refresher:
So here is the genius thing about this page.
The content on this OnlyFans page is free. So it attracts a ton of new followers.
However, she uses it as a tease to make you want to join her second OnlyFans account which is a paid subscription service. You can see her mention is in the last link of the profile.
Having two OnlyFans accounts – one free and one that requires a subscription is an amazing way to ensure a steady stream of new followers who you can convert to paying customers once they have seen your style.
How it works
On the free account you can provide some content and maybe even some teasers that are locked and cost $5 or so. You can also advertise services that are available on the paid account and direct customers over there.
If you get enough customers liking the content you post and wanting to pay for your price locked posts at $5, they will quickly realize it makes more sense to subscribe to your premium stuff and get unlimited access for, let's say, $9.99 a month.
How To Schedule OnlyFans Posts In Advance
Scheduling posts in advance allows you to create a bunch of videos and photos and then slowly drip them out to your followers. This ensures that you always have new content to share and lets you batch create your work.
It's also perfect for when you are going on vacation or just won't have time to make any new material for a while.
To schedule your posts, select the time and date you require. The post will automatically be published on the day and time you chose.
How To Pin A Post
If you have a special offer or a selling a product, you can pin the post to the top of your feed on OnlyFans so that it is the first thing anyone sees when they check out your account.
In the post I showed you earlier from Uberdad, you can see that the post is from October 2020 but it is pinned to the top of the feed so it shows up even before newer content.
To pin a post, just click the little "pin" on the post (you can see it highlighted below on the right under the date).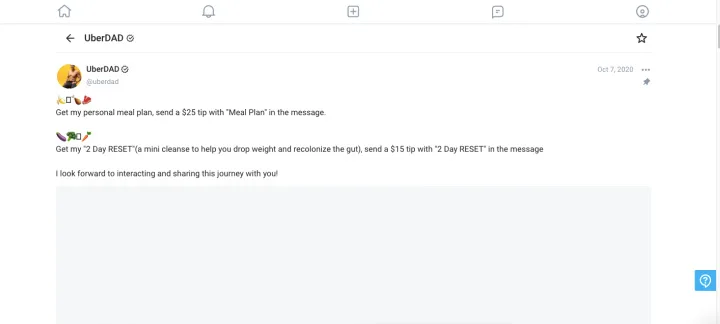 Frequently Asked Questions About Making Money On OnlyFans
Now that you know the different ways to make money on OnlyFans, you are probably excited to get going.
There are a few things you might be wondering about the kind of content that sells really well.
Here are some of the most frequently asked questions:
How To Make Money On OnlyFans Without Showing Your Face
If you are not a huge fan of your face being plastered all over the internet, you might be thinking that OnlyFans is likely not for you.
You might also be interested in making money online but worried that OnlyFans will ruin your career if you are "outed".
However, it is possible to make money on OnlyFans without showing your face at all. First of all, OnlyFans allows adult content but it is not a porn site.
So if you are wondering if you can stay anonymous and still make money on OnlyFans, the answer is yes.
In order to hide your face, you could also get creative. You could focus on:
Cosplay Fetishes
Below the waist only content
Masked Videos
Foot pics (more on that below)
Here are some tips for making money on OnlyFans without showing your face:
Create both a Free and Paid account and redirect all traffic to the paid account where you can vet the subscribers.
Be creative with videos and photos to avoid showing your face
Bear in mind that most people looking for adult content couldn't care less about your face.
Only provide content that shows your face in PPV or custom format to individual subscribers
This should go without saying but make sure to use a fake name on your profile
Create separate social media profiles for your OnlyFans "pen name".
And this leads me to:
Can I sell Feet Pics On OnlyFans?
Yes! In fact, if you are looking for a way to make money on OnlyFans without showing your face, you can't get much better than selling photos of your feet on OnlyFans. Assuming of course, that they are not gnarly.
Foot fetishes are much more common than you may thing and there are many people who are earning thousands of dollars by selling feet pictures on OnlyFans.
As an aside, if you are planning on selling your feet pics on OnlyFans, there are some specialized sites that are just for selling foot pics for money.
You might want to also look at selling them on Craigslist and other sites that buy stock photos.
How To Make Money On OnlyFans As A Guy
First of all, yes it is possible.
The main thing to remember if you are a guy who wants to make money on OnlyFans is that it's not only about adult content.
There are tons of fitness trainers, chefs and gamers who have turned OnlyFans into a nice side hustle. In fact it might be easier to make money this way than with adult content (which is probably the opposite of how it is for women).
Some of the men on OnlyFans have thousands of fans. For example, @grandmasterchefjojo has over 84K fans
However, if you are wondering how to make money on OnlyFans as a man with adult material then it is true that the site is inundated with women.
Plus most of the users are men looking for women.
That being said, lots of male OnlyFans creators have huge followings, especially within the gay community.
Do males make money on OnlyFans? Yes, and the top men on the platform make more than many of the women.
The average male OnlyFans income is similar to that of women, with many men making over $1000 a month with their OnlyFans.
Can Couples Make Money On OnlyFans?
If you are a guy who wants to make money on OnlyFans, one of your best bets might be to create a couple OnlyFans with your partner.
Content created by couples is very popular and they garner huge followings.
How To Make Money On OnlyFans As A Couple
Running your own OnlyFans account is one of the best side hustles for couples.
There are a variety of ways in which a couple might choose to make money with OnlyFans.
These are some successful ideas to try:
-A couple could upload underwear or swimsuit shots and promote the clothes via affiliate links.
-Offer monthly memberships where viewers all get emailed links to 10 photos, nude but not sexualized.
Remember, if you are looking to make money as a couple with more x-rated stuff, making money with Pornhub might be the way to go.
An OnlyFans run by a couple can also be used to promote your individual OnlyFans accounts.
How much do couples make on OnlyFans?
The is no reason that a successful couple can make a full-time income and more on OnlyFans.
Since it's a community for the public to watch, remember that the people who make money from OnlyFans are those who have an established following of followers on other sites.
In other words, if you're not Insta/social famous, no one will want to follow your new page on OnlyFans and you won't see a dime.
You don't need a huge following or for something scandalous to happen in order to be successful but the more followers you have, the more money you will make.
RELATED POSTS
Can You Make Money On OnlyFans With No Followers?
Honestly, it would be pretty tough.
What you can do is to offer your content for free in order to gain followers and then try and upsell them with PPV and custom content.
However in the long run, you want to convert subscribers into paying customers so you can make consistent money.
You need followers to pay for your content otherwise it will be very hard to make a lot of money on OnlyFans.
The amount of money a creator can make is tied directly to how many followers they have which is why you can't just create an OnlyFans page and expect people to come running.
Promotion is at least 80% of the work, especially in the early days.
Luckily, getting followers and promoting your OnlyFans account is not too difficult.
If you already have established social media accounts and are not looking to stay anonymous on OnlyFans, then promoting on your existing sites will likely bring you some ready-made fans.
If you are starting from scratch, here are the best places to promote your OnlyFans Account:
Where To Promote Your OnlyFans Account
Now you have started creating content, it's time to learn how to promote your OnlyFans account.
Here are some of the places to consider:
Your Own Website
Even if you just create a one page site that directs readers to your OnlyFans account, you would be wise to buy the domain for your Username so that people can find you on Google.
I get my domains from a site called Namecheap.com
You can grab a domain for less than $10 most of the time and it is money worth spent.
If you do want to add to your website (Here's how To Create A Website for next to no money), then you can offer free content.
You can then link to your Patreon account or ask readers to subscribe to your OnlyFans for premium videos and photos.
YouTube
Most OnlyFan creators also have a YouTube account where they cross promote their content.
You can add teaser videos to YouTube and then link to your OnlyFans in the description of your videos for viewers to see your exclusive content.
Bear in mind that depending on your content (no adult material allowed), you can make money on YouTube too.
Reddit
Using Reddit to promote your OnlyFans account is a must regardless of your niche.
The Reddit OnlyFans forums are very busy and a great place to find new fans for your page.
Search reddit for subs that match the content you create and get involved.
Make sure to check the subreddit rules before posting your link as not all allow self-promotion.
If you create adult content on OnlyFans, then Reddit is a great place to get new fans and subscribers.
There are specific subreddits that are just for promoting OnlyFans accounts for adult content. (Search OnlyFans Promotion).
Here is a huge master list of lots of subreddits that are specifically for promoting adult OnlyFans accounts.
10 Tips For Promoting Your OnlyFans On Reddit
Reddit OnlyFans Promotion is time consuming but it can really pay off.
Here are my top tips for success on Reddit:
1.Make sure to add the link to your OnlyFans account in the first comment under your post. Reddit does not allow clickable links to be placed in titles and few people will take the time to copy and paste your link.
2.Offer "Reddit Exclusives" and freebies. Create a discount code for anyone who finds you via Reddit to encourage them to join your Fan page,
3. Or offer a free month subscription to entice them to join.
4. Make sure to post consistently to Reddit in order to boost your chances of being found as the subreddits move quickly.
5. Look for big subreddits (100,000 or more members) that fit your niche
6. Set a schedule to post: post every day on 5 to 10 subreddits when there's many people online
7. Post different pics. Choosing just one post and flooding it on all subreddits on a same day will disturb your engagement and move away potential followers on reddit. Vary your posts and change things up.
8. Tailor your photos and posts specifically for each subreddit that you want to promote in. Don't blast a generic message to tons of subreddits.
9. Try creating gifs as they really grab attention in the Reddit feed.
10. Make a post pinned on your profile that is attractive to your OnlyFans, for example: Post a short gif of a video and announce that the full video is available on your OF. Don't forget to comment the link!
Instagram
Instagram is a lot more relaxed about content than Facebook so it is a great place to promote your OnlyFans account.
If you search for the hashtag #onlyfans, you will see over 2m posts from creators who are using Instagram for cross-promotion.
Many of the really successful OnlyFans creators started with off with huge Instagram followings which allowed them to grow their subscription base really quickly.
You should post stories and regular Instagram posts to gain followers and then add your OnlyFans account link in your bio and direct people there in the comments of posts.
Teaser videos work really well on Instagram stories.
Mini workouts, teasers of photoshoots and collages are also great ways to promote your OnlyFans account.
Make sure to follow similar accounts and add relevant hashtags to all your posts.
Twitter
If you connect your Twitter account to your OnlyFans page, all new posts will automatically sync with Twitter.
You can then retweet the automated tweets with a new picture or hashtags to boost views.
You can also post teaser clips then redirect people to your OnlyFans to see the full videos and more photos.
Here is an example of a Twitter account that points people to an OnlyFans account: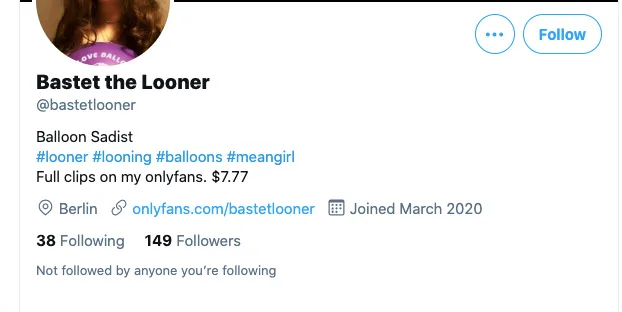 Podcasts
If you are really serious about creating a brand around your OnlyFans account, you could consider podcasting.
Although podcasts can make money in their own right, they are a great way to build a following that you then redirect to your OnlyFans page.
This works best for niches where you are aiming to show your expertise such as working out or coaching.
If you already own a podcast, then OnlyFans is perfect for cross-promotion. Below is an example of this: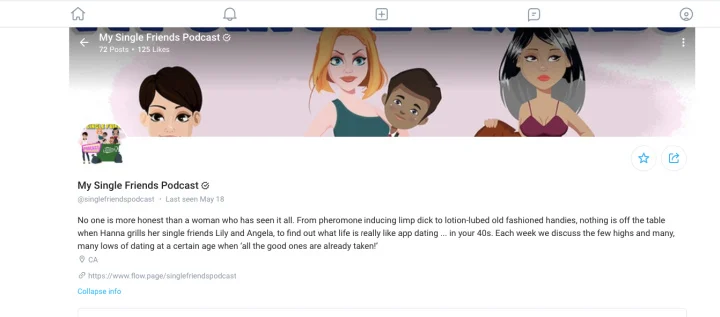 TikTok
TikTok and OnlyFans really go hand in hand and you can get a lot of traction by promoting your account over there.
Create short videos on TikTok or posts teasers to longer content that is on your OnlyFans and link to it from your TikTok account.
TikTok really works well for all niches on OnlyFans including cooking, fitness, adult and beauty.
SnapChat
You can gain a following on SnapChat by following other influencers and cross-promoting each other's content to your fans. This is a great way of networking with other OnlyFans influencers and can be really successful.
ClubHouse
Again, this is for people who are using their OnlyFans to teach something such as a hobby or fitness.
Clubhouse is a new invite-only social media app based on audio.
You can host talks on any topic you like and build a following. It can be another tool in your box for cross-promoting your OnlyFans.
Top Tips For Making Money On OnlyFans
Interact with your fans
Interaction is key to success on OnlyFans. You want to create a loyal fanbase that will give your account longevity.
This is a platform where you cannot just create a post and then step away. Fans want to get to know, your content and what you are selling (whether that be premium recipes or adult content).
Make sure to respond quickly to any private messages you get as they can make up as much as 50% of an OnlyFans creator income.
Most subscribers are paying monthly for the chance to interact with you on a more personal level so make sure to give them what they want to keep them coming.
Post Frequently
How often to you need to post on OnlyFans to be successful?
Being active on the platform is extremely important as fans do see indications of when you were last online.
It's one of the first things you can see under someone's profile picture.
Most creators recommend posting at least once a day (remember you can schedule these in advance).
Make sure to post a variety of content including videos, audio and photos to keep things interesting.
You must have at least 1 post per month; otherwise, your account will be set to inactive. This means that new subscribers cannot sign up to your OnlyFans page.
Don't Make it All About The Money
Yes I know that is a weird thing to say in an article that is called "How to make money on OnlyFans" but hear me out.
I want you to be successful on OnlyFans so this is important.
As OnlyFans has got more popular, too many creators have started focusing more on milking subscribers for as much as they can instead of putting out quality content.
No one liked to be constantly sold to and if every other post you make is a sales pitch or an advert for a PPV, then you will lose subscribers.
By really focusing on great customer service and interacting with your subscribers in a genuine way, you will be able to differentiate yourself from a lot of creators who don't put the effort in.
A subscriber on your OnlyFans account is still a customer even if they don't buy your PPVs or give you extra tips.
Make sure to focus on giving great quality to all your paid customers and not just the ones who want custom work.
Offer Exclusive Content
Make sure that the content you post for your paying subscribers is exclusive and not available anywhere else.
People are paying you for access to your content because they think it is worth paying for.
If you have the same pictures and videos for free on another site, you will lose credibility and start getting refund requests from your fans.
Teaser clips and one or two photos are fine but don't give away everything on another site then ask for payment for the same content on OnlyFans.
OnlyFans Content Ideas
One of the best things about OnlyFans is that you can create all kinds of content. But what if you are stumped?
Here are some easy OnlyFans content ideas you can use today:
Behind The Scenes Footage
A Day In the life Of
Cosplay Scenes
Morning Routine
Outfit of the day
AMA Sessions
Weird Ways To Make Money on OnlyFans
Just in case you thought it was all adult content and cooking shows, I wanted to finish off this post with a look at some of the weird ways people are making money on OnlyFans.
Lactating/Breastfeeding – This is not adult content but lactating mothers can grow a huge following on OnlyFans
Balloon Popping – OnlyFans creator Royal KHushi has a whole OnlyFans dedicated to popping balloons for her fans
People Cuddling- no sex, just hugs (learn more about How To Become A Professional Cuddler)
Final Thoughts On Making Money On OnlyFans
OnlyFans is hot right now. Many people are making bank on the site and there is no reason you can't get in on the action!
Take some time to create quality content and promote your OnlyFans account everywhere you can. Interact with your fans and build a great brand that people recommend to their friends.
In no time you will start attracting fans and getting paid subscribers.
More Ways To Make Money Online
How To Create Digital Downloads To Sell
Make Money With Kindle Publishing