I know what you are thinking.. this can't be a real thing. Surely you can't sell used underwear for cash and actually make a real income. Read on for all the details on this crazy lucrative side hustle that is about as easy as it gets.
Seriously, there are women killing it by selling their used underwear online for cash. And socks? Don't get me started on how much money you can make selling your used socks on the internet.
Now, I know this side hustle isn't for everyone but I was recently speaking to a friend who mentioned how much she has made since she started to sell used underwear online and I really feel this money making opportunity needs to be shared.
You don't have to be in the adult entertainment industry or even remotely interested in that kind of thing in order to make money with your used panties and socks.
And the best thing is that you can do it completely anonymously.
Keep reading for all the details plus the best places to sell your used underwear in 2023.
This post may contain affiliate links. Please read my Disclosure for more information.
RELATED POSTS
Why Sell Used Underwear For Cash?
Why not? This is a side hustle that requires no qualifications, no investment and has no time limit. It's also surprisingly in demand.
Until I spoke to my friend, I figured, like many that used underwear was a fetish from Japan.
I had heard that they sold underwear in vending machines over there and when I researched, I learned that while it started there, it is now popular Worldwide.
Originally, Burusera, as it is known in Japan, was focused on the school girl/sailor uniforms that teenage girls wear in Japan and it has evolved into a more general term for selling used panties for money.
While Japan actually has special stores called Burusera shops, in the rest of the World, most underwear sales are done online on specialized sites and even regular marketplaces such as Craigslist.
Why Selling Your Used Panties For Cash is a Great Side Hustle
Easy to start with no investment
Free to get started
In demand with unlimited earning potential
Can be a quick and easy way to make extra cash in addition to your regular job
How Much Money Can You Make Selling Used Underwear?
Making several hundred dollars a month is not a reach at all. Of course some people are making much more than that.
One of the sites I reviewed below mentioned that the average seller gets about 8 sales a month. As most panties sell for around $20-30 dollars a piece, you are looking at around $200 a month on the conservative side.
Obviously, you will need to factor in the cost of panties (buy cheap ones from Amazon or Target) and also any seller transaction fees you need to pay.
In most cases, your buyer will pay shipping costs.
Is It Only Panties Or Other Undergarments?
You can make money selling your panties, bras and even sell dirty socks online.
I have also seen listings for used masks, half eaten lollipops and other strange items.
I was actually amazed how much demand there is for socks that have been worn.
Here is an Etsy listing for used socks:
Is it Legal To Sell Used Underwear?
This is the big question that concerns anyone thinking of selling their used panties. Are you going to get in trouble?
The short answer is no.
It is not illegal to sell your used panties in the USA, UK, Canada or Australia however I recommend doing research into your own particular country and jurisdiction to be sure. (I am not a lawyer and cannot give legal advice).
A few things to consider when selling used underwear for cash
Disclosure
Selling used clothing in general is legal and an important part of that is disclosure.
That's to say, your buyer should be aware that they are buying used clothing and are not duped into thinking they are purchasing brand new items (obviously people buying used panties are actually looking for used clothing so this should not be an issue).
Adults Only
You must only sell used underwear to adults and could be subject to prosecution if you are found to be selling items to an underage person.
You need to be careful about this and also know that the onus is on you and not the Panty Selling Platforms to confirm that buyers are adults.
If you sell to someone underage even through an online platform, you will be liable.
Report Your Income
If you sell on somewhere like Etsy, you will be provided with a 1099 tax form (US tax payers) but even if you sell elsewhere, you will need to report your income come tax time.
Is is safe to sell my underwear online?
The nice thing about this side hustle is that it is completely anonymous. You don't need to show your face or meet anyone in person.
Obviously, you will need to ship your underwear to the buyer so you will need a return address.
To get around this, I strongly recommend not using your home address but instead renting a PO box from your local post office. You can buy the smallest one to save money as you won't be receiving mail it in anyway.
If you are in Canada, you can actually get a return address for free if you sign up for Canada Post's Flex delivery program.
Once you have the address issue sorted out, there really are no other safety concerns with selling your underwear online.
Where Can I Sell Used Underwear For Money?
There are a few places to sell your used underwear for cash.
You can look at websites that only deal with used underwear or you can look into marketplaces that allow these kinds of sales.
First, let me tell you the absolute best place to sell underwear online. I can guarantee to you it is not where you think.
The Best Place to Sell Used Underwear
Until recently, the best place to sell used underwear for cash was Etsy. I know, I was shocked too.
I have written a lot about How To Start An Etsy Store Successfully and it never occurred to me that there was a huge market for underwear on the site.
Socks, underwear and bras were really popular on Etsy and you can make pretty good money passively.
Here are the sales for one of my friends who sells her used panties on Etsy. (this is for just 7 pairs of panties).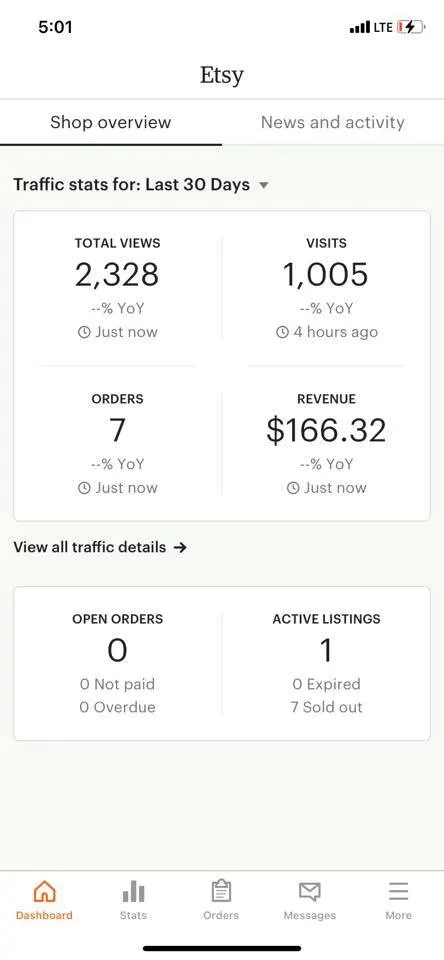 How To Sell Used Underwear On Etsy
Now here is the issue. Since summer 2022, Etsy has completely cut down on underwear sales on the platform. They are trying to really make sure that their reputation as a handmade market stays solid and of course, most used underwear is not handmade.
Although you could easily start your own Etsy store selling used underwear, you run the risk of your store being shut down pretty quickly if Etsy decide that you are operating outside of their policies.
For this reason, I no longer recommend Etsy as the number on place to sell your used underwear.
The Best Places To Sell Your Used Underwear For Cash
Below you will find the best place to sell your underwear for cash right now, plus of the other websites that specialize in used panties and bras.
My top pick:
Sofia Gray
Sofia Gray is one of the larger sites for selling used panties. They do not take any commission from the seller so you get to keep 100% of the profits you earn meaning you can sell as much or as little as you want on.
Sofia Gray will give you your own storefront to advertise your used underwear so you can control what to list and how much to list it for.
According to Sofia Gray, the average seller on their site sells 8 pairs of panties a month which is a nice side hustle income (especially if you are selling on other sites too).
This site gets pretty good reviews and is definitely one of the best used underwear sites out there right now.
How much should you sell your panties for?
On average, panties seem to be listed at around 19.99-22.99. You can try that price to start and then go higher once your store gains traction.
Tips For Listing Your Used Underwear
Include tags like panties, used panties on your listing
Buy the padded envelopes from the dollar store for shipping
Use an alias.
Never show your face. Take front view and a side view photos of you in the underwear (be it a bra, socks or panties)
If you don't want to get a PO Box, you can uses the buyers address as the return address or just omit it on your envelope
Pantydeal
Pantydeal touts itself as the World's #1 marketplace for used panties. With Pantydeal, you can sign up for free.
You will have your own online store and can set your own prices, and chat with buyers.
Pantydeal is completely anonymous although I will mention that lots of sellers show their faces in photos.
The nice thing about Pantydeal is that it is free to list your items plus sellers keep 100% of their profits (no listing or transaction fees).
You will get paid via PayPal or with gift cards for selling on Pantydeal (it's between you and the buyer to arrange payment).
Snifffr.com
Snifffr.com is an app where you can buy and sell used panties anonymously.
The site works pretty much the same with Pantydeal.com You have your own personal shop, chat privately to arrange the sale and then ship your underwear directly.
There are no transaction fees on Snifffr as the buyer pays to privately message with you.
Another neat features on Snifffr is that they have "fake check" to ensure that sellers are real.
Snifffr also answered a question I had been wondering "can men sell their underwear online for cash?".
Apparently, yes they can and Snifffr has a whole "Men's Underwear" section.
Naughty Connection
Naughty Connection is a newer site dedicated to the buying and selling of used panties.
I saw panties and lingerie for sale on the site for more than $45 a piece so it is a good option to try.
Unlike the first two sites, Naughty Connection takes a 15% cut of sales to cover their costs.
Your only option with Naughty Connection is check payment as of right now.
One special feature of Naughty Connection is that you also sell your photo sets and videos which makes it similar to OnlyFans.
Worn Desires
Worn Desires is run by a former panty seller. In addition to used underwear, I saw lots of different items for sale from lollipops, used masks and feet pics.
I did not find the Worn Desires website as easy to navigate as some of the other sites. Note that it is free to sign up as a seller and Worn Desires take 15% commission from your sales.
Sexy Delights
Sexy Delights is a new UK based site that offers all kinds of products. It is different from the sites I've already mentioned in that there is a membership fee for sellers.
From what I can tell, the site is still in beta but you can sign up now to get access as soon as it launches.
OnlyFans
You can start your own OnlyFans creator account and sell your used underwear to your fans and subscribers. This is a good option if you are interested in selling photos and interacting with fans.
This isn't the best option if you want to stay completely anonymous and not show your face at all.
How To Sell Used Underwear on Craigslist
If you are not as interested in shipping and selling your underwear online, you can look into Craigslist.
Many people make crazy money selling underwear on Craigslist but bear in mind that you do not have the safetynet of using a site.
You can choose to exchange the items in person (I do not recommend this) or you can ship the panties once you have received payment. The concern with this is the buyer performing a chargeback or a claim on PayPal.
How To Sell Used Underwear On eBay
While I am a huge fan of selling used items on eBay for a profit, I do not recommend selling your used panties this way.
First of all, it is against the eBay TOS, as outlined in their Used Clothing Policy;
"Used underwear and socks are not allowed, even if they are clean. Examples include boxer shorts, panties, briefs, diapers, and athletic supporters. Bras are not considered underwear. "
So if you want to sell used underwear on eBay, your only option is to sell your bras. Anything else will get you quickly banned from the site and potentially cause you issues with PayPal.
Tips For Selling Underwear Successfully
Stand Out From The Crowd
Do your research and look at what the successful sellers are doing and take this for inspiration.
Try and be as unique as possible – find your own niche if possible.
Take Great Photos
You don't have to show your face in the photos but the brighter and clearer the images, the more chance you have at getting sales.
Try different poses and positions to appeal to different sellers.
Provide Detailed Listings
Tell buyers as much as possible about the items you are selling.
Include details such as:
Material
When and how you wore the item (to exercise etc)
How long you wore it for
As much information about yourself as you want to give
The more information you can give them, the easier it will be to stand out from the crowd.
Buy in Bulk
To boost your profits, buy bulk pairs of underwear from Walmart or Target and sell them used for more money.
For example, if you can source your underwear for $1 a pair and then sell them for $30 a pair, your profit margin is insane!
Don't do anything you are not comfortable doing
One thing about selling your panties online is that you will get private messages and special requests from buyers. This can be a great way to make extra money but don't feel obliged to do anything you don't want to.
Look Beyond Underwear
In addition to selling your used socks, panties and bras, check out the websites I listed above for other ideas.
I noticed that used face masks are really popular as well as other used clothing items.
One of my friends got offered $200 for a bottle of her used bath water!!
If you really want to go further, you can look into How To Sell Nudes Online.
Final Thoughts On Selling Your Underwear For Money
As crazy as it sounds, you can sell used underwear for cash without selling your soul.
Socks, bras and other used clothing items sell like crazy and can make you a lot of money.
Try out a few different sites and selling platforms in order to increase your sales and make as much as possible.
More Ways To Make Money Selling Things
How To Make Money Flipping Items
Where To Sell Used Clothes For Cash
How To Create Digital Downloads To Sell