If you're looking for a creative and unique way to make some extra money, why not learn how to make money selling journals online?
Journals are a great way to express your thoughts and feelings, and they have become very popular in recent years in the digital space.
Plus, they're easy and fun to make!
In this post we will show you how to create journals that people will love, where to sell them and how to start a journal business even if you hate graphic design work.
If you're looking to make some extra cash by selling journals online, then this article is for you!
We'll show you how to create journals that are both unique and marketable, so that you can start earning a profit in no time. We'll walk you through:
How much money you can make selling journals
How to choose journals that sell
Step by step guide to creating journals to sell online
The bestselling journals to sell
A great hack to grow your journal inventory fast
The best places to sell journals online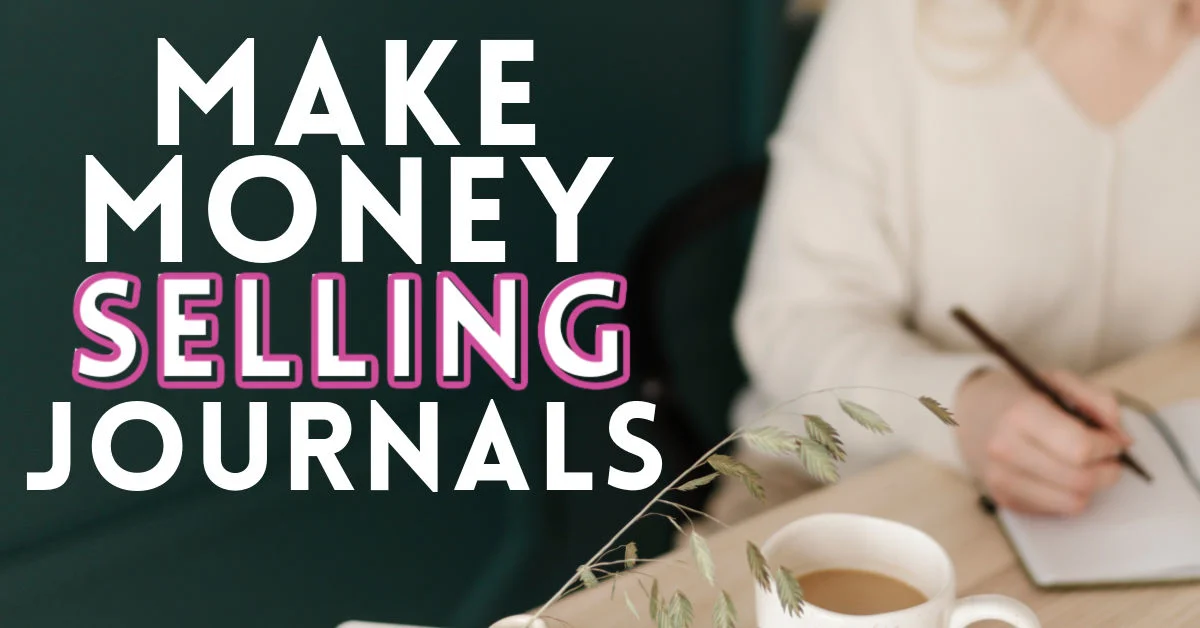 This post may contain affiliate links. Please read my Disclosure for more information
MORE FUN THINGS TO SELL ONLINE
How To Make Affirmation Cards To Sell
21 Profitable Craft Business Ideas
How To Make Journals To Sell Online
Making journals to sell online is a great way to make some extra money.
Low-content books such as journals and trackers are one of the most profitable printables to sell on Etsy and other sites.
You can start by finding a few good quality journals that you can personalize and then list them for sale on your website or blog. Or you can create your own journals to sell using our guide below.
Either way, you'll need to take good photos of your journals and write appealing descriptions to attract buyers.
Promote your journals through social media and other online channels to get the word out.
With a little effort, you can start making sales and earn some extra cash!
What Is A Journal?
A journal is a personal record of events, experiences, and reflections.
People have been keeping journals for centuries as a way to document their lives and thoughts.
Today, many people still keep journals as a form of self-care and self-expression.
Journals can be used for a variety of purposes, such as tracking your daily thoughts and moods, recording your dreams, or writing about your travel adventures.
Some people use journals as a creative outlet, while others use them as a way to process their feelings and work through challenges.
Why make journals to sell?
There are many reasons to make journals to sell. For one, journals are a popular item and can be sold year-round.
They also make great gifts for friends and family. Additionally, making journals is a fun and creative way to express yourself.
Another reason to make journals to sell is that it can be quite profitable. If you make high-quality journals, you can charge a premium price for them.
Even if you only sell a few journals per month, you can still make a decent profit.
The other create thing about making journals to sell is that the sky is the limit.
You can create journals for all different hobbies and lifestyles making it a business that you can continue to grow for years.
Passive income is the number one reason most people choose to sell in this profitable niche.
Not only can journals be made using a free tool like Canva, but if you sell digital, printable journals then you only need to make them once and then sell them again and again.
Can You Make Money Selling Journals?
If you are interested in starting an online printables business then selling journals is a great idea!
While you could sell hard copies of journals too, printable versions mean you only have to create the journal once and then you can turn around and sell it hundreds or thousands of time.
How Much Money Can You Make From Selling Journals?
There is no set amount of money you can make from selling journals.
You could make a few dollars from each journal sale, or you could make much more.
The amount of money you can make will depend on how many journals you sell and how much you charge for each journal.
If you sell journals for $5 each, and you sell 100 journals, you will make $500.
Now you'll need to deduct your materials and platforms fees from that income to calculate your profit.
What you charge for your journals will also affect your income from journal sales.
For example, if you sell journals for $10 each, and you sell 50 journals, you will make $500. So, the amount of money you can make depends on how many journals you sell and how much you charge for each journal.
Step By Step Guide To Making Journals To Sell Online
Making journals to sell online is a great way to make some extra money.
The steps below will show you how to make journals that are both professional looking and popular with buyers.
Choose A Journal Type
First, you'll need to decide what type of journal you want to make.
There are endless possibilities, so it's important to choose something that speaks to the interests and passions of your target audience.
One way to choose a niche is to start with making something that aligns with your own hobbies.
This will make creating the journal easy because you will already know a lot about the subject on hand.
Another way to find the best journals to make and sell is to find out which ones people buy the most.
How To Find Out Which Journals Sell Best?
The easiest and cheapest way to find out the best selling journals is to reverse engineer the top online marketplaces and sellers.
What journals sell the best on Etsy and Amazon? What journals are people searching for on Google?
There is a simple way to discover new potential products to create and discover any gaps in the market that you can exploit.
To do this kind of market research, just follow these simple steps:
Head to Etsy or Amazon and perform a search for "journals" or "printable journals"
Scroll through to see the search results with the highest number of good reviews or the "Star seller (Etsy) or Best seller (Amazon) badge.
Take a peek at the storefront and see what else they are selling and read some reviews.
What are they doing well? What could be improved?
Create a list of possible journal options for you to make or outsource. How can you improve on the existing listings? What unique spin can you put on them?
Remember that you cannot copy someone else's work but you can use competitor research to see what buyers are searching for.
The Best Selling Journals On Etsy
One of the issues of the market research technique above is that you have no idea how difficult it will be to compete with the journals already for sale.
If you want to dive deeper into the best selling journals, you can use a keyword research tool like Sale Samurai. You can get a free 3 day trial to check it out.
If you want to see how to use this tool to find the best selling journals on Etsy, read my Sale Samurai tutorial and watch my video here.
You can perform a search on Sale Samurai that will show you the most searched for printable journals on Etsy. The great thing about this tool is that it will also give you information on how to create your listing so it shows up on search (Etsy SEO) plus guidance on how to price your journals competitively.
Here are my results when I search for the keyword " journal":
Affirmation Journal
Anxiety Journal
Equestrian Journal
Abundance Journal
Beekeeper Journal
Exercise Journal
Dream Journal
Birdwatching Journal
Booktok Journal
Dieters Journal
Bullet Journals
Gratitude Journals
As you can see, there are so many different types of journal that people want to buy online.
Using both a keyword tool and your own research on Etsy should help you find some great ideas for your Etsy business.
The Best Selling Journals On Amazon
If you are interested in selling digital or printed journals on Amazon Kindle Publishing, you can do specific keyword research on that platform. You'll need to have an idea of a broad niche to do this properly.
To do this, head to Amazon and put in the type of journal you are considering creating and see what the results show.
For example, I put in "Runners Journal". You'll see many related terms in the drop down which are other words that Amazon shoppers use in their searches. You can use these keywords to find out the bestselling journals on Amazon.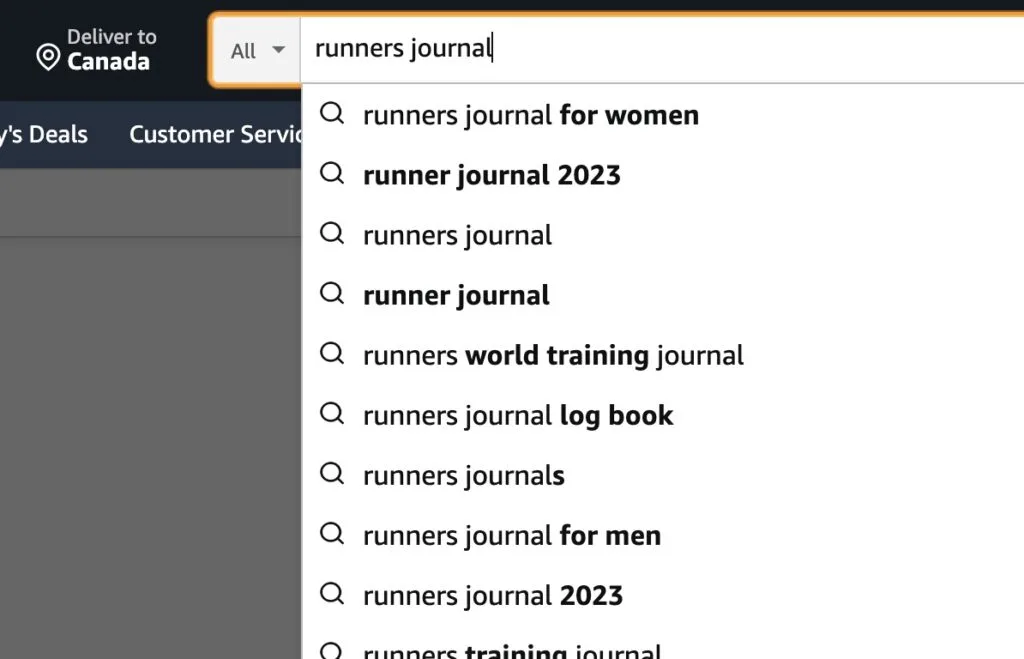 Click on each keyword and see which journals show up. Look at the ones with the most reviews that are relevant to your business idea.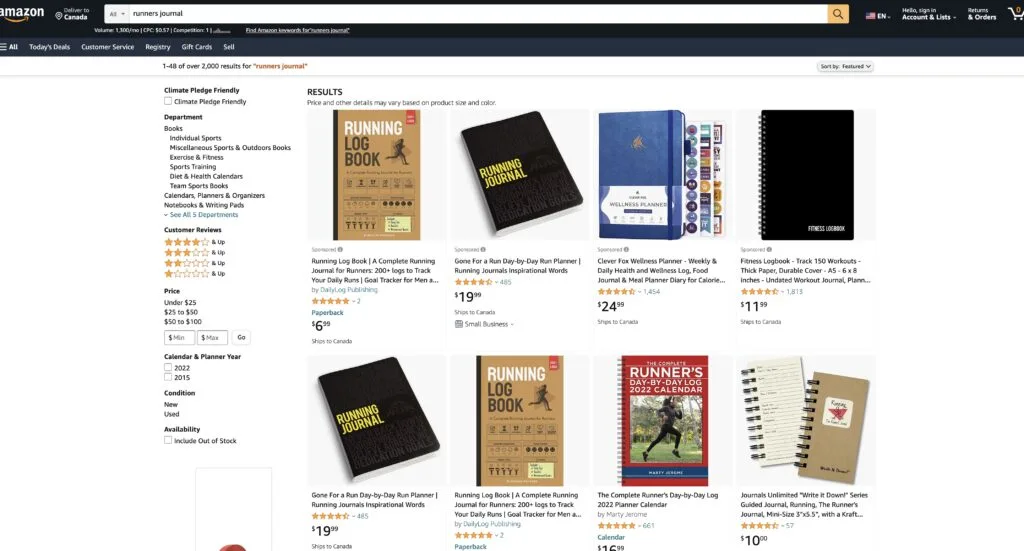 Check The Amazon Best Sellers Rank
The Best sellers rank will show you where that product lies in relation to similar products on Amazon. It is based on sales data and can be useful for seeing what products actually sell well.
The lower the number, the better, so make sure to check those out.
How To Create Your Journal To Sell
Now you have decided the kinds of journal to create, it is time to start designing. First, you'll need some sort of software, here are the best options:
Canva (free or $12.99 a month for the Pro version)
You don't need to be a graphic designer to make swoon-worthy affirmation cards using Canva.
Canva is perfect if you are not experienced with Photoshop or a more complicated design software.
First of all, it is free to use and includes lots of free graphics and fonts you can use.
There is a pro version that will allow you to do a few additional things such as:
Download images as a PNG with a transparent background
Create folders of your uploads (fonts and images)
Resize designs automatically so you can offer buyers various versions of your cards.
To create your journal on Canva, just sign up for a free account and then click "create a design". Pick the dimensions you want and then start creating your awesome journal!
Although Canva does offer ebook templates, you can't use those if you plan to sell your journals so you will have to make your cover design yourself.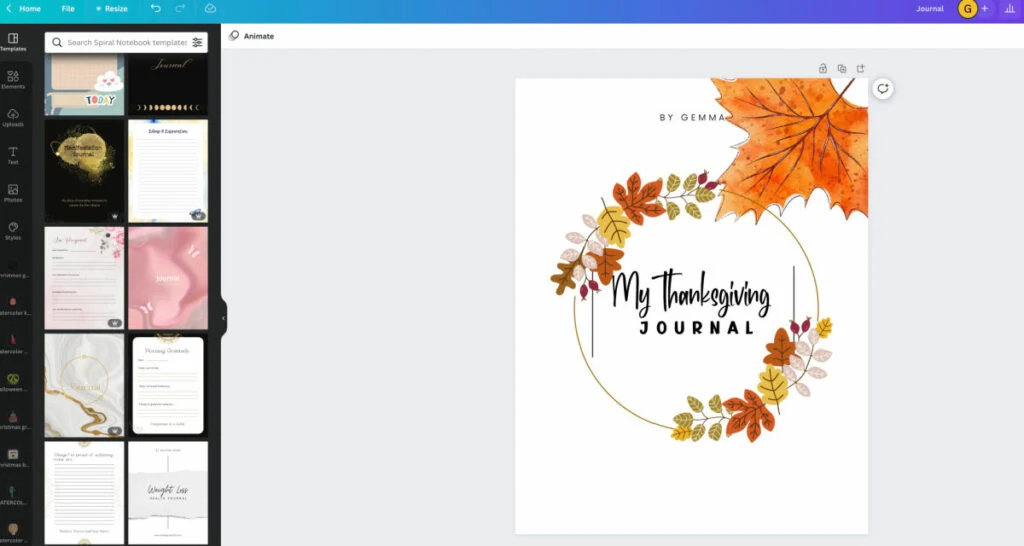 Affinity Designer – (free 90 day trial then $50 for Mac/PC and $20 for iPad)
Affinity Designer is a really good tool for making printables to sell on Etsy and it is much cheaper than Canva which is why a lot of people are switching to using it.
It is similar to Photoshop so if you are familiar with that software, you will find Affinity a breeze to learn. If you are new to Photoshop then, there is definitely a learning curve with Affinity.
Personally I use Canva more than Affinity because I find it much easier.
PhotoShop
If you are already a pro at graphic design and know how to use photoshop, you can use it to create your own journals. It is pretty pricey so unless you are experienced and already have a license, Canva is best for beginners.
Using Fonts and Graphics in Your Journals
You will probably want to use some pretty fonts or cute graphics on your journal cover and interior pages. You can't just grab anything from Google and start using it though. As you will be creating products to sell, you need to use graphics and fonts with a commercial license.
Where can I find graphics for my journals?
It's important to get proper copyright licenses for any of the designs you want to sell, especially if these items are digital based like graphics and fonts.
You'll need a license so that your customers don't infringing on another parties' rights!
Bear in mind even though sites such as Creative Market or Creative Fabrica offer commercial use packages, significant alternations are required in order to include the images in your Etsy products.
It can all get a bit confusing really but here are my top pick for finding high quality artwork and fonts:
Creative Fabrica
I love Creative Fabrica because it allows you to purchase a Print on Demand license for many graphics which means that you can use them as is on your site.
Often the print on demand license is just a few dollars more than the regular license so it is worth buying.
Creative Fabrica has fantastic bundles on sale all the time, they are definitely worth checking out.
Creative Market
Creative Market is one of the best places to find all kinds of beautiful graphics and fonts to use in your designs.
Make sure to choose the commercial license when purchasing anything.
The Hungry Jpeg
The Hungry Jpeg. offers lots of great value bundles of graphics, fonts and illustrations for great prices.
They also have a weekly freebie (sometimes a font, sometimes graphics) that includes a complete commercial license that you can use on products for sale – check out this weeks freebie here.
Buying Ready-Made Journals
Let's assume you really want to start an online business selling journals but you don't have time to start creating them right now. Or maybe you want to scale up your business fast with lots of listings.
Luckily there are a few ways you can do this:
Purchase Low Content PLR
Purchasing pre-made journals is a great way to get lots of content in your journal store quickly.
You want to try and customize them so they are unique to your shop but even doing that will be much quicker than creating a whole new journal.
I sell quite a few journals on Etsy and I often use PLR content to get me started then I add new pages and customize everything.
Here are some places to look for great journals you can sell online:
If you want all different kinds of journals that you can change a bit and then sell, PLR Beach is the place to go.
You can check out the options and grab a free floral journal with a commercial license under the freebie section.
Make sure to use promo code "AFFILIATE25" to get 25% off everything in the store.
While you might not find full PLR journals on Creative Fabrica, you can find lots of journal interiors, especially if you want to sell journals on Amazon.
Look for KDP interiors, adult coloring books and even free interiors on the site.
Have Journals Custom Made For You
Check out Fiverr or Upwork to have someone custom make a journal to your specifications. There are lots of graphic designers on Fiverr and the prices are normally great.
Make sure to check the reviews before choosing a seller.
Where To Sell Journals Online
There are a few things to keep in mind when choosing where selling journals online, such as what type of journal it is and where your target audience is.
Etsy is great for printable journals while Amazon is awesome for very niche topics.
How To Sell Journals On Etsy
It is easy and free to open your Etsy shop and you can be up and running in just a few minutes.
If you don't already have an Etsy account, you will need one before you can start your Etsy shop.
Go to Etsy and click on "Create Shop".
Use this special invitation from me to get 40 free listings to start you off.
Fill out the basic information about your shop and you will be almost ready to create your first listing!
You can add a logo and a shop banner for your store.
To walk you through the whole Etsy set-up, I recommend you download my free Starting An Etsy Shop Checklist PDF.
Listing Your Journals For Sale
Head to your Etsy shop and click on "listings". You can now start to add your journals
I recommend adding at least 10 listings to your shop in the beginning so that you have some options for your customers.
It's well known on Etsy that having more items to sell means getting seen more in searches which in turn results in more sales.
Each listing has a few different parts that you need to focus on:
Title
Photos
Category
Description
Tags
If you have Sale Samurai, you can actually create your listings on there and they will give you advice on the right keywords you should be using.
Selling on Etsy is more than "make an item and they will buy." You will not get seen if you don't take the time to learn Search Engine Optimization so that your listings are seen.
Your Etsy Title
Make sure your title uses every available character to fully describe your journal as much as possible.
Don't waste any space in your title, make sure to use as many characters as you have.
Take Great Photos
Photos are really important, whether you are selling on Etsy or another online store. After all, people want to know what exactly they are buying.
You can add up to 10 photos per listing and I recommend adding at least 5 if possible.
Consider including the following photos of each wreath:
Close up of the details
Printed out version to show the size
Write A Great Etsy Description and Add Tags
Your description needs to include as much information about your journals as possible
Buyers will want to know what type of materials were used, how many pages are in the journal, and any other special features. Most sellers list out every single category and section that their journal includes.
If you want some tips on writing great description, you can download my free Etsy SEO Checklist.
You can use up to 13 tags for your listing, the more you use, the more chance of someone finding your shop in search.
How Much Are Etsy Fees?
Etsy charges two different fees for each listing:
Listing Fees
You will be charged a listing fee of $0.20 USD for each item that you list for sale on Etsy.com or Etsy's mobile apps.
(Don't forget to take advantage of the 40 free listings when you open your shop to save money).
Transaction Fees
Every time you make a sale through Etsy, you will be charged a transaction fee of 6.5% of the price you display for each listing plus the amount you charge for delivery.
Amazon KDP
Selling on Amazon Kindle Direct Publishing platform is a great option for all low content printables such as journals and planners. If you ant to start your own journal business, it is probably the best place to start.
However, where Amazon really shines is if you want to sell hard copy paper journals. Why? Well, Amazon prints and ships your printables to the customer! They do all the work for you which makes it a no brainer option for selling paper products.
The other great thing about selling on Amazon is that they will promote your products for you. Amazon is the biggest of all the online retailers so you will have millions of potential customers just by having your journal listed.
Amazon makes it really easy to design and list digital downloads on the platform. Be aware that they will add a barcode to the back cover of your book so make sure to leave most of it blank.
To learn step by step how to list your journal on Amazon, head to my complete guide here.
Creative Fabrica is a great site for finding journaling inspiration and supplies.
Buyers can search by theme, color, or style to find the perfect journal for their needs. It is really easy to open a store on Creative Fabrica (just head to "Open Store") on the top right hand side.
You'll get up to 75% of all your sales.
If you want to go it alone, a Shopify store is a great option. Although this isn't a free option, you will have complete control of your journals and retain all profits.
With Shopify, you'll need to promote your products yourself using social media such as a Facebook page and Instagram.
Your Own Website
Another option you have is to start your own website to sell your journals. The truth is, this is a bit harder than selling journals online through Etsy or Amazon because you'll need to use Google or Pinterest to drive the traffic to your site.
On the upside, you'll have full control over everything and be able to grow your business without paying transaction fees.
Read my step by step guide to starting your own website here.
How To Make Money Selling Journals: FAQS
Many people are interested in writing low content books, also called journals, and selling them online. But are they actually profitable?
The answer is yes and no. It really depends on how you go about it. If you just throw together a few pages and expect to sell them for a high price, you're probably not going to make much money.
But if you take the time to create a well-designed journal with quality content, then you can definitely make some good money.
Here are a few tips for making your journals more profitable:
1) Offer something unique. There are millions of journals out there, so you need to offer something that makes yours stand out from the crowd. This could be a special design, interesting topics, or anything else that will make people want to buy your journal instead of someone else's.
2) Make sure your journal is good quality and free of errors
3) Provide good customer service to your buyers and respond to all inquiries quickly.
What Size Should I Make My Journals To Sell On Etsy?
Most journal sellers offer their customers a few different sizes of journal. You can offer the same journal in letter size, A4 and also 8 x 10 inches. This will enable your buyers to print off the journal no matter where they live in the world.
What Size Do Journals Need To Be On Amazon?
You can add ebooks and journals to Amazon but you'll need to make sure to adhere to the criteria for book covers.
According to Amazon:
Ideal dimensions for cover files are 2,560 pixels in height x 1,600 pixels in width. For best quality, particularly on high definition devices, your image should be 2500 pixels in height.
Minimum dimensions of 1000 pixels in height and 625 pixels in width. Cover image should not exceed 10,000 pixels in height and in width.
How To Make Money Selling Journals: Final Thoughts
Making and selling journals online is a great side hustle to make some extra money. You can start today and make money from home!
Here are some easy steps on how to get started:
Choose a journal type that targets a specific group of people. This will make the process of creating and selling your journals much more enjoyable.
Use high quality images and artwork in your journals. This will make them more visually appealing and therefore more likely to sell.
List your digital journals on different platforms to maxmize sales.
Price your journals competitively. This will help you to attract buyers and make a profit on each sale.
Promote your journals online through social media accounts, a blog post, and even YouTube videos.