Do you want to know how to make affirmation cards to sell? This can be a fun and easy way to make some extra money, while also spreading positivity!
Making your own affirmation cards is a great way to put your own personal touch on them, and you can be sure that each card you sell is made with love.
Whether you choose to make inspirational cards or Oracle cards for Tarot readings, there are lots of options available.
If you're looking to add a little extra income, or even make a living, creating and selling affirmation cards is a great way to do it.
You can put your own spin on things and create a product that is uniquely you.
Plus, who doesn't love a few encouraging words now and again?
Making your own cards will fill your days with positivity and good vibes.
In this guide to making your own affirmation cards to sell, we will show you the following:
The different types of affirmation cards to sell
The supplies you need to make affirmation cards
How to choose the best cards to make and sell
The best places to sell your cards and how to market them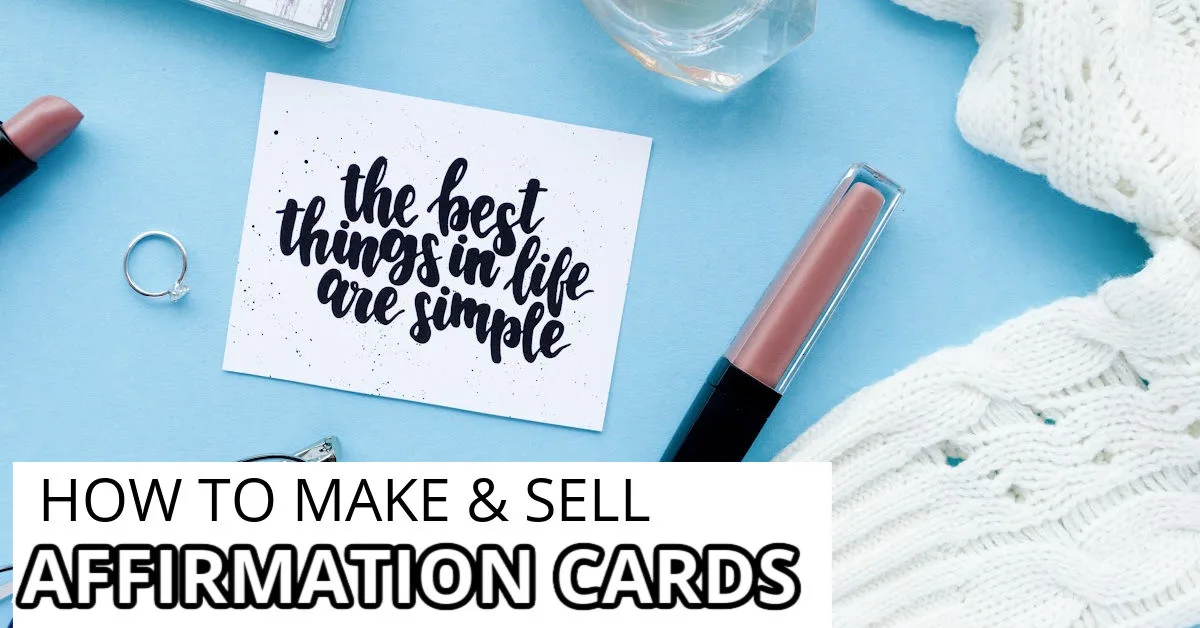 This post contains affiliate links. Please read my Disclosure for more information
MORE FUN THINGS TO MAKE AND SELL
How To Make Money Selling Stickers On Etsy
What Are Affirmation Cards?
Let's start at the beginning, what exactly are affirmation cards?
Affirmation cards are positive statements that can be used to help manifest goals and desires.
The cards usually contain an inspirational message or affirmation on one side, and a blank space on the other side for the user to write their own personal affirmation.
Unlike starting a greeting card business, selling affirmation cards is a year round venture.
People buy these card for all kinds of events and life moments.
People like to use these cards to keep them feeling positive during the day.
They make stick them in their wallet, on the bathroom mirror or by their bed. They also make great gifts.
Bear in mind that you can sell affirmation cards for different stages and life events.
After all, everyone from a new mom to someone with a broken leg can do with a little pick me up from time to time!
If you're looking to sell your affirmation cards, there are a few things you'll need to do in order to get started.
Types Of Affirmation Card To Sell
There are two kinds of cards that you can make and sell – digital or hard copies.
The Advantages of Making And Selling Digital Cards
Digital affirmation cards are the easiest to start with because they don't require any printing or shipping on your end.
With digital cards, you will design the card and sell your customer a PDF or Jpeg version of the card to print off and cut themselves.
This type of card sells great on Etsy.
As with all Etsy printables, the biggest advantage of selling PDF affirmation cards is that you can sell the same design over and over again but only do the work once.
The Benefits To Selling Paper Affirmation Cards
If you are prepared to go the extra steps of printing the cards out yourself and then shipping them to your customers, you can make more money in the long run. In fact, making affirmation cards to sell is one of the best cardstock crafts to sell.
Printed affirmation cards fetch a higher price on sites like Etsy because they save the customer a lot of work.
You can also sell them at places like Farmer's markets and in stores so you may be able to grow your sales more quickly.
The downside of course is that you will need to spend more on materials such as good printer, card stock and shipping supplies.
Materials Needed To Make Affirmation Cards To Sell
Regardless of whether you want to make digital or printed cards, the design process will be the same and you will need the following:
Exactly what you need will depend on the kinds of cards you want to make but in most cases, you will need:
Design software (free or paid)
Fonts and graphics for your cards
A printer for testing out your designs
What software and tools do you use to create affirmation cards?
Many people including myself use Canva for software to create affirmation cards but there are lots of other software programs to use, some of which are free.
Depending on the kinds of printable you decide to make, you might want more than one kind of software.
Here are my top choices:
Canva (free or $12.99 a month for the Pro version)
You don't need to be a graphic designer to make swoon-worthy affirmation cards using Canva.
Canva is perfect if you are not experienced with Photoshop or a more complicated design software.
First of all, it is free to use and includes lots of free graphics and fonts you can use.
There is a pro version that will allow you to do a few additional things such as:
Download images as a PNG with a transparent background
Create folders of your uploads (fonts and images)
Resize designs automatically so you can offer buyers various versions of your cards.
Affinity Designer – (free 90 day trial then $50 for Mac/PC and $20 for iPad)
Affinity Designer is a really good tool for making printables to sell on Etsy and it is much cheaper than Canva which is why a lot of people are switching to using it.
It is similar to Photoshop so if you are familiar with that software, you will find Affinity a breeze to learn. If you are new to Photoshop then, there is definitely a learning curve with Affinity.
Personally I use Canva more than Affinity because I find it much easier.
Graphics and Fonts For Your Affirmation Cards Business
Where can I find graphics for my cards?
It's important to get proper copyright licenses for any of the designs you want to sell, especially if these items are digital based like graphics and fonts.
You'll need a license so that your customers don't infringing on another parties' rights!
Bear in mind even though sites such as Creative Market or Creative Fabrica offer commercial use packages, significant alternations are required in order to include the images in your Etsy products.
It can all get a bit confusing really but here are my top pick for finding high quality artwork and fonts:
Creative Fabrica
I love Creative Fabrica because it allows you to purchase a Print on Demand license for many graphics which means that you can use them as is on your site.
Often the print on demand license is just a few dollars more than the regular license so it is worth buying.
Creative Fabrica has fantastic bundles on sale all the time, they are definitely worth checking out plus they have lots of free items every week too!
Creative Market
One of my favorite sites to find unique graphics and fonts is Creative Market.
They also have tons of great social media templates and logos that you can buy to brand your new business.
The Hungry Jpeg
The Hungry Jpeg. offers lots of great value bundles of graphics, fonts and illustrations for great prices.
They also have a weekly freebie (sometimes a font, sometimes graphics) that includes a complete commercial license that you can use on products for sale – check out this weeks freebie here.
Additional Materials Needed For Printed Cards
If you want to sell cards that you have printed out, then you will need:
A good quality printer (in most cases you will need to find a professional printing store in your area or online).
Card stock
Shipping supplies
Shipping Your Cards To Customers
Shipping your cards shouldn't be too expensive or difficult as long as you make sure they are not bent in the mail.
You will probably want to use a letter sized envelope and use a piece of card to keep the letter sturdy.
The last thing you'll want to do is add in your business card or pamphlet. A nice handwritten note to your customer is always a great touch. Include a discount code for a future purchase to encourage more sales.
You can get branded items made on Etsy or a site like Vistaprint.
How To Make Affirmation Cards To Sell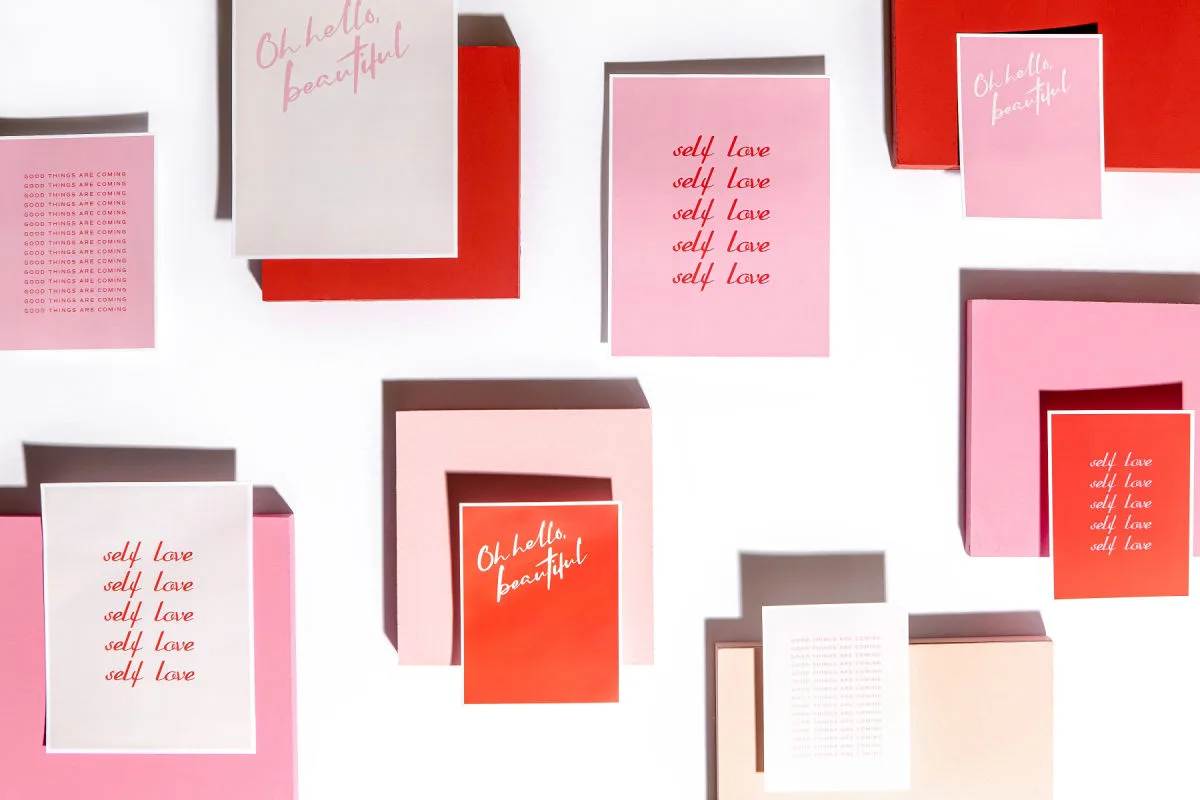 Making affirmation cards is a great way to sell positive messages and make some extra money. Here's how to get started:
1. Choose your message. What do you want to say with your cards? Keep it positive and uplifting.
2. Find or create artwork that fits with your message. This could be photos, illustrations, or even just simple text designs.
3. Print your cards on cardstock or another thick paper so they're durable. You can also get creative with finishes like glossy or matte lamination.
4. Cut out each card and package them up for sale! You can sell them online, at craft fairs, or even in stores.
To make your cards on Canva, here are the steps to take:
Create your Canva account and then click on "Create A Design". Choose the dimensions for your card and get started.

Pick out graphics, a background and write your text. Change the font as you wish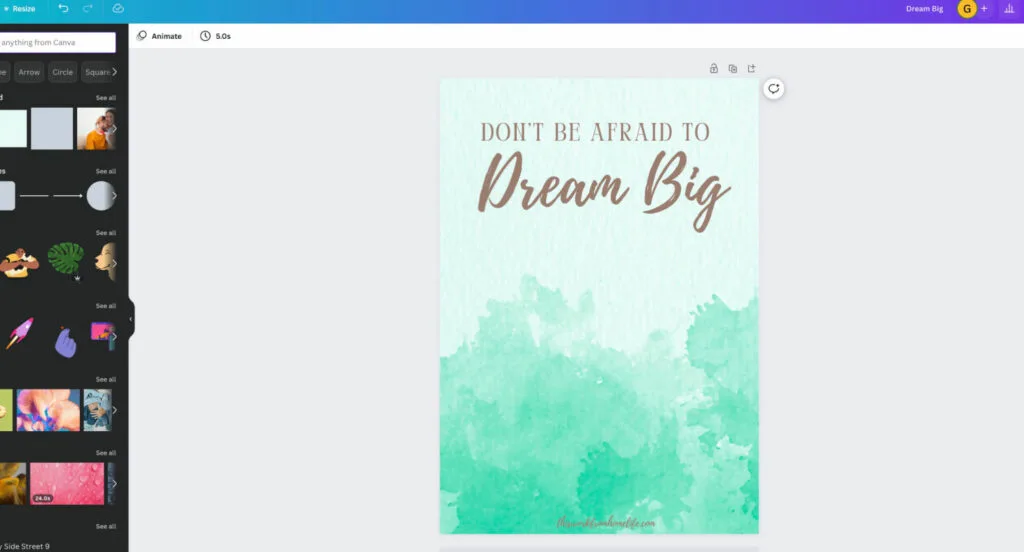 Download your design and print
What To Include On Your Cards
When you are creating affirmation cards to sell, it is important to include several key elements to make sure your cards are effective.
First, choose positive affirmations that are short, sweet, and to the point. Keep the language simple and easy to understand so that people of all ages and backgrounds can benefit from them.
It is also important to include beautiful imagery on your cards- choose pictures or illustrations that inspire feelings of hope, happiness, and positivity.
Finally, be sure to add a personal touch by including a handwritten note or signature on each card. By following these tips, you can create affirmation cards that will help people feel good and make a lasting impact!
The Best Affirmation Cards To Sell
There is no point in making affirmation cards that no one wants to buy. That's why market research is really important.
Here is how to do this research yourself:
Check out Etsy
First of all, spend some time on Etsy and search for different affirmation cards
If you would like to sell your cards on Etsy, I would suggest looking critically at the other shops who will be your competition.
Look at the listings on the top of the search results (below the sponsored ads) and take some time to look at the shops that have the most reviews.
What kinds of affirmation cards are they selling?
What are the most common price points?
How many products do they have in their shop?
Use An Etsy Keyword Tool
You can use an Etsy keyword tool that will give you all kinds of data about the things Etsy buyers are looking for when they search for affirmation cards.
There are quite a few keyword tools out there, my personal favorite is Sale Samurai. You can get a free 3 day trial to check it out.
If you want to see how to use this tool to find the best selling cards, read my Sale Samurai tutorial and watch my video here.
You can perform a search on Sale Samurai that will show you the most searched for items on Etsy plus information such as the average price point and the keywords that you should be using in your Etsy listings.
Using both a keyword tool and your own research on Etsy should help you find some great ideas for your Etsy business.
The Best Selling Affirmation Cards On Etsy
Affirmation cards can be made for teachers, yoga instructors, pet owners or dentists. The World really is your oyster when it comes to choosing what to sell.
Here are some of the most popular according to Sale Samurai:
Affirmation cards for kids
Affirmation cards for men
365 Affirmation cards
IVF affirmation cards
Hypnobirthing affirmations
New mom affirmation cards
Self-love affirmation cards
Homebirth affirmation
Grief affirmation cards
As you can see, there are all kinds of affirmation cards to sell online. You can open an Etsy shop selling many different types or focus on just one kind.
Where To Sell Affirmation Cards
Now you have decided what cards to sell, it's time to work out where to actually sell them. Here are some places you can try:
Etsy
Craft Fairs
Local stores
Instagram
Facebook
Your Own Website
Amazon
How To Open Your Etsy Shop Selling Affirmation Cards
It is easy and free to open your Etsy shop and you can be up and running in just a few minutes.
If you don't already have an Etsy account, you will need one before you can start your Etsy shop.
Go to Etsy and click on "Create Shop".
Use this special invitation from me to get 40 free listings to start you off.
Fill out the basic information about your shop and you will be almost ready to create your first listing!
You can add a logo and a shop banner for your store.
To walk you through the whole Etsy set-up, I recommend you download my free Starting An Etsy Shop Checklist PDF.
Listing Your Cards For Sale
Head to your Etsy shop and click on "listings". You can now start to add your cards
I recommend adding at least 10 listings to your shop in the beginning so that you have some options for your customers.
It's well known on Etsy that having more items to sell means getting seen more in searches which in turn results in more sales.
Each listing has a few different parts that you need to focus on:
Title
Photos
Category
Description
Tags
If you have Sale Samurai, you can actually create your listings on there and they will give you advice for the keywords you should be using.
Selling on Etsy is more than "make an item and they will buy." You will not get seen if you don't take the time to learn Search Engine Optimization so that your listings are seen.
Here are some tips for making sure you get your affirmation cards seen by buyers:
Your Etsy Title
Make sure your title uses every available character to fully describe your cards as much as possible.
Don't waste any space in your title, make sure to use as many characters as you have.
Tips For Taking Great Photos
Photos are really important, whether you are selling on Etsy or another online store. After all, people want to know what exactly they are buying.
You can add up to 10 photos per listing and I recommend adding at least 5 if possible.
Consider including the following photos of each card:
Close up of the details
Printed out version to show the size
How To Write An Awesome Etsy Description
Your description needs to include as much information about your cards as possible.
Include all the information about:
Type of material
Colors used
Who it is for
Size (in inches and cm)
If you want some tips on writing great description, you can download my free Etsy SEO Checklist.
How To Choose Etsy Tags For Your affirmation cards
You can use up to 13 tags for your listing, the more you use, the more chance of someone finding your shop in search.
If you have a hard time coming up with tags, you can use a program like Sale Samurai to give you ideas.
Just do a search for the keyword of your item and it will come up with the commonly used tags:
Tips For Promoting Your Etsy Shop
Once you have published your listing, it's time to start promoting.
You can't just wait for Etsy buyers to find your store, you need to spread the word both in person and online.
One of the best ways to promote your store is by moving outside of Etsy.
Use Social Media To Promote Your Etsy Wreath Shop
Etsy gives you easy ways to connect your Facebook and Twitter to your shop so you can keep your fans in the loop about new products.
Use any and all of the following social media outlets: Twitter, Facebook, Instagram, Pinterest, YouTube, Snapchat and TikTok.
Make a point of adding photos of all your listings to social media and try and build a following.
Pinterest is possible one of the best places to promote your Etsy shop. It is completely free to get started and be a huge factor in driving sales to your business.
You can add pins that direct to your Etsy shop or you can pin directly from Etsy to your Pinterest account.
To learn how to get started on Pinterest, you can read my in depth how to guide on how to use Pinterest for Etsy.
Other Places To Sell Affirmation Cards
Although Etsy is definitely one of the best places to sell both printed and digital affirmation cards, that doesn't mean it is the only place that works.
Here are some other places you can try:
Craft Fairs, bazaars and Farmer's Markets
Local stores
Instagram
Facebook
Your Own Website
Selling Affirmation Cards at Farmer's Markets and Craft Fairs
In person events such as craft fairs, holiday bazaars and Farmer's markets are great places to sell your printed cards. This won't work as well for digital products, of course.
Make sure to create an attractive display and have lots of inventory on hand for people to choose from.
You can also get some business cards printed off at Staples or VistaPrint before you attend a fair so that people can get your contact details to make orders at a later date.
How To Sell Affirmation Cards in Local Stores
If you are creating and selling oracle cards or tarot cards, then you can ask local stores that sell similar products if they will stock yours. In exchange for a commission on sales, you may be able to capture a local audience quickly.
Other places where affirmation cards are popular are yoga studios, birth centres and prenatal clinics.
Promoting and Selling Affirmation Cards On Instagram
Instagram is a great place to promote your cards and potentially get direct sales or direct people to your Etsy store.
Every time you have a new listing, make sure to upload images to Instagram and ask people to DM you if they are interested in buying it.
How To Sell Affirmation Cards On Facebook
Selling your cards locally on Facebook is a really good way to get started if you are new to making money with your hobby.
First of all, it is free to use and you won't have to worry about any shipping issues if you sell locally.
Facebook Marketplace
Facebook marketplace is the obvious place to start selling your items as you don't need to pay anything and can reach a local audience.
You can create as many listings as you like for free.
The only downside is arranging shipping or pick ups with your customers.
Your Facebook Page
You can create your own Facebook Page and promote your wreaths that way.
Ask for people to like your page and advertise sales and promotions.
Facebook Groups
In my opinion, Facebook groups are the best way to sell your wreaths
Join as many local groups as you can. Look for handmade groups, mom groups and neighbourhood groups.
You can add your listings to business promotions where allowed or respond to requests for unique decor and gift ideas.
Selling Affirmation Cards On Your Own Website
One of the best places to sell your cards, especially once you are established, is on your own website.
Your website will allow you to build your brand and also get sales without paying a lot of fees.
You can choose to either sell your wreaths directly on your website or use your site to advertise your products and direct customers to make a purchase on your Etsy shop.
Directing people to your Etsy shop is the easiest option because then you won't have to worry about finding a way to process payments. Etsy does have a an option for their shop owners who want a website.
You can also create your own website in just an afternoon and for under $5 using a host such as Bluehost.
Bluehost will give you a free domain name to make it easy to get started.
Make sure when choosing your domain name (that's the www.) that the same name is available on Facebook and Instagram as a username so that you can have a cohesive brand.
To build your own website quickly, you can follow my step by step guide.
How To Price Your Affirmation Cards To Sell
To determine the price you list your card, use your market research to see what other people are selling theirs for.
First, look up your competition and see what they charge. You want to price your cards competitively in order to get sales.
To decide on a price, consider the following:
The cost of your materials
Shipping and packaging prices
Your Etsy fees if applicable.
Your profit margin (ideally at least 25%)
You need to cover all your costs (materials, fees, shipping) and make a profit.
They key is to price your cards with those things in mind while staying competitive.
How Much Are Etsy Fees?
An important piece of the Etsy puzzle is the fees that you will be charged for listings and sales.
Etsy has increased their fees effective from 11th April 2022 so I am giving you the most up to date prices here:
Listing Fees
You will be charged a listing fee of $0.20 USD for each item that you list for sale on Etsy.com or Etsy's mobile apps.
(Don't forget to take advantage of the 40 free listings when you open your shop to save some cash).
Transaction Fees
Every time you make a sale through Etsy, you will be charged a transaction fee of 6.5% of the price you display for each listing plus the amount you charge for delivery.
Etsy will automatically deduct all fees owed from your payment account so you do not need to pay them separately.
How To Make Affirmation Cards To Sell: FAQS
Although the sizes of cards vary, the most popular size for an affirmation card is 3.5″ x 2.5″. This will allow you to put more than one card on a piece of card stock and save money on shipping.
Most people who sell affirmation cards sell them in packs or decks. 20 to 40 cards is the ideal size for an affirmation deck although there are some that have a new card for each day of the year, called 365 affirmation decks.
What is the purpose of affirmation cards?
Affirmation cards are used to inspire positivity and strength. Just like saying a positive mantra every morning, an affirmation card can help you to boost self-esteem and positive thinking.
4 Tips To Maximize Your Affirmation Card Sales
When you make affirmation cards, it is important to also think about how you are going to market and sell them.
1. Decide who your target audience is. This will help you determine where to sell your cards and how to market them.
2. Choose the right product. There is no point in creating affirmation cards that no one buys.
3. Make sure your cards are high quality. People are more likely to buy cards that are well-made and look professional.
4. Take advantage of social media. Use platforms like Instagram and Facebook to show off your cards and reach potential customers.