If you're looking to make some extra cash by selling slime, Etsy is a great platform to use.
Slime is a popular item among kids and teens, so there's a big market for it.
The other great thing about learning how to sell slime on Etsy is that you don't need any special skills to start a slime-making business from home!
It is a fun craft that even kids can get involved with.
In this article, we'll give you some tips on how to sell slime on Etsy successfully.
We will talk you through the following:
What is slime and how to make it
The best-selling slime on Etsy
The best way to list and market your slime in order to sell successfully on Etsy
Other places to sell slime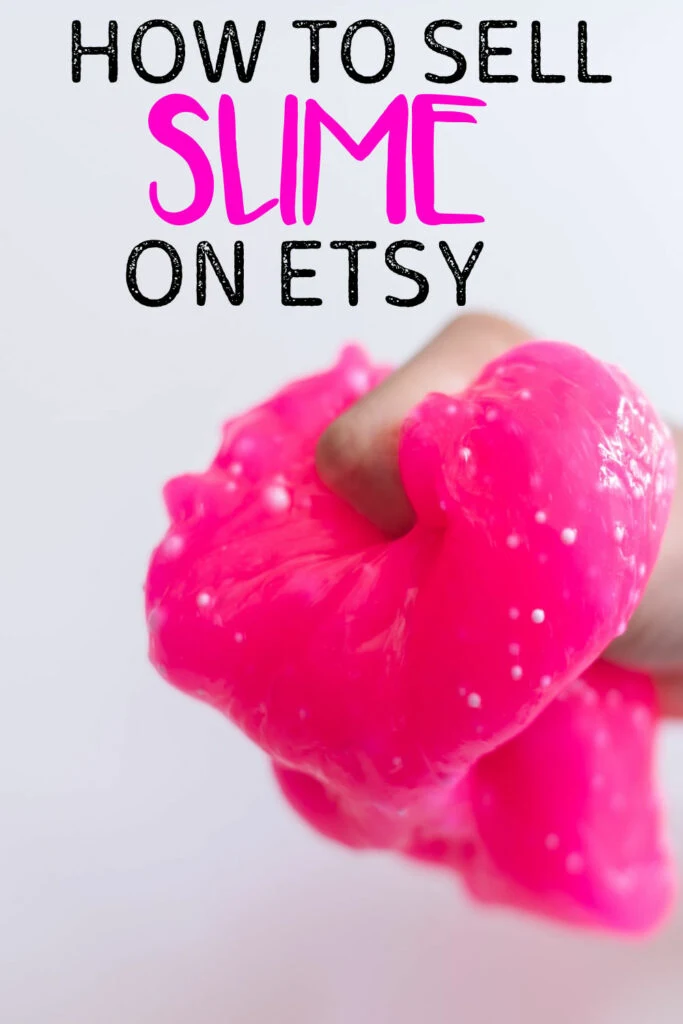 This post may contain affiliate links. Please read my affiliate disclosure for more information
How To Sell Slime On Etsy – The Ultimate Guide
What Is Slime And Why Sell It?
Slime is a type of toy that has been around for years but it has recently experienced a resurgence in popularity.
In fact the slime market is ever growing and now is a great time to start selling your own slime creations.
If you have kids, you are probably familiar with all the fidget toys that are popular nowadays, slime is one that most kids like because it comes in different colors, scents and textures.
Homemade slime can be made from a variety of materials, including saline, glue and other materials and there are all different recipes online.
So why sell slime? For one, it's a fun way to make money.
You can make slime in any color or flavor you want, and there's always someone who's looking for something new.
Plus, slime is relatively easy to make and doesn't require any special equipment.
If you're looking for a fun side hustle that can potentially make you some good money, selling slime is a great option!
If you are interested in starting your own slime business, you will need to perfect your recipe and create all different kinds to keep your customers interested.
What kind of slime to sell
Now that you know how to make slime, it's time to figure out how to start your own slime shop.
There are many different types of slime, so it's important to choose the right one for your business.
Here are a few things to consider when choosing the type of slime to sell:
– What is the purpose of the slime?
Is it for kids to play with or do you want to sell it to schools or playgroups?
– What is the market for slime?
Are you selling to kids, teachers, or both?
– What is the price point you're aiming for? Slime in Etsy stores can range in price from a few dollars to over $50 but the average is around $15-20.
– What ingredients will you use? Some slimes use simple ingredients like glue and food coloring, while others use more complex ingredients like glitter and beads.
– How much time are you willing to spend making slime?
Start Your Own Slime Making Business
If you have never made slime before and you are wondering "how do I start my slime business?", we've got you covered.
First, you will need to learn how to make some different recipes before you get started.
You'll also need to gather supplies and consider exactly how you will sell your slime on Etsy (more on that later).
How To Make Slime
If you are new to the slime making business, never fear!
There are so many easy recipes online. You can also learn from YouTube videos or books.
Here are some of my favorite books about making slime:
Easy Slime Recipes To Try
For a successful Etsy store, you will need to sell high-quality slimes in all different colors and unique flavors.
There are tons of slime videos and a quick Google search will show you tons of tutorials online, here are some recipes to get you started:
Basic Slime: 3 Ingredient Slime Recipe
What You Need To Make Slime
Handmade slime is a fun way to turn a hobby into a side hustle.
Once you develop some recipes that people love, you can sell them at craft fairs, at school bazaars and on Facebook as well as Etsy.
But first, you need the right ingredients and a fantastic repertoire of recipes.
The first step is to buy a basic list of supplies, some of which you might already have at home.
Next, you'll need to purchase the ingredients for making your slime.
You can buy slime kits on Amazon or buy the ingredients individually.
After purchasing your ingredients, it's time to mix them up and get started.
Depending on the kind of slime you decide to make, the ingredients you need will be different.
You may also want to buy fragrances, colorants and polymer clay add-ins to make your slime unique.
How Much Does It Cost To Start A Slime Business?
Start up costs for your slime making business are very low.
Many of the items you need, you can find at home already.
The dollar store is also a great place to get started.
You can probably start your business with around $100-200 depending on how much inventory you want to have on hand.
Basic Supplies For Making Slime
Although you will need different things depending on the type of slime you make, the basic slime supplies are the same and are mainly household ingredients.
White school glue (or clear glue for clear slimes) – most people use Elmer's
Contact saline solution (contact lens solution)
Baking soda
Food coloring
Optional:
Glitter
Scented oils
Polymer clay add-ins
Sequins
Laundry detergent (used in some recipes)
You'll also want the following tools:
A large Bowl ( I always use a metal bowl)
Spoons and other kitchen essentials.
Fragrances
Essential oils are the most popular kind of fragrance because they are natural and chemical free.
You can buy sets of essential oils to use as fragrances in your slime.
Experiment with different combinations of oils to make blends that smell amazing.
Popular scents include:
Lavender
Eucalyptus
Peppermint
Sweet Orange Oil
Colorants
Colorants can make your slime extra unique. You can also use food coloring if you wish.
How To Find The Best Slime To Sell On Etsy
Even if you make the best slime in the world, no one will buy it if it isn't in demand.
If you really want success with your Etsy shop then it is important to do some market research to see what kinds of slime is already selling on the site.
The easiest and cheapest way to do this is to spend some time on Etsy as though you were a customer looking to buy slime.
Head to Etsy and do a search for slime.
Scroll through to see the search results with the highest number of good reviews or the "Star seller (Etsy) badge.
Check out the stores that you find and see what they are selling. Read some reviews to see what people are saying about their slime.
This is a great way to find gaps in the market for your products.
Remember that you cannot copy someone else's work but you can use competitor research to see what buyers are searching for.
The Best Selling Slime On Etsy
Although heading to Etsy and spending some time looking at existing listings is a great way to get started, there is an even easier way to see what will sell.
Using a dedicated Etsy keyword research tool like Sale Samurai will help you find new products to sell and improve your existing listings.
You can get a free 3 day trial to start you off.
If you want to see how to use this tool to find the best selling slime on Etsy, read my Sale Samurai tutorial and watch my video here.
The great thing about this tool is that it will also give you information on how to create your listing so it shows up on search (Etsy SEO).
You can even create your listing right on Sale Samurai so that they have the best chance of getting seen on search.
Here are my results when I search for the keyword " slime" on Sale Samurai:
As you can see, there are so many different types of slime that people want to buy online.
Using both a keyword tool and your own research on Etsy should help you find some great ideas for your Etsy business.
Crunchy Slime
Butter Slime
Fluffy Slime
Fizzy Slime
Cloud Slime
Clear Slime
Edible Slime
Bubbly Slime
You can also consider making and selling seasonal slimes for different occasions.
For example, here are some of the top slimes for holidays:
Christmas Slime
Spooky Slime
Valentines Slime
You get the idea!
How To Sell Slime On Etsy: Getting Started

In order to sell slime on Etsy, you need to set up an Etsy shop and take some great photos.
You also need to come up with the perfect name on the online marketplace (get some ideas for great Etsy shop names here)
It is easy and free to open your Etsy shop and you can be up and running in just a few minutes.
If you don't already have an Etsy account, you will need one before you can start your Etsy shop.
Go to Etsy and click on "Create Shop".
Use this special invitation from me to get 40 free listings to start you off.
Fill out the basic information about your shop and you will be almost ready to create your first listing!
You can add a logo and a shop banner for your store.
To walk you through the whole Etsy set-up, I recommend you download my free Starting An Etsy Shop Checklist PDF.
Creating an Etsy listing: title, tags, pictures
You've created the perfect slime recipe and you're ready to start selling.
But how do you create an Etsy listing that will attract buyers?
The title of your listing is important – it's one of the first things potential buyers will see.
Keep it descriptive and use all the available characters.
Make sure to include key words like "slime" and the type of slime it is or what season it is for.
Tags are also important for helping potential buyers find your listing. Again, use key words that describe your product.
Here are some popular tags for slime on Etsy:
Slime, Cloud Slime, ASMR slime, gifts for kids, slime gift, scented slime, cheap slime, slimes, DIY slimes, crunchy slime
Pictures are worth a thousand words, so make sure yours are clear and attractive.
Take multiple pictures of your slime from different angles, and consider using props to show it off in its best light.
Remember that your photos are what will sell your slime on Etsy so take extra time to make sure the lighting is right and your slime looks amazing!
Pricing Your Slime On Etsy
Pricing slime can be tricky- on one hand, you want to charge enough to cover the cost of materials and make a profit, but on the other hand, you don't want to price yourself out of the market.
Here are a few tips for pricing your slime:
1. Consider your audience- are you selling to other slime enthusiasts, or are you trying to appeal to a wider market?
2. Look at what other people are charging on Etsy- see what the going rate is for similar products and adjust your prices accordingly.
3. Don't forget about shipping- factor in the cost of shipping when setting your prices.
Many buyers on Etsy like items with free shipping so consider including it into your sale price.
4. Be flexible- consider offering discounts for bulk orders, or for customers who purchase multiple items from you.
Etsy makes it really easy to create coupons and discounts under the "marketing tab".
Shipping Your Slime
Shipping your slime can be a bit tricky, but with these tips, you'll be able to get it done without any problems.
First, you'll need to find the right packaging for your slime. You'll want to use something that's airtight and will protect your slime from being crushed during shipping.
You can find suitable packaging at most craft stores or online.
You also want something really attractive that photographs well and is good for gifting.
A clear plastic tub is the best solution and what most Etsy sellers use.
You will want to include a label or sticker on your slime packages so that they look professional.
You can order these from a site such as Vistaprint.
A great idea is to add in your business card or pamphlet with your package.
A nice handwritten note to your customer is always really cute too.
You can get branded items made on Etsy or a site like Vistaprint.
How To Ship Your Slime To Customers
When it comes to shipping slime, you want your products to look as good when they arrive as when you shipped them.
Using bubble mailers or a box with bubble wrap or packing peanuts around the box.
How To Promote Your Etsy Slime Shop
Once you have your online store set up, take some time to promote it.
Use social media, word of mouth, and online forums to get the word out about your new shop.
Make sure to include a link to your Etsy shop in your promotions.
If you make quality slime and market it well, you should start seeing some sales come in.
Keep promoting your shop and expanding your product line, and pretty soon you could be making a full-time income from selling slime on Etsy!
Here are some different ways to promote your Etsy shop:
Use Pinterest
Pinterest is one of the best places to promote your Etsy shop.
It is free to use and bring you a lot of new business!
This tutorial will show you How To Use Pinterest For Etsy
Use Etsy SEO
This is how you will get your slime to show up in the Etsy search bar when customers look for products to buy.
Etsy SEO involves using keywords in your title and description that people might use in their search queries.
You can use my handy Etsy SEO checklist to help you with this:
Another way to promote your Etsy shop is by creating Instagram and Facebook pages for your business.
Post photos of your new products and offer discount codes to readers.
Joining local Facebook groups to promote your Etsy shop during their business days is also a good idea.
Other Places To Sell Slime
Craft Fairs
Craft fairs are a great place to sell your slime, especially around the holidays.
You will need to pay for a booth or table at craft fairs but all of the profit you make will be yours to keep.
This can be a really great way to become known locally and is a really good way to network with other local sellers.
Make deals with a local store
Many boutiques welcome new merchandise that is handmade.
Local gift or toy shops may be interested in carrying handmade slime for their customers.
This idea may take some extra time to start up but it can be really profitable.
Try and build relationships with local store owners or businesses and ask if they will stock your premade slime and help promote a local artisan.
Local Businesses
As slime is for kids, contact local kid-friendly businesses to see if you can sell your slime on their property.
Locations like indoor playplaces, trampoline parks and moms groups may be willing to promote your products for free. You may also be able to get bulk orders this way for kids birthday parties and events.
Selling Slime On Etsy: Final Thoughts
As someone who has sold slime on Etsy for over a year, I've had my share of ups and downs. Here are my final thoughts on selling slime…
There are a few things to keep in mind if you're thinking of selling slime on Etsy.
First, shipping can be tricky – you have to make sure your slime is packaged well so it doesn't arrive damaged.
Second, you need to be proactive in marketing your slime – post lots of photos and videos, and interact with potential customers.
As with any successful business, good customer service, slick marketing materials and hard work are essential.
Finally, don't get discouraged if you don't make a lot of sales at first – it takes time to build up a following.
If you're willing to put in the work, selling slime on Etsy can be a fun and rewarding experience. Good Luck!