If you're looking for a way to make some extra money, or even start your own business, flipping pallets may be the perfect option for you.
It's a relatively simple process that can be done with very little investment.
And best of all, it can be quite profitable. Here's a step-by-step guide on how to get started in the pallet flipping business.
In recent years, pallet flipping has become a popular business venture for many entrepreneurs. If you're looking to start your own pallet flipping business, there are a few things you need to know.
In this article we will show you 3 ways to make money with pallets and take you step by step how you can start your own business flipping pallets for cash.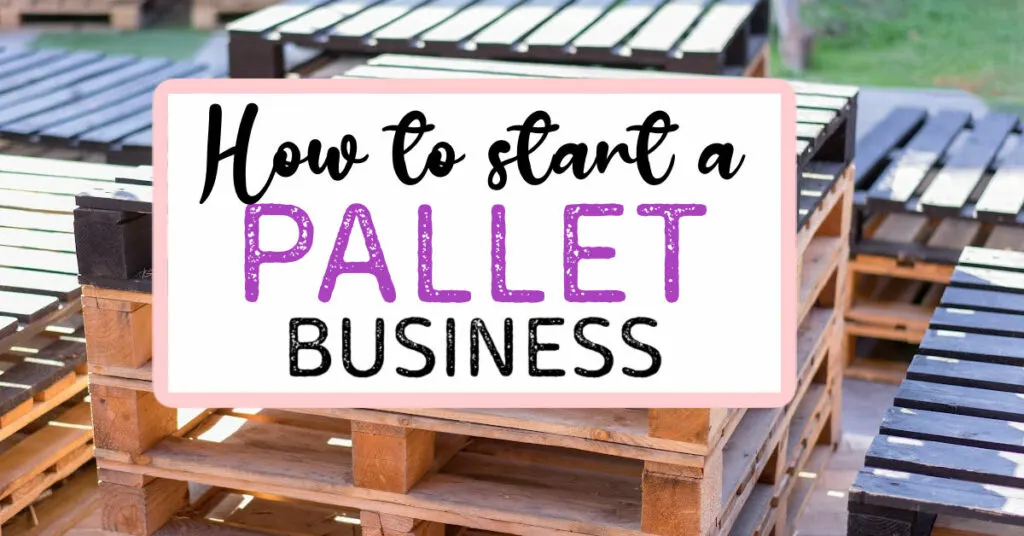 This post may contain affiliate links. Please read my Disclosure for more information
MORE FUN BUSINESS IDEAS
How To Start A Dog Bakery: Expert Interview
What is a Pallet?
A pallet is a flat transport structure that supports goods in a stable fashion while being lifted by a forklift, pallet jack, front loader, work saver, or other jacking device. A pallet is the structural foundation of a unit load which allows handling and storage efficiencies.
Goods or shipping containers are often placed on a pallet secured with strapping, stretch wrap or shrink wrap and shipped.
There are all different types of pallets although most are made of wood. There are also plastic pallets and custom pallets in different shapes and sizes.
3 Ways To Make Money With Pallets
There are essential 3 different types of pallet business that you can look into.
Selling Wood Pallets
Making Things Out of Old Pallets
Pallet Flipping
Below I will show you all these ways to start a pallet business but we will talk in depth about pallet flipping as this is the easiest way to get into the pallet industry as a side hustle.
Selling Wood Pallets
One of the most common pallet business ideas is to make and sell wooden pallets. If you are handy, this is a great low effort business model that has very low start-up costs.
To start a pallet manufacturing business, you will need to find a supplier of the raw materials so you can build pallets yourself. An easier way to get started is to buy an existing pallet business and take over their clients.
Pallets are in demand from all kinds of industries and the good news is that the need is only growing.
To make your pallet business profitable, you will need to make sure you source cheap lumbar or recycled pallets that you can turn great end products.
With the rise of e-commerce, businesses are increasingly relying on pallets to ship their products. This has created a demand for used pallets, which can be sourced cheaply from businesses that would otherwise throw them away.
Pallet flippers refurbish these pallets and sell them back to businesses at a markup.
A successful pallet business will also have a large factory or workspace and somewhere to store the pallets before shipping.
Making Things From Pallets
If you're looking for a creative way to make some extra money, starting a pallet business is a great option. With a little time and effort, you can turn unused pallets into unique and practical products that people will love. Here's how to get started:
Collect some unwanted pallets.
You can find free pallets at construction sites, lumberyards, or cheaply online. Once you have a few, start experimenting with different ways to repurpose them.
In order to start a pallet business, you will need to find a consistent supply of pallets.
There are a few ways to go about this.
You can contact local businesses that receive shipments on pallets and ask if you can take them off their hands. Many businesses are happy to get rid of them and will give them to you for free.
You can also check Craigslist or other online classifieds websites for people giving away pallets.
Another option is to visit local recycling centers and see if they have any pallets that you can take. Once you have a steady supply of pallets, you can start repairing and selling them.
Come up with a few product ideas
Some popular items made from pallets include furniture, planters, and wall art. Think about what kinds of things people in your area would be interested in buying. Here are some great pallet projects to make and sell.
Do market research and see what kinds of things people in your local market are looking for. Maybe benches made out of pallets are popular or maybe there is a unique pallet craft that you can develop yourself.
You can sell your projects on Etsy, at craft fairs or on sites like Facebook Marketplace.
Flipping Pallets For Profit
The third kind of business to start with pallets is a pallet flipping venture. This is essentially a recycling business where you can make good money by purchasing and reselling pallets.
What Is Pallet Flipping?
You probably know the TV show "Storage Wars". In the show, people buy full storage containers full of stuff and then sell the individual items for a big profit margin.
Pallet flipping is the exact same thing on a smaller scale. Just like flea market flipping, pallet flipping involves buying low and selling high(er)
Pallet flipping is the process of buying liquidation pallets full of different things to sell for a profit. It is a relatively simple business to start and can be run from home with little overhead.
The key to success in pallet flipping is to find good quality pallets and build a reputation for selling great stuff.
When you buy a pallet, you never really know what you are going to get. You will be able to see some things through the plastic wrap but in general, buying a pallet is like buying a mystery box – it can be quite fun!
What is a Liquidation Pallet?
A liquidation pallet is a type of pallet that contains products that are overstocked, returned, or otherwise liquidated by a retailer or manufacturer. These products are then sold to businesses or individuals at a fraction of the original retail price.
Pallet buyers can make a tidy profit from their original investment and buyers are happy because they get some bargains. It is a great way to be your own boss and make money with a wood pallet business.
Liquidation pallets can be a great way to start your own business. You can find these pallets at online auction sites, or through local retailers and manufacturers.
How To Start Your Pallet Flipping Business
To get started flipping pallets, you'll need to purchase a few pallets and then sort through the contents to find valuable items.
Of course, you'll need somewhere to store your pallets and their contents plus a flatbed truck or other vehicle for transporting your pallets.
Once you've amassed a collection of valuable items, you can then sell them either online or offline.
If you're selling offline, you can set up shop at local flea markets or garage sales. Below I have some good places to try flipping pallets.
How To Find Liquidation Pallets To Flip
Of course, the key to success with your wood pallet business is to find great liquidation pallets to flip!
It is important to inspect the condition of the pallet contents as much as possible before purchasing them, as some may be damaged and not suitable for flipping.
Once a good source for liquidation pallets has been found, it is simply a matter of buying them at a low price and reselling the goods at a higher price.
Liquidation Warehouses
This is by far the best place to find a good pallet to flip for a profit.
A liquidation warehouse is a middleman that sells products that are closeout items, overstocked items, or returned items from other retailers.
These warehouses typically sell their merchandise at a fraction of the original retail price. They typically have whole warehouses full of pallets for sale. You can buy as many as you want and then resell the contents.
Liquidation warehouses are found in many different industries, including the home improvement, furniture, and electronics industries.
Warehouses are a great way to start a pallet business so if you have one near you, then you have a great chance at making it in the pallet market.
By purchasing products from these types of retailers, you can get your hands on high-quality merchandise at a fraction of the cost which will make flipping pallets easy!
Then, you can resell these items for a profit.
To get started, all you need is some basic knowledge about the products you're interested in and a little bit of start-up capital.
How To Find A Liquidation Warehouse Near You
To find one the warehouses in your area, Google is your best friend. Search for "Liquidation Warehouse in (where ever you live) or "Liquidation Warehouses near me."
Most major cities will have a bunch. Here is what I got when I searched in Chicago:
Liquidation Sites
We've already established that If you're looking to start a pallet business, one of the first things you'll need to do is find a reliable source of pallets.
While you best option is a warehouse, another way to do this is to visit online liquidation sites. These are websites that sell off inventory from businesses that are going out of business or closing down.
While these aren't as good as warehouses, they are a good idea if you don't have any liquidation warehouses in your local area.
Liquidation sites can be a great source for pallets, as they often have a large selection and the prices are very reasonable.
Of course, the downfall is that you may need to arrange shipping for your pallets which can eat into your profits.
One of the biggest Liquidation sites is www.liquidation.com and they will ship your pallets anywhere in the USA for a price.
Once you've found a good source of pallets, you can start building your business by collecting and repairing them for resale.
Other Places To Find Pallets For Sale
While warehouses and liquidation sites are by far the best places to find pallets at fair prices, it never hurts to explore other options too.
Here are some other places you can try:
Facebook
It might crazy but there are Facebook groups just for buying and selling pallets full of stuff.
Check out The Liquidation group and make to search on Facebook for more local sellers near you.
You can also check out Facebook Marketplace but beware that there are a lot of scammers on there.
Craigslist, OfferUp and Kijiji
The classic marketplace sites are still alive and kicking and sometimes have some hidden treasures.
Newer sites such as OfferUp are also worth checking out.
Local manufacturers may be trying to get rid of their liquidation items and you might find yourself at the right place at the right time.
Where to sell your liquidation pallets
Selling liquidation pallets can be a very profitable business. But where should you sell the contents in order to make money?
Here are a few ideas:
Online Auction Sites (eBay and similar)
Online auction sites like eBay are a great option. You can reach a wide audience of potential buyers and get a good price for your gear if it is in demand.
eBay is one of our favorite recommended platforms for selling pallets (if not the best).
eBay is your best bet if you can't sell your items locally because it is such as well known site.
You can set your own prices and charge shipping which will help you make more money.
You will also have access to the worldwide eBay audience without promoting your products yourself.
Facebook Marketplace
Facebook Marketplace is a great platform for selling your pallet products especially if you live in a large metro area.
It is also the lease expensive way to sell items because there are no listing fees.
Follow these tips to get started:
1. Take good quality photos of your items. Make sure the lighting is good and the photos are clear.
2. Write an engaging description of your product. Be sure to include information about the size, material, and any other relevant details potential customers might want to know.
3. Set a fair price. Check other similar listing to stay competitive. Keep in mind shipping costs if you plan to sell to buyers outside of your local area.
4. Respond promptly to messages from interested buyers. Be professional and courteous in all of your interactions.
5. Once a sale is finalized, arrange for delivery or pick-up as soon as possible. If you are offering delivery, make sure to factor in the transportation cost – gas, wear and tear etc.
Mercari
Mercari is an online marketplace where people can buy and sell new and used items. You can sell just about anything on Mercari, from clothes to electronics to home goods so it is perfect for your pallet company side hustle.
The best part is that it's free to list items on Mercari.
To get started selling, create a account and then start listing your items for sale. Just as with other online marketplaces, be sure to take clear, well-lit photos of your items and write accurate descriptions.
Once your item sells, you'll need to ship it to the buyer or arrange pick up if they are local. Mercari makes it easy to print shipping labels right from their site.
Become An Amazon Reseller
Starting your own pallet business can be a great way to earn some extra income. And with Amazon, you can reach a wide audience of potential customers. Here's how to get started as an Amazon reseller.
Many people make a full-time living buying in bulk and then reselling their brand new items on Amazon.
Another word for this is "retail arbitrage". You can set yourself up with an Amazon reseller account for free and then harness the power of the world's biggest shopping site to get in front of your target market.
Learn more about selling on Amazon here.
Start A Pallet Business: Final Thoughts
While if you are looking for a source of passive income, pallets might not be the best thing for you, there is no doubt that you can make good money flipping pallets or making your own items out of scrap pallet wood.
Whether you decide to become a pallet recycler, you want to build new pallets from scratch or you want to buy and sell pallets full of liquidation items, there are so many options for you!
All you need is a dream and some hard work and of course – some of those wooden platforms known as pallets! Good Luck!