While the starving artist cliché might be common, it is certainly possible to make money from your artistic creations with a bit of savvy and effort.
Up and coming artists may have trouble making their name known and earning the big bucks but it is entirely possible to earn a decent living from your artwork if you know where to market it.
The online World makes is so much easier to make money from your craft without even having to talk to another person!
This post contains affiliate links. Please read my Disclosure for more information.
RELATED POSTS
10 Handmade Wood Projects That Sell
13 Places To Sell Your Stuff Online (For Cash!)
Tips For Making Money From Your Art
It doesn't matter whether your art is painting, sculpting or woodwork, you can make money as an artist online if you look in the right places.
Be mindful of the following:
Talent alone is not always enough
We all know incredibly talented people that have nothing to show for it. There is a business aspect to any type of art that must be managed if you want to be successful.
Many artists fail to get off the ground because they are not business savvy and not great at marketing themselves.
In fact, the very idea of an artist typically conjures up images of a scatterbrained creative who is not great at organizing their paperwork!
In this day and age it is possible to promote your art through social media as well as online outreach.
Many artists have been discovered on Instagram or YouTube and it a free and easy way to get your name out there.
Acknowledge that You Need Money To Survive
Some artists feel that making money from their talents is "selling out" or stops then from being a real artist.
The truth is, many famous artists do make good money from their work and you deserve to be paid for your efforts.
Look For A Mentor
Successful artists love giving support to peers and are often full of great advice.
Look for artists in your field who are successful and don't be scared to reach out.
Create art that people want
This might take some serious introspection and self-evaluation.
If no one wants what you are making then making money as an artist will be tough.
Do some research of what sells well, what the trends are in your business and put your own personal spin on things.
If you look at the art that sells, you will see it's not necessarily the most original, piece of work that's ever been created. It's simply art that people enjoy.
Of course, art is subjective and everyone likes something different but a search on Pinterest or Instagram will keep you up to date on trends and help you to create work that sells.
Considering offering your services for free
If you are struggling with getting your work out there, one option can be to promote it as a freebie to get your name out there.
I know that it goes against the grain and you should be paid for all your work but offering a piece for free can be a great way to get things moving.
Donate an item to a silent auction
Ask local cafes or bars to put your work up
Host a giveaway on Instagram
Offer a free session or piece of art in exchange for reviews and promotion
Be a consumer of art. When you find something you really like, purchase it. If you would like others to support your artistic endeavours, you should do the same for them. Supporting others will help you believe that you deserve to be supported as well.
Where to promote your art online
No one is going to buy your stuff if they don't know it exists in the first place!
You have to publish your art in some fashion if people are going to be able to buy it.
There are tons of places to promote your artwork online, many of them free.Make use of as many of the ideas below as possible to maximize your exposure.
Your Website
First and foremost you want to create your own website that has a gallery of your work, prices and contact information. Make sure to include an "about you" section as everyone loves to read an artist's background.
For tips on launching your website, this post will give you a step by step guide (it's for starting a blog but the instructions are exactly the same for any website).
You can also create your website via Shopify and promote your products directly from your store.
Make sure to link to your website on all your social media posts.
Instagram
Create an Insta account and build up your follower base. Follow other artists to build your network
Facebook
Open up a Facebook page for your business and encourage visitors and friends to like the page. Make sure to update it regularly.
Pinterest
Pinterest is a great place for promoting all kinds of artwork, you can create boards on different subjects and then create you own pins that link back to your site.
To create a pin, just click the red cross button on the top right hand side, you will get this page as a pop-up: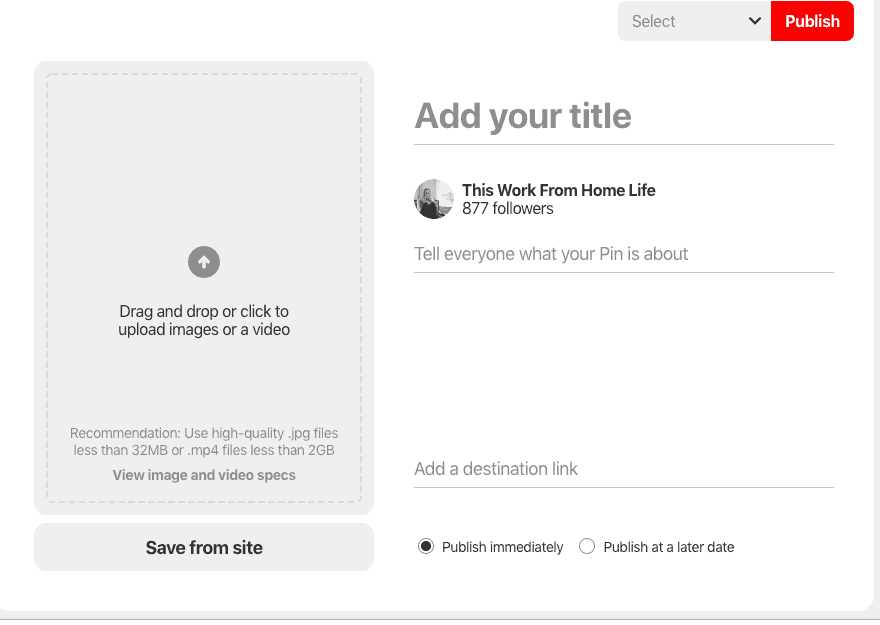 YouTube
YouTube is another place to add your artwork or even a slideshow of your work.
MySpace
Remember MySpace? It's still alive and kicking and is a bit of a hub for artists especially musicians and videographers.
Where To Sell Your Art Online
You can make money as an artist online by opening up your own "stores" on host sites that are geared towards creatives of all kinds.
The advantage of using these sites is that the promotion is down for you and you have must more chance of getting your work seen by more eyes.
Etsy is the kingpin for selling crafts online and is a great place to begin selling your artwork for a low listing price. This list of the best things to sell on Etsy will help you get started.
ArtPal is pretty awesome if you are a painter. You can upload images of your artwork and buyers can print on demand or even create items such as mugs with your artwork. You set your own prices and earn 100% of the profit after the printing costs.
Facebook
Promote your Facebook page on neighbourhood groups. This is a good place to get local business which is good if your artwork will be hard to ship.
Shopify allows you to create your own website and sell your artwork directly from a website.
Your Instagram page
Artfire is an online marketplace for artists to promote their work. You can open your own store and list your art for as low as 23c per item.
Big Cartel doesn't take a cut of your earnings but you pay a flat monthly fee to list your items. Prices start at $9.99 for 25 items.
It's completely free to open up your online shop with Store Envy so it is a great place to promote your products.
2 Ideas For Promoting Your Art Offline
Book a table at local craft fairs
This isn't an online option but it can be a good place to promote your artwork for little investment.
School and Church bazaars
Another off-line option which is a good way to make extra money around the holidays, especially if your artwork makes great gifts.
More Ways To Make Money Selling Things
10 Handmade Wood Projects That Sell
10 Best Things To Sell On Etsy To Make Money
Like This Post? Pin It!