If you love memes and are looking for a way to make some extra cash, you're in luck! There are actually quite a few ways you can make money with memes.
You can create and sell your own merch, start a Patreon account, or even just sell your images outright.
Side hustles are taking the internet by storm.
In fact, there are thousands of side hustles to choose from, and the numbers are steadily increasing.
In this blog post, we will be discussing how to make money with memes. Memes are a popular form of online communication, and they can be used to make money.
There are a few different ways to make money with memes, and we will be discussing them in this blog post.
If you are looking for a way to make money online, then you should consider using memes.
Popular examples of memes that you are probably familiar with are ones involving angry babies or grumpy cats.
Traditional memes have been around for over a decade now and meme creators can now cash in and making money through online marketplaces, meme NFT sales and real products.
In this post, we will look at the best ways to make money with memes, including:
What are memes?
Using a website to make money with affiliate marketing and ads
Selling memes on the NFT marketplace
Selling meme merch
How To make memes for others and get paid
Using your instagram account to make money with memes
Creating meme accounts on other platforms
FAQS about making money with memes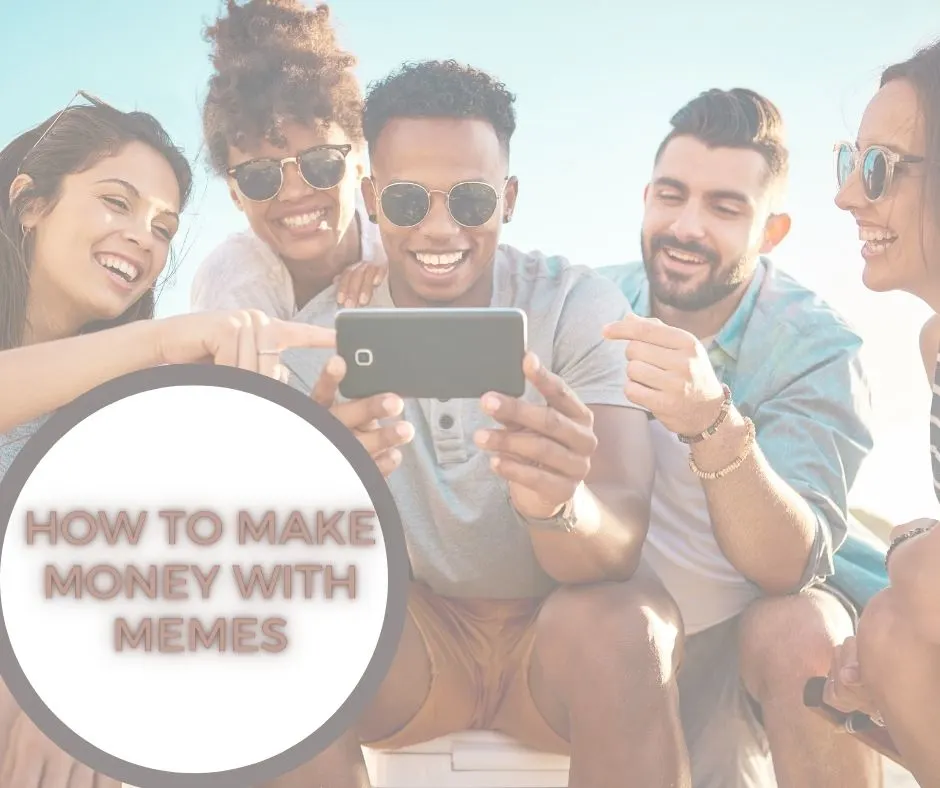 This post may contain affiliate links. Please read my Disclosure for more information
MORE FUN WAYS TO MAKE MONEY
How To Sell Used Socks Online (For Lots of Money!)
What Is A Meme?
A meme is a form of digital art consisting of a funny image, video, or piece of text that is passed around electronically.
They are often captioned with jokes or clever sayings.
Memes are a popular way to communicate online and can be used to make money.
They can be funny, relatable, or just plain odd, but they always have the potential to go viral.
And, as we all know, going viral can mean big bucks.
How To Make Money With Memes
There are many ways to make money with memes.
One way is to create and sell merchandise featuring popular memes.
Another way is to create sponsored memes for companies or brands. Finally, some people make money by managing social media accounts that post memes.
If you're interested in making money with memes, there are a few things you should keep in mind.
First, it's important to know what types of memes are popular at the moment.
Second, you need to have a good sense of humor and be able to appeal to a wide audience.
Start A Meme Website
If you are like many of us, you often look at meme content while scrolling through your favorite social media channels.
But did you know that those popular meme pages make a lot of money through advertising revenue?
If you want to start your own stream of income using memes, the easiest way is to start your own meme page.
You can start a blog and then create lists of memes then promote them on a Facebook page and Instagram.
The top meme pages usually group together fun memes under titles such as "10 memes that describe how we all feel on the first day of school" or 15 memes that all cat lovers will understand".
While there are a large number of websites already producing high quality blog posts compiling memes like this, it is still one of the most popular types of content right now and easy to get started with.
Sell Meme Merchandise On Etsy
If you're looking for a way to turn a profit quickly off of creating memes, how about selling your own line of meme-themed merchandise. T-shirts, mugs, and other items? You could open up a meme Etsy shop and sell your merchandise there.
If you love designing memes and are handy with software such as Canva or Photoshop, you can make good money selling humorous content to the masses.
Professional meme-makers can really be successful with their own products selling a range of items on Etsy.
Bear in mind that the creator of the meme has ownership of digital assets even when it comes to memes so make sure not to use any copyrighted or branded graphics in your items.
Sell Original Memes as NFTs
You have probably heard of them but many people don't know the meaning of NFTS and how they can make you money.
Non-fungible tokens, or NFTs as they are more commonly known, are digital assets that can be traded at a certain value through the blockchain which is a digital ledger used for Cryptocurrency and NFTS. Recently. NFTs have gained widespread popularity
NFTs can be bought and sold through marketplaces such as OpenSea and Mintable, to name a few.
The money would be sent to your crypto account, for example, an Ethereum wallet or Bitcoin account.
Although a non-fungible token is usually a unique piece of digital art, you can also design a set of custom memes to sell as NFT tokens.
Some of the best memes have sold for millions of dollars as NFT culture has grown so if you are able to design a viral meme, then this is a great way to really cash if you can find a potential investor.
One thing that you should know about this method is that your meme must be 100% original and one of a kind for you to sell it as an NFT.
Create Memes for Brands
Another great way to make money with memes is by using your creativity to design memes for all different sorts of brands.
In recent years, the use of memes in marketing has become more popular than ever.
Memes have been used to market for retail stores, fast food restaurants, and more.
Although this method will take some time and effort to build up your resume and start making money from your memes, it goes to show that it is entirely possible to make a living off of creating memes.
Join a Website that Pays for Memes
A little-known secret in the world of memes is that certain websites actually pay you for memes that you post to their site.
That's right! Sites like PicturePunches will pay you an amount based on how many people view the meme that you posted on their site
. The way this works is through ad revenue because users will have to view ads that are associated with each meme.
Keep in mind that in order to be able to post your own memes, you will need to earn a certain amount of points by viewing and rating other people's memes.
You won't be able to make millions this way but it can be a fun way to make some side income and give a lot of people a quick laugh.
Make and Sell Memes on a Freelancing Site
Freelancing sites like Fiverr are an amazing option for people who love to get creative.
Here, you can sell all sorts of digital products and services, including meme designs. In fact, there are plenty of meme designers making money on Fiverr as we speak!
This is an amazing option because it gives you the freedom to set your own prices and design your own gigs.
You can find meme designs being sold on Fiverr for as little as 5 dollars per design.
There are a few things to keep in mind when you decide to become a Fiverr seller.
The first is that Fiverr takes 20% of each sale, so you will want to price your gig accordingly. I
t is also important to note that becoming a successful seller on Fiverr takes time and you will have to build a client base and compete against other sellers as you climb up the ranks.
Design Memes for a Print-on-Demand Business
If you're looking for a low-maintenance side hustle to make money off of memes, consider starting your own online store through a print-on-demand business like Zazzle, Society6, or CafePress.
These websites allow you to put your meme designs on a variety of different products including phone cases, mouse pads, stationery supplies, and more!
Most of them are completely free to join, and you won't have to worry about obtaining supplies or shipping out your merchandise.
Most print-on-demand businesses will fulfill all of the orders and handle customer service requests themselves, so you can worry about doing what you love, designing memes!
Make an Instagram Meme Account
It's no secret that Instagram is one of the most popular social media platforms for sharing photos with a variety of different people.
Millions of people flock to Instagram each day to interact and engage with people's posts. But did you know that it's also one of the best places to monetize your content and earn an income?
Although it can be challenging to gain a loyal following and spread the word about your memes, if you're willing to put the effort into Instagram, it can be a great way to earn extra money by sharing memes.
All you have to do to get started is set up an Instagram page and start posting new internet memes every day.
Once you get enough followers (10K is often the benchmark), it will only be a matter of time before you start to get DMs from brands for sponsored post work and shout outs.
The idea is to become known as the Instagram meme page to check out if you want a good laugh.
Make sure to post original memes so that your account doesn't get suspended for copying an other creator's work.
Start a Meme YouTube Channel
Another tried and true method to make money from memes is by starting your own YouTube channel, you could share video compilations of your favorite memes for your subscribers.
Video memes are also a really popular type of content that of course, works great on YouTube.
Starting a YouTube channel can be a lot of fun and you don't even have to show your face if you don't want to! Plenty of people on YouTube make meme videos for YouTube and get thousands of views and likes.
YouTube is a wonderful option for all sorts of creators because it allows you to make money through ad revenue or by becoming a YouTube Partner.
As with many of these side hustles, this method won't earn you extra spending cash right away. It will take time and effort to build a following and rack up those valuable views.
Create an Online Course or eBook on Making Memes
If you're a seasoned expert on making memes, creating an online course or an eBook is the perfect side hustle for you.
Creating tools to teach beginners all of the ins and outs of meme creation can be incredibly rewarding.
If your learning tool is a hit, you can even end up making a good amount of money.
This is a great option because it doesn't cost anything to create eBooks or online courses.
You will just need to dedicate some time and effort to your material to really make it stand out.
Make Money With Memes: FAQS
Are Memes Copyrighted?
It is important to have some understanding of copyright laws before you dive headfirst into the world of meme making.
As with other art work, digital creators are protected by copyright as long as the meme in question is their own work.
If you create your own meme then you will not have to worry about copyright.
However but any photo, gif or graphic you use will have its own copyright that leads back to the creator.
Many famous memes use stock photos or personal photos so by reposting them, you may be subject to copyright issues.
This post by a law firm explains everything you need to know about memes and copyright.
How much money can you make with memes?
I've already mentioned that some memes sell on the NFT marketplace for millions.
Realistically though, how much money can you make selling meme merchandise or running a meme account?
Some of the larger meme websites are making over 6 figures a month in advertising fees.
Some influencers also make great money if they are one of the most popular platforms for their target audience.
Let's be realistic though – in most cases, memes will not make you a millionaire or even let you quit your job.
However, they are an easy way to create a side income from home.
Make Money With Memes: Final Thoughts
Memes are a popular way to make money online. There are a few ways to do this, but the most common is to sell advertising space using your meme.
This can be done through a number of platforms, including social media, blogs, and websites.
The key is to find a niche audience that will be interested in your memes.
Once you've found your audience, you can start charging for advertising space.
Another way to make money with memes is to create and sell merchandise.
This can be anything from t-shirts to mugs to phone cases.
You can create your own designs or use pre-existing ones.
The important thing is to find a good printing company that will produce high-quality products at a reasonable price.
Once you have your merchandise, you can sell it online or at local events.