If you love browsing on Pinterest, are creative and love designing images, you might want to become a Pinterest Manager (sometimes called a Pinterest virtual assistant).
I've been using Pinterest for business for years now and was amazed to see how in demand Pinterest managers are with bloggers, brands and anyone trying to get traction on the platform.
Being a Pinterest manager is a fantastic job for bloggers who are just getting started in the blogging world and need some extra income now.
It can also be a really good job for stay at home moms to make money on the side.
Most of us a familiar with Pinterest so making money by playing around on the site it the next logical next. In this post we will work through a step by step guide to being a successful Pinterest manager who is turning clients away.
Here's what we will go through:
Pinterest Manager – The basics. What they are and what they do
What skills you need to become a Pinterest manager
A day in the life of a Pinterest manager – what tasks you will do
The best Pinterest manager courses to learn your trade
How to get Pinterest manager jobs (even if you have no experience)
What you need to become a Pinterest manager in terms of tech and tools
Case Studies – examples of successful Pinterest managers who are making bank!
This page contains affiliate links meaning I earn a commission if you use those links. I only recommend brands I use and trust.
RELATED POSTS
How To Start Your Own Etsy Printables Business
15 Best Stock Photo Sites To Sell Images
How To Become A Pinterest Manager
It's relatively easy to get started as a Pinterest manager especially if you are already a Pinterest marketing expert or use it to promote you blog.
Even if you only use Pinterest as a "regular person", becoming a Pinterest manager is easy! The learning curve couldn't be less steep.
Nowadays Pinterest managers are even more in demand – they offer full service handling of a Pinterest account and can make more money than a Pinterest Virtual assistant, although both perform the same jobs.
There are even full service firms that work as exclusive Pinterest managers to big brands and bloggers, charging $5000 or more a month to manage one Pinterest account!
Ready to get in on the action? Here's what you need to know:
What is a Pinterest Manager?
A Pinterest virtual assistant is the right hand (wo)man for a blogger or brand who wants to market their business on Pinterest.
Pinterest is a huge source of traffic for many companies and influencers but it is also pretty time-consuming when part of a larger marketing plan.
The role of a Pinterest Manager is to take over the marketing and promotion of the brand to enable the blogger to spend more time producing content and working on other things.
Some people call Pinterest VAs "Pinterest managers" because they manage the account from scratch.
Pinterest Managers who are very successful may decide to open their Pinterest management services where they offer full service marketing to brands and bloggers.
One example of this is Kate Ahl at Simple Pin Media.
Pinterest managers essentially "take over" the Pinterest account of their client and manage is as their own.
The goal of a Pinterest manager is to:
Grow the Pinterest account in terms for followers, impressions and website traffic
Boost the account's engagement rate
Create content and pins
Schedule pins out using a software scheduler
Take all of the work of the Pinterest account out of their client's hands
Why Pinterest?
Pinterest is huge for bloggers and brands to get people to notice their products.
Here are some quick Pinterest facts:
Over 430 million monthly active users
60% of active users are likely to search and browse on Pinterest than browse catalogs.
93% of active users said they use Pinterest to plan for purchases.
80% of new sign-ups are from outside the US (lots of international growth)
While most people think of Pinterest as a social media platform, it is really a visual search engine.
Type in anything you want in the Pinterest search bar at the top and the results will show tons of blogs and brands that have articles and products that might interest you.
Many brands and bloggers rely on Pinterest as a source of traffic as you can see on these reports:
Gemma got 70,000 page views and made $2400 in her 4th month of blogging
Anna got over 2000 page views in one day from one Pin
Lauren got her content seen over 45,000 times on Pinterest in one month
You can see the power of Pinterest for them. It's easy to see how big bloggers need an assistant to manage their Pinterest strategy.
Add to that, in their last creator conference , Pinterest said that they want bloggers to add a new pin every day to the platform. Who has time for that?
Who Uses A Pinterest Virtual Assistant or Pinterest Manager?
You may be thinking that only big brands need virtual assistants to help them with their marketing but in fact, many bloggers like to use a VA in order to free up their time.
Some people don't like creating graphics and pins or find scheduling their pins out to be time-consuming and they would rather outsource it.
Lots of online business owners simply don't have the bandwidth for another online platform to manage.
Pinterest managers are often used by large brands and bloggers who do not have time to work on their Pinterest accounts.
How to Get Started as a Pinterest Manager
Let's get started with our step by step guide to becoming a Pinterest Manager.
Step 1 – Pinterest Expertise
No one is going to hire a Pinterest manager who knows less about the platform than they do.
People will be expecting a Pinterest manager who is up to date on the latest trends and knows the ins and outs of the system.
I can tell you first hand that I have hired Pinterest managers for my blogs before that made me cringe with their design and Pinterest knowledge.
So, the first step you need to do is make yourself familiar with Pinterest and how it works.
I'm not saying you need to spend thousands for Pinterest coaching but you do need more than basic skills.
Ideally you will have your own blog and have had some success in driving traffic from Pinterest.
This will give you credibility in the field and will give prospective clients the opportunity to look at your pin style before.
What Does A Pinterest Manager Do?
Here are some of the skills you need:
Setting up a Pinterest profile with rich pins
Optimizing Pinterest board titles and descriptions for keywords
Pin creation for blog posts and optimize with keywords
Optimizing pins with keywords & hashtags
Setting up Tailwind and using it as a scheduling tool
Participating in Facebook Promotion Groups
Manually pinning to boards
Sending out requests to join Pinterest group boards
Joining and participating in Tailwind Communities
Managing Promoted Pins
Amazing pin design
Keeping up with the ever changing whims of Pinterest
Attending Pinterest webinars and summits to learn new strategies
Extra duties of a Pinterest Manager
As many Pinterest managers or virtual assistants work for bloggers, prepare to handle other blogging related tasks too:
Handle affiliate payouts
Customer service skills for answering emails
Manage a Facebook page or group
Design images & posts for Twitter/instagram/Facebook
Curate posts for roundups and social shares
Blog Management
If all this sounds good, then you are ready to start your business as a freelance Pinterest manager.
Step 2 – Setting Up Your Pinterest Management Business
How to set up your Pinterest VA Business
First of all, you need to have your own Pinterest business account to both promote your business and showcase your talents.
You can either create a completely new account or convert an existing account to a business one by following the instructions on the Pinterest Business page.
The goal of your Pinterest account is not to drive traffic to a website or brand but to act as a portfolio of your skills.
Any potential client will be looking at your pin graphics to see if they are what they are looking for.
You want your Pinterest page to be bright, professional and packed with amazing looking pins that scream "hire me as your full-time Pinterest manager"
Don't have mad skills creating Pinterest pins? It's time to learn!
Here are some free resources you can use to get some great pin design tips:
Apple Cart Lane Free Pin Design Workshop
Pin Perfect Guide to Making Pins That Get Seen
Pinterest's own website – this will teach you best practices for pin content creation.
As I mentioned above, to become a Pinterest manager, you will need to establish yourself as a Pinterest expert.
The best way to do this is to have your own successful account on Pinterest.
You can also take some Pinterest courses to learn from other Pinterest experts.
Personally I have taken about 25 courses on Pinterest, some better than others.
The two courses below are all you really need (one is free and the other is very reasonable).
The Best Pinterest course for Pinterest managers is:
Pinteresting Strategies – This course will teach you about Pinterest marketing strategy and is the bestselling Pinterest course since 2016.
Another really useful resource that is completely free is the Simple Pin media podcast.
Simple Pin is a full service Pinterest management company and know their way around Pinterest. The podcast draws from their knowledge plus the results and testing on all their client accounts.
Once you have your business up and running, you will need to keep with trends and stay up to date with everything happening in the Pinterest World.
Step 3 – Promote your business
You can create a website to advertise your services or simply go with a Facebook page to start off.
If you are already a blogger, you can add a section to your site that promotes your availability as a VA.
If you want to start a blog, check out my easy guide to getting started.
Your website should include the following pages:
A list of the Pinterest services you offer with rates
Samples of you work (pin images, screenshots from Pinterest analytics)
Reviews and testimonials from clients
An about page where you talk about your experience and clients you have worked with
A case study of your results with a client's account (or your own)
Pinterest Management Services To Offer
I recommend offering 3 packages at different price points to capture different clients. Bear in mind that the more services you offer, the more time you will spend on each client.
Sample Pinterest Management Package
Package 1 – $500 a month
Creation of 50 pins per month
Scheduling pins via Tailwind
Adding pins to Tailwind Communities and reciprocating
Monthly report and progress call
You can scale up each package with more pin options and more services.
Step 4 – Finding your first Pinterest client
How Do Pinterest Managers Get Clients?
If you want to be successful as a Pinterest manager, you will really have to market yourself.
As you have probably heard, marketing is 80% of the work so now you have created your Pinterest management business, it's time to do what every small business owner has to do – promote themselves!
There are a lot of places you can look for Pinterest clients but we will start with the easiest:
Pinterest
The first place too look for potential clients is Pinterest! You can create pins promoting your business and the different services you offer.
You can also search for businesses that look like they could do with some help with their Pinterest and reach out to them directly. Many small businesses
may not even know that Pinterest managers are a thing and will be grateful to have your expertise.
Freelancing Job Sites
Sites like Fiverr and Upwork are great places to get started as a Pinterest virtual assistant as you can offer small services for a low fee in order to build up your portfolio.
In order to be successful on these freelancing sites, you may want to consider promoting yourself as a social media manager who can help with all the different online platforms as well as pinterest marketing.
Facebook
Next, you want to start hanging out where you potential clients are. Facebook is a great place to find people who are looking for Pinterest managers and virtual assistants.
A quick search on Facebook showed me that there are even groups where you can find VA work:
You can also network with bloggers and other VAs in Facebook groups for bloggers. Many times people ask around for VA recommendations in those groups.
I did a quick search in some of the groups I am in and saw many people looking for VA services:
Take a course that offers a job finding service
An easy way to start your Pinterest management business is to take a paid course that includes a private group to find work. Some courses even guarantee that you will find a Pinterest manager job after you complete their online course.
This is one of the best ways to get Pinterest manager work as quickly as possible. Even though you will have to pay for the course, you will likely find you make your money back quickly this way.
There are a couple of Pinterest Virtual Assistant courses that include private communities where you can find jobs.
The most popular is the Fullybooked VA course by Gina Horkey.
I'll talk about the course a bit more in a minute but you can go ahead and check it out here.
Cold Calling
You might want to avoid cold contacting clients but it can be a great way to drum up business.
One of the best places to find new clients for your business is to contact local businesses in your area and see if they would like help with their Pinterest account for a discounted rate.
People love working with local businesses and this can be a great way to get into the world of Pinterest management.
Send emails and dms to businesses that don't have an active Pinterest account, or those who need improvement.
Tell Everyone
Tell everyone you know that you are starting your own business as a Pinterest manager and that you would love to help them with their own accounts. Ask them to spread the word on social media and in person.
Word of mouth is a great way to get new business.
Offer your services for free
Hold up. Why on on earth would you offer your Pinterest management services for free when you are trying to make money at this side hustle.
Hear me out.
You can hold a contest online or partner with a blogger who is running a promotion to offer X amount of hours for free in exchange for a review and the permission to use images and results on your website.
This is one of those things where you have to "spend money" to make money. I know because last year I hired a Pinterest manager that I had only used because I won 25 hours of their services.
They did such a good job for me that I hired them and then recommended them to a bunch of friends.
Best Pinterest Manager Courses (Free And Paid)
Once you have mastered Pinterest, you can start thinking abut opening your own Pinterest Management business.
If you want to get started as a Pinterest virtual assistant but are not sure where to begin, consider taking a course.
Whether you want to learn about Pinterest marketing strategy or are ready to jump right in and start working on the Pinterest platform, it doesn't hurt to take a course.
As I mentioned above, one of the huge advantages of taking a paid course is that you will be spoonfed job leads from the community. This will cut down the amount of work you have to do trying to get new clients.
Another reason to take a course is that content creators will be more trusting of you if you have some credentials behind you. Sure you can watch YouTube videos and learn the bootstraps way like a lot of online businesses, but a course will save you time and potentially money in the long run.
Here are the top Pinterest Manager courses to check out:
Pinterest VA Course
Once you have mastered Pinterest, you can start thinking abut opening your own Pinterest Management business.
If you want to get started as a Pinterest virtual assistant but are not sure where to begin, consider taking a course.
One really cost-effective course that I like is called
"Jumpstart your VA Business"
By Gina Horkey. It is only $19 and takes about an hour to get through.
It will take you through everything you need to know about starting a Pinterest VA Business including:
Choose your business structure.
Decide which services you'll offer your clients.
Decide on your pricing structure.
Launch your website and create your online presence.
Start pitching and networking.
Build relationships.
The nice thing about completing the Fully Booked VA course is that they will take you through everything you need to know and also help you get jobs. They post leads all the time on their Facebook:
Income Reports And Success Stories Of Home-Based Virtual Assistants
Check out tons of Fully Booked VA success stories on their website.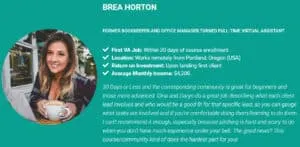 Become A Pinterest Virtual Assistant
This course is not very budget-friendly but if you are looking for an in depth look into becoming a Pinterest Manager, it is the one for you. You can read all about it here.
You'll learn how to:
Build your Pinterest Virtual Assistant foundation
Establish your online presence
How to pitch
This includes templates and the best pitching practices
Manage your Pinterest VA business
Learn insider tips and tricks from niche experts
How to launch your Pinterest VA business
How to make money as a Pinterest VA
Where to find potential clients
How to ace an interview and get hired
This course is the most comprehensive one on the market but it is pricey, so let's end off with a freebie!
Free Pinterest Manager Checklist
Although this isn't a course per se, this is a really useful Pinterest Manager checklist you can use. It was created by one of the top Pinterest Managers of the moment so she definitely knows her stuff. You can get the guide here.
The top 3 tools every Pinterest Manager Needs
All Pinterest managers want to give their client's accounts better results. The tools below are your secret weapons to giving them great brand awareness and amazing Google Analytics reports!
Canva
Most clients will be familiar with Canva and will expecting you to use it to create their pins. The great thing about Canva is that it is free.
Also, if you client pays for Pinterest pin templates like the ones offered by Carly Campbell, they can easily share them with you.
That way, you will be able to use them to design their pins so you can work on more important things like getting those pins out in the world with Tailwind.
Unless your client specifically requests that you manually pin their content by hand, you will likely be using Tailwind to schedule it out.
The good news is that you will not have to pay for this yourself. Your client will have to give you access to their Tailwind account and Pinterest access too.
Tailwind has a lot of features including a Pin creator, communities for sharing pins and a looping feature so you can keep pins going to Pinterest without stopping.
A Quality Stock Photo Site
Unless your client will be providing you with their own photos, chances are you will need to access stock photos for their pins and social media images.
Your client may give you access to their stock photo site, otherwise you can check out one of the following:
Pinterest Manager FAQs
How Much Do Pinterest Managers Make?
Pinterest managers, especially the ones that work for agencies and large brands can make a lot of money.
Most Pinterest managers charge between $300 and $2000 for a month of Pinterest management.
Although working as Pinterest VAs is a great side job that you can do from home, you might be surprised at how much Pinterest virtual assistants make.
In fact, there are many Pinterest Managers who make a full-time income.
If you plan to do VA work as a side hustle, you can realistically expect to earn $300-$1000 a month depending on the number of clients you take on.
This is based on working around 5-10 hours a week which is totally doable in the evenings and nap time.
Most VAs start charge around $15-$50 an hour depending on their experience and skill level. Having your own successful blog shows you know what you are doing.
Here are a few income reports that mention Pinterest VA income that I found interesting:
Pinterest VA Income Report 2019 – August 2019 Income Report – Planner Wishes By Lori
High Earning Pinterest VA Income Report: How Miranda made over $8000 in one month as a Pinterest VA
What is the time commitment to be a Pinterest Manager?
The hours you spend on each client will depend on their individual needs and requirements. You can establish the expected hours before signing a new client and make sure to set expectations.
The great thing for moms working with kids at home is that you can do many, if not all, VA tasks on your phone.
Pinterest had a free app that actually works better than desktop and you can use the Tailwind app to do some tasks (although desktop is still better).