Flipping websites is a popular and lucrative form of entrepreneurship that people don't often think about.
Websites are bought and sold every single day, and this business model has proven to be surprisingly lucrative for those who know how to do it correctly.
In this blog post we will talk about how flipping websites can make you money, as well as the steps you need to take in order to get started with your own website flipping venture!
Many successful website flippers actually speak about their "obsession" with website flipping – it can become an addiction when you find how fun it can be to sell websites for a profit!
In this post we will look at the following:
What is website flipping
How much money can you make as a website flipper
The most profitable niches for website flipping
Sites that will sell your website for you
Everything you need to know about website flipping yourself
This post contains affiliate links. Please read my Disclosure for more information
RELATED POSTS
How To Make Money Flipping Websites For Profit
You've heard of flipping houses and maybe even flipping furniture but the many people who are looking for quick flips to turn a profit are moving online.
The internet is huge, and it's constantly changing.
Websites are being built every day, so what happens to the old ones?
Many people have turned to flipping websites as a way to make money online.
If you're looking for a business idea that doesn't require any physical work or heavy lifting on your part, then this may just be perfect for you.
In this article we will go over why flipping websites is surprisingly lucrative!
What Is Website Flipping?
Website flipping is just another way of saying that you are buying full or partial ownership in a website, then making changes and going on to sell it for a profit.
You can start with just one website, or you can diversify and buy many different companies at once.
You are probably with all the HGTV shows on house flipping.
The hosts buy a fixer upper for a low price, do some renos and then go ahead and sell the house for a tidy profit.
Website flipping is much the same. You follow exactly the same steps as a house flipper would do:
Start your own blog or find a website that has potential but needs some work. Buy it for a low price
Spend 6-12 months boosting the site and improving the content
Turn around and sell the website for a profit
How Much Can You Make Flipping Websites?
If you are wondering if website flipping is profitable – good news! Most website brokers will value your site at 24-36 times the monthly profit.
However, if the content is good and the traffic is good, website brokers may offer you more money based on their evaluation of your website's potential.
That means that a site making $1000 a month could sell for $36,000 and a site making $10,000 a month could get your $360,000.
That being said, website flipping isn't for those after easy riches.
While it might seem like a quick way to start your own business and get rich quick, website flipping requires work and knowledge.
You must also be prepared for some initial costs when improving your site such as paid content and premium graphics.
To see how much websites are selling for, take a look at the listing pages of some of these website marketplaces:
Pros and cons of website flipping
If you still can't convinced that this is the business for you, let's take a look at some of the downfalls and benefits of website flipping.
Pros
The freedom and flexibility to work from anywhere in the world
As website flipping is an exclusively online job, you can become a digital nomad and work on your blog flipping business from anywhere.
Low upfront investment
You can start a brand new blog for around $300 a year and work on it until it is ready to flip.
While buying an already established website will cost you more, it can still be a great investment with little money down.
A brand new blog with some posts and a great keyworded domain name will sell for under $1000.
This is a relatively easy and low risk way to make money online
As there is a low initial investment necessary and not too much overhead involve when running a website, blog flipping is pretty low risk as far as investments go.
It's also a way to make a second or third income
If you already work full-time and are looking for a way to create an extra stream of income, blog flipping might be for you.
High demand
If you pick the right niche (more on that later), you will be able to turn a losing site into a winner in no time and reap the rewards when you sell it.
The Downsides of Website Flipping
Although most people who flip websites can only sing its praises, bear in mind that like any type of business, it is not all puppy dogs and unicorns.
There are a few downsides to website flipping that you should consider before starting this venture:
It takes a lot of time
Not only does building a website from scratch to profitability take a lot of time, even if you buy an established blog, you may have to do a lot of work to get it ready to sell at a higher price than what you paid.
If you are already running websites and don't have a lot of spare time, you may not be able to dedicate yourself to creating a new website and building it up.
There is an initial investment
Although, as I mentioned above, the initial investment is low, it does exist.
You cannot go into website flipping without being prepared to spend some money to get your business started.
If you decide to build your website from scratch, then you will need to spend the money on a domain name and hosting but even an existing website may need:
A new host
Updated WordPress theme
Premium images
Content – ghostwriters etc
No Guaranteed Income
While the evaluation of 24-36 x monthly earnings is a general rule, a lot goes into deciding the selling price of a website and there is no guarantee that your site will net you the money you are expecting until it actually sells.
Online Trends
As with all online businesses , trends come and go so what is hot this year might not be next year.
A case in point are travel websites which traditionally are in a very popular, evergreen niche that people visit all year round. Except in 2020 when they suddenly stopped getting so much traffic and therefore, weren't selling for as much money as they used to.
Of course, you cannot control market trends but you ca make sure to choose a niche that is evergreen (barring Worldwide pandemics).
Below I list a few of the best niches to look into plus examples of sub-niches to try.
Step By Step Guide To Website Flipping
Now you know that there is a lot of money to be made by selling established websites online, let's look into how we would go about getting into the website flipping business.
Step 1 – Choosing A Niche
How To Choose A Niche
This can be the part where a lot of people get stuck.
Buying or creating the right website is essential if you want to make a profit flipping your website.
By worrying about what is the most profitable niche for website flipping or what is the easiest niche, it is too easy to waste time that you could spend building up your websites.
Why pick a niche?
You will build trust and authority with both your audience
People buy from people they trust and who they consider to be an expert
It will be easier to sell products when you have a targeted audience
Google favors blogs that are experts in a niche so you will be able to get more SEO traffic
A defined niche will allow you to build a brand
What are the most profitable blogging niches?
While there are many profitable blogging niches, some are definitely more likely to make money than others.
Any niche can make money but without a good quality site that talks with passion and authority, you won't find it as easy to make money.
Questions to ask yourself when choosing a niche for your website flip
What topics are you interested in writing about?
Is the niche profitable?
How popular is the niche? Does it have a lot of demand?
Consider the following:
What blogs to you like reading yourself? Ask family and friends their favorite blogs too
Is there a demand for this topic? Is there a problem that needs to be solved?
The most popular evergreen niches that get traffic year round include:
Health – nutrition, fitness
Special diets
Types of workouts
Special healthy lifestyles (Keto, Paleo)
Fitness at different stages of life – postpartum, pre-wedding, over 60.
Wealth
Saving Money
Making Money
Personal Finance
Deals and coupons
Budgeting tips
Paying off debt
Relationships
Dating – date ideas etc
Marriages
Love problems
Divorce
Dating for specific groups (teens, LGBTQ, over 50 etc)
Travel
Luxury Travel
Budget Travel
Travel for different age groups
Travel deals
Food from around the World
Travel diaries
Pets and Animal Care
Things to do with pets
Caring for different pets
Buying a pet
Step 2 – Build or buy your website
Building Your Own Website
If you have decided to build your own website, there are a few steps you will need to take:
Choose Hosting
Your host is where you will build your website on WorldPress so that it is ready to sell when it is time to flip. If you don't already have a web host, I recommend Bluehost.
You can use my partner discount to get hosting for just $2.95 per month here.
I like Bluehost for flipping websites because it is really simple to get started with, cheap and most importantly, they make it really easy to transfer your site to someone else when you sell it.
Register a Domain Name
Choosing your domain is really important when you are planning to use your blog for website flipping.
As your domain name is the first thing potential buyers will see, they will want to know that it is a good keyworded domain name.
I typically register my domains at NameCheap. I then point the nameservers to your hosting (this is super easy and Bluehost will help).
You can also just use the free domain name that comes with your Bluehost hosting account.
I have flipped blogs that were hosted with Bluehost with a domain from Namecheap and was able to transfer them to the new owner in just minutes they are both great choices.
A good domain name can add a lot of value to a blog when the times comes to sell it so take some time with this step.
Here are some pointers to help you choose a great domain name:
Try and use keywords in your domain name (food/fitness etc)
Do not personalize the domain name, remember, you want to sell the blog
Try not to use dashes or hypens
Make sure the social media accounts for the name are available too
Installing WordPress
Installing WordPress is an absolute breeze using the CPanel with Bluehost.
You can the follow along my step by step guide to starting a blog to install plugins and everything else you need.
Second Option – Skip The above And Just Buy A Blog
If you want a head start in the blogging world, buy yourself or somebody else's blog.
You can purchase an established site and have it ready to save you a lot of work.
How To Find A Website To Buy (then flip)
People are trying to sell their websites all the time but how can you decide if a website has the potential to be flipped?
Some websites that get a ton of traffic are too closely tied to a particular person who is the brand of the site – it might be hard to take over the email list and socials of that kind of site.
Other sites are in niches that have a low ceiling that might not make much money no matter what kinds of tweaks you do.
When you are researching sites to buy, look for the following positive attributes:
Traffic or traffic potential
Quality content
Good domain name
DA and keyword ranking
Lucrative niche sites that need work
Sites with multiple revenue streams
Websites that get traffic form multiple sources
Site Structure
Traffic or Traffic Potential
A website that gets lots and lots of traffic will inevitable cost a lot of money and probably not worth buying to flip.
When researching for potential website purchases look into the potential of the niche rather than the existing traffic.
Is the website in a niche that is popular and growing? (Google trends or Pinterest trends can help with this)
Is the website lacking in good content that is stopping it from growing? Can you easily improve that?
Ideally, your website will get around 10-15K a month when you buy it but some newer sites might be worth looking at it they are seeing an upward trend in traffic and could reach a good level of page views in 6-12 months.
Good Quality Content
I don't think this is such an important factor if you are willing to improve and add a lot of new content yourself.
However, it is worth checking to see if any existing content is ranking on Google and how meaty the posts are.
If you will need to do a lot of work to improve the writing and length og blog posts, take that into consideration.
Good Domain Name
I mentioned in the section about building your own website that a good domain name is key.
When purchasing a blog to flip, bear in mind that the domain name can have a large weighting on google rankings.
For example, if the blog is about beekeeping. www.beekeepingexpert.com will have a much better domain rating than www.sallylovesbees.com
By the way, beekeepingexpert.com is currently for sale – great niche site opportunity!
DA and Keyword Ranking
DA is a vanity metric used by many websites to show how established the blog is and how much authority is has with Google.
Bear in mind that even poor websites with thin content can have a high DA if they have been around since 2000.
That being said, it is still a great way to see how established a site is.
You can check a site's keyword ranking using an SEO program such as AHREFs (you can get a 7 day trial for $7).
This will show you how many pages they have ranking on the first page of Google which is important if you are looking to buy an established website that already ranks for different things.
Keep in mind that a site that ranks in positions 7-10 for lots of keywords may be a great buy as you can improve the content and increase the Google rankings.
Lucrative Niche Sites That Need Work
Here is one place where you can kind of ignore the last 3 points and focus on future potential instead.
If you discover an untapped niche and find a site for sale that needs work but is already building backlinks and a DA rating in that niche, it might be an amazing buy.
As Google takes up to a year to start ranking new sites, it can be a good idea to buy a starter site that already has some posts and a few months under its belt.
Sites with multiple revenue streams
The more revenue possibilities a website already has, the easier it will be to grow them and then flip the website for a profit. Look for sites that are making money in various different ways such as:
Affiliate marketing
Display advertising
Digital Products
Sponsored Posts
Websites that get traffic from multiple sources
When searching for a new site, look carefully at how they get traffic.
If a site is only getting website traffic from one source ie. Pinterest or Facebook, what happens when the algorithm changes? The best sites will have a broad range of traffic sources such as email, SEO and social media.
Structurally Sound
When you are looking for a house to fix up and flip, we often talk about it having "good bones", meaning, it is structurally sounds but needs cosmetic work. Think of website flipping like digital real estate.
You want to find a website that has good bones – it has a good domain, some keywords and is in a lucrative niche with lots of potential.
Do a deep dive into the site and look at how much work will need to be done before you can go ahead and flip it again.
The best site is that onle needs minor tweaks rather than a full "gut job".
You also want to make sure there are no hidden surprises waiting for you like a "crack in the foundation or plumbing issues" such as toxic backlinks or a rejection from Google Adsense
You can ask the seller for all this information and also do your own due diligence using a program like Ahrefs.
Where To Buy Websites To Flip
Now you know the kinds of websites to look for, let's take a look at where to buy websites that are worth flipping.
The obvious places are website brokers but I'm going to start with some lesser known places that can get you a better price for your purchase.
Facebook Groups
I often see bloggers looking to sell their sites in Blogging Facebook groups. They are often toying with the idea but this is a great way to buy a blog with less fees and potentially a better price.
The best way to do this is to join as many blogging Facebook groups as possible and do a search for blogs for sale or post your own ISO post asking people to contact you.
The only downfall with this option is that you will need to handle the legal aspects of the sale yourself.
If the site is not worth too much money, you can probably handle this very easily but if you are spending a lot of money on the site, you will likely want to have a proper contract drawn up.
Here is an ad I just saw on a Facebook group for bloggers: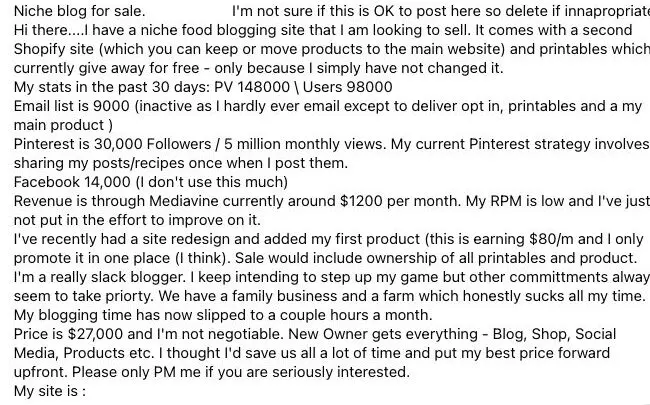 Private Sellers
If you don't have any luck finding a private seller on Facebook, you can consider reaching out to bloggers you discover to see if they are interested in selling their sites.
I recently purchased a blog just because someone I know contacted all her email subscribers with a listing that I decided to buy.
Website Brokers
By the way, they prefer to be called website intermediaries. : ))
These people or companies will act as the middle man for you, connecting buyers and sellers, facilitaing the sale and sorting out the contracts and escrow.
Of course, you will pay for this service, sometimes in the range of 25-40% of the sale price which is why many website flippers try and contact private sellers first.
If you are looking for a website to buy, a website broker may be the best place to start. First of all, the seller pays the commission so it is free for you to buy the site.
Secondly, this eliminates any legal hassle and concerns.
Plus, there are lots of websites for sale on web intermediary sites and not using them might cause you to miss out on some gems!
When working with a website broker, you can expect the following:
Niche appropriate listings sent to you as soon as they go live
A quality guarantee of all sellers
Access to the site's Google Analytics and website stats
Site evaluation
Assistance in the negotiation process
Contracts and escrow handled
Help with the website handover (domain transfer, site transfer etc)
Where to find a website broker
Here are some of the top website brokers to check out. Bear in mind that all these sites also list websites for sale so we will look at them in detail in a minute.
Step 3 – Get your website ready to flip
Good websites have lots of different qualities and in order to get the best price for your website flip, you need to make sure you have your site in tip top condition.
A good site will:
Be self hosted on WordPress
Have a great appearance
Get at least some website traffic
Have an additional asset or two such as an email list or social media account
Count on several monetization methods
Be Self-Hosted on WordPress
If you created your site from scratch using my tutorial, your site will be self hosted so you can skip this step.
If you have bought a site that is not self-hosted, you should strongly consider moving it to Bluehost or another hosting company before you flip it.
A Great Appearance
Spend some time and money on making your website look professional and sale-ready.
Invest in a premium theme such as Mediavine Trellis or even a free theme such as Astra that is lightweight and looks good on mobile devices .
Switch out bad photos for premium ones (I use Depositphotos) and make sure the fonts on your site don't look dated.
Another thing you can do to improve your site is to create a new logo in Canva that you can put on the front page of the site.
Website Traffic
The amount of traffic site has is very important for selling your site for a profit.
Organic traffic is the best kind of traffic to get if you want to flip your website. To get organic traffic, you need to work on your search engine optimization and do keyword research to get your site on page one of Google.
As building up your sites Google rankings can take a few months, you want to make this a priority in the beginning. I highly recommend the following courses for getting a lot of traffic from Google:
Secondly, you want to work on social traffic. This is traffic from Pinterest, Instagram and Facebook among other social media platforms. Pinterest used to be a really good place for new sites to get traffic but in recent years it has definitely waned.
That being said, it is still worth working on all social platforms to boost your websites traffic as fast as you can.
My favorite online courses for social media marketing and traffic include:
Traffic Transformation
Pinteresting Strategies
Additional Assets
A good social following or a large email list are huge assets that can make a huge different in your sale price.
If you don't have an email list already set up on the site, you can sign up with Convertkit for free and create some landing pages and forms to get email subscribers.
The easiest way to get people to sign up for your list is to offer them a freebie such as a free course, free ebook or free printable worksheets.
Multiple Monetization Methods
Buyers are looking for recurring income that is a regular monthly income that they can rely on.
Examples of this are membership sites and digital products.
If you niche lends itself to a membership site, start one ASAP and start building up your content and following.
If you don't want to do a membership site, then make sure to create digital products relating to your content.
You can sell your products easily using Convertkit's product tab and they will take care of all the merchant fees and information for you.
If you can't think of things to sell on your website, check out my list of 6 Digital Products To Sell On Your Blog.
Ad revenue is the next most popular way to make money on your blog.
Mediavine is the most desirable network to join and you will need at least 50,000 sessions in the last 30 days in order to get accepted into Mediavine.
Before you reach the Mediavine status, you can earn money with ads using Google Adsense.
Affiliate Marketing
Affiliate niche sites are very popular with website buyers as they are plug in play, ready made sites that they can use for income right away.
Although it can take you a while to build up your affiliate marketing revenue, this is an important thing to work on when you are website flipping.
Sponsored Posts
Sponsored posts are blog posts that a brand has paid for. Influencers are big news and lots of people are interested in buying websites that are popular with brands.
You can join sponsored networks and build your social following and traffic in order to get sponsored posts that will make your site attractive to buyers.
Selling Your Website For A Profit – Listing your site
Now your site is ready to sell, it's time to create an amazing listing.
How To List Your Site For Sale
The first thing you need to do is to get a site evaluation.
Most of the websites that buy sites will provide you with a free evaluation where they will do a deep dive into your site and look at the following criteria:
What is included with the sale
How old is the site
How many blog posts have you written
Is there a social following that comes with the site?
Is there an email list?
Even if you are planning to sell your site privately, it can be worth getting an evaluation or two from different website brokers
Whether you have decided to try and sell your site privately or you are using a website broker, your listing is the most important thing when it comes to getting an interested buyer.
Don't oversell your site with empty promises or exaggerate anything. Be honest about the site's earning potential and current traffic and followers.
Bear in mind that your potential buyer will likely want access to your Google Anayltics so they can do their own due dilligence and confirm your listing notes.
Your website flipping listing page needs to include:
Monetization methods – ad network, affiliate links, digital products and sales funnels.
Traffic – how much traffic does the site get and from what sources The niche and domain name
What is included – hosting, premium theme, premium plugins etc
Content – how many blog posts are on the site and what is the quality
Images – are they premium images? What is the source?
Social assets – will they be transferred
Email list – will it be transferred and how many subscribers
Here is a sample listing that was used for flipping a book website (a very popular niche!)
This site is in the highly profitable book niche and is ready to be made into a money making site.
Blog Stats:
30,000 Page Views a month
Email Subscribers – 21,000
Facebook Followers – 2000
Instagram Followers – 12,000
Twitter – 1000
Here's everything that's included in the sale:
Premium domain name with exact name match SEO benefits
One full year of domain name registration included for free
Beautifully designed WordPress site with a premium theme
70 high-quality original blog posts with keywords and relevant links.
All blog posts contain premium stock photos from Deposit Photos
What or factors effect your site's evaluation when flipping websites?
The quality of your content
Make sure to use long form, well-keyworded quality blog posts. Avoid using PLR or prewritten content – your content should be original.
Your backlinks
This is the number of other sites that are linking back to your website and they show how much your site is viewed as an authority in your niche.
Profit and loss sheet
How much money your website is making and how much it costs to run.
How long will it take to sell my site?
This depends on your niche and the state of the market.
The average time to sell a site is 6 months according to Chelsea Clarke from Blog Flipping Masterclass. Although some sites sell in days, some can take many months.
What should I do once my site is for sale?
Keep on keeping on. If you posts twice a week, keep posting new articles.
Potential buyers will be checking out your site and want to see that it is active. Continue posting to social media and sending out your weekly newsletter.
What happens once I get an offer?
Just like when you buy a house, a potential buyer will make an offer and your website broker will present it to you. You can either accept the offer or counteroffer back to them.
Once a price has been decided on, the broker will draw up an agreement and handle the escrow process.
If you are selling your blog privately, you will need to get a legal contract that covers everything that is included in the sale to cover both you and the seller.
Ready to start website flipping? Here are the best places to sell your blog to check out:
Bear in mind that the profit margins might be lower with a website broker due to commissions and listing fees but they can be a great place to get a lot of potential buyers interested in your site.
This website intermediary is run by Chelsea Clarke who also teaches people how to flip websites for a profit. Blogs for sale focuses on boutique sites and starter blogs.
When selling your site with Blogs For Sale, you will pay a $25 listing fee to start.
When the site does sell, you will pay a broker commission out of your earnings. T
The commission will depend on the selling price and depends on your selling price. Most commissions are about 25-40% of the sale price.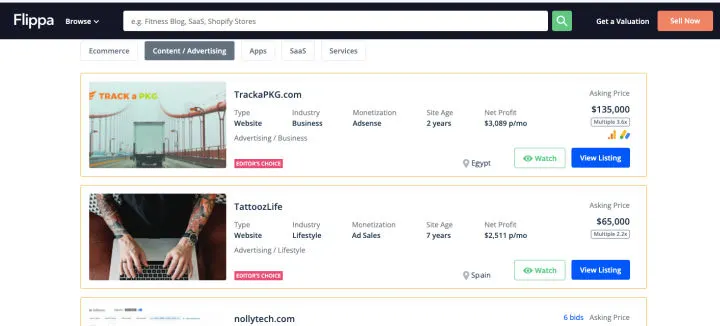 Many people love flipping websites on Flippa because it is very easy to use.
It costs $49 to list an established site with Flippa ($15 for a starter site) and you can expect to pay around 10% in commission for a site that sells for less than $50,000.
Empire Flippers is another large website broker that is worth checking out. For sites worth Under $700,000, commission is a flat 15% on the sale price.
Motion invest offers website flippers two options. You can sell your site directly to them for no fees or commission for a guaranteed sale or you can list your site on their marketplace for a 15-20% commission (no listing fee).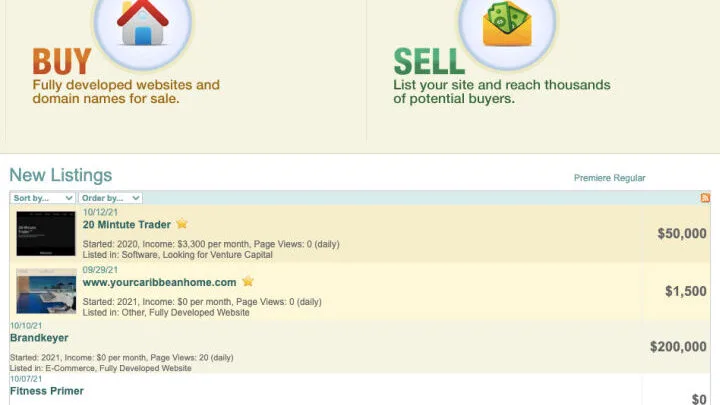 There are no commission charges with Website Broker although you will pay a $9.95 fixed rate fee to have your site for sale for 90 days. Their website is a bit dated compared to some of the other website brokers but it does get good reviews
Digital Exits is best for websites that are established businesses too, such as ones that have membership sites or sell a product. If your site is making over $100,000 then they are a website broker to consider.
If you are interested in selling a domain only (no established website), you can also check out these sites:
Learn More About Starting A Website Flipping Business
If you are interested in learning more about starting your own website flipping business, the next step is to either buy or build your first website.
If you would like to have a better understanding of the business of flipping sites, I highly recommend you check out The Blog Flipping Masterclass from Chelsea Clarke, the owner of Blogsforsale.co
Last January I was amazed to get an email from Chelsea that mentioned how much money she made last year from her website flipping business.
Truth be told, that is what got me interested in this lucrative side hustle.
I recently took the course and found it to be packed with so much good information.
I especially loved the case study on a site that Chelsea herself bought and sold for a great profit.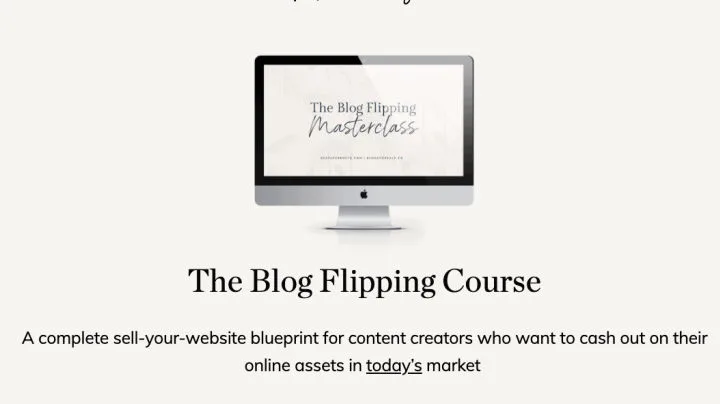 The course is a mix of videos and text modules covering the following:
How To Find Niche Sites To Acquire and how to do due diligence
Monetizing Your Blog In Multiple Ways At Once
How To Professionally Brand Your Blog (On A Budget!
How To Prep Your Blog For Sale
Contracts, Records, Legal Things
Create The Ultimate Listing That Can Not Be Ignored
Generate Leads & Eyeballs On Your Listing For Free
The Entire Selling Process, Pricing Hacks, Managing Bidders, Avoiding Issues
After The Sale, Escrow, Closing, Getting Paid
Transferring Your Website…And A Whole Lot More!
More Ways To Make Money Online
Make Money Selling Printables On Etsy
How to Become A Freelance Writer With No Experience (5 simple steps)
Make Money Selling Stickers On Etsy