Want to learn how to make money selling stickers on Etsy? Have you always wanted to start an online business but don't know where to start? In this article I will take you through everything you need to know about making stickers to sell on Etsy and beyond.
We will go through the following:
The kinds of stickers that sell best
Opening your own Etsy shop
How to promote your stickers to potential customers
Different products to add to your store
Keep reading to learn everything you need to know about becoming a small business owner selling stickers and make sure to sign up for the free masterclass (more details below).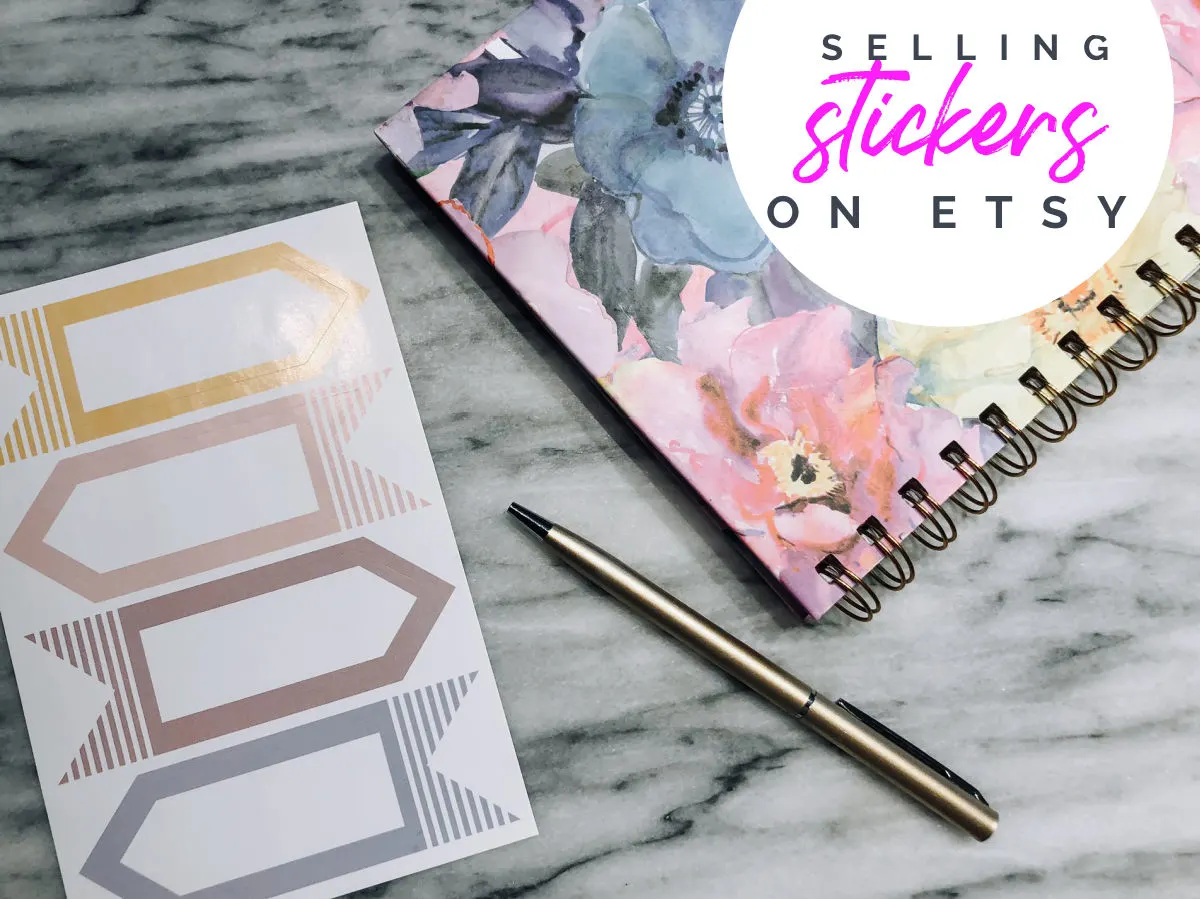 This post contains affiliate links. Please read my Disclosure for more information.
RELATED POSTS
What exactly is a sticker used for? Who buys them?
Stickers are a common promotional item that is used for branding purposes.
Of course stickers are also used for crafts by both adults and children alike plus they are really popular for journals, calendars and agendas.
If you are looking for a new way to generate income, then creating and selling your own stickers is a great option.
This multi-million industry is one of the easiest side hustles to get started with and you could start earning good money this week.
With little money down, you can be up and running with your own Etsy sticker business in no time and join the Etsy shop owners who are enjoying a full-time income.
In this article we will look at how to start your Etsy sticker empire, how to make stickers to sell on Etsy plus everything you need to know in order for your shop to be a success.
How Much Money Can You Make Selling Stickers On Etsy?
This is going to blow your mind but there are Etsy shop owners earning 6 figure salaries just from selling stickers!
In fact making and selling stickers may be the best way to make money on Etsy right now.
Etsy is far and away the best platform to sell both paper stickers and digital stickers (more on that below).
Stickers are a highly profitable niche that you can make your own and start earning this month.
Even hobbyist Etsy creators can make $1000 a month working part-time.
In my opinion, stickers are one of the best things you can sell on Etsy if you are not overly creative.
The great thing about selling stickers on Etsy is that there are very few start-up costs.
What costs are involved with selling stickers on Etsy?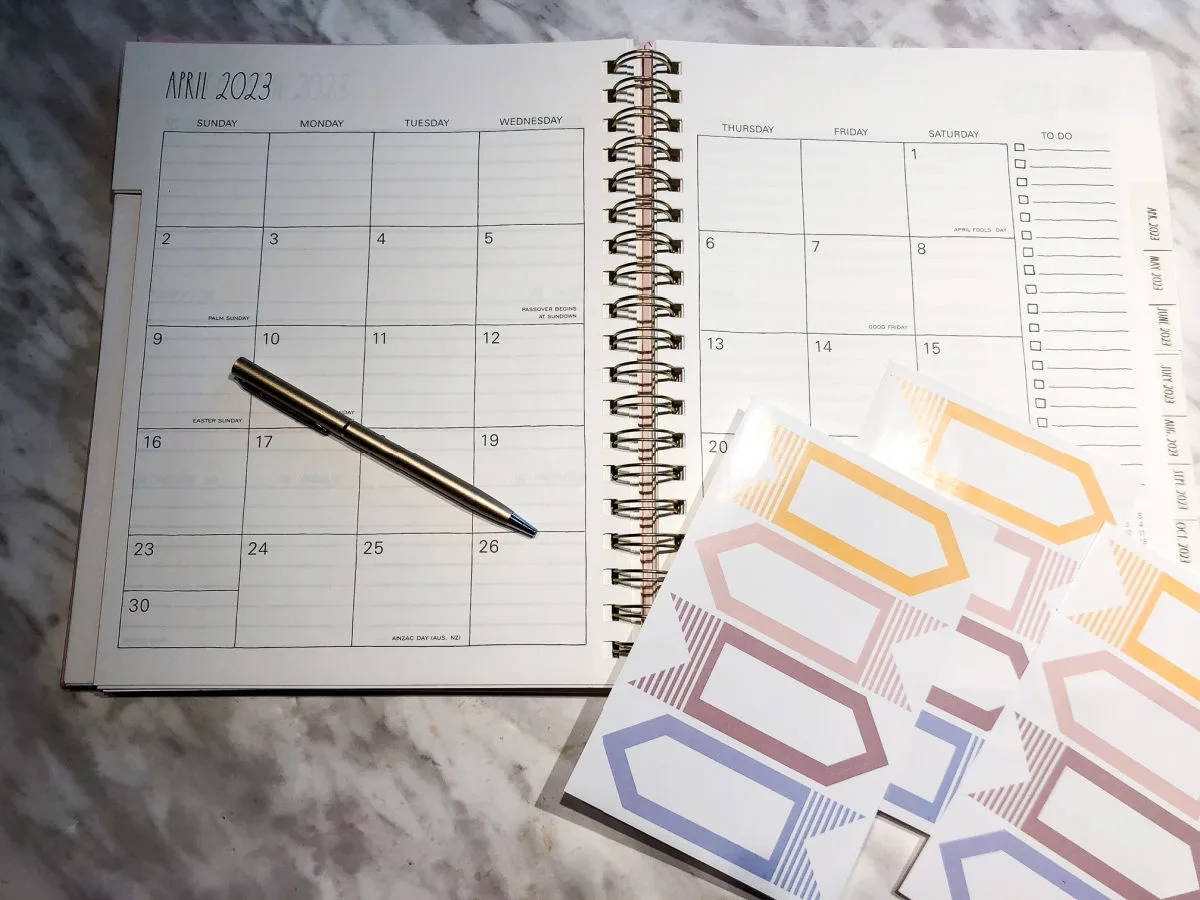 The cost to start a sticker business is low, with materials being an up-front investment plus initial start-up costs for equipment.
To get started making physical stickers, you need:
Printing and cutting tools
Cricut Cutting Tool
Sticker Paper
Good quality printer
Tools To Create Stickers
An iPad and Apple Pencil (or similar)
The Procreate App ($10 in the app store)
Canva Pro subscription (optional)
If you are interested in making digital stickers, you can skip the printing and cutting tools but add in a Canva pro subscription so you can create PNG files with a transparent background.
Etsy Fees
It is very cheap to get started with Etsy as the listing fees are not too high. Expect to pay 20 cents per listing and 6% transaction fee for everything you sell.
Use this link when you open your Etsy shop and you will get 40 free listings to start you off.
You will need to have a stash of:
Cellophane wrappers
High quality bubble mailers
An account with USPS, Canada Post or your local postal service
How long will it take me to be up and running with my Etsy Store?
You can create your first stickers in one afternoon but you will need about a week to prepare your listings, set up your Etsy shop and master your techniques.
You can download my free starting an Etsy Shop checklist PDF to help you get through this quickly.
Kinds of Stickers You Can Make And Sell On Etsy
First of all, you should know that there are different types of sticker that is really popular right now.
Paper Stickers
The first are regular stickers that we have all known and love since we were kids.
To sell these on Etsy, you will need to create, print and then ship them out to your customers.
These are very popular but more labor intensive than the second kind of sticker.
The nice thing about paper stickers is that the profit margins can be quite high once you have an established niche on Etsy.
If you decide to sell paper stickers, you can either print them out and ship them to your customers or send them the digital files so they can print them out at home or at a print store.
Digital downloads like these are great because you avoid shipping costs.
Digital Stickers
What the heck are digital stickers you might be asking.
Digital stickers are printable"stickers" that people use to decorate their online or printable journals, printables and more.
If you sell these kinds of stickers, you would create the design for your customer and then upload the designs to Etsy.
Once you learn to make them, you can tap into an amazing market that is growing fast.
3 Reasons To Sell Digital Stickers On Etsy
Since its a digital download, there is nothing to print or ship
Create passive income – create your stickers once then sell them again and again
You can create digital stickers in minutes and for very little money down
Vinyl Stickers
A third kind of stickers that you can make are vinyl decals such as car bumper stickers or laptop decals.
These are normally made using a vinyl cutting machine such as Silhouette Cameo or Cricut Design Space. You would then ship them to your customers.
Read my guide on Selling Vinyl Decals On Etsy for more information on this type of side hustle.
How To Make Stickers To Sell On Etsy
Making stickers to sell is much easier than you might think.
Making in demand products that customers love is so easy that, in fact you will be kicking yourself that you didn't do this before.
I'm going to run through the basics in this post plus there are tons of videos on YouTube but I highly recommend you sign up for the FREE Masterclass on Creating Stickers That Sell by Superstar Etsy seller, Mim Jenkinson.
In this 60-minute free class, you'll learn the 3-step method to creating stickers that sell and stand out on Etsy and make money from home.
You will will also find out:
The 3 BIG mistakes new sticker makers and shop owners make that you must avoid
The essential tools and equipment you need to get started
How to stand out from the crowd and be successful
The quickest way to get started with selling stickers!
(PLUS you'll get a free gift (a sticker making starter kit – just for watching the class!)
Do you need graphic design skills to create stickers for Etsy?
While you may think you need to be a graphic designer to come up with unique designs that people buy, there are lots of powerful tools you can use to create designs worthy of a stationery shop.
There are many successful Etsy Store owners who do not have a background in graphic design.
Mim, who I mentioned above, started her Etsy store, Paper Planner Club, with no graphic design skills and she didn't know how to create stickers when she first started.
Her business now makes over $100,000+ yearly and has thousands of 5 star reviews on Etsy.
You can read my interview with Mim here where she talks about the biggest challenges for making and selling stickers.
There are plenty of templates out there that make the process a lot quicker and easier.
If you want to design your own stickers, there are a few things to take into consideration:
Sticker Size
Colors will be in your sticker
What size paper do you want to print on.
What Stickers Sell Best On Etsy?
There are many types of stickers that sell well on Etsy. According to Etsy and Etsy Rank, the best sellers include:
Planner stickers
Vinyl Bumper stickers
Vinyl Decal for water bottles, tumblers, bridal party gifts and other events
Logo Stickers for businesses
Clear stickers for windows
If you are trying to decide what kinds of stickers to make in your shop, the key is to find a niche that is not oversaturated.
There are hundreds of sticker shops on Etsy so you want to find a gap in the market and tap into that for maximum profits.
For example, regular planner stickers are a dime a dozen on Etsy but if you can niche down and sell for example, gardening journal stickers that will stand out from the crowd.
The Best Selling Stickers On Etsy
If you want to know the types of sticker that sells best on Etsy, you can use a keyword tool such as Sale Samurai.
It will give you all the information you need about what sells and how much it sells for.
Right now, here are the top selling stickers on Etsy with the most searches:
Kodama Sticker
Wutang Sticker
Sedona Sticker
NYPD Sticker
Equestrian Sticker
Bitmoji Stickers
Horoscope Stickers
Hygge Stickers
8bit Sticker
Manga Stickers
Selling Stickers On Etsy – Step By Step Guide
Designing Your Stickers
The first step to making your stickers is to create some designs. You have a few options to do this:
Draw your own designs using the Procreate app ($10)
Use the free public domain graphics
Purchase commercial rights elements from a site such as Creative Market
Even if you do buy elements and pictures, I recommend that you change them up a bit for your stickers.
Add text, switch the colors or orientation to make your images different from the originals.
Here is how to make simple stickers on Canva in minutes:
Login to your free Canva account
Create a new design
Pick some free elements to use and group the items together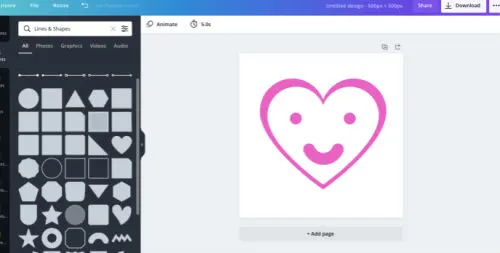 Add text if you want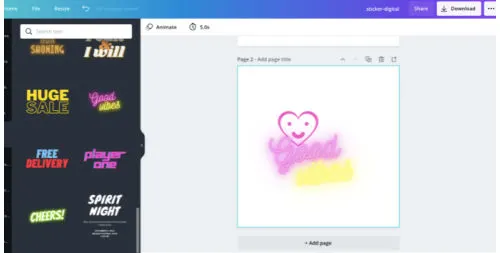 Download as a PNG with a transparent background.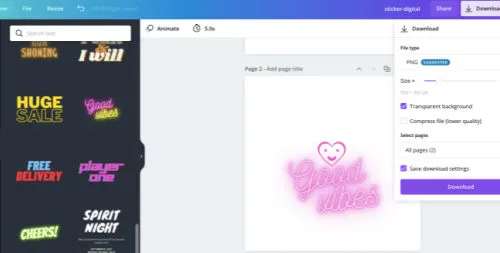 Where can I find graphics for my Etsy downloads?
Now for the bad news..
You can't just grab free clipart online and use it in products you want to sell on Etsy or other sites.
You'll need a proper copyright license for any of your designs as they may infringe upon another party's rights, especially if these items are digital based like graphics & fonts!
Bear in mind that even if you buy commercial use graphics from sites such as Creative Market or Creative Fabrica, you cannot sell the graphics "as is".
Significant alternations are normally required in order to not infringe copyright rules.
Here are the best sites to buy graphics and the rules you need to know:
The Hungry Jpeg
I buy many graphics from The Hungry Jpeg. They offer tons of bundles of graphics, fonts and illustrations for great prices.
They also have a weekly freebie that includes a complete license that you can use on products for sale – check out this week's here.
Creative Market
This is another great place to source fonts and graphics for your digital products.
Creative Market also gives out 4 free items every Monday so it is worth checking out. Here are the freebies this week.
Creative Fabrica
I am a huge fan of Creative Fabrica because they offer many products for super cheap and with really good commercial licenses.
This is the cheapest of the graphic sites that I use and the nice thing is that you can purchase a Print on Demand license for many graphics which means that you can use them as is on your site.
Often the print on demand license is just a few dollars more than the regular license so it is worth buying.
Canva
On Canva, you can use clipart and fonts that are FREE to use for commercial use.
This includes most of their graphics and some of the fonts. If you have Pro, you may not use those graphics in your Etsy items.
The only catch is that you can only use altered graphics and media:
From the Canva website:
Unaltered vs altered media
By using content in a design or a composition, you're creating something unique – once you do, there are very few restrictions on what you can do with your creations. Go wild!
However, unaltered media has restrictions – it can only be used in up to 800×600 (or 600×800) pixel dimensions and it can't be sold or printed on products or merchandise.
Printing and Cutting Your Stickers
Choosing A Printer
When deciding on a printer, there are actually two main types: inkjet and laser.
Inkjets cost less but they use up the color inks quickly and are not really suitable for wide-scale sticker printing.
Laser printers are your best option because they produce images that don't smudge or rub off when printed over because they're high quality prints all around – no matter what typeface or image is being made!
The hardware itself may seem expensive at first glance, however keep in mind this will be cheaper than purchasing multiple devices down the line.
The bestselling budget laser printer for this year is:
Cutting Tools
You will need good quality cutting tools so you can do special things such as kiss cuts (so you cut around the sticker without going all the way through the paper).
With the right tools, cutting and tuning stickers is quick.
But if you're just starting out in this game then it can be difficult figuring out which machine to use for what purpose when there are so many options on offer!
One thing that may put people off?
The cost of buying one – this is likely the biggest investment you will need to make when building your sticker empire.
The number one cutting machine in the World is the Cricut.
Bear in mind that there are lots of second hand Cricut machines around so you can save money that way too.
The best Cricut for stickers is the Cricut Explore 3.
High quality sticker paper is also very important. Michaels or Amazon are good sources for sticker paper you can use.
Creating Your Etsy Listings
Now that you are ready to actually start your Etsy shop successfully, it's time to get ready.
If you want to get started quickly, make sure to download my free printable starting an Etsy shop checklist.
Create Several Products
It is important to work on creating some products before you open your Etsy Store, but most experts recommend at least 10-20 items.
Once they're ready go – it's time to Open up Shop
Once your products are ready to go, it's time to open your shop.
You have to pay for every listing you add to your shop but you can get 40 free listings when you create your shop through this link.
You can follow my step-by step tutorial here for starting your Etsy shop successfully.
Pick the perfect Etsy sticker shop name
If you already own a website, picking your Etsy shop name might be easy. If not, spend some time choosing a business name and make sure that you can also get the social handles for that name too.
This post will tell you everything you need to know about picking the perfect Etsy shop name.
Add your listings
Once your shop is ready to go, you can spend some time perfecting your listings.
Digital products can either be printed out and posed on backgrounds or you can create listing photos on Canva. (and you can grab some free Etsy listing templates here)
You can add up to 10 photos on your listing and I recommend using as many as possible.
Make sure to add a very detailed description and use lots of keywords in your product description, title and tags.
Packaging Your Stickers
Yay! You have made some sales. Now it's time to consider how you are going to ship the product to the customer.
Packaging is an important part of a business.
It's cheaper to invest in protection than refund an order, send a new one, or receive a bad review.
Stickers should be placed in cello bags to protect from moisture and dirt.
You may also want to use tissue paper to protect the stickers in the mail.
It is also a good idea to add coupons for next purchase or a business card from your Etsy shop thanking the customer for their business.
TOP TIP: You can print your own business cards and include a coupon code for another purchase in your Etsy store – bingo – a return customer!
You can print out a shipping label at home to save time on running back and forth to the post office.
How To Outsource Your Sticker Business
The cheapest way to get started with your sticker business is to learn to make them yourself but if you want to get going ASAP and just don't have the time to do it yourself, you can outsource the actual sticker creation.
If you want to create stickers, but don't want to buy a Cricut or go through the time and hassle of creating and printing them yourself, there is another option.
Save time and AVOID having to research a bunch of different companies to get them printed, you can use an online stationary shop such as Sticker Ninja.
What Is Sticker Ninja?
The sticker industry is such as lucrative business that there are a number of websites that will allow you to upload your artwork and then will print and ship your stickers for you.
Obviously, this is not as cheap as doing it yourself but it can be a great way to avoid the hassle of printing and shipping your stickers to customers.
Other online sticker market sites include:
How To Be Found On Etsy
You can't make money selling stickers on Etsy if they don't get found in the first place.
When someone does a search on Etsy for a certain type of sticker, we want your shop to be at the top of the search results.
The easiest way to do this is by mastering Etsy SEO.
SEO is search engine optimization and can help you to get your stickers stand out.
By using keywords that people search for in your listing description, tags and product title, you will give your shop an advantage.
Use the kind of terminology that your customers are using to search for products like yours.
To get a cheatsheet for Etsy SEO, you can download my free guide below.
Etsy Rank – Your Etsy Store Secret Weapon
ERank is a tool to help you find alternative keywords that are related to your item.
It can also help you to do competitor research and see what stickers are selling well.
Here is a snippet of the erank results for keywords regarding stickers:
You can sign up for a free account here.
It can also be used in conjunction with Etsy SEO tools, which will allow you to improve the quality of your listings and increase traffic.
Other Ways To Get Traffic To Your Etsy Shop
Here are some ways in which you can generate traffic for your store:
– Increase Engagement on Facebook Ads
– Create an Etsy Banner Ad
– Get featured by other sellers
– Use social media (Facebook, Instagram and Pinterest for Etsy)
– Sponsor a blogger and ask if they will write about your store.
-Start a Facebook group
-Post on Tiktok
–Start a website for your Etsy store
5 Top Tips For Selling Stickers On Etsy
Now you know how you can sell stickers on Etsy. here are some tips to make your store as successful as possible:
Offer free shipping to your customers
This is a great way to encourage buyers and can help you rank higher in Etsy.
Of course, you will need to factor in the shipping costs in your sale price but this can really help grow your customer base quickly.
Offer bundles of sticker packs
Many Etsy sellers offer multiple sticker sheets at a bargain price to encourage sales.
As a bundle will be a higher price than a single sheet, it can be a win-win. Your customers get a good "deal" and you make more money.
Offer top-notch customer service
One of the most effective ways that small businesses can set themselves apart on Etsy is by offering responding to messages quickly and by going above and beyond for customers.
This can really make a huge difference when it comes to return customers and word of mouth sales.
Continuously add new products
An easy way to get more sales, especially in your first year or so, is to make more products to sell.
If you sell digital items, this is easy because you don't have to worry about shipping and logistics.
Selling Stickers On Etsy – Final Thoughts
Now that you know the benefits of selling stickers on Etsy, it's time to get started.
Many people are making money on Etsy, but you've got to take the time to figure out how it works.
As with any new business, there is a learning curve involved but the good news is, if you are prepared to follow the simple steps outlined in this article, you are on your way to having a great new side hustle.
Here are three easy steps for making money with your own sticker business.
Decide on a product. Unique stickers are important to stand out from the crowd.
Make sure your store is profitable and price your stickers right
Create templates for your sticker designs so you can easily make new designs
Bear in mind that the advice in this article will also help you to sell stickers on Shopify, social media or your own website.
What are you waiting for?
More Etsy Tips
How To Start Your Own Etsy Printables Business
How To Start An Etsy Store Successfully