Are you asking yourself "what is scoping?". I was too! While work from home jobs like transcription and proofreading are becoming more popular, internet scoping is still a pretty much undiscovered opportunity that is flexible and pays well.
It is relatively easy to find internet scoping jobs as demand is high and supply is low. This is a great time to get started on this fantastic work from home job.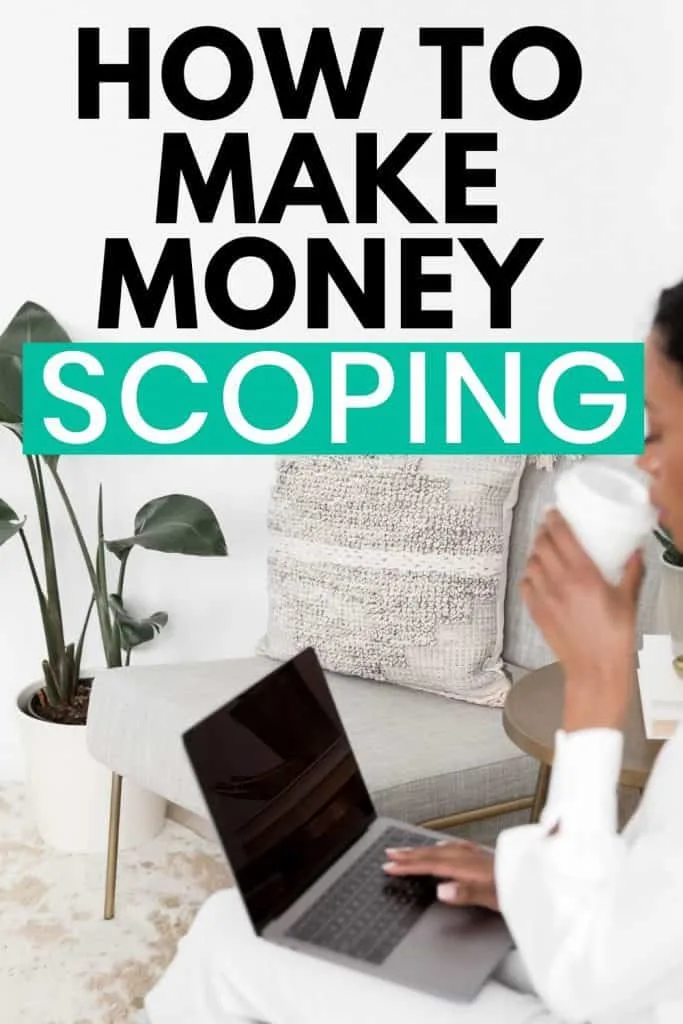 This page contains affiliate links meaning I earn a commission if you use those links. Please read my affiliate disclosure for more information.
If this sounds like something you would like to get into, read on for more details and tips to get started. And make sure to sign up for the free scoping course if it sounds like a good fit for you!
What is scoping?
The definition of Scoping is "editing transcripts for court reporters". Court reporters write the notes for legal proceedings using steno writers. They import their steno notes into computer-aided transcription software that translates the steno into English.
They then hire scopists to edit their notes for them.
I've spoken before about how you can get paid to type at home, scoping is one of the best paid ways to do just that.
RELATED: How to make money transcribing at home
Why is Scoping in demand?
If you are wondering why court reporters don't just edit their own notes. It all comes down to money.
Court reporters are paid per page, rather than per hour, so the more pages they can take down, the higher their earning potential.
By hiring scopists to do the editing, court reporters have more time to take notes and thus, make money money!
What is the difference between a scopist and a proofreader?
If you are thinking that scoping sounds a little like transcript proofreading, then you are right in the sense that they are both used court reporters.
The scopist is the step before the proofreader – they edit the document before the proofreader checks it over, post-editing.
Scopists use the same equipment as the court reporter and transcribe everything into legible, clear English.
How can you make money scoping from home?
Court reporters hire scopists directly. All scopists work as freelancers, running their own business from home.
Once you have built up a name for yourself in the industry, it is very easy to get consistent work as a scopist. In fact, many scopists get a job as soon as they complete their training.
Do you need special equipment to become a scopist?
All Scopists need is a computer with scoping software. The software itself is quite expensive but it is a tax deductible business expense.
How much do scopists make?
The average is about $1.00 to $1.25 per page for a regular turnaround job (approximately 2-3 business days).
A scopist salary of $30,000 is not unheard of for a brand new scopist. As speed improves, earnings can go up to around $50,000-$70,000 a year.
Do I need training to become a scopist?
You do need some training to become a scopist. First, you need to know how to do the work and how to navigate within the court reporting community in order to find work.
Court reporters want to know that they are hiring quality scopists who know what they are doing and without experience, you really need to show that you have some training.
You don't need an degree or university training to become a scopist but a scoping training course is necessary.
Given how well-paid scoping is for a work from home profession, your return on investment for the training is likely much higher than paying for a college degree.
Are there any online scoping courses?
Internet Scoping School is the most popular course for beginners who want online scoping training.
Linda, the founder of Internet Scoping School, is one of the most successful and well-known scopists in the USA. She opened up the school in 1999 as a way to train more scopists for this in-demand job.
What do you learn in the Scoping Course course?
There are two options available – the full course and a Scoping Fundamentals course which is less expensive.
The full courses includes the following:
Reading steno notes — you get 60 levels of lessons plus a practice workbook with drills for each lesson.
Four hours of video tutorials on how to use LinkedIn to build your business
Producing transcripts
Marketing yourself successfully and finding clients.
Access to an active online community of ISS students and graduates
You can read more about the Scoping courses here.
Are there any free courses online?
Internet Scoping School offers a free 7 day introductory course on scoping.
Here is what you will learn on the free course:
What is scoping? What does a scopist do?
How big is the demand for scopists?
What skills does a scopist need? + Test your word skills!
What about finding clients and marketing?
Do I need a degree?
What's the earning potential?
Getting started
More work from home ideas
How to get started as a Pinterest virtual assistant
How to start a blog and make money from home