The holidays are here!
The best time of the year, but also the busiest.
For those of you who are still looking for that perfect gift for your loved ones, don't worry.
These last-minute DIY Christmas gifts are perfect because they are thoughtful, easy to make, and show once-in-a-lifetime love.
Below there are lots of ideas for you to use and make as quick last-minute gifts for family, friends, or neighbors.
If money is tight this year, these DIY holiday gifts will help you have a great Christmas without spending money on expensive gifts.
If getting crafty is one of your favourite hobbies, then why now have a go at starting your own craft business and making some money while you have fun?
Some people sell their crafts to cover the cost of their hobby while others are able to sustain a full-time income with their Etsy store selling homemade items.
Whatever your motivation, it's possible to turn your hobby into a money-making venture with the right tools and good-quality items.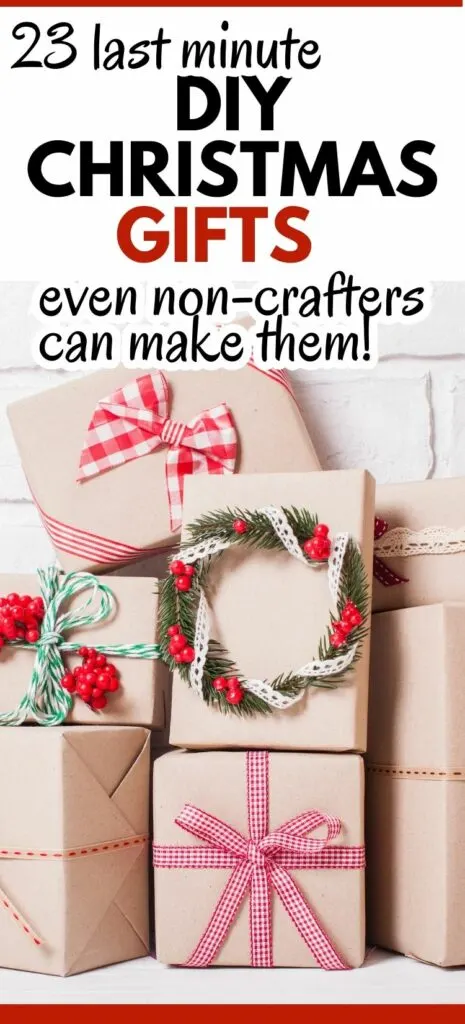 Some of the links in this post may be affiliate links, please read my disclosure for more info.
MORE FUN CRAFTS TO MAKE AND SELL
21 Most Profitable Resin Crafts To Sell
20 Wooden Christmas Crafts To Make And Sell (For Profit)
Easy Crafts To Make And Sell Online Or On Etsy
I have tons of great ideas of things you can make and sell.
From selling printables on Etsy to making cool things out of wooden pallets, the world is your oyster.
If you want to browse all the ideas of great crafts to make and sell, make sure to read my list of the 451 Most Profitable Crafts To Sell.
But right now, let's look at these last-minute DIY Christmas gifts you can make yourself.
Homemade gifts are fun to give because they are always unique and thoughtful.
Plus, they are often frugal and will save you a bunch of money!
23 Things To Make And Sell From Home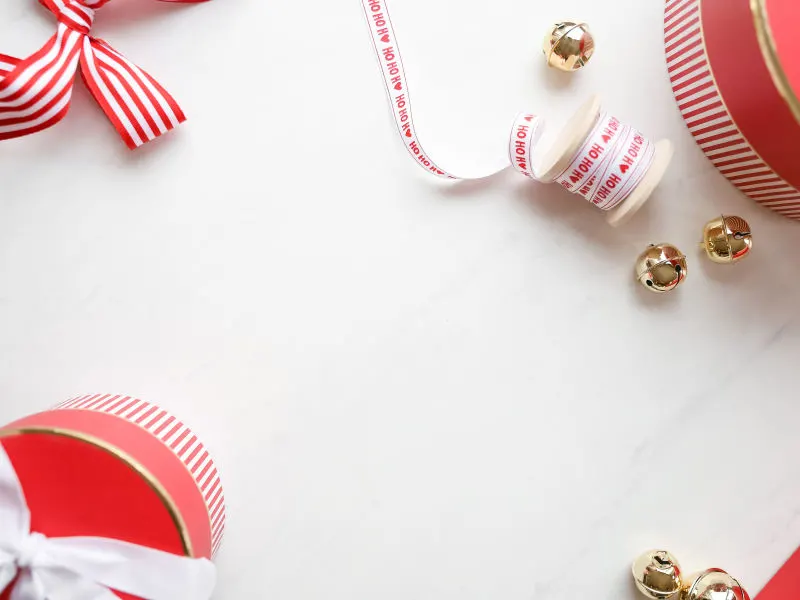 Below you will find 23 popular things to make and sell at craft fairs, school holiday markets and even online, on Etsy or even your own site on Shopify.
Whether money is short or you want to give some last minute DIY Christmas gifts this year, here are some great things to make and sell from home.
Homemade gifts are thoughtful and meaningful, and will be treasured for years to come so why not get crafting this Christmas?
These mugs look amazing and are so simple to create.
They are sure to impress anyone on your gift list.
I love super simple crafts like that that don't cost a lot to make.
All you need are plain white mugs, nail polish, and a bowl of water (that's it!).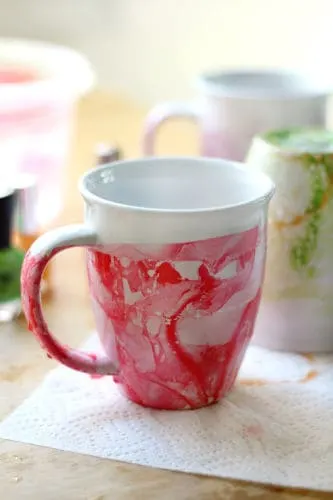 Anxiety-Reducing Bath Bombs from Conservamom
Bath bombs have been popular for years now and show no sign of going away.
Handmade bath bombs are surprisingly easy to make and you can whip up a batch in no time.
If you are interested in selling bath bombs on Etsy, you want to sell a big range of scents and colors.
You can change these bath bombs up by adding other essential oils to make other scents.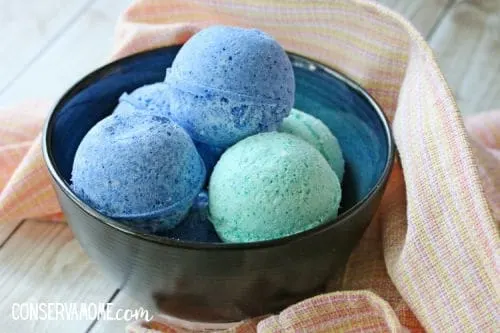 These hot chocolate ornaments make great teacher gifts or party gifts.
I often gift mason jars gifts such as hot chocolate mix so these Christmas ornaments would make a nice change.
They also make an awesome add-on to a gift card or cash gift.
Click here for even more cute Christmas ornaments that make great last minute DIY Christmas gifts.
I love this idea for nativity trail mix in a mason jar!
It comes with free printable tags to explain what it is.
I'm going to make this gift with my Sunday School kids this year.
My favorite thing about this DIY gift that it keeps the focus on Christ and why we are celebrating Christmas.
It's easier than you think to make candles at home and these ones smell just like Christmas cookies.
You could gift them with a batch of your homemade cookies for a really great teacher or hostess gift.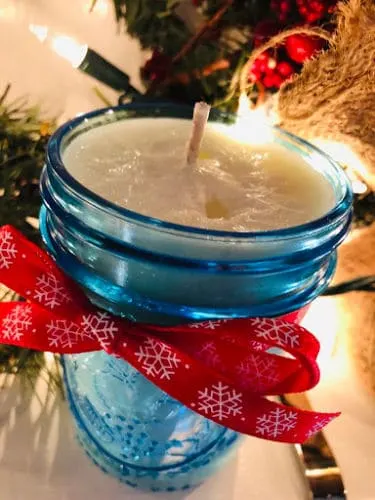 Rosemary, Orange & Thyme Flavored Herb Salt from The Rising Spoon
If you have a foodie to buy for and don't want to make your own food gift, how about some easy to make seasoning?
No cooking is required but it is always a welcome gift by cooks!
This DIY seasoning is gluten-free, dairy-free, whole30 friendly, low-carb & vegan.
It's also super easy to make in batches for gifts or craft tables.
I've already mentioned bath bombs but I just had to include these really cute snowflake shapes.
Peppermint bath bombs are a fun and easy homemade Christmas gift anyone would love to get.
If you want to sell them on Facebook or even Etsy, you make a big batch and sell them in cute bags or tins.
If you are looking for a super last minute DIY Christmas gift for a teacher or coach, you will love this idea.
These cute snowman make a great teacher's gift and make the list of easy things kids can make & sell.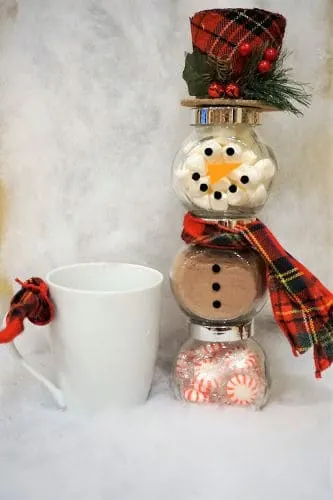 Now here is something a bit different that will require a little more time.
These insulated warmers also work great to microwave potatoes or steam veggies.
High quality beeswax can be expensive, so this beeswax free recipe makes it easier to make on a budget.
DIY Beauty products always sell really well during the holidays.
The recipe shows the lotion in the form of shells but you could make yours holiday-themed if you like.
Just use silicone molds shaped like Christmas trees or snowflakes for some holiday spirit.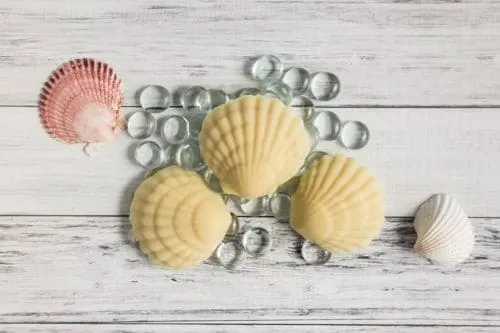 Obviously this is an adult only gift idea but as far as last minute DIY Christmas gifts go, this one couldn't be easier.
All you need are some candy canes and vodka and in 24 hours, you will have an awesome present for the vodka lover in your life.
Click through for the recipe and some cute free printable gift tags for your mason jars.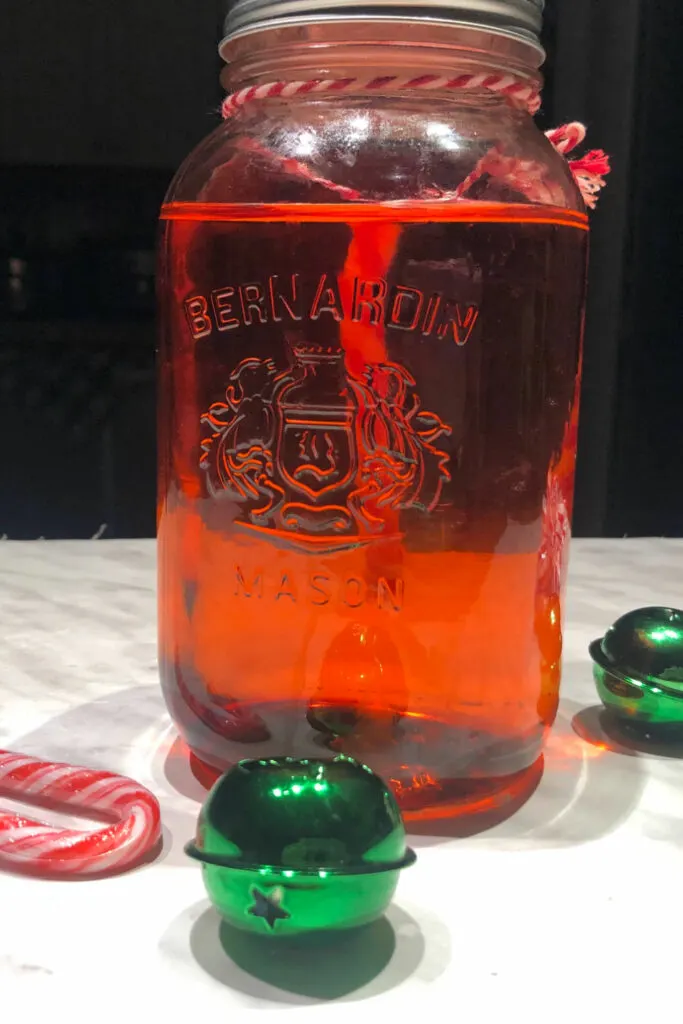 Perler Bead Cookie Cutter Ornaments from Mama Cheaps
These Christmas ornaments are easy to make and are definitely something you can involve the kids in!
I always love crafts that kids can make and sell too as that means they are super simple!
They would make a fun preschool Christmas craft.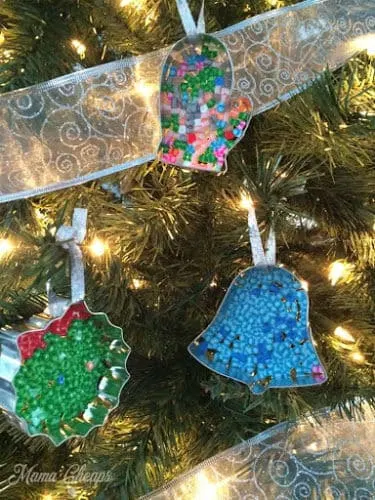 I love using DIY sugar scrub but I had never thought of making it into cubes before I saw this recipe.
These little gingerbread men are so cute!
They are also really easy to make and give as gifts.
Quick and Easy Peppermint Fudge from The Monday Box
Fudge always makes a great gift at any time of year.
It is also an amazing thing to sell online in your local Facebook groups.
There is a lady local to me that sells boxes of fudge around the holidays and she sells out in hours.
I think last year she sold 300 boxes at $5-8 each so you can imagine the profit she makes.
Spend an evening making batches of fudge and you have a wonderful last minute holiday gift to give or sell.
No stovetop or candy thermometer is required for this simple recipe which always sells well at bake sales.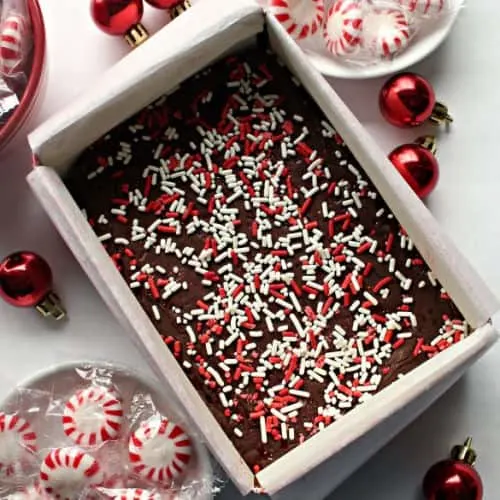 Making your own lip balm is really easy and is always popular.
My kids are completely obsessed with making it and they love gifting it to family and friends.
This kit from Amazon has all the lip balm making supplies you need to get started then all you need is an easy recipe.
These candy cane lip balms make great stocking stuffers or add-on gifts and are really easy to make. Plus how cute are they?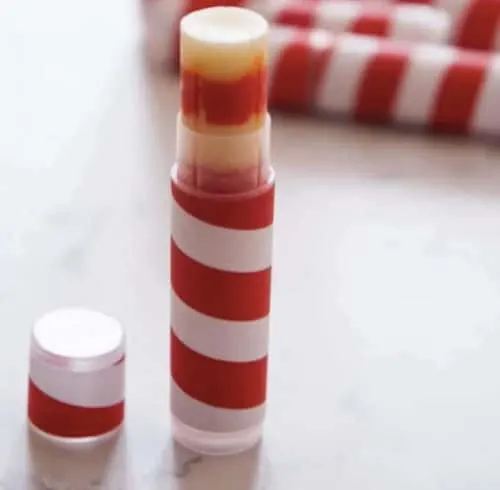 A lot of people own wax melters nowadays but buying the melts can get expensive.
These Christmas tree scent wax melts smell just like pine trees and are perfect for giving as a holiday gift.
I like to package them nicely and give as hostess gifts to family and friends we visit during the holidays.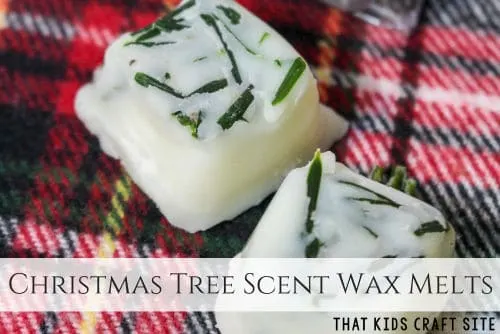 It looks good enough to eat but this is soap!
This peppermint bark soap is all natural and does not contain lye. It would make a great gift for the holidays.
If making soap is something of interest to you, read all about how to start a soap making business from home.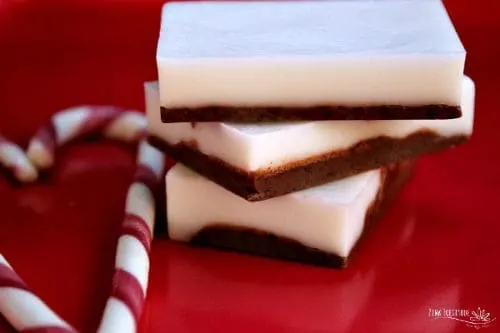 I use my heating pad all the time for cramps and backache.
You can even pop it in your bed for half an hour before you get in to make it toasty.
Potpourri makes your home smell wonderful and is all natural.
This is a super simple craft to make and bag up as last minute DIY Christmas gifts.
The tutorial includes free printable gift tags so you can be ready to give your gifts in an afternoon.
These peppermint bath salts are so easy to make and are one of my favorite things to make and sell from home or at craft fairs.
I make these every year with my kids to give out to aunts and grandmas.
They take just minutes to make and are a fantastic gift.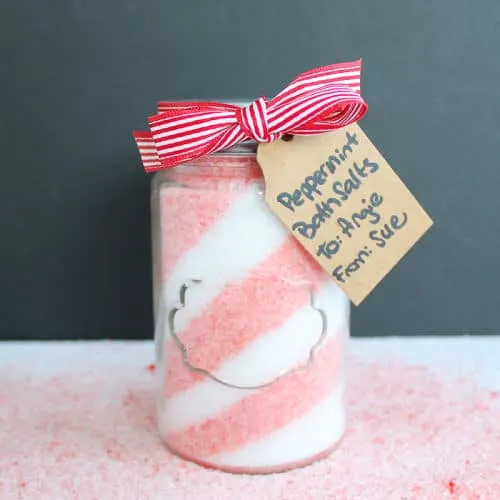 If you own a Cricut machine, then this craft is one of many Cricut crafts that you can make and sell this Christmas season.
Buy frames from the dollar store or hunt for cute vintage options at thrift stores.
Canvas prints are super popular right now and go well with the farmhouse style that is all the rage.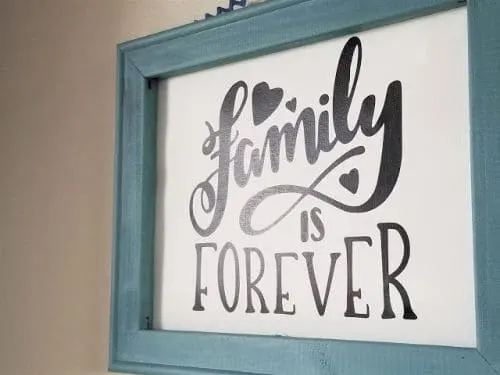 Now here is a cute gift idea for the sangria fan in your life.
This set contains everything you need to make a wonderful pitcher of the Spanish summer beverage.
You can switch this up to incorporate any drink.
It makes a great housewarming or holiday gift however you style it!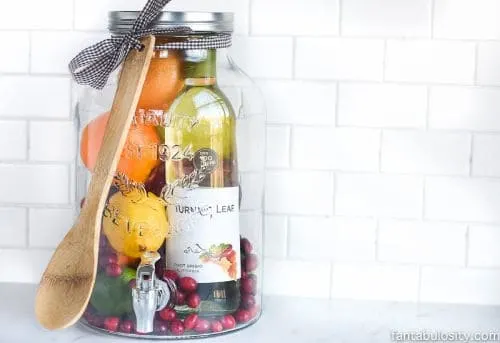 Coasters make a great gift and always sell well at holiday bazaars and fundraisers. These ones look hard to make but are actually not that difficult at all.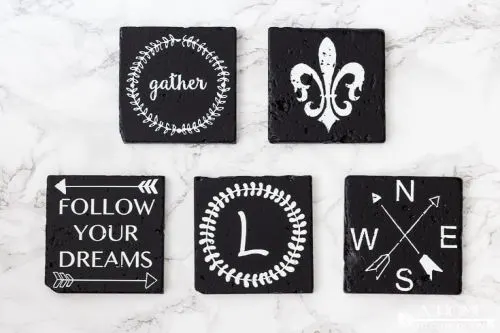 More Things To Make And Sell During The Holidays
The holidays are one of the best times to sell you crafts for money.
There are craft fairs, holiday bazaars and everyone is looking for that special, unique gift that no one else has.
There are lots of DIY crafts you can make at home to sell.
Some popular things to make and sell at craft fairs include:
If you want to really start your own business selling crafts, consider opening your own Etsy Store.
Etsy is a great way to get a larger audience for selling your crafts.
People go to Etsy specifically to find handmade items so you have a ready and willing customer base there.
If you are interested in opening your own Etsy store and listing your first 40 items completely free, you can get all the details here: How To Start An Etsy Store Successfully
More Last Minute DIY Christmas Gifts To Make And Sell
Woodworking Crafts To Make And Sell