Hey there wine lovers, are you tired of spending your cash on bottles of vino? Well, what if I told you there's a way you can actually get paid to drink wine?
That's right, you can turn your passion for Pinot into a side hustle that pays.
In this post, we're going to explore some fun ways to make money for sipping on your favorite varietals.
So pour yourself a glass (or two) and get ready to learn how you can turn your love of wine into cash.
Cheers to that!
This post may contain affiliate links. Please read my Disclosure for more information
MORE FUN SIDE HUSTLES
Sell Used Socks Online (For Lots of Money!)
How To Get Paid To Drink Wine

If you love wine, why not make some money doing what you love?
Below are some amazing ideas for earning some cash while sipping on vino.
And if you need a break from the grape, make sure to check out my list of ways to get paid to drink beer too!
1. Get Cash Back on Your Wine Purchases
To earn cash back on your wine purchases, you can use apps like Ibotta, Checkout 51, and Caddle.
These apps allow you to earn cash back on grocery purchases, including wine, by submitting receipts or linking your loyalty cards.
With Ibotta, for example, you can earn cash back on specific wine brands or by redeeming offers for any wine purchase.
Caddle works the same in Canada.
So next time you're stocking up on your favorite bottles, be sure to check these apps first to see how you can earn some extra cash.
2. Start A Wine Blog
If you're passionate about wine, starting a blog or social media account dedicated to all things wine can be a fun way to turn your hobby into a side hustle.
You can write about different wine regions, review different wines, and provide tips on how to pair wine with food.
Once you've built up a following, you can earn money through sponsored posts, affiliate marketing, and advertising.
3. Mystery Shopping
Becoming a mystery shopper is a fun and easy way to get paid to drink wine.
Mystery shopping companies often have assignments at wineries, wine bars, and restaurants where you can sample wine and provide feedback on your experience.
Last year I got paid to mystery shop at my local liquor store for wine, for example!
The company will reimburse you for the cost of the wine and paid a fee for completing the assignment.
To get started, simply sign up with one of these reputable mystery shopping companies , create a profile, and start applying for wine-related assignments in your area.
4. Become A Wine Influencer
To launch yourself as a wine influencer and get paid to drink wine, you can build a following on social media platforms like Instagram and TikTok.
By posting about your favorite wines, offering tips on wine pairings, and sharing your experiences visiting wineries, you can attract a following of fellow wine lovers.
Once you've built up a sizable following, you can start working with wine brands on sponsored posts, affiliate marketing, and other collaborations.
So if you're passionate about wine and have a knack for social media, becoming a wine influencer could be a fun and profitable side hustle for you.
5. Get A Job In A Winery
Another fun way to get paid to drink wine, is to look for job opportunities at wineries if you have one near you.
Wineries offer positions such as tasting room associates, wine educators, and wine tour guides.
These positions typically involve sampling and talking about wine with customers, and may also include tasks like pouring wine at events or assisting with wine production.
You can search for winery job openings on job sites like Winejobs.com, or by reaching out to wineries directly to inquire about any available positions.
Keep in mind that some wineries may require previous wine industry experience or a certification like a sommelier certification, so be sure to read the job requirements carefully before applying.
6. Become A Wine Taster
Many wineries and wine companies hire wine tasters to evaluate their products.
This involves tasting different wines and providing feedback on their taste, aroma, and overall quality.
You can find wine-tasting jobs on websites like Indeed, Glassdoor, or even Craigslist.
Additionally, some companies like wine subscription services and online wine retailers will hire freelance wine tasters to provide tasting notes and descriptions of their wines.
By the way, if beans are more your thing, rather than grapes, you can also get paid to drink coffee as a tester too!
7. Make Your Own Wine
If you enjoy wine and want to make money, why not start your own wine business?
To start a business making and selling your own wine, you'll need to begin by obtaining the necessary licenses and permits.
This includes obtaining a winery license and a business license from your state or local government.
As you begin making and bottling your wine, you can start selling to local restaurants and wine shops, and eventually expand your distribution through e-commerce platforms or wine clubs.
It's important to remember that starting a wine business is a complex process that requires a significant investment of time, money, and effort, but with dedication and hard work, it can be a rewarding and profitable venture.
8. Start A YouTube Channel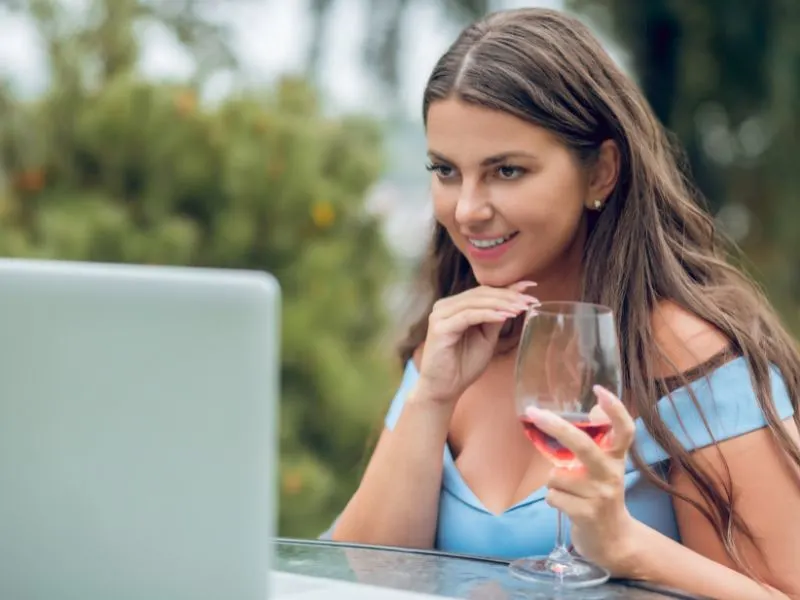 To start a YouTube channel about wine and make money from it, you'll need to create engaging video content that appeals to wine enthusiasts.
This might include wine reviews, tutorials on wine tasting, and interviews with winemakers or other industry experts.
As your channel grows in popularity and attracts subscribers, you can monetize your content through ads, sponsored content, and affiliate marketing.
First, you'll need to create a YouTube account and begin creating and uploading high-quality videos on a regular basis.
It's also important to engage with your audience by responding to comments and creating a community around your channel.
With dedication and hard work, you can turn your passion for wine into a profitable YouTube channel.
9. Become A Tour Guide
To become a tour guide showing people around wine country, you'll need to have a strong knowledge of wine and the local wineries in the area you wish to work in.
You can gain this knowledge by taking wine courses, attending tastings, and doing research on the wineries in the area.
Once you feel confident in your knowledge, you can start reaching out to tour companies or wineries to inquire about any available tour guide positions.
Alternatively, you can start your own tour company by creating a business plan, obtaining any necessary permits and licenses, and marketing your services to potential customers.
As a tour guide, your responsibilities will include leading groups of visitors on wine tours, providing information on the wineries and wines they're tasting, and ensuring that everyone has a safe and enjoyable experience.
10. Become A Wine Sommelier
To become a wine sommelier, you'll need to have a deep knowledge and understanding of wine, including the different varietals, regions, and production techniques.
One way to gain this knowledge is by taking wine courses and earning certifications from organizations such as the Court of Master Sommeliers or the Wine & Spirit Education Trust.
It's also important to gain practical experience by working in the wine industry, such as in a restaurant or wine bar.
As you develop your skills and knowledge, you can begin pursuing opportunities to work as a sommelier in fine dining establishments, hotels, or wine shops.
In this role, you'll be responsible for creating wine lists, providing recommendations to customers and caring for the wines.
Becoming a sommelier requires dedication, hard work, and a passion for wine, but can be a rewarding and fulfilling career for those who love the world of wine.
11. Start An Affiliate Site
To start an affiliate site selling wine and wine products online, you can set your site up as a blog (click here for a simple and cheap tutorial!)
Next, you'll need to research and choose affiliate programs that offer wine-related products, such as wine clubs or wine accessories.
Examples of wine affiliate programs you can join include Gold Medal Wine Club, Wine Club Of The Month and more.
You can also join a large affiliate network such as ShareaSale and then join a bunch of wine companies. ShareaSale has the following wine affiliate partners right now:
Gold Medal Wine Club
Treasury Wine Estates
Plonk Wine Merchants
Pure Wine
Wine Of The Month Club
You can join ShareASale for free here.
Once you've joined these programs, you can begin creating content on your site that features reviews and recommendations of these products, and include affiliate links that direct visitors to the products on the affiliate sites.
As your site gains traffic and visitors make purchases through your affiliate links, you'll earn a commission on those sales.
It's important to create high-quality content that offers value to your readers and promotes the products in an authentic way, in order to build trust and credibility with your audience.
12. Host Wine Evenings
Another way to get paid for drinking wine is to host wine tastings for friends, family, or even strangers.
You can charge a fee for people to attend, and provide a selection of wines for them to try.
You can post about your wine tastings on social media and on websites like Eventbrite to get going.
13. Become A Wine Consultant
If you have a deep knowledge of wine, you can offer your services as a wine consultant.
This could involve helping people choose wines for their restaurant, providing guidance on building a wine cellar, or offering advice on wine pairings for special events.
You can advertise your services on websites like Fiverr or Upwork, or through your own website or social media accounts.
5 Best Companies That Will Pay You To Drink Wine
Majestic
Majestic is a wine company that is looking for a Vintern to drink wine on holiday, for the equivalent of a £52,000 per year salary (that's $65,000!).
You will fly to the Iberian Peninsula, to taste the wines of Spain and Portugal in their home country – including flights, accommodation and a case of Majestic's superb Wine Club wines to sample.
You'll also get with £200 per day spending money.
Even better – you'll also get a case of wine to try back at home.
In return, you'll need to evaluate the two experiences – and let Majestic know which wines taste best.
Dragon Spirit Marketing
As a Dragon Brand Ambassador, you will have the opportunity to showcase Dragon's beverage partners at a variety of tasting events, from liquor stores to special events and everything in between.
You can apply directly on the Dragon Spirit Marketing site.
Cruise Croatia
Would you like to try some delicious local Croatian wines including Dingač, Pošip & Malvazija?
Do you want to earn money for doing wine tasting at home? Well, Cruise Croatia has a great opportunity for a wine taster like you!
The lucky wine taster gets a case of Croatian wine and cash in exchange for their reviews.
5 Soul Wine Co
This California based winery is looking for brand ambassadors – no experience with wine necessary!
You can get all the details on the winery's website.
Wine Spectator
Wine Spectator is one of the biggest websites all about vino.
You can check their job board for opportunities, especially if you live in wine country, California.
For example, if you want to become a freelance writer, you could work as a Tasting Coordinator and Contributing Writer for wine spectator.
5 Jobs Board That Have Opportunities In The Wine Industry
Vitisphere is a wine industry news and information platform packed with good stuff.
They also offers a job board called Vitijob where people can search for wine-related job opportunities.
This is a wine industry job board with opportunities in various fields of the wine industry, including wineries, vineyards, and wine-related businesses.
If you live near the wineries in Canada, this website has great ways to get paid to drink wine!
If you are based in Europe, check out this site for hundreds of amazing wine jobs!
On this US-based site, you will find lots of jobs including winery & vineyard jobs.
Get Paid To Drink Wine: Final Thoughts
There are many ways to get paid to drink wine, from becoming a wine influencer to working at a winery or becoming a mystery shopper.
With a little bit of creativity and effort, you can turn your passion for wine into a profitable side hustle or even a full-time career.
Whether you choose to start your own wine-related business or work for an established company, remember to enjoy and appreciate the wine you are drinking.
So go ahead and uncork that bottle, take a sip, and start exploring the many opportunities available to get paid to drink wine! Cheers!