You have probably heard of flea market flipping but did you know that this side hustle is making people 6 figures every year?
Flea market flipping is one of the easiest side jobs to get into. It is simply turning old stuff into something people will buy. Then pocketing the profit.
In this post, we will talk about everything you need to know to become a professional flea market flipper including:
What is flea market flipping
How much money you can make as a flea market flipper
What the most profitable items to flip are
Plus we will meet a couple who make over $100,000 a year as the ultimate flea market flipping gurus.
Read on for all the deets and to get started turning trash into treasure.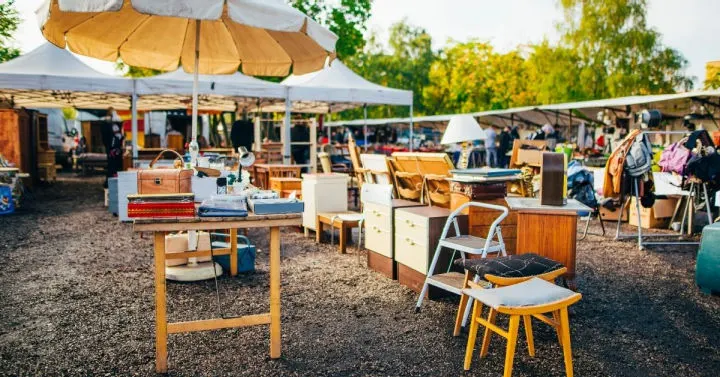 This post contains affiliate links. Please read my Disclosure for more information.
MORE THINGS TO SELL FOR MONEY
31 Best Things To Sell On eBay For A Profit
How To Sell Used Socks Online (For Lots of Money)
Don't miss this FREE Flea Market Flipping WORKSHOP – you'll learn everything you need to do to turn those thrift store finds into cold hard cash!
What Is Flea Market Flipping?
Nowadays people are always looking for quick flips to make money. From real estate to storage lockers, it is all the rage.
Flea market flipping is taking something old and unwanted and making it desirable again.
You probably know the old adage "one man's trash is another man's treasure".
This is crux of flea market flipping. You take something no one wants and spruce it up then sell it on to someone else for a profit.
How do you make money with flea market flipping?
Flea market flipping is buying an item for low price and selling it for a higher price.
If you have seen HGTV's Flea Market Flip, you know that you just need a little bit of elbow grease and the right amount of creativity.
The flea market flip contestants turn flea market items into extra income.
The modern age has allowed people to buy and sell items from Craigslist, eBay, etc with third-party sellers.
It's possible to find many different types of items at flea markets or similar platforms like thrift stores or garage sales.
Most people start off by flipping furniture because the income can be enormous but really anything can be flipped.
How Much Money Can You Make From Flea Market Flipping?
How much income could someone starting out expect to make flea market flipping?
While flea market flipping is a really lucrative side hustle, the amount of money you can make is depends on the number of items you flip, the profit margin on each item, and how many hours they spend.
Usually you can expect to make between $300-1,500 in a month from flipping.
However, your success depends on how much time and effort you put into your business as well as what type of marketplaces you choose to use for this venture.
Remember the couple I mentioned at the beginning of the post?
The ones who make 6 figures a year flipping stuff for cash?
In this first month of serious flipping, he made $5000.
He flipped furniture, Bow flex exercise machines and more.
This is a side hustle that you can scale up quickly and easily with the right effort.
Look at the profit this Flea Market Flipper made in a single flip:

Why Should You Pursue Flea Market Flipping?
If you love scouring thrift stores and flea markets for bargains, then you can probably skip this question.
But what if I told you that you could make a ton of money flipping old items for CASH?
The great thing about flea market flipping is that you hardly need any more to get started.
Begin with $50-100 and double your investment as you repurpose and resell items.
As you fine-tune your haggling savvy you'll start to get the best deals when you're the seller and high prices when you're the buyer.
Other reasons to become a flea market flipper:
Diversified Income
Create a new stream of income for your family and make money in your spare time.
Large Income Potential
The sky is literally the limit with flea market flipping! You can make so much money without spending a ton yourself and turn this into a full-time business.
Flexibility
You can work at flea markets on your own schedule – this is a perfect weekend side hustle that you can start and stop whenever life gets busy.
Low Initial investment
Most flea market flippers start small. Being by spending $50-100 on an item then gradually increase your investments as you flip items for a profit.
Good for the planet
Here is one advantage of flea market flipping that a lot of people don't talk about – by making old things new again, you are keeping them out of the landfill.
Someone buying a sideboard that you refurbished means that they didn't buy a brand new one and the old one didn't get put in the trash. It's a win-win.
What To Look For At A Flea Market
Now, let's dive into the nitty-gritty of finding those hidden gems that will make you a profit.
It can be hard to know what to look for at thrift stores to make money.
One of my favorite spots to start is the "junk" piles.
Don't be fooled by appearances—what might look like trash to some can be pure gold for us savvy flippers.
Keep your eyes peeled for unique vintage items, old records, retro furniture, and quirky collectibles.
Trust me; these often have a dedicated market of buyers willing to pay top dollar.
Another treasure trove to explore is the clothing section.
Vintage clothing is all the rage these days, so keep an eye out for timeless pieces, funky patterns, and high-quality fabrics.
Look for brand names, unique designs, and anything that screams "retro."
You might score a beautiful vintage dress for a few bucks and sell it for a small fortune online.
Best Items to Flip at a Flea Market

The best items to flip are ones that make you a profit.
Rob Stephenson from Flea Market Flippers says he looks for unusual or strange items that will net him at least a $100 profit when he flips them.
Other people focus exclusively on baby items that are like-new and sell for a great profit.
What are the best money makers at flea markets?
Anything can find an amazing home and be profitable with the right TLC and the right buyer.
The key is to find stuff that is undervalued by the seller.
As you get more experienced as a flea market flipper, you will become more attuned at finding great treasures to flip.
I have create a whole list of the 8 Best Things To Flip for a profit.
However, there are some items that are great for flipping:
Vintage clothing
Antique books and records
Retro video games and consoles
Books
Musical Instruments
Antiques or Vintage Items (check out the 21 Best Selling Vintage Items On Etsy).
Vinyl Records
Larger Items
High-end or Luxury Brands
Baby Items, Including Strollers
Certain Technology
Power Tools
Sporting Equipment or Memorabilia
Flea Market Flipping Expenses
How much do you need to spend to make money in flea market flipping?
Many professional flea market flippers try not to spend much on big ticket items.
In order to have a profitable business, you don't need to spend a ton of money.
You will need to a little cash before you go in search of items but you the good news is, you don't need a huge amount to get started.
Rob tries to keep his purchases under $50 although will splurge on a specific item with a lot of potential.
Remember, as with any business venture, there are expenses that come with this type of activity.
Always remember to account for shipping costs such as freight, packaging and handling when selling items on Ebay.
Plus you will need to pay taxes on your profits. (many flea markets will ask for your tax ID when you book your spot).
Your time is worth money too!
So make sure you set aside the time needed to find your potential flea market flips in the first place.
Where to Find Things to Resell Locally
You can find flea market flip items for sale almost anywhere!
Here are some of the most popular spots:
Garage Sales
Flea Markets
Yard Sales
Thrift Stores
Street Markets
Real Estate Listing – look for moving sales and online auctions
Antique Shops
Online resale stores
Storage Units
Your Own Home ( we all have some junk in the garage!)
What skills do you need to flip items for profit?
A lot of people think that flipping requires a level of skill in carpentry or design, but I disagree.
You also don't need a college degree or any kind of formal training.
All you need is to be able to identify an item with potential and be able to accurately assess it.
Many items just need a cosmetic spruce up just as a coat of paint or new handles.
Then you just need to get those items into the hands of interested buyers.
What Tools Do You Need To Make Extra Money Flipping Items?
You don't really need much other than a knack of buying things at low prices and having a good eye for a bargain.
In addition you will need:
A car or truck to take your items home
A computer and internet for listing your items
Your own PayPal Account
Paint and DIY materials
How to Make Money Flea Market Flipping
Stick to your expertise
Learning how to market flip is super easy if you already have some interest in collectibles.
If you already have a passion for a certain kind of antique or collectible, you are ahead of the game.
Try and pull from your real-life experience to find great deals that other people might miss.
For example, Rob's wife Melissa is a personal trainer so she often looks for exercise equipment that she can resell for a profit.
Do your research
First things first, let's talk strategy.
When I hit the flea market, I always have a game plan in mind.
It's all about knowing what's hot in the market and what buyers are looking for.
So before you go, do some research and keep an eye out for trends.
Check out online marketplaces like eBay and Etsy to see what items are selling like hotcakes.
This will help you focus on items with high resale potential.
If you find a piece of furniture for a good price, look up the maker or style on Google and see what they are currently selling for on eBay.
Google is your friend.
I just moved and in my new house, there was a hot tub in the back yard.
We were about to sell it for $200 or put it on the curb for the trash but a quick Google showed me that they are selling for over $1500 because of a supply chain issue.
I made $2000 on something that I got for free with my house!
Use Multiple Platforms
Now, let's talk about the power of online platforms.
These days, the internet is your best friend when it comes to selling your finds.
Set up shop on popular marketplaces like eBay, Etsy, or even Facebook Marketplace.
Take clear and attractive photos of your items, write engaging descriptions, and set a competitive price.
Don't forget to factor in shipping costs and choose the right shipping method to ensure your items arrive safely.
Offer Cash When Flipping
You can get the best deals if you offer cash when purchasing items you want to flip. And make sure to haggle!
Master Negotiation Skills
Once you arrive at the flea market, be prepared to haggle like a pro.
Negotiation skills are your secret weapon in this business.
Remember, sellers expect buyers to bargain, so don't be afraid to ask for a lower price. Be friendly and respectful, but firm.
And hey, if you're a smooth talker, you might just snag an even better deal!
Fine-tune your haggling savvy to get the best deals when you're the seller and high prices when you're the buyer
Bring Proper Transportation
You will need a large truck or car with a trailer to haul your flea market finds home so you can spruce them up.
Don't spend more than you should
In order to make money thrifting, you actually need to turn a profit.
If you're just starting out, save your money and don't get more than $500 in merchandise.
It's not worth spending a lot of money if you can't flip it for an even higher price.
Make sure to buy merchandise that will sell
Think about the items you're buying and what they would be worth if sold at a flea market or thrift store.
Start small and work your way up
There are a lot of opportunities to make money from flea markets. However, you will need to know what is the most profitable item.
If you want to get started, items that have lower initial outlay and smaller product size are best for beginners.
Learn from the Pros
The great thing about flea market flipping is that you can learn from people who are already doing it successfully.
Two pros that I have learned a ton from are Rob and Melissa, the couple I mentioned above who have made over $100K in one year as flea market flippers!
Although Rob has been flea market flipping for over 20 years, he only ramped it up in the last few years.
They took their flipping side hustle from $42K part-time to $133K full-time and never looked back.
Now they are teaching other people how to do it in their free workshop:
Free Flea Market Flipping Workshop
If you want to get started as a flea market flipper – make sure to attend this FREE workshop hosted by Rob.
Just sign up and you can pick the time to attend that suits you.
In the webinar, you will learn:
5 signs flipping/reselling items could be a perfect fit for you.
3 insider secrets that will help you grow your flipping profits.
The best places to find items to flip
Why flea market flipping is a recession-proof business
How flipping can set someone free from 9 to 5 job responsibilities and still provide financial security

Flea Market Flipping Course
Back in 2015, Rob and Melissa realized that there was more room for just them in the flea market flipping business and decided to start teaches others how to make bank.
And so the Flipper University was born.
Now more than 1000 students have gone through the course.
In this online course, you will get:
45+ lessons in 13 modules
​PDF downloads for listing worksheets, bonus guides, & more
​Excel spreadsheets for income/expense records
​Video tutorials on what we do for for finding, listing, selling & shipping
The course takes around 14 days to complete.
That means in 2 weeks you can really ramp up your flipping side hustle!
What will you learn in Flipper University?
Ways to Find Items For FREE
What Items to Look For
The ins and outs of pricing and listing an item for eBay
The basics of shipping small to medium sized items
How to get your items ready to sell for the highest profit.
How to use the different platforms – Craigslist, Facebook Marketplace, offerUp and eBay to sell your items
Accounting, bookkeeping, & taxes.
Freight shipping large items -boxing, palleting and crating large items.
Plus you will get:
Facebook group for course members – where to ask questions.
One on one coaching available for those interested in earning a full-time income from flea market flipping.
A 30 day money back guarantee if you are not 100% happy with the course
You will also be entitled to these bonuses when you enroll in their course:
Lifetime Access To Flipper University
FREE Access To Members Only Coaching Group
Sourcing Guide: Where to find items to flip
Buyer's Guide: The top 100 Items To Flip
Ultimate Tax Guide
Shipping 101 Library
Shoe Flipping Workshop
Flipper U Cliffs Notes
Item Listing Worksheet
Inventory, Income & Expense Spreadsheets
Quick Start Guide To eBay
Flipper Success Checklist
Art of Shipping e-book
5 Ways To Find FREE Items To Sell
Furniture Shipping Workshop (Pro PLUS only)
Flea Market Flipping: FAQS
Is reselling items for cash a good way to make money?
Reselling items for money can be a good way to make money, but success depends on various factors.
You need to be aware of market trends, have great negotiation skills, and the money to buy things to resell.
One thing to consider is competition. If there are too many flea market flippers in your area, you will have a hard time finding items to flip.
That being said, with the right approach, reselling can be a profitable venture.
Is it illegal to buy and resell items?
Buying and reselling items is not illegal. As long as you acquire them legally.
It isn't legal to resell stolen goods or buy them from a known thief, but it's perfectly fine to purchase something with the intent to resell it.
How do I know if an item has good resale value?
Assessing an item's resale value takes a bit of research and intuition.
Look for items that are in high demand or have a niche market.
Check online marketplaces to see if similar items are selling well. Factors like brand, condition, rarity, and desirability can all contribute to a higher resale value.
How do I negotiate a good price at a flea market?
Negotiating is an essential skill for flea market flipping.
Start by being friendly and engaging with the seller.
Ask about the item's history or express genuine interest.
Then, politely ask if they would consider lowering the price.
Suggest a reasonable offer and be prepared to negotiate back and forth until you reach a mutually beneficial price.
Should I focus on a specific niche or sell a variety of items?
It depends on your personal preferences and market research.
Some flippers find success by specializing in a particular niche, becoming experts in that area and building a loyal customer base.
Others prefer a more diverse approach, exploring various categories to increase their chances of finding valuable items.
Experiment and see what works best for you!
How can I effectively sell my flea market finds online?
When selling online, a few key tips can make a big difference.
Take high-quality, well-lit photos that showcase the item's details.
Write clear and engaging descriptions, highlighting unique features and any flaws.
Price items competitively by researching similar listings.
And don't forget about shipping—choose a reliable method, package items securely, and provide accurate shipping estimates to attract potential buyers.
Final Thoughts on Flea Market Flipping
If you are looking for a way to make extra cash with little money down, flea market flipping is an awesome way to do this!
Don't forget to attend the free Flea Market Flipper workshop to learn even more.
I'll leave you with a wish for happy thrifting and some extra tips for your success!
8 Tips For Being A Successful Flea Market Flipper
Being a successful flea market flipper requires a combination of keen observation, negotiation skills, market knowledge, and a dash of creativity. If you're ready to dive into the world of flipping, I've got you covered. Here are eight essential tips to help you become a thriving flea market flipper:
Research, Research, Research:
Explore online marketplaces like eBay and Etsy to identify popular trends and items in high demand.
Follow blogs, forums, and social media groups related to flea market flipping for insider tips and information.
Keep a list of potential flip-worthy items to guide your flea market hunt.
Have a Game Plan:
Make a list of specific items or categories you want to focus on during each flea market visit.
Prioritize the most profitable or sought-after items on your list.
Set a budget to avoid overspending on items that might not yield significant returns.
Develop Negotiation Skills:
Approach sellers with a friendly demeanor, building rapport before discussing prices.
Start with a lower offer and be prepared to negotiate back and forth.
Use cash as leverage, offering to pay immediately or in smaller bills, which can sometimes lead to better deals.
Think Outside the Box:
Look beyond the obvious and explore piles of "junk" or overlooked sections.
Hunt for unique vintage items, retro furniture, vinyl records, or quirky collectibles.
Consider repurposing or upcycling items to increase their value and attract a broader audience.
Learn to Spot Value:
Train your eye to identify quality craftsmanship, unique designs, and brand names.
Check for signs of authenticity, such as stamps, signatures, or markings.
Assess an item's condition and determine if repairs or restoration are feasible.
Leverage Online Platforms:
Set up an online store on popular platforms like eBay, Etsy, or social media marketplaces.
Take clear and appealing photos that showcase the item's features and condition.
Write engaging descriptions that highlight the item's history, benefits, and potential uses.
Build Relationships:
Connect with other flea market flippers, both online and offline, to exchange knowledge and experiences.
Attend local flea market events, antique fairs, or swap meets to expand your network and discover hidden gems.
Engage with buyers and sellers, collect their contact information, and build a customer base for repeat business.
Stay Flexible and Adapt:
Embrace the ever-changing nature of the market and be open to exploring new niches.
Regularly update your knowledge about current trends, emerging markets, and popular collectibles.
Experiment with different pricing strategies, shipping options, and marketing techniques to optimize your sales.
More Ways To Make Money Selling Things
Website Flipping: Ultimate Guide To Flipping Websites For Profit
How To Make Money Selling Printables On Etsy
Make Money Selling Stickers On Etsy