Life on the road is fun but how to finance van life? If you want to learn how to make money living in a van, read on for some genius ideas you can start today.
A lot of people are looking for ways to make money on the road but don't actually understand how vanlifers make money.
That's what this post is for!
Whether you want to make extra money to pay for van life or you want to look for a full-time job that you can do on the road, there are tons of amazing options for you.
One of my friends and her husband sold their apartment in LA and bought an RV about 5 years ago and they are still loving van life.
They homeschool the kids and both work remote jobs that pay great.
I asked her for the kinds of jobs she has done while traveling in an RV and she gave me all sorts of fun digital nomad ideas.
She also mentioned that there are a lot of vanlife jobs that don't require wifi or a laptop – really important for making money with a van in the middle of nowhere!
If this sounds like the kind of life you want to create for yourself, plan ahead. It's a good idea to consider ways to earn money while living in a van before you take the plunge.
Keep reading for the 41+ ways to pay for van life and maybe even save for retirement too!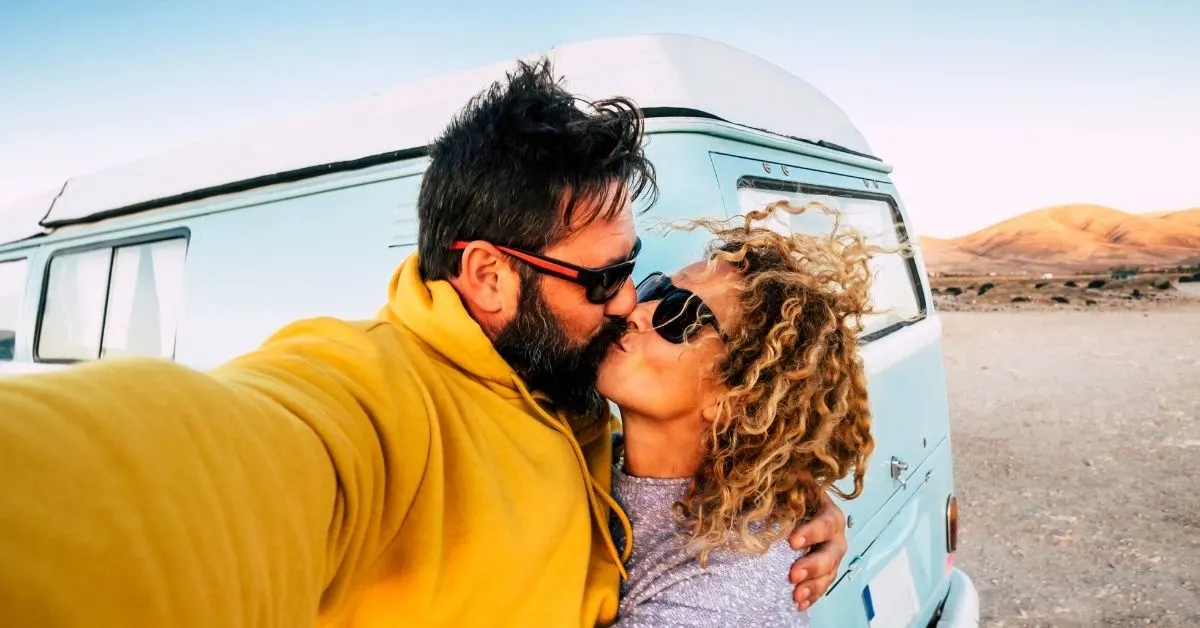 This post contains affiliate links. Please read my Disclosure for more information.
RELATED POSTS
41 Van Life Jobs for Making Money On The Road
Making money on the road is more possible than ever! Back in the day, there was no internet or at least super patchy connections at campgrounds and RV parks.
Now there are tons of jobs you can do while travelling in an RV or camper van, even if you don't plan to stay in one spot for too long.
What Jobs Can You Have While Living In A Van?
If you want to look for a full-time remote job while living in a van, there has never been a better time to make the move.
Many jobs are permanently remote and you should have no trouble finding an option. You can check job boards such as Indeed.com and Linkedin for remote jobs.
If you want to be a freelancer and work as an independent contractor, there are some great options too.
How To Make Money Living In A Van
Below you will find 41+ ways to make money while living in a van or RV. You can find full-time work or you can find more seasonal gigs that will help you pay for van life.
1. Become A Flea Market Flipper
Selling things you find at flea markets or thrift stores for a profit is an awesome side gig that is so much fun.
If you are on the road, your possibilities are endless as you will get to visit all kinds of towns and cities.
Bear in mind that you don't need to always look for really expensive items to flip – lots of small ones add up too.
You can get started for free by looking for no-cost items on the curb or on Craigslist.
Check out when neighbourhood garbage days are and go around with your van picking up anything of interest. You can then spruce them up and flip them for a profit.
If you want to know more about starting a flea market flipping side hustle, I highly recommend this free webinar by "The Flea Market Flippers".
2. Sell On Amazon FBA
While we are still on the subject about making money by flipping items – here is another option.
Have you heard of Fulfilment by Amazon? You know when you buy something on Amazon and it is fulfilled by a third party? That is Amazon FBA or Fulfilment by Amazon. Another name for it is online arbitrage.
The idea is simple: you buy items at rock bottom prices, then resell them through the Amazon marketplace. The advantage is that Amazon takes care of all the transaction and handling plus you don't have to worry about marketing your items.
If you are interested in learning more about online arbitrage like Amazon FBA, I highly recommend checking out their free bootcamp.
3. Start An Etsy Printables Business
An Etsy Printables Business is a great way to make money on the road.
People are always searching for printable games for baby showers, for wedding invitations and other paper products.
If you are new to the printables business, here is a list of the top 51 Best Selling Printables on Etsy.
You will probably be surprised at the things that sell well. For example, selling coloring pages on Etsy can net you thousands a month.
This free ebook from Gold City Ventures will get you started with some great ideas for your printable shop.
4. Freelance Writing
If you enjoy writing, you could become a freelancer and get paid to write articles and copy for brands and websites.
You might be thinking that you need lots of prior knowledge and training, but in fact it is not hard to become a freelance writer with no experience.
This can be a very lucrative way to make money on the side and is a perfect way to earn money while living in a van because of the flexibility.
You can work as often as you like and enjoy life on the road while making some money too!
If you want to learn more about becoming a freelance writing, I highly recommend this free 6 day email course to get you started.
5. Sell Short Stories
Staying on the writing theme, if you love writing fiction, you could try your hand at selling your short stories for money.
Although this probably won't net you a full-time income, it can be a really fun side hustle if writing is your passion anyway.
You might as well get paid, right?
If you prefer reading more than writing, how about working as a voiceover actor or a narrator for short stories? Here are 33 Sites that will pay you to read books aloud.
6. Transcription
Transcribing is the art of listening to recordings and noting down everything you hear into a legible document.
It's a really great remote job that you can literally do anywhere and at anytime.
There are two different types of transcription – general and legal. Legal transcriptionists work with court documents mainly while generalists may work with different kinds of materials.
Medical transcription used to be very popular but it has taken a backseat recently.
If you are interested in learning more about transcribing documents, Transcribe Anywhere has a great free course you can take.
7. Teach Online
If you are a morning person, this can be a great side hustle to earn money while living in your van.
You will need a good internet connection in order to get teaching jobs but aside from that, you can do this job anywhere.
You don't need a teaching cert but a bachelors degree is normally a must.
How much can you make teaching English online? Up to $22 an hour seems to be the going rate.
Here are the top companies hiring new online teachers now .
Another idea if you like kids is to teach with Outschool. This can be a really good way to make a living on the road because you can teach what is around you – landscapes, nature, geography etc.
8. Start Scoping
Scoping sounds more complicated than it actually is. And you can $70K + a year working from home as a full-time scopist!
So what exactly is it? Well, after transcriptionists have transcribed court documents, scopists take over and edit the transcripts to make them flow better.
Scopists know a lot of the legal jargon that a transcriptionist might not know.
9. Become A Pinterest Manager
Today's version of a personal secretary, a Pinterest Manager or VA gets paid to do tasks for bloggers and online businesses.
This may sound like a crazy niche side hustle but you can make really good money with this one. It can be a really flexible job that you can do on the road.
Your tasks as a Pinterest Manager might include creating pins, scheduling them out, researching keywords and more.
Click Here to learn how To Become A Pinterest Manager
10. Start A Podcast
Why not pay for van life by talking about it? Start your own podcast documenting your days on the road and make money from it!
People love podcasts right now and van life is something a lot of people are interested in.
You can easily create a diary/podcast with tips for people who want to go on the road and make money on ads and sponsors.
As far as ways to make money while living in a van, this might be one of the best.
Interested in starting your own podcast? Check out my guide on How To Make Money Podcasting In 2021.
11. Become A Van Life YouTuber
If you don't fancy starting a podcast, how about becoming a van life YouTuber?
Running your own YouTube channel is a fun way to make money online. There are many Vanlife YouTubers who are absolutely killing it. Check out people like Jennelle Eliana (she has almost 3m subscribers) or Vanwives.
So how much do Vanlife YouTubers make? Obviously it depends but Vanlifers The Matley gave a really honest breakdown here.
According to them, they make around $1000 a month on ads and $3000 a month on sponsorships.
If you want to get into YouTube or become a vanlife influencer, take a look at some of the most popular channels and see what they do. You can also check out my YouTube tutorial here.
12. Start a Blog
Here is another way to make money talking about your vanlife adventures!
It costs practically nothing to start a blog (under $5!) and you could make a great income writing about your lifestyle.
Lots of people love following bloggers who are on a journey such as living in a van.
It's a great way to document your travels while offering a "how to" to other people who hope to quit their 9-5 for the road too.
I started my first blog in 2017 and was making over $1000 a month within 3 months. I think that is a totally doable goal if you work hard at your blog in the beginning.
Check out my step by step guide here – Start A Blog That Makes Money.
12. Be A Virtual Assistant
Similar to a Pinterest Manager, a virtual assistant does admin for brands, bloggers and executives.
This is one of the best jobs you can do while traveling in an RV because you can work from anywhere and complete certain tasks offline when you don't have internet.
While a Pinterest manager only focuses on Pinterest, a VA does all different kinds of jobs including:
General admin
Social media
Responding to emails
If becoming a VA interests you the Jumpstart VA course is only $19 and will show you how to find VA jobs and be successful.
13. Swagbucks
Swagbucks is great for making a bit of extra cash on the road. Get points and then cash them in for gift cards or PayPal cash.
The nice thing about Swagbucks is that it is not all about surveys. You can make money by playing live trivia games, watching videos and playing games.
14. Online Surveys
If you do have time on your hands and want to make money on the road- what about online surveys?
There are tons of sites that you can join and make money for gift cards just by answering questions.
Here are my favorite sites right now.
15. Refer Friend For Cash
Lots of companies will pay you a "thank you fee" for referring your friend to them. Some of them pay up to $1000.
All you have to do is spread the word via social media or email and you will earn a nice referral fee for every friend that signs up. Many of the companies don't even require a purchase and lots of them will also give your friend a nice welcome bonus of $5-$10.
Here is a list of amazing companies that will pay you to refer friends.
16. Get CashBack For Shopping
Even on the road, groceries and clothing need to be bought.
I've earned over $3000 in cashback from Rakuten and the other big site, BeFrugal in the last few years, all completely passive income.
Bonus: Get at least $10 free from each of them just for signing up, that's a cool $20 easily!
Join Rakuten Now (current bonus is $30 just for signing up)
17. Grocery Shopping For Instacart
You can pay for van life by grocery shopping for other people. This is something you can do whenever you want by using the Instacart app.
A lot of vanlifers like this side hustle because you don't need to be a digital nomad to do it. You can simply make money whenever you stop somewhere for a few days or months then start again in your next destination.
More than ever, grocery shoppers are in demand and it's a great side hustle you can do whenever you have spare time.
Learn more about grocery shopping for Instacart here.
18. Sell Stock Photos Online
This is an amazing way to make money while living in a van.
After all, you are probably experiencing beautiful scenery and taking fantastic photos of landscapes, people and buildings.
You could start making some money selling your iPhone photos for a profit.
You can even make money selling your selfies in beautiful places you visit on the road.
There are lots of websites that will pay for stock photos so that businesses and websites can use them.
I personally pay for all the photos on this website so I know exactly how useful stock photos can be.
There are tons of different sites that are actively looking to buy photos from people like you – Here are the 15 Best Stock Photo Sites To Sell Images.
You could even take it a step further and launch your own stock photo website.
Most of the photo websites that are run by individuals are membership sites that offer unlimited photos for a set monthly price.
For this you would have to have a constant supply of great photos for your subscribers.
The advantage in creating your own website is that you will have a guaranteed monthly income instead of hoping to sell photos each month.
Here are some successful stock photo membership sites:
19. Do Side Jobs On Fiverr
Fiverr is great for getting freelance work while on the road. Income won't be consistent but you can make a lot of money in your spare time.
Take a look at the Fiverr website – there is bound to be something you can do.
Voiceovers
Website Design
Graphic Designer
Social Media management – post on the 'gram and Facebook for small businesses
As you can see, there are many ways to make money on Fiverr.
20. Proofreader
Proofreading is another great job that you could turn into a full-time gig from your van.
Proofreading involves checking documents and texts for mistakes and fixing them.
It's an awesome way to make money living in a van if you have good grammar and like reading.
Although proofreading is really flexible and you can work as much or as little as you like, full-timers make up to $50,000.
The best thing about starting a proofreading business is that you don't need any special training – In fact, you can find a ton of proofreading jobs online, no experience needed!
Good grammar, spelling and native English (or whatever language you are proofreading) is really what matters.
If you're interested in learning more about starting a proofreading business, Caitlin from Proofread Anywhere has an awesome free course to get you started.
21. Sell Homemade Products
If you are looking for jobs while living on the road, getting crafty is one of the best options. The nice thing about this is that you don't need to be online all the time and it will allow you to be creative while rving.
You could start an Etsy store and sell handmade products for money. You could also consider selling then at local farmer's markets or craft fairs.
What kinds of homemade products could you make and sell?
Here are some ideas:
Beauty products are always popular
Wood Crafts Sell Great At Flea Markets
22. Do Odd Jobs
If you are somewhat handy, then you can make money doing odd jobs for people.
Sign up for the Handy app and put your skills to work by helping others with odd jobs.
The great thing about this app is that you don't have to commit to a schedule which would be hard if you plan to move on with your van after a week or two.
With Handy, you can pick up work whenever you want via the app.
All kinds of jobs are in demand including:
House cleaner
Electrician
Garage Door Repairs
Home Improvement
Lawn Care
Pool Services
Technology Installs
23. Sign up for TaskRabbit
TaskRabbit is similar to Handy except it is for all kinds of jobs that need doing.
TaskRabbit is an app for anyone who needs anything done, no matter how big or small.
You can help people with any kind of job through Taskrabbit.
Tasks could include moving, cleaning, furniture assembly, cleaning or admin tasks.
I have used people from Taskrabbit for moving house, furniture assembly and furniture removal (trips to the dump).
They are partnered with Ikea for furniture assembly services.
The app will notify you of jobs in your area and you can choose which ones to take.
24. Work On A Farm
This is a seasonal job but one that pays well for a short period of time.
You can either head to towns where you know people are looking for farm workers (For example, Fresno, California or Leamington/Windsor Ontario) or you can try and get a job via a website.
One website to check out for the lucrative Sugar Beet Harvest is Crystal Sugar.
The Unbeetable Experience is a great resource for jobs during the Sugar Beet Harvest in the MidWest USA.
25. Hospitality Jobs
Although you might not want to commit to a full-time hospitality job, you can still look for bar and waiting gigs for festivals, weddings and big events.
The best place to find these kinds of gigs are through job agencies in large cities. Craiglist often has these kind of jobs that are perfect for vanlifers who need some quick cash while on the road.
26. OnlyFans
You might think that OnlyFans is just for adult entertainment (and if that's your jam – good for you!) but you can make money promoting Van life and sharing your journey to your fans.
Couples can make money on OnlyFans by chronicling their vanlife travels and interacting with fans.
OnlyFans in its essence is another social media platform that allows you to monetize through paid subscriptions.
27.Peer to Peer Lending
If you have a little bit of cash to get started, you can make some passive income with Peer to Peer lending.
Sites like Lending Club or GoPeer are great for beginners.
Here's how it works:
Invest as little as $10 per loan
Borrowers make fixed monthly repayments with interest, which are deposited directly into your account.
Diversify your investments across as many borrowers as you wish to stabilize overall returns.
You probably won't become a millionaire with this method but it can provide a nice little income to help you pay for van life.
28. Domain Name Arbitrage
There are a few options with this one.
If you can attain some desirable domain names, then you can easily turn a profit selling them to someone who simply needs that domain.
This is as easy as buying domain names cheaply on sites like Namecheap.com then offer them to sell for people who own sites with similar names.
So for example, if you find someone with the website fantasticvanlife.com, you might buy fantasticvanlife.co and see if they want to buy it from you for a profit.
The other option is to buy domain names, build up profitable websites and then flip them for a profit. You can make some serious cash doing this although it is a long game.
You need to take the time to make the blog profitable and then sell it.
If this sounds like something you could get into, make sure to check out my step by step guide to website flipping.
If you want to know more about blog flipping, I highly recommend the Blog Flipping Masterclass course.
29. Create Online Business Directories
Another option if you want to build websites but aren't interested in the time it takes to monetize and flip them is to create online business directories.
These are local sites for businesses such as dentists or landscapers.
Learn More: How To Make Money With A Online Business Directory Website
30. Create Ebooks
If you have something to teach or something to show other people, you could get into the Kindle Publishing world.
Amazon makes it really easy to get started with making and selling ebooks on almost any subject.
You could create a memoir of your road trip or write an instructional book on preparing your van for a long trip.
Learn more about how to make money with Kindle Publishing.
31. Sell PLR Content
Here's another option for the writers out there although this one is even easier. You can launch your own PLR business and write short articles and report then sell them royalty free to many many people.
PLR stands for Private Rights Content and it is a great side hustle if you enjoy writing.
You will have to create your own website for your PLR business, you can then follow the steps on this post to learn more about this lucrative way to make money in your van.
32. Graphic Design
Are you nifty with software? Do you have a good eye for design?
Consider starting your own business creating signs, invitations and more for moms in your area.
Learn How To Create Digital Downloads To Sell and start your own business on Etsy or Shopify.
33. Sell Crafts
We spoke before about selling handmade items such as soap or beauty products.
Another option is to sell handicrafts that you have made.
Someone who does this really successfully is Madison Hampton of Vancrafted Studio. She makes and sells jewelry from her van.
You can sell them on Etsy or on Facebook marketplace.
Here are some articles on crafts you can make and sell:
11 Most Profitable Cricut Business Ideas
8 Quick Gifts To Knit In A Weekend
Making and Selling Jewelry Successfully- How To Get Started
34. Chat To People Online
One way to make money living in a van is by chatting to people online. All you need is a stable internet connection and some spare time.
This isn't sexy work or dirty telephone calls, you might actually be surprised at the kinds of companies who will pay you to talk to people online for cash.
If talking to people online for money is something you are interested in, check out this list of sites that will pay you to chat online.
If you are willing to go a step further, you can get paid to sext from your phone.
35. Work at
Mechanical Turk
You can't make a lot of money with Mechanical Turk, but you can start earning within minutes.
It's an Amazon site that will pay you to perform very simple tasks.
Most of the tasks only take 30 seconds to finish and only pay a few cents, but if you have a free minute here and there, you can use those minutes to bring in some extra funds.
You might be able to pay for a couple tanks of gas each month which is handy when you are living in a van.
Check out all the details at Mechanical Turk.
36. Day Labor Work
This one is regional but if you are in the right place, it can be a great way to make some cash the same day.
In many towns you can hang around home improvement stores like Home Depot and Lowes and pick up off jobs from people who need help.
I've since this all over the USA but never in Canada so it will really depend on where you are travelling.
Work might include building, gardening, moving etc. It's a nice way to make some immediate cash for a day's work.
37.
Sell Stuff
You don't have that much room when living in a van so it's a great opportunity to make money while decluttering.
eBay is a great place to sell things you don't want.
Here are the 31 Best Things To Sell On eBay For A Profit.
Here are some other places to sell your junk for cash:
13 Places To Sell Your Stuff Online For Cash!
Where To Sell Used Clothes For Cash
Where To Sell Used Baby Clothes For Cash
If you really want to make some money while living in your van and want to sell literally everything, look into selling your used underwear online. (It's a legit side hustle that pays big).
38. Walk Dogs
If you are in one spot for a while, you can launch your own dog walking side gig.
There are apps that will match you will dog owners who need help dog walking.
The great thing about the apps is that you aren't committed to one family for a long time so it is perfect for people who are living in a van and don't want to stay put for too long.
If walking dogs sounds interesting to you, here is a list of dog walking apps to try.
39. Flip Shoes For Cash
Do you love shoes? You don't have to be Carrie Bradshaw or Imelda Marcos to know a nice pair of footwear when you see it.
Flipping shoes for cash involves scouring thrift stores and yard sales for designer shoes then reselling them on eBay or Facebook Marketplace for a hefty profit.
It might seem like a weird niche to choose but the profits are incredible.
One person who has made a killing flipping shoes is Beau Hunter. He even has a workshop to teach others how to do it.
In the workshop, you will learn:
​Where to find awesome deals on shoes.
​Which brands to look for.
​How to clean up all types of shoes so you can make the most money from them.
​How to take GREAT pictures that will increase your sales.
​How to properly ship shoes so they don't get damaged and the buyer is happy to leave you positive feedback.
The great thing about flipping shoes for cash is that you don't need to invest any money to start!
A $10 pair of shoes from Goodwill could net you $100 or more. Just look at this example:
Beau bought the shoes below for $10 from a thrift store.
40.Amazon Camperforce
This isn't the most lucrative way to make money while living in a van but I wanted to mention it as it is a job that is specifically for RVers.
Camperforce is a seasonal Amazon workforce of RVers and vandwellers that hail from all parts of the U.S and Canada. It was launched in 2008 and has grown tremendously since then.
In a nutshell, Amazon hires RVers and Van dwellers for a few months every year to help with the busy holiday season.
According to this CNBC article, CamperForce employees work 10- to 12-hour shifts packing, picking, stowing and receiving package at the Amazon warehouses around the country.
Amazon pays $15 an hour and you get paid weekly. There is also a $550 stipend to help with RV park costs.
The nice thing about Camperforce is that it is seasonal work during the holidays so it can be done after the harvest season.
41. Campsite Host
Another seasonal job is to work at campsite in the summer months.
This is a job I did for years and it is a lot of fun. Most campsites are only open for a few months a year and they are always looking to hire people to run all different areas of the campsite.
The nice thing about this job is that you will get a free campsite for your van while you are employed which can help with costs.
How To Make Money On The Road – FAQs
How much money can you make with a van?
Honestly, the possibilities are endless!
There are many remote jobs that pay six figures or more. Side hustles such as proofreading and scoping can pay $50-70K working flexible hours which is perfect for van life.
Even side hustles such as flea market flipping can net you a full-time income once you get going.
Is living in a van a good investment?
If your goal is to save a lot of money and cut down on your bills, living in an RV and making money on the road can be a great way to get ahead financially.
Although your van will depreciate in value as you log the miles on it, you will likely be saving a lot of money by not paying rent and other bills.
Lots of campsites offer free wifi so you can become a digital nomad and make money on the road while avoiding a lot of bills that most people have to pay.
What Do Vanlifers do for money?
Although many vanlifers make money on the road using their computer, you don't have to be a digital nomad to make a living in an RV.
Working as a seasonal worker, for example on a farm or ski resort is a really great way to fund your vanlife and meet people.
Final Thoughts On How To Make Money Living In A Van
Van life and making money can easily go hand in hand. There have never been more opportunities for making some cash on the road.
You can look for a full-time gig if you have good internet or you can take seasonal work and then travel for part of the year. There are so many options from making money documenting your Van life to working the harvests in the mid west.
More Ways To Make Money On The Road
50 Ways To Make Money While You Sleep