If you have a bunch of junk in your home, make some money by trying these ways to turn your clutter into cash.
Do you have a closet bursting at the seams with clothes? Tons of overwhelming clutter and a basement piled high with junk that you don't know what to do with?
Declutter and sell your stuff from some cash – it's easy and a really quick way to make money this week.
If you have kids you probably have tons of baby gear or outgrown clothes that you want to offload too.
Everybody has a ton of unwanted junk in their home and garage, you might be surprised at how much money you can make selling junk for cash.
After all, one person's trash is another one's treasure.
If you are ready to tackle the clutter and want to make some money while doing it, check out these 6 ways to cash in your trash.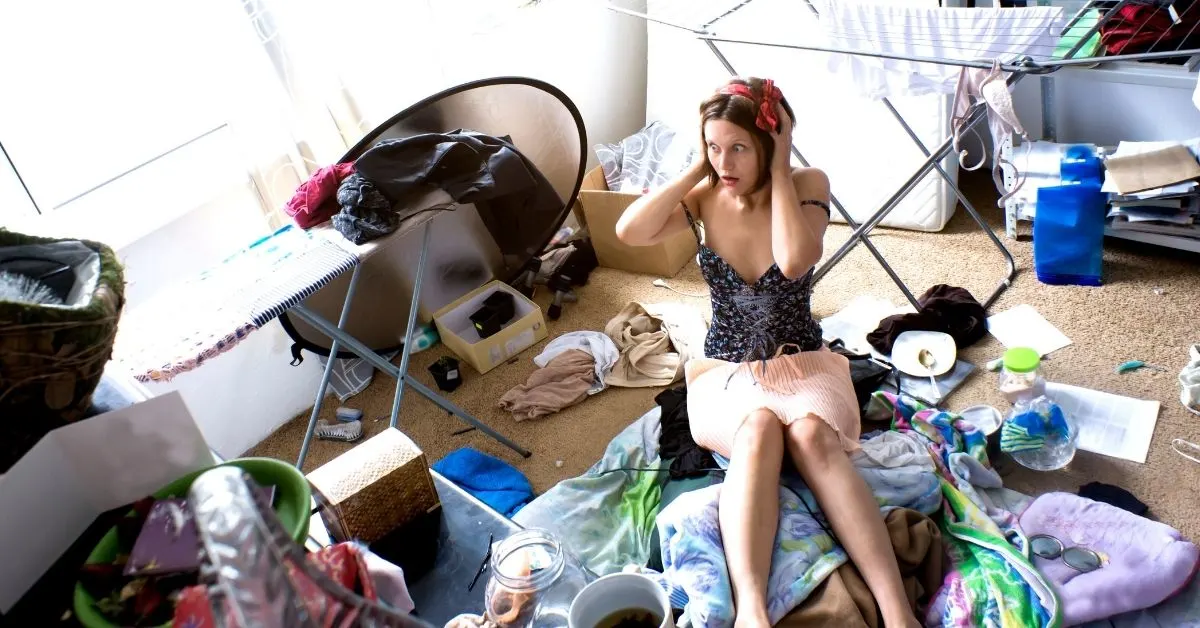 This post may contain affiliate links. Please read my Disclosure for more information.
RELATED POSTS
6 Ways To Turn Your Clutter Into Cash
1. Do a Return
This is the easiest way to get rid of stuff you will never use and get your money back.
Returning the item is your best bet if it still has tags and you are not already past the return date.
Some stores have generous 90-day return policies and others, like Carters and Payless Shoe Source, do not place a time limit on returns if you have the receipt.
Costco is also well-known for its amazing return policy.
2. Consign Your Unwanted Clothes
Name brand clothes in great condition tend to fetch the most at high-end consignment stores. Retro clothing is also one of the best selling vintage items on Etsy.
The clothes normally have to be in season and not older than a few years in order to make the cut. I
sold Lululemon pants and some fancy dresses at one store and made $200 easily.
Consignment stores work one of two ways – either they buy the clothes from you and then sell them (Think Once upon a Child and Plato's Closet) or they put the clothes for sale and give you a percentage of the final sale price (more common in higher end boutiques).
Be prepared to only get a small percentage of your original retail cost for the clothes, after all, the store wants to make money too.
If you have a ton of old clothes to get rid of, this list of places to sell used clothes for money will help you find the most profitable places to sell your clothes.
If you have baby and kids clothes and gear, you can check out these places to sell used baby clothes for cash.
3. Facebook Marketplace And Groups
This is where I make the bulk of my money from selling my unwanted clutter.
I find that baby gear and clothes sell very well on Facebook Marketplace and dedicated Facebook groups for moms.
Tips For Selling Things On Facebook
Make sure you take a good photograph, respond promptly to inquiries and price to sell. 50% of retail seems to be the norm on these groups.
Also, make sure you read the group rules about "bumping" your post and following the order of interest to avoid a rap on the knuckles from the admin.
I like these groups because of the security of seeing the person's profile and also the geographical limitations on groups. Porch pick -up means that you don't have to arrange a time to meet with the buyer as they can come by at their leisure.
4. Craigslist, Gumtree, and Kijiji
It seems that the Facebook BSTs have replaced these websites for the smaller items but I have found that you reach a wider audience for larger, more expensive items such as strollers and furniture.
Make sure you price a little above what you hope to get for the item as Craigslisters are die-hard negotiators so they will try and haggle with you.
Also I recommend meeting in a public place if you are selling on Craigslist or Kijiji.
5. eBay
Back in the early 2000s, eBay was THE way to turn your clutter into cash. Nowadays most people try local ways such as Craigslist and Facebook Marketplace place.
That being said, there are certain products that do really well on eBay.
Here are the 13 Best Things To Sell On eBay For A Profit.
You need to make sure you will actually turn a profit.
I used to sell a lot on eBay but I found that by the time I had paid the commissions to eBay and PayPal, it just wasn't worth my effort and I could make much more money on Facebook Marketplace.
However, tons of folks make a living on eBay so if you have the right products, go for it.
Antiques and rare collectible items definitely sell well.
Make sure you have correctly priced out shipping costs before you list your item to avoid a nasty surprise when it sells.
6.Yard Sales
I find it hard to make a lot of money at yard sales.
Maybe it is just my neighborhood or the things I sell, but I've never made more than $150 for a morning's work.
Nothing to complain about but not the $1000s I see other people make. The issue I find is that most people expect really cheap things at Yard Sales so you can only fetch around 10% of the retail value of the item.
Garage sales are for anything I can't sell on the Facebook groups or Kijiji/Craigslist.
I keep a box in the basement and haul it out once a year at our annual street sale.
Try Flipping Your Items For Cash
Another way to make money with your clutter is to fix it up and then flip it for a profit.
I recently took a free online training on how to make money flipping furniture and other items. I highly recommend it if you want to learn more about pricing your items and choosing the best things to flip.
There are people who are running whole businesses flipping junk they find on the curb or at flea markets. Some of them are making 6 figures just selling stuff they found for free.
If you like the idea of flipping your unwanted items for cash, you can get all the details in my post on How To Make Money Flipping Items.
And If You Can't Turn Your Clutter Into Cash?
Sometimes it is more about getting rid of junk than finding ways to turn your clutter into cash. The truth is, sometimes things just don't sell.
If you are finding it hard to get rid of some of your unwanted items, you have a few options.
First of all, you can rent your junk out for cash. It sounds crazy but there are actually websites where you can rent out things like bikes, power tools and electronics.
If renting isn't an option, there is something to be said for donating/giving away things for free too.
If you are in the States, you have the added bonus of claiming a tax deduction for your donated items but alas, in Canada, we don't have that incentive.
You can also donate your items to someone in need via a Buy Nothing Group on Facebook. They are popping up everywhere. Search for "Buy Nothing" or "FreeCycle".
I find I give 50% of my stuff away either through donating to a thrift store or on the Facebook BST groups. It always feels good to make someone's day!
More Money Making Tips
How To Make Money With A Pick Up Truck And A Trailer
Wood Crafts That Sell At Flea Markets
50 Ways To Make Money While You Sleep