Have you ever wondered what the most profitable resin crafts to sell are?
Maybe you have some resin items that you love making but aren't sure how to turn into a profitable business. If so, then this article is for you!
Resin crafts can be very profitable and easy to make. In this article will learn about some of the most popular resin crafts and why they're good sellers at craft fairs and online.
You'll also learn how to sell your resin crafts for a profit by starting an Etsy shop which is a great way to tap into a large potential audience.
Once you're done reading this article, I hope that you come away with new ideas on what type of resin projects to try out first!
This post may contain affiliate links. Please read my disclosure for more information
MORE CRAFTS TO MAKE AND SELL
Wood Crafts That Sell At Flea Markets
20 Best Selling Christmas Crafts
The Best Selling Resin Crafts To Sell At Craft Fairs
Here are the most profitable resin crafts that sell amazingly on Etsy and at craft fairs:
Christmas Ornaments
Coasters
Pet Tags
Hairclips
Trays
Charcuterie Boards
Resin Earrings
Jewelry Boxes
Bowls
Keychains
Artwork
Doorknobs
Memory Ornaments
Phone cases
Games
Rings
Statues
Pens
Runes and Crystals
Clocks
Bookmarks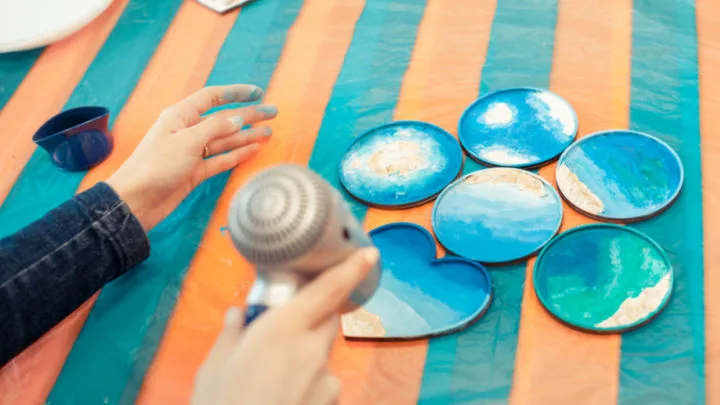 21 Most Profitable Resin Crafts To Sell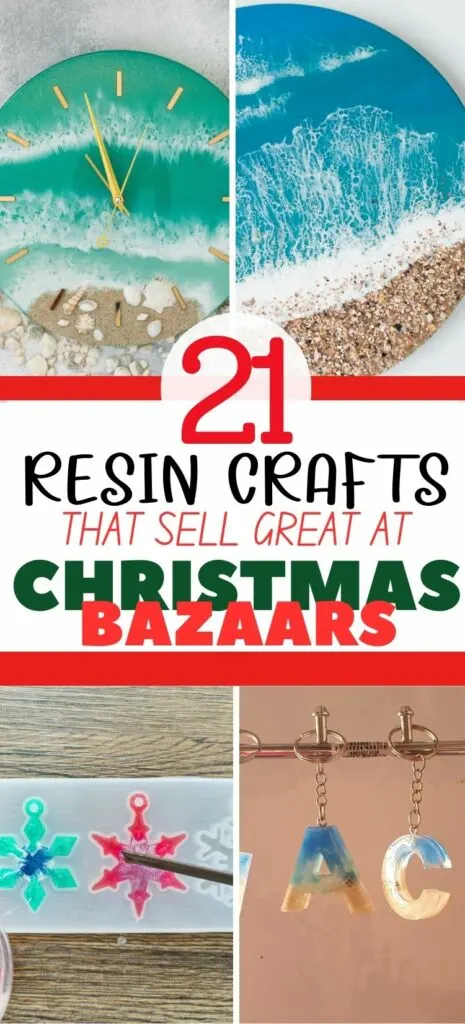 Resin Christmas Ornaments
Photo Credit: Etsy
Obviously this a really seasonal resin craft to sell but during the holiday season, Christmas ornaments are really profitable.
If you want to make more Christmas ornaments to sell on Etsy or at craft fairs, make sure to check out this list of Christmas ornaments to make and sell.
Coasters Made Out Of Resin
Resin coasters are probably the most popular resin craft to make and sell. In fact, when you search on Etsy there are literally hundreds of listings.
That being said, its competitive niche to get into because there are so many options for consumers.
If you want to make more money, you might be better looking at a less popular resin craft to make and sell.
Personalized Pet Tags
Pet tags are an awesome resin craft to make and sell as they are pretty easy to make and the market for them is not overly saturated.
To really get ahead with pet tags, consider making personalized ones with special designs like these cute glitter tags from Etsy.
Resin Hair Clips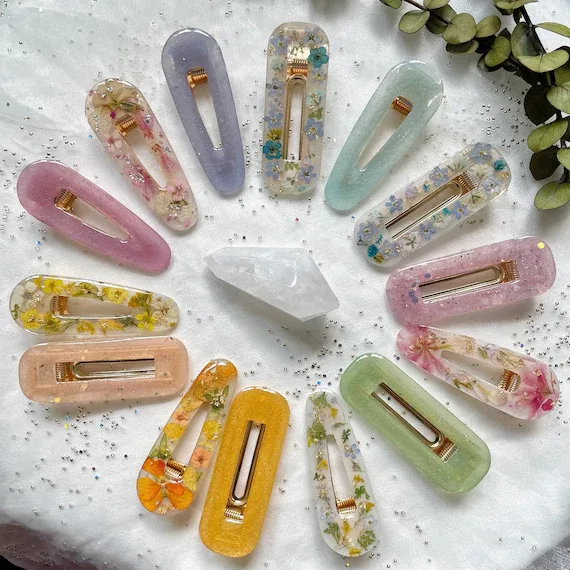 Pressed flower hair clips are a fun resin craft alternative to jewelry.
They are also actually really profitable because the costs to make them are low and they can sell for around $10+ each! Check out the ones pictured on Etsy.
Trays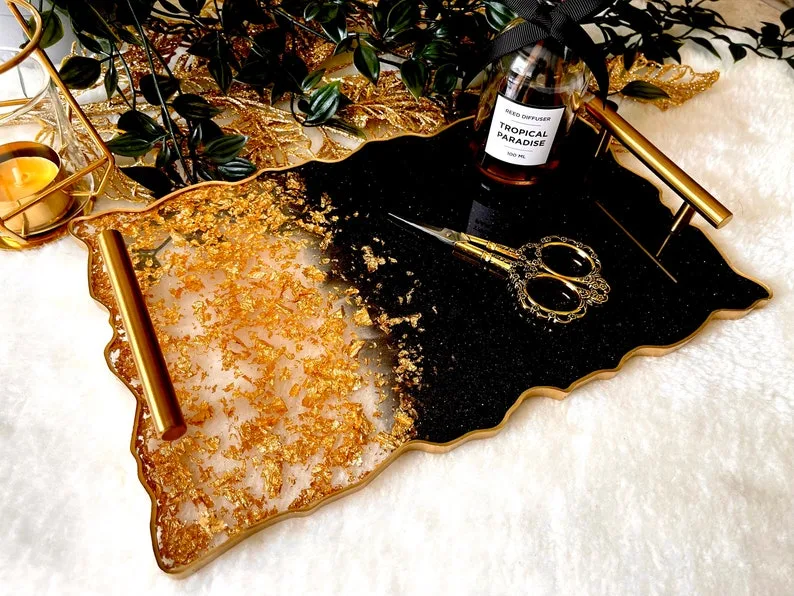 Resin trays are more work than coasters and smaller items but they are also way less competitive. You can sell different sizes of trays for trinkets, kitchen use etc.
If you can make a resin tray with handles like this one pictured from Etsy, you will stand out from the crowd.
Charcuterie Boards
I recently went to a local craft fair and there were a bunch of cute resin and wood cutting boards and charcuterie trays for sale. (The one pictured is a very popular style from Etsy).
If you are into making these resin crafts, they are great for selling at craft fairs and bazaars but shipping might get pricey for selling them online.
RELATED POSTS
38 Woodworking Projects That Sell
Resin Earrings
Earrings made with dried flowers are really unique and one of the most profitable resin crafts to sell on Etsy.
The great thing about resin earrings is that there are so many different styles that you can make – from ones with flowers or glitter to stud and drop earrings.
Jewelry Boxes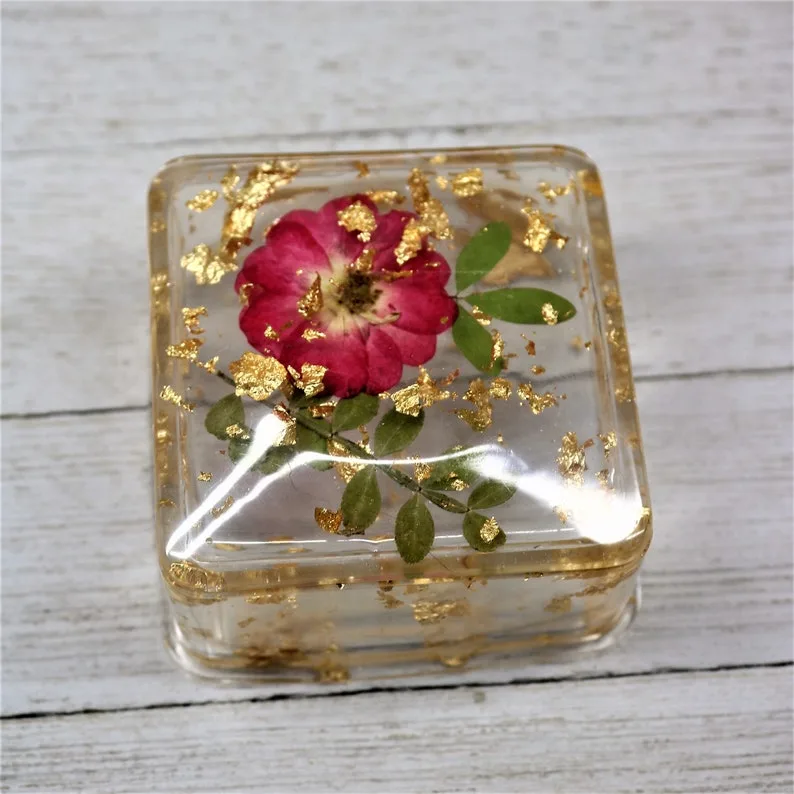 I love this Beauty and the Beast inspired jewelry box! If you are making resin jewelry, why not include matching trinket boxes in your range of products for sale?
Bowls
Another cute craft to make out of resin are ring dishes or bowls like these cute ones in the photo from Etsy.
Bigger bowls can work for centrepieces or fruit dishes while small dishes made out of epoxy resin are nice for keys by the entryway or for jewelry on a nightstand.
Small resin bowls make a great gift so they sell really well during the holidays.
Keychains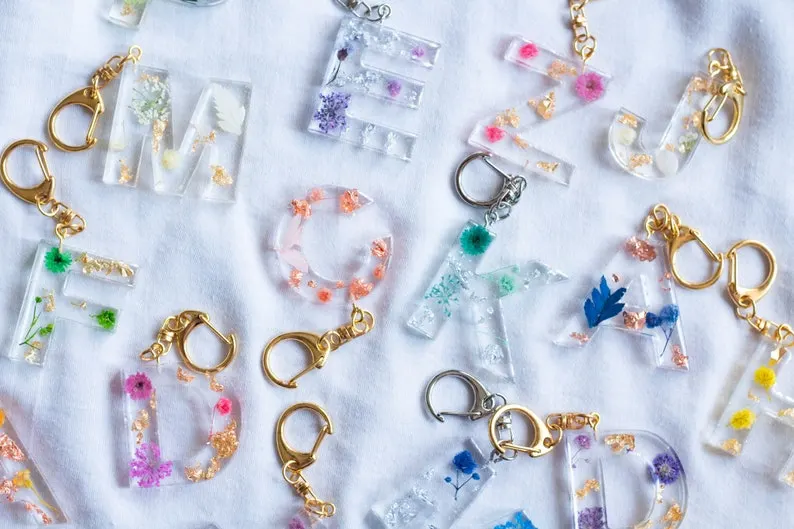 Keychains are one of the most profitable resin crafts to sell because you can make huge batches of them at one time.
They sell for around $10 each on Etsy which makes them one of the best crafts to sell.
If you can differentiate your keychains with things like gold flakes or cute shapes, like these initial keyrings from Etsy, you will have trouble turning a profit.
Artwork
Resin artwork is not for the faint of heart but the profit margins can be huge if you become successful.
Obviously, if you are selling large pieces of wall art online, you will need to consider shipping and handling logistics but if you price your art correctly, you can still make a lot of money with your resin wall crafts.
Doorknobs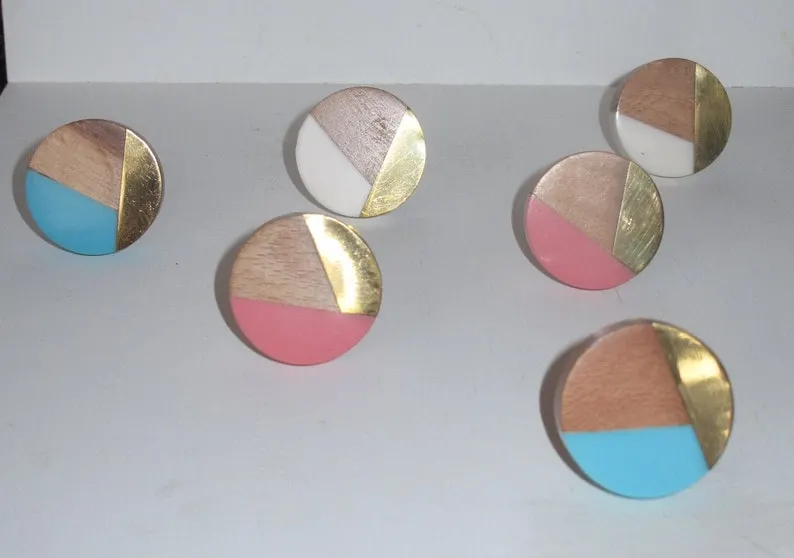 Door knobs like these pretty wood and resin ones from Etsy are actually a pretty untapped resin craft market right now.
If you are looking for resin crafts to sell that don't have a ton of competition, then look into making doorknobs for cabinets and drawers.
Memory Ornaments
Memory ornaments with or without pictures are a really nice way to acknowledge a loved one's passing.
You can make these ornaments out of glass or resin and personalize them for your customers with dates, names and even photos.
Phone Cases
Resin phone cases like these ones from Etsy are another really profitable resin craft to sell.
Use leaves, glitter, metal flakes or flowers to customize your phone cases so that you attract lots of different buyers.
Games Made From Resin
Old fashioned games made out of resin are really popular online! Think of things like chess boards, cribbage boards and even dominos.
Rings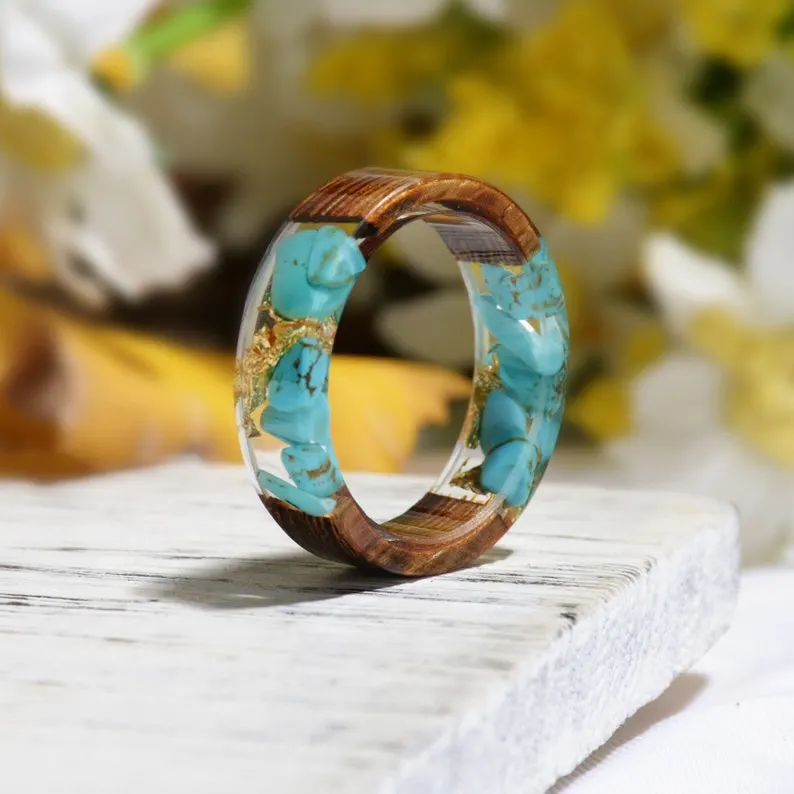 Rings made out of resin sell for around $10 on Etsy and given that you can make a huge batch of them in a day, they can be a nice profit-turner.
Resin Statues
Resin Statues are pretty easy to make with a mold and they are very popular on Etsy, especially these "Goddess Statues".
You can grab a similar mold to make resin statues or candles here.
Resin Pens
Epoxy resin pens make great gifts for teachers, office staff and teens. I'm actually buying a bunch of them this year for stocking stuffers for my kids.
If you offer personalization, you will be able to scale up your business much faster as everyone loves something customized.
Runes and Crystals
According to Etsy, these resin rune stones are a "rare find" meaning there are only one or two listing on the whole of the site.
This means you have a wonderful opportunity to create these resin crafts to sell and make some money!
As well as runes for good luck, resin crystals and stones are also really popular, for jewelry making and home decor.
Clocks
I just love this beachy-themed resin clock! You can buy a set of clock parts on Amazon pretty cheap and still make a huge profit on these resin clocks.
Bookmarks
The last resin craft on this list is one that I hadn't even thought of! Personalized resin book marks are pretty easy to make and are great for gifting.
The Most Profitable Resin Crafts To Sell – FAQs
What Materials Do I Need To Get Started Making Resin Crafts?
If you are new to making resin crafts, the most common type to start with is epoxy resin. As it can be toxic when heated (which you need to do in order to mold it), you will need some safety items too.
Here are the basic supplies for making epoxy resin crafts to sell:
Epoxy resin – This will be by far the most expensive supply and a reason why smaller crafts can be more profitable.
Silicone stirring sticks
Mixing Cups
Resin Drill (for making holes in ornaments)
Safety Goggles
A respirator
Silicone mats
Bubble removing tool
Various grit sandpaper
Molds for creating different items
You can buy resin tool kits from Amazon that will give you almost everything you need and more for one low price. Then you will only need to worry about getting molds, any accessories (such as earring backs) and your resin.
Where To Sell Resin Crafts
Now you have decided what to sell, it's time to work out where to actually sell your resin crafts.
Here are some places you can try:
Craft Fairs
Local stores
Holiday Bazaars
Instagram
Facebook
Your Own Website
Amazon
Etsy
How To Sell Resin Crafts On Etsy
The key to being successful with your resin crafts on Etsy is to really niche down and pick something that not everyone else is selling.
For example, there are tons of coasters for sale but not as many crystals and rune stones. Look for gaps in the market and jump on them.
If you haven't started your shop yet, make sure to go through this tutorial on How To Start An Etsy Store Successfully
It will take you step by step through from creating to launching your Etsy shop.
It also includes a link for 40 free listings which will help you to start your store for free.
Tips for A Successful Etsy Store
Although Etsy has millions of visitors who are searching for handmade products, don't rely on your shop organically showing up in search.
You will want to promote your items to friends and followers on social media and get really good at Etsy SEO. You can use my cheatsheet to get you started.
This tutorial will show you How To Use Pinterest For Etsy
How To Sell Resin Crafts On Facebook
Selling your resin crafts locally on Facebook is a really good way to get started if you are new to making money with your hobby.
One of the best places are local buy and sell groups, especially around the holidays.
Here is an ad I just found on one of my local groups:
Facebook Marketplace
Facebook marketplace is the obvious place to start selling your items as you don't need to pay anything and can reach a local audience.
You can create as many listings as you like for free. The only downside is arranging shipping or pick ups with your customers.
Your Facebook Page
You can create your own Facebook Page and promote your crafts that way. Ask for people to like your page and advertise sales and promotions.
Facebook Groups
In my opinion, Facebook groups are the best way to sell your resin crafts.
Join as many local groups as you can. Look for handmade groups, mom groups and neighbourhood groups.
You can add your crafts to business promotions where allowed or respond to requests for unique gift ideas.
More Crafts To Make And Sell
451 Most Profitable Crafts To Sell
10 Wooden Christmas Ornaments To Make And Sell
21 Christmas Ornaments To Make And Sell