If you love crafting, you'll love these wooden Christmas ornaments to make and sell at craft fairs and online.
There are lots of great Handmade Wood Projects That Sell well year round but around the holidays, rustic wooden Christmas ornaments are in huge demand.
In fact, they are one of the top Wooden Christmas Crafts To Make And Sell for a profit.
The nice thing about making Christmas ornaments out of wood?
They don't have to be overly complicated projects that require a wood lathe.
Some of these wood holiday ornaments can easily made by someone with no woodworking skills at all.
Read on for all our top choices for wooden Christmas ornaments that sell well.
RELATED POSTS
20 Best Selling Christmas Crafts
10 Easy DIY Crafts To Sell Or Give As Gifts
This post may contain affiliate links. Please read my disclosure for more information
The Best Wooden Christmas Ornaments To Make And Sell
Click through to each of these Christmas crafts to learn how to make them and exactly what materials you will need.
I love making DIY Christmas gifts and these wooden ornaments are perfect for hostess gifts for as a special teacher gift.
Check out this list for the best wooden Christmas gift to make and sell.
Making your own ornaments is a fun way to get crafty over the holidays and also to have a great Christmas without spending too much money.
Wood Slice Ornaments
I love these chalkboard wood slice ornaments from The Savvy Sparrow.
Check out the full tutorial for a free SVG file you can use on your Cricut – plus there is an option for those of you who don't own a Cricut machine!
Engraved wood slices are also one of the best laser engraver ideas if you own a machine. You can easily whip up a bunch in a day.
Wood Scrap Ornaments
If you some cut offs from a home project, grab some paint and you can make these super cute wooden ornaments.
Homemade Heather has the full tutorial on how to make these Swedish style ornaments.
Wooden Star Ornaments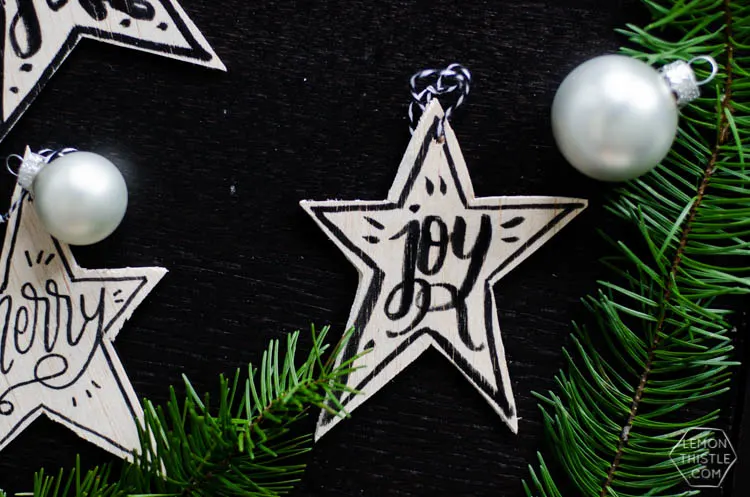 These Scandinavian inspired wooden tree ornaments from Lemon Thistle are so easy to make!
If you want to sell these are a craft fair or online, consider making bundles of different ornaments and selling them in packages of 4 or 6.
Wood Burned Ornaments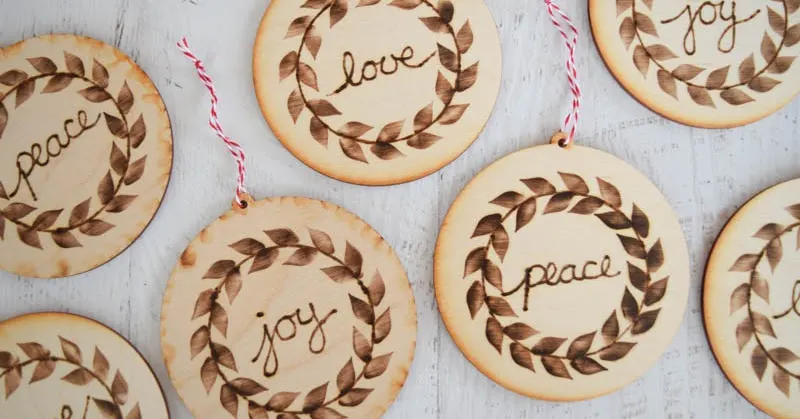 A lot of people shy away from wood burned crafts as they seem tricky and for more advanced wood workers.
However, they are a really popular wooden Christmas ornament at craft fairs so it is work learning to make them if you want to start a holiday side hustle.
You can get an easy to follow tutorial over at Adventures of a DIY Mom.
Wood Slice String Art Ornament
Happy Brown House has another really cute wood slice ornament that you can make at home.
This one is a bit different as it has string art designs on it.
I love the simplicity and creativity!
DIY Nautical Christmas Ornament
If you are going for the beachy look on your Christmas tree, make sure to check out this DIY wooden Christmas ornament from Charleston Crafted.
All you need is a wooden dowel in order to make this cute ornament so its super easy to make a bunch to sell at craft fairs.
Farmhouse Number Wooden Ornaments
I just love these super cute wooden Christmas ornaments from Raggedy Bits.
They would be fantastic for a craft fair or to give as a gift.
Mini Wood Frame Ornament
This really cute wooden ornament from Domestically Creative is simple to make and so adorable.
If you love farmhouse style, make sure to check out my list of 12 Farmhouse Wood Projects To Make And Sell.
And if you want more fun Christmas signs, check out these Christmas Farmhouse Printable signs.
Bright Letter Ornaments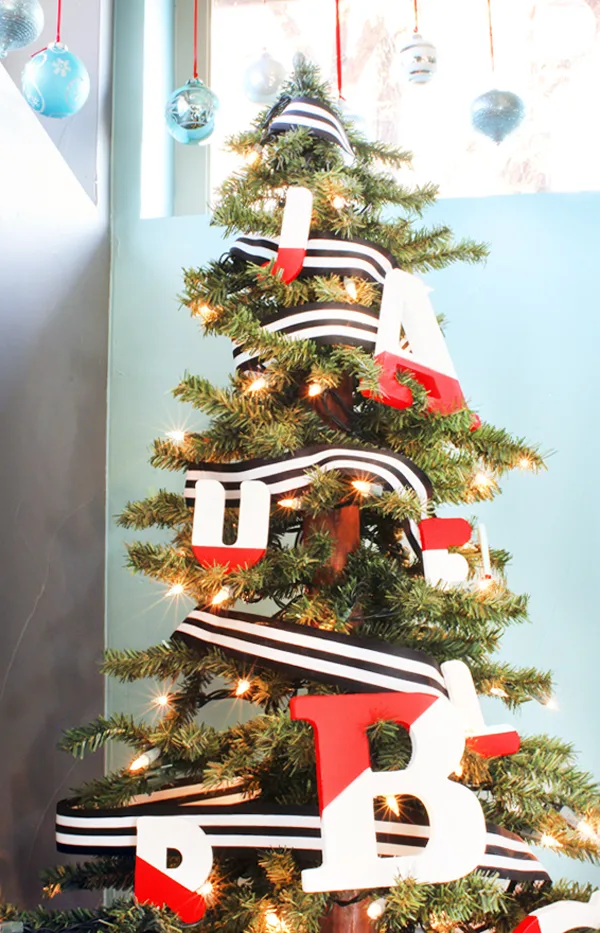 These cute letter ornaments from Blue i Style are really easy and fun to make.
They would also make great nursery decor!
Glitter Reindeer Ornaments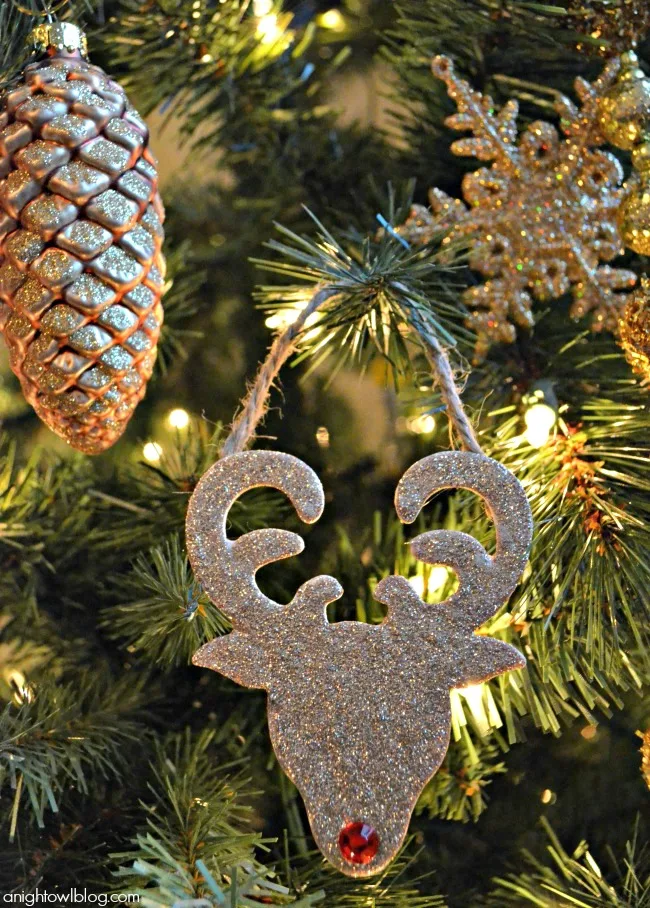 A Night Owl Blog has a really great tutorial for making these pretty glitter wooden ornaments.
You can use the same tutorial to make other ornament shapes too!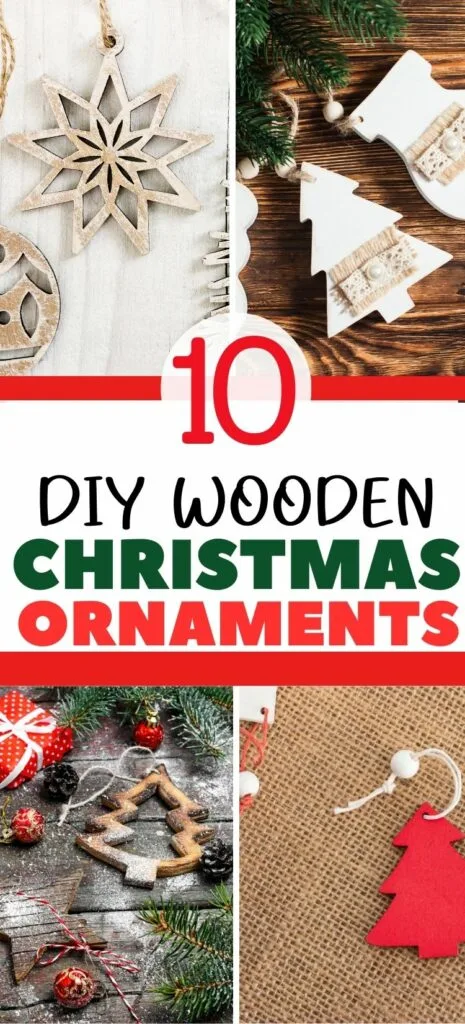 More Christmas Crafts To Make And Sell
20 Best Selling Christmas Crafts
Wooden Christmas gifts to make and sell