Learn how to make money with a laser engraver and you have a fantastic business idea that can create a great income.
If you are into crafts and are looking for a low competition side hustle, consider starting a laser engraving business.
You don't need to invest a ton of money to get started with laser engraving and it can be a fun hobby that makes you some extra cash.
The laser cutting business ideas below will show you the most profitable laser engraved products that you can make and sell.
I'll also take you through some tips for starting a successful laser engraving business including how to charge for your work and where to promote your business.
We'll also look at the best laser engraving ideas to make and sell on sites like Etsy.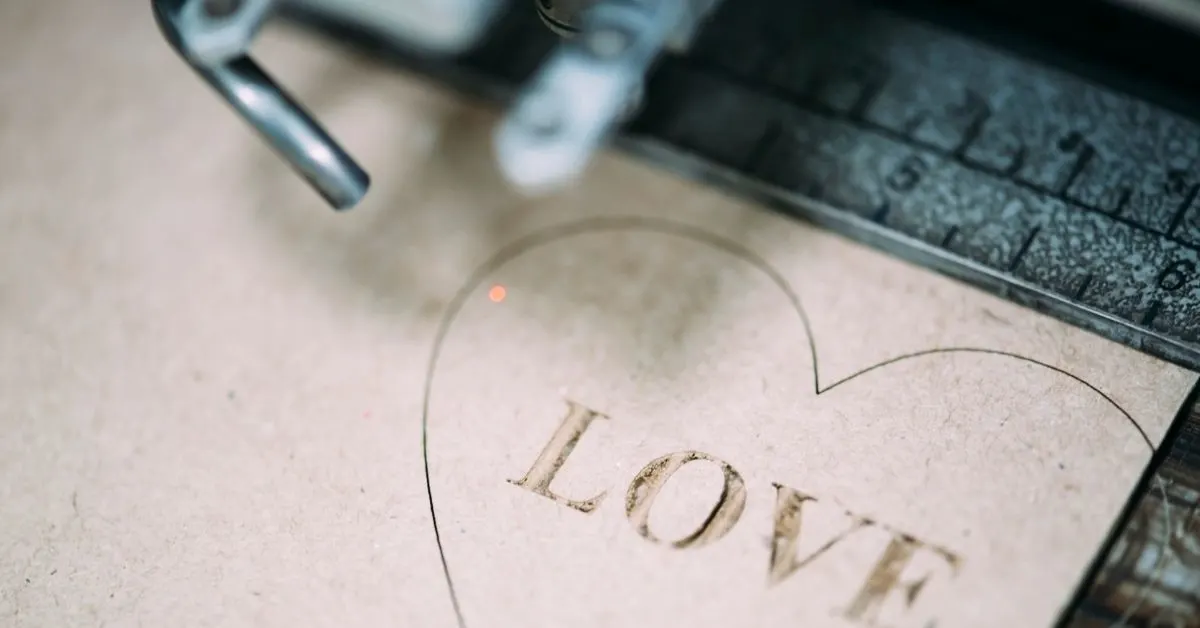 This post contains affiliate links. Please read my Disclosure for more information.
RELATED POSTS
Can I Make Money With A Laser Engraver?
Yes! Making money with a laser engraver is a really fun way to make some extra income or even start your own business.
You might be surprised at the different things people want engraved with a laser wood burner. From trophies to tombstones, there is a huge market out there for you to tap.
As with all businesses, you will need to market your business properly and provide excellent customer service and quality in order to be a success at your laser engraving business.
What Is The Difference Between Laser Engraving And Etching?
You might have heard of etching and wondered if it is the same as laser engraving.
In fact, they are two different things that produce the same result – marking metal, wood, leather or glass with pictures, words and designs.
Etching uses chemicals to form the marks in the material while laser engraving actually cuts the metal to create designs and words.
How Much Does It Cost To Start A Laser Cutting Business?
If you want to start your laser engraving business from scratch, you will need some supplies first.
You will also need to invest in marketing materials such as a website for your business and promotional materials such as business cards.
Expect to spend around $300-500 for the full business set up including your laser engraver.
Here is what you will need:
Laser Engraving Machine ($200-$1000)
Laser Engraving software ($0-$200)
Website ($5 a month)
Social Media Sites (Free)
Business Cards and flyers ($50)
What Is The Best Laser Engraving Machine?
The most important part of considering how to make money with a laser engraver is to choose the right machine.
The main things to consider when looking for a laser engraving machine are:
Price
Software compatibility
The materials you want to engrave
Size of the machine
Compatibility with your computer- some machines are bluetooth while others will no work with Apple products.
Although you can buy laser engravers for around $200, expect to pay a little more if you are looking to start a laser engraving business.
The best laser engraver for small business use is the ORTUR Laser Master 2.
You can use it for cutting things like cheese boards, trophies and more. The learning curve is much less than for more expensive laser engraver machines which is great for beginners.
The Best Laser Engraving Software
LaserGRBL or LightBurn software are the most popular laser engraving software options.
They are compatible with the ORTUR Laser Master. They You can use this software on Windows XP, 7, 8, 10, Mac OS and Linux.
LaserGRBL is free open source software that is perfect for the hobbyist engraver.
Lightburn is a paid software for laser engraving. It offers more options than free software. It costs $40-80 depending on the version you need although there is a 30 day free trial.
What's The Best Wood For Laser Engraving?
The best wood for laser cutting:
Is light in color
Has a high resin content
Does not have a coarse grain
The best woods for laser engraving are plywood, alder, cherry, balsa, fir, and cork and engineered wood.
If you love working with wood and are looking for more wood engraving ideas, make sure to check out my list of 38 Woodworking Projects That Sell.
How To Make Money With A Laser Engraver
Now you are set up with your equipment, how do you actually make money with a laser engraver?
You have two main options:
Offer laser engraving on products your client provides
Sell products that can be engraved and personalized
Below you will find a list of 19 laser engraving ideas to sell that are currently very popular on the Etsy marketplace and other craft fairs.
Offering Laser Engraving Services
This is a great option if you want to make some money on the side. You can offer engraving services for items that your customer already owns.
So, for example, a sports team might source their trophies from a supplier then come to you to get the engraved.
How do you charge for laser engraving?
If you are simply offer laser engraving services with no products, then you can charge per letter or simple design.
You can also charge per minute that the laser is running, normally between $1-2 per minute.
Aim to make a 30-50% profit on every laser engraving project, although for smaller ones, it might not be possible.
If you are only laser engraving and not buying products, it might be easier to charge set prices. You essentially want to cover your costs and make money some in the process.
I found this handy calculator that might help you to price out your laser engraved products to sell.
How To Sell Engraved Products
If you want to really scale up your business, you will want to consider sourcing items yourself .
Typically the most profitable laser engraved products are cheap to buy but fetch great prices.
The profit margin will be much higher when you are selling engraved items that people can give as gifts or keep from themselves.
For example, you might want to sell laser engraved mason jars. You can buy a pack of 18 mason jars for around $30
On Etsy one laser engraved mason jar sells for around $17!
The profit margin is amazing on finished items. Read on for the best laser engraving ideas that you can make your own.
The Most Profitable Things To Make With A Laser Engraver
Below you will find some genius laser cutting business ideas that will make you money fast.
These laser engraver projects are all ideas that are popular as gifts or as unique keepsakes.
You can see these items on sites like Etsy or at craft fairs and turn a profit easily.
The Best Places To Sell Laser Engraved Items For Money
Now you know the things to laser engrave and sell, where do you sell them?
There are a lot of places you can sell your laser engraved projects for money.
My favorites include:
Etsy
Craft Fairs
Flea Markets
Social Media
Your Own Website
Local stores and business
How To Sell Your Laser Engraving Ideas On Etsy
Etsy is my top place to sell your laser engraver project ideas because it gives you access to a Worldwide audience for a low price.
An Etsy store is free to open and you can be up and running in minutes.
If you haven't started your shop yet, make sure to go through this tutorial on How To Start An Etsy Store Successfully
The tutorial will take you all the way from choosing a great name for your Etsy store to launching it
Etsy charges 0.20 per listing but my tutorial contains a link for 40 free Etsy shop listings to get you started with your store for free.
Be Unique
Make sure you spend some time on Etsy looking at the laser engraving projects that sell well. Try and create your own niche so that you really capture the market.
You can use my free guide on ETSY Seo to help you get seen in the Etsy search results.
Take Great Photographs
Make sure to show your projects in their best light with beautiful, bright images in your Etsy listings.
Use good lighting and a great background to show items at their best. Make sure to show different angles too.
Check what other people are doing so you can see what works (and what doesn't).
If you need help with listing images, you can sign up for my Free Etsy Listing Image Templates to get you started.
You can use the templates to add listing photos to your Etsy store in minutes.
Tips For Promoting Your Etsy Store
You want to get to the top of the searc results for your laser engraved products. In order to that, you need to work on promoting your Etsy shop on sites like Pinterest and Facebook.
Promotions and coupon codes are one way to get your products at the top of the Etsy search results.
My tutorial on How To Use Pinterest For Etsy will help you get started using Pinterest for business.
Create Your Own Website
Starting your own website for your laser engraving business is a good idea if you plan to eventually grow into a full-time gig.
You will be able to direct potential customers to your site so they can see pictures of your work and get ideas for what you can offer them.
On your website, you can show price lists and reviews from happy customers. You can give ideas of customizations that you offer and also provide information about custom work.
You could also include photos of your own designs as well as blog posts about your product line.
Creating a website isn't the big deal it is sometimes made out to be. You can get started for around $5-10 a month and then promote your site on social media.
Add links to your Etsy store to create even more opportunities for product sales.
You can read my tutorial on How To Create A Website For Your Small Business.
Use Social Media To Sell Your Laser Engraving Projects
Social media is free and everyone is on it right now so it makes sense to use it for selling your welding.
You can use Facebook or Instagram to promote your Etsy store or website or you can take orders directly from Facebook or Instagram.
Facebook
Facebook groups are a fantastic place to promote your items. Look for groups of moms, handicrafters and people looking for gift ideas.
You should also create a Facebook page so that happy customers can leave reviews and you can update fans on your new items.
Instagram
Use Instagram to build a following and keep people updated on your business. You can even direct potential customers to check out your Instagram gallery of work.
Craft Fairs
Craft fairs can be a great place to sell your laser engraved work.
Christmas bazaars at churches and community groups are another really good place where you will have lots of potential buyers.
Book a booth at a flea market or craft fair and sell your goods. Make sure to make business cards so you can take custom orders.
Local Shops
Another place to sell your laser engraving work projects is to ask local stores if they will display them for you or if they will let you put up flyers advertising your business.
Local Businesses
Contact local sports teams and and places like the Legion and let them know that you have a laser engraver and are ready and able to provide work.
Lots of not-for-profits such as Scout groups and church groups need ad-hoc projects on a laser engraver and will be glad to have your contact.
How To Make Money With A Laser Engraver- Final Thoughts
A laser engraver can be a great way to make some extra money on the side or even to start a full-time business.
In this post we have given you a bunch of the best laser engraver ideas for making money.
There are lots of laser engraved projects that are in demand on sites like Etsy. Remember that marketing your business is 80% of the job, creating the products isn't enough if you want to be really successful.
More Things To Make And Sell
25 Fun Wood Lathe Projects That Sell Well
How To Make Money Welding In Your Garage
How To Start A Dog Treat Business